The government's recent move to have thanaka added to UNESCO's cultural heritage list comes as farmers are clearing plantations to grow a product in high demand in China.
By HEIN THAR | FRONTIER
Photos HKUN LAT
FOR THE past five years, U Win Maung has been tending 900 thanaka trees on his 30-acre farm in Sagaing Region's Ayadaw Township.
The trees had thrived and were just two years from maturity but with demand for thanaka in decline, Win Maung was forced to make a wrenching decision: he replaced them with a plantation of sterculia trees, which produce a sap used as a thickener in medicine and cosmetics, and as a binder and stabiliser in food and beverages. "I uprooted all the thanaka trees," the downhearted farmer told Frontier, adding that he sold some of the timber cheaply and kept the rest for firewood.
Ayadaw Township is famous as one of the country's most important centres for thanaka production, and the town of Ayadaw is often referred to as "Thanaka City". It may not be for much longer, however. Many farmers are considering following Win Maung's example because of concern about whether they can continue to make a living from the bark of the thanaka tree (Limonia acidissima or Hesperethusa crenulata).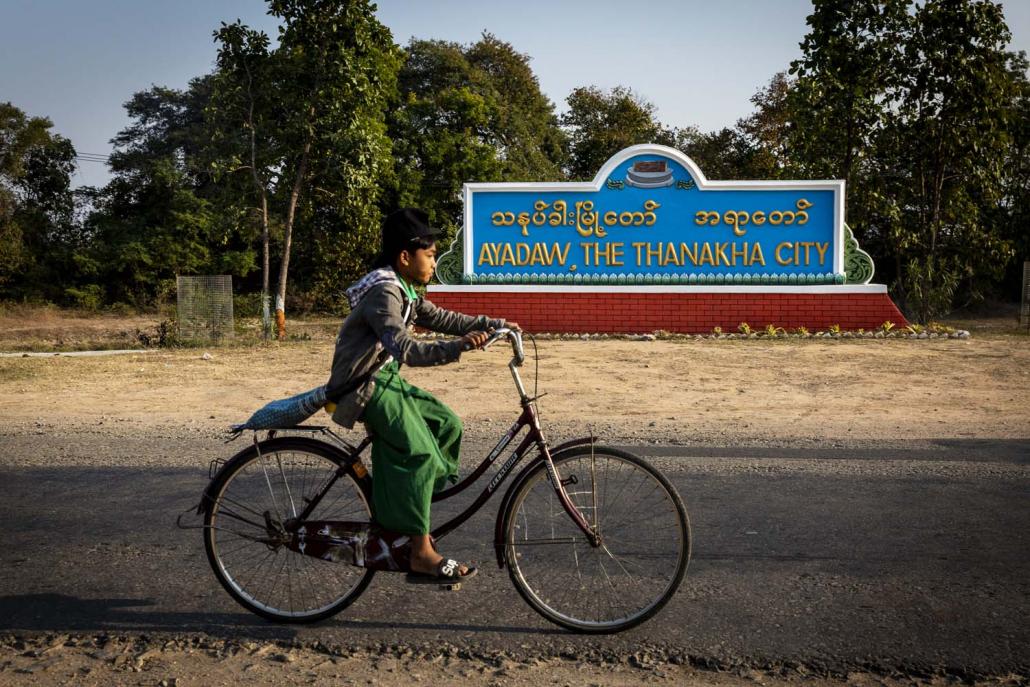 The bark is the raw material for the fragrant, cream-coloured paste used as a cosmetic, sun screen, skin lightener and astringent that has been decorating faces in Myanmar, mainly those of girls and women, with circular patches, stripes and ornate leaf patterns, for hundreds of years. Historians believe that the tradition of grinding thanaka bark on a stone slab known as kyauk pyin, moistening it with a few drops of water and applying the paste to the face and body, has existed since the time of the Bagan kingdom (CE 849-1297).
The government is seeking international recognition for thanaka's distinctive role in the country's history, culture and traditions. In May, it will submit an application to the United Nations Educational Scientific and Cultural Organization to have thanaka included on its list of the Intangible Cultural Heritage of Humanity.
It is perhaps ironic that the move should come as the owners of thanaka plantations in Sagaing and the other dry zone regions of Mandalay and Magway where it has traditionally been grown are considering changing to sterculia because of the promise of better returns.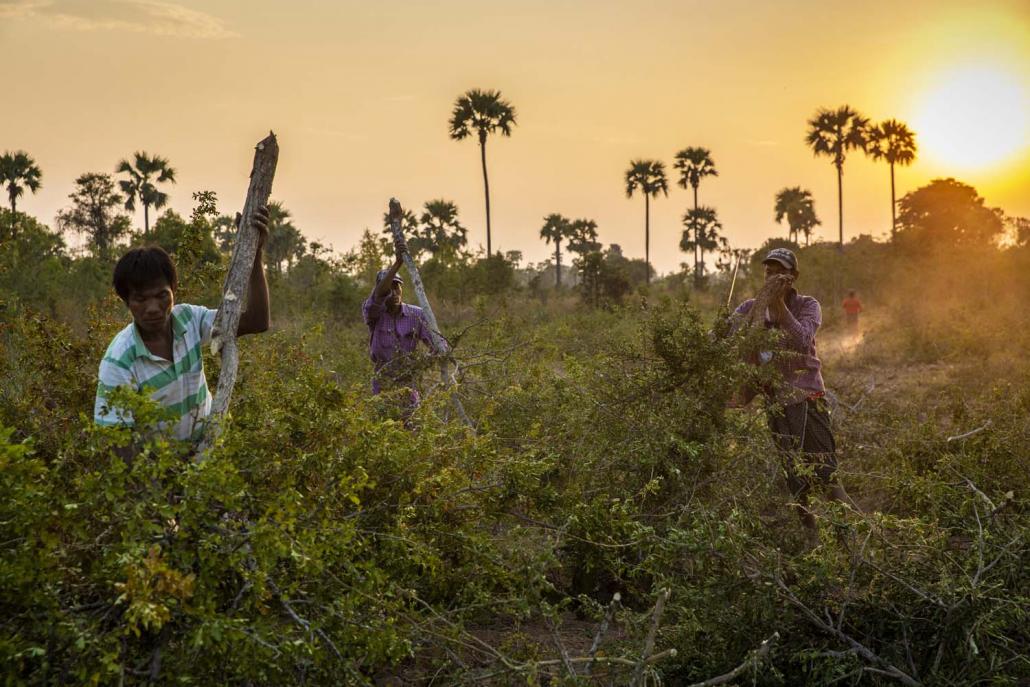 U Kyaw Moe, chairman of the Myanmar Thanaka Association, said thanaka prices had been in decline for about four years, a trend he attributed to weaker demand in urban centres because of competition from other cosmetics. The best price that a farmer can expect for a seven-year-old thanaka sapling in good condition is about K40,000.
Although thanaka plays a prominent role in modern cosmetics, including make-up, facial foam, and shampoo, Kyaw Moe said that most contain only a small percentage of the real thing. Some have no real thanaka at all, and instead use an artificially created thanaka "scent". "Cosmetic companies do not buy more than five percent of the country's entire thanaka production," he said.
To revive the market, the MTA submitted a proposal to the Ministry of Commerce and the Food and Drug Administration in February suggesting the government require all thanaka-based cosmetic products to contain at least 20 percent thanaka.
Asked why the percentage of thanaka in cosmetic products is not shown on their labels, an FDA official declined to comment.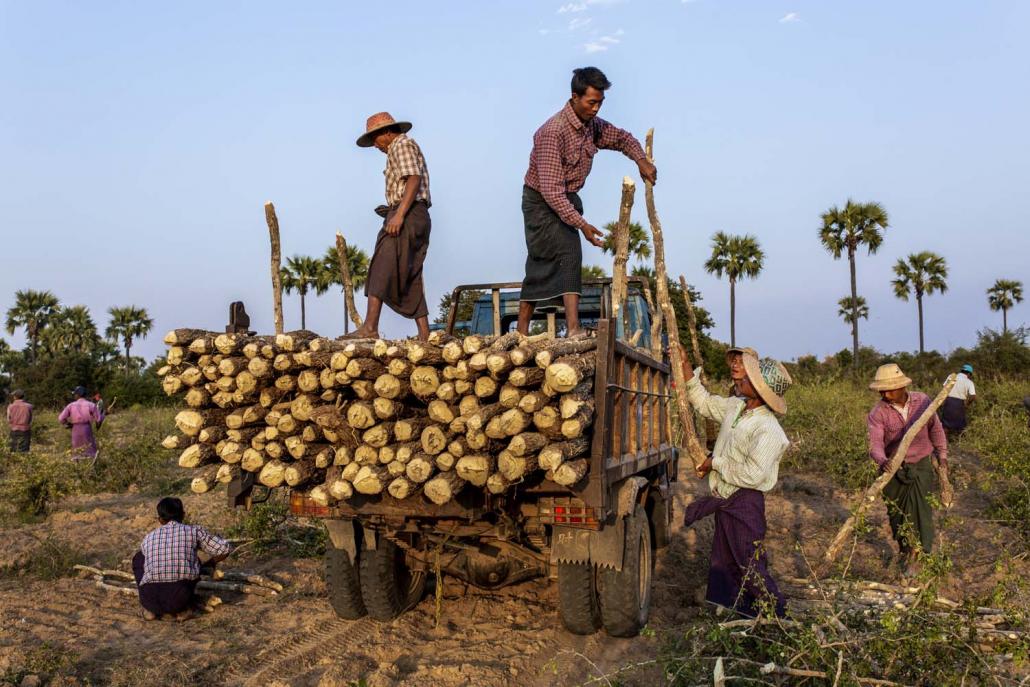 Some say that farmers should be earning more for the thanaka they produce. A piece of thanaka 18 inches long with a diameter of 1.5 inches sells for just K2,000 at the farm gate, but costs the consumer about K10,000 in Yangon.
"Thanaka is not expensive to buy at the plantations, but because of brokers it is expensive to buy in towns and cities," said Daw Marlar Aye, from Laminthar Thanaka Trading in Mandalay.
But farmers like U Win Tint say they can't afford to wait for the thanaka market to improve. He plans to join many other farmers in the area in pulling up his thanaka trees and replacing them with sterculia.
"I grew thanaka to follow family tradition but we can no longer survive from thanaka plantations," said the 50-year-old, who farms the trees on 20 acres at Ayadaw.
The versatile sap sterculia produce is in high demand in China. As well as an ingredient in medicine and cosmetics, the gum-like sap can be used as an adhesive, such as in the installation of car windshields.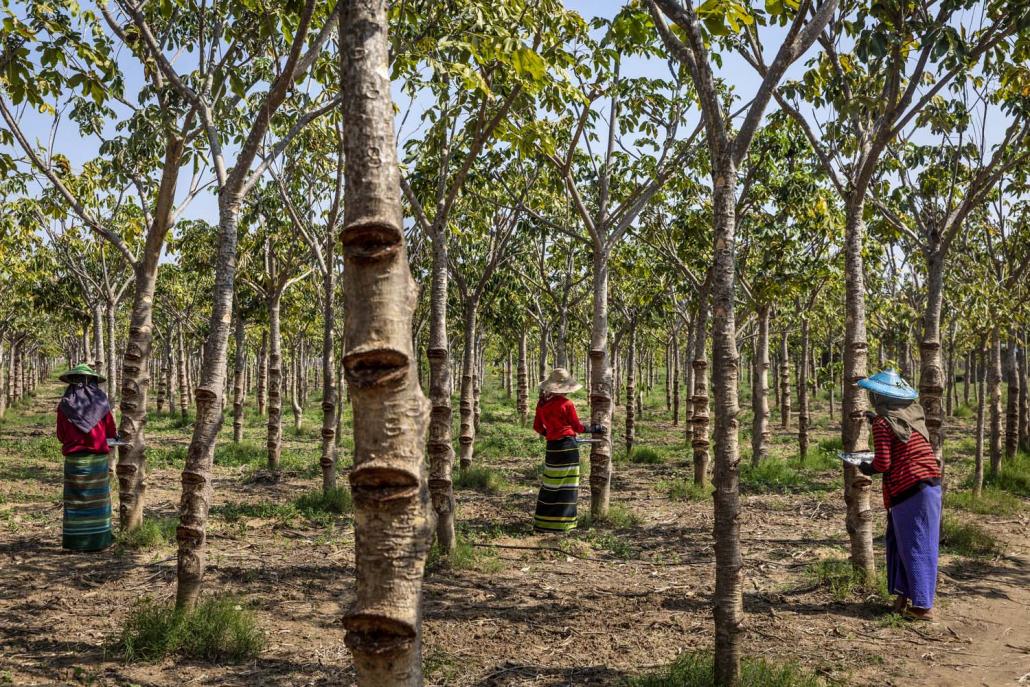 A species of the tree, known in Burmese as shaw-phyu and scientifically as Sterculia versicolor Wall, has proved very popular in dry zone areas. Local farmers have called it revolutionary because it generates more revenue than other crops, including pulses and sesame.
U Zaw Min, chairman of the Myanmar Shaw-phyu Association in Sagaing Region, said existing production of sterculia gum fails to meet demand from Chinese factories, which are buying all they can get and paying good prices.
Another attractive feature of sterculia plantations is that they quickly begin generating income; if properly nurtured, a sterculia tree can produce sap in a year. The sap is harvested by cutting the trunk of the tree, similar to the way in which a rubber tree is tapped. Top quality sap can fetch K150,000 a viss (1.63 kilogrammes) and medium quality sells for K40,000. A plantation of sterculia can generate more revenue than that of thanaka, so it is not surprising that an increasing number of farmers are spurning a traditional cash crop in favour of a more lucrative product.
The popularity of sterculia is highlighted by figures from the Myanmar Shaw-phyu Association that show it covered 91,000 acres of Sagaing in January this year, up from 60,000 acres in 2018.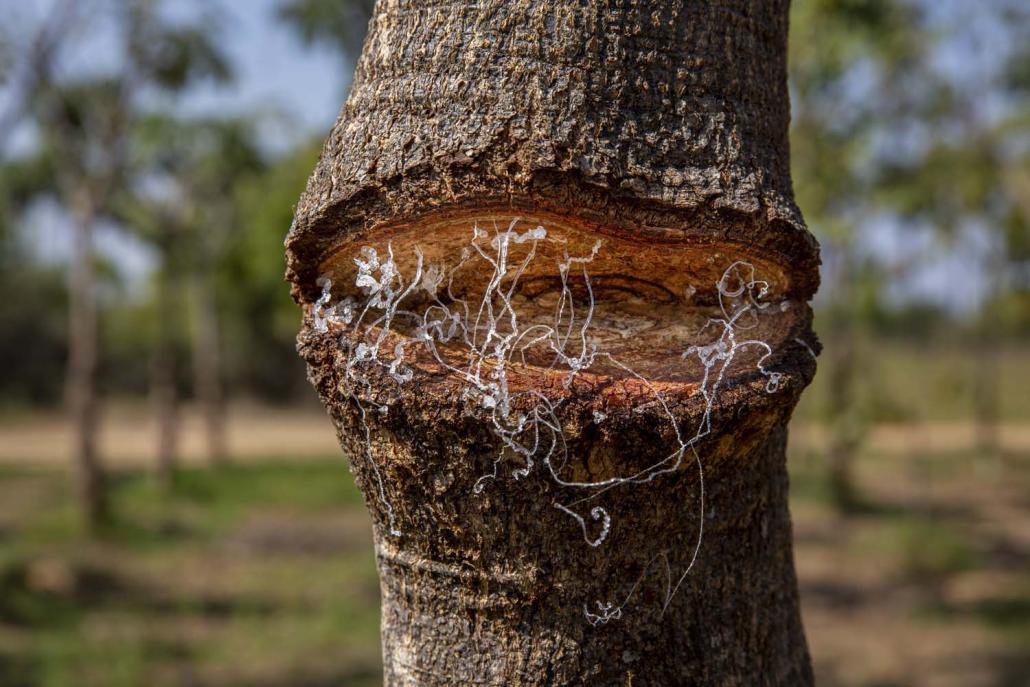 Estimates from the MTA, which has conducted joint surveys with the Ministry of Commerce and General Administration Department, indicate that thanaka cultivation has declined precipitously over the same period.
A survey in 2018 found that thanaka trees were grown on about 150,000 acres (about 60,000 hectares) in Ayadaw Township, out of 300,000 acres nationally. One year later, thanaka plantations covered just 83,000 acres in Ayadaw – a decline of around 45 percent.
"A farmer wants to grow what can make money for him," said U Chit Tun, who has a farm in Ayadaw on which he grows shaw-phyu despite being secretary of the Myanmar Thanaka Association.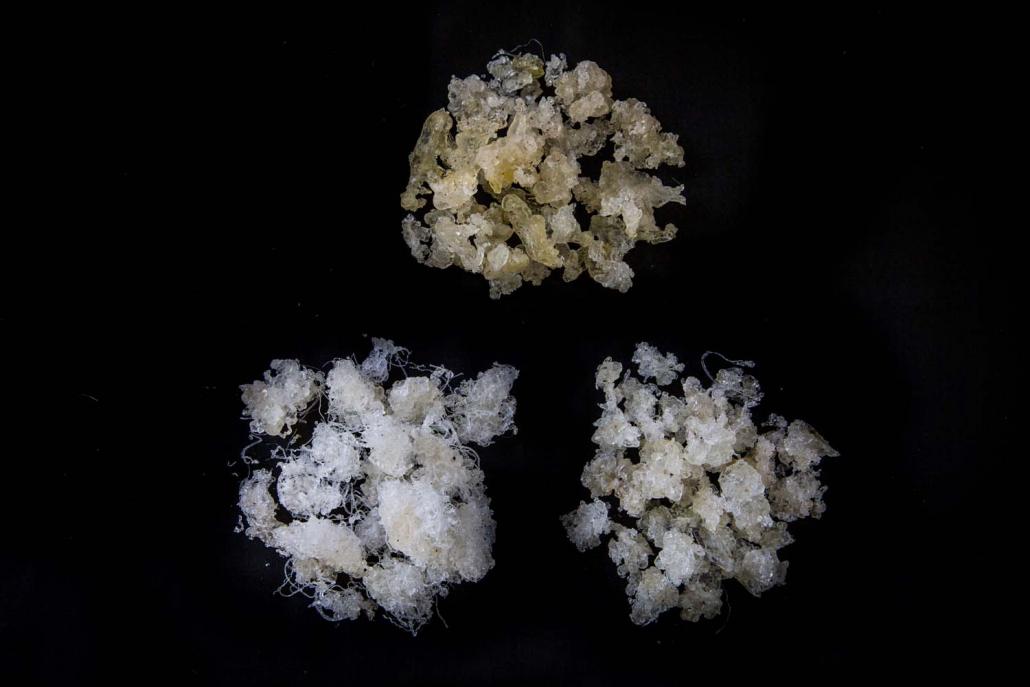 Ko Soe Win, who runs Platinum Shaw-phyu Trading in Mandalay, told Frontier he exports about 40 tonnes of gum to China each year, though it is sent over the border at Muse illegally because it cannot be legally exported to China. Shipments are sometimes seized at border checkpoints, he added.
Soe Win said the ability of Chinese brokers to assess shaw-phyu gum was impressive. "In comparison with China, Myanmar is a child," he said, adding that Chinese brokers inspecting shaw-phyu consignments could immediately identify where in Myanmar it was grown.
As farmers uproot their thanaka plantations, the Ministry of Religious Affairs and Culture has decided to seek thanaka's inclusion on UNESCO's intangible cultural heritage list, following a meeting on January 20 attended by members of the MTA and researchers.
"We have a lot of strong evidence and [historic] inscriptions showing how long thanaka has been used in our country, and it's very likely that it will be added to the list," said ministry spokesperson, U Aung San Oo.
Whether such a listing would help to boost the flagging thanaka sales on the domestic market is doubtful.
Kyaw Moe said he was more interested in a viable future for growers of thanaka than whether it was added to the UNESCO cultural heritage list.
"If the government does not take action," he said, "in five years there will be no one growing thanaka in Myanmar."
TOP PHOTO: Hkun Lat | Frontier