A month after soldiers and workers turned up and fenced off their fields, farmers in South Dagon were still trying to learn who or what is behind the apparent land grab.
By SU MYAT MON | FRONTIER
AT ABOUT 2pm on January 10, two large trucks carrying a Tatmadaw soldier and around 30 workers arrived in Laydaungkan village, in South Dagon Township in northeastern Yangon, and began building a fence around 210 acres of summer paddy.
Daw Khin Aye, 50, watched in dismay as six acres of land she had taken out loans to cultivate were fenced off. She is one of 26 farmers whose land is inside the perimeter, which is being guarded by soldiers and police.
"I'm worried," she said. "I have no idea how we will eat, how we will survive, if we are not allowed to work our paddy fields."
Khin Aye said she inherited the six acres of land from her parents. Much of their other holdings in the area were confiscated by the Ne Win regime in 1986 to create a village, Sait Pyo Mway Myu Yay, for retired soldiers; around 1,000 acres was confiscated altogether.
Of the 210 acres that have been fenced, 125 are farmed by 10 residents from Sait Pyo Mway Myu Yay, and 85 acres by residents of Laydaungkan, like Khin Aye.
She said many of the farmers had been cultivating those fields for more than three decades. Several of them showed Frontier tax records and loan agreements from state-owned Myanmar Agriculture Development Bank as evidence. Some of the documents were from as far back as 1985 but the farmers said their records were incomplete because paperwork had been lost during Cyclone Nargis in 2008.
Khin Aye and the other affected farmers have sought help from other branches of the government, writing to the offices of the president and vice presidents, Yangon Region chief minister and Myanmar Police Force, but have received no response.
One challenge has been working out exactly which ministry, organisation or agency has confiscated the land, said U Ko Lwin, 45, who has five acres of paddy enclosed within the site.
"We have been going around [to different government offices] looking for help," Ko Lwin said. "But at the end, we just come back home without any success."
Workers, police and soldiers at the site just say that they have been ordered to build the fence and guard the site "from above".
Until the farmers know who is claiming the land, they have no way of negotiating a settlement.
"We want to know who is doing this so we can negotiate with them," Ko Lwin said. "If our farmland is beneficial for our country, we can find a way to reach an agreement. but we want to talk."
Khin Aye's brother, U Phoe Chit Thae, said the farmers had been mistreated but no one seemed to care.
"The 16 farmers who have lost land are from Laydaungkan village and are the original owners of the farmland. They should be recognised and compensated if the land is going to be confiscated," he said.
The Yangon Region Land Confiscation Review Committee could not be reached for comment.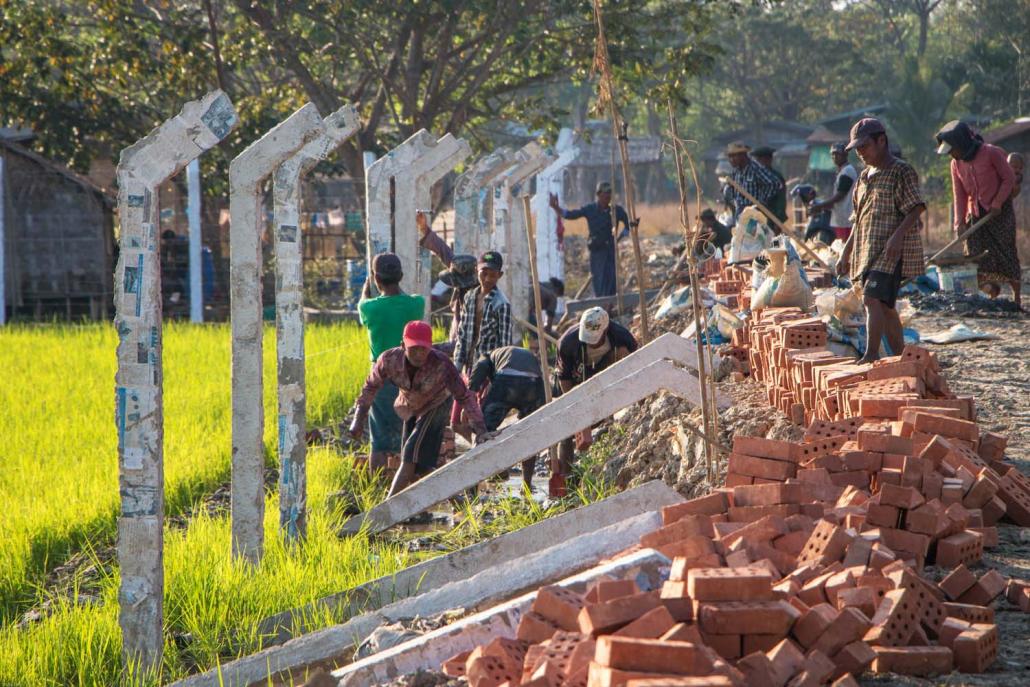 When Frontier visited the site on February 4, there were seven policemen and three soldiers at the site, as well as about 30 workers who were building the fence around the fields. The workers were also letting water out of the fields, despite the farmers' protestations that doing so would kill the paddy plants. "Don't talk to us – go and report this," one said to a female farmer as she urged him to stop.
Police guarding the site told Frontier the orders to build the fence had come "from above", but a soldier, Sergeant Win Naing, said they had been ordered to do so by a branch of the Garrison Engineering (GE) Corps.
As he was talking, a policeman interrupted and told Frontier not to report anything that was said, adding that they had no obligation to answer questions from the public.
For Daw Hla Yee, 58, the past month or so has been devastating. She has 12 children, five of whom are still in school, and has been the only breadwinner in the family since her husband was paralysed three years ago.
Watching the workers fence her fields was unbearable, she said. "I couldn't look, I thought I was going to have a heart attack."
Hla Yee said she invested around K2 million cultivating five acres of land, much of it borrowed from MADB and private moneylenders.
"Since this has happened to us, I'm constantly worried about how I'm going to pay back the debt – it keeps me up the whole night."
But U Hla Myint, the head of the General Administration Department in South Dagon, described the farmers as "troublemakers".
He said he was aware of the dispute but doubted the farmers' version of events.
"[They] claim to be farmers but I doubt they are the original cultivators of that land," he said.
He said that there was no registered farmland left in South Dagon or North Dagon townships, as it was all confiscated by the Ministry of Construction many years ago for the development of the satellite cities. However, he said some farmers had been allowed by the military to cultivate land in the townships under a "greening project".
He confirmed the land in question was owned by the military, but said he wasn't sure which agency of the Tatmadaw.
He said the military was likely trying to prevent people from building homes on the site without permission. "There are squatter issues all around Yangon so I think they want to prevent that from happening here," he said. "This is a good area – I think you understand what I mean – this is why the farmers are cultivating their land here."