A recent report says poverty in Yangon is higher than previously thought and many people on the city's fringes are being forced to turn to loan sharks to cover basic and emergency expenses.
By SU MYAT MON & OLIVER SLOW | FRONTIER
ON A dusty unpaved street in the old part of Mi Chaung Ai village in Yangon's Shwepyithar Township, an elderly lady fries snacks outside her makeshift wooden home. Across the street, her neighbour, a portly man with his vest pulled up over his vast belly to fan himself, in an attempt to escape the oppressive heat.
At the end of the road – lined with basic wooden huts, many fronted by small food stalls – Ma Su, 22, feeds a litter of piglets next to the tiny hut where she lives with her husband. Ma Su moved to Shwepyithar from Letpadan Township in Bago Region five years ago to be closer to members of her family. By breeding piglets and growing watercress she manages to make a few thousand kyat a day.
It's an important contribution to the household income, one that enables Ma Su and her husband to avoid falling into the debt trap like so many others.
"We don't want to take a loan because we are afraid the interest rate is too high and we won't be able to pay it back, so we just manage with what we have," she told Frontier as she fed the piglets.
Shwepyithar, which has a population of almost 350,000 according to the 2014 census, is about 25 kilometres (15 miles) north of Yangon's downtown. The site of four industrial zones, much of its population are migrants from other parts of Myanmar who have come to find work in the growing city.  
Shwepyithar is also regarded as one of Yangon Region's poorest townships. While Myanmar's commercial capital has seen rapid growth since economic and political reforms were launched in 2011, recent changes have had little impact on many residents living on the urban fringe.
Most of those living in Shwepyithar are casual labourers, who find work either at the nearby industrial zones or on construction sites around the city. While the city's infrastructure boom has increased the amount of jobs available, an influx of internal migrants moving to Yangon in search of work has increased competition.
U Myint Aung, 55, moved to Shwepyithar from his village in Bago Region in 1999 with family members in search of work. He no longer works but his three sons all have casual jobs in the construction industry. A daughter works for a drinks manufacturing company at one of the industrial zones.
"Sometimes there is no work on the construction sites, so sometimes we have to borrow money and as a result have to live in debt," he said.
Understanding urban poverty
Although urban poverty in Myanmar is often seen, its dimensions are not yet well understood, according to a report released in October by Save the Children in partnership with the Yangon City Development Committee.
The report, Lives on Loan, aims to draw wider attention to the issue of poverty in Yangon. World Bank data published in January 2016 estimates urban poverty at 34 percent – "higher than expected", according to Save the Children, which also noted that inequality was almost 45 percent higher in urban than rural areas. The poverty line was set at US$1.90 (about K2,600 at current exchange rates) per person per day, a World Bank global standard.
For the Lives on Loan report, a survey was conducted of 300 households in three of Yangon's poorest townships: North Okkalapa and Shwepyithar in the city's north, and Seikgyikanaungto in the southwest.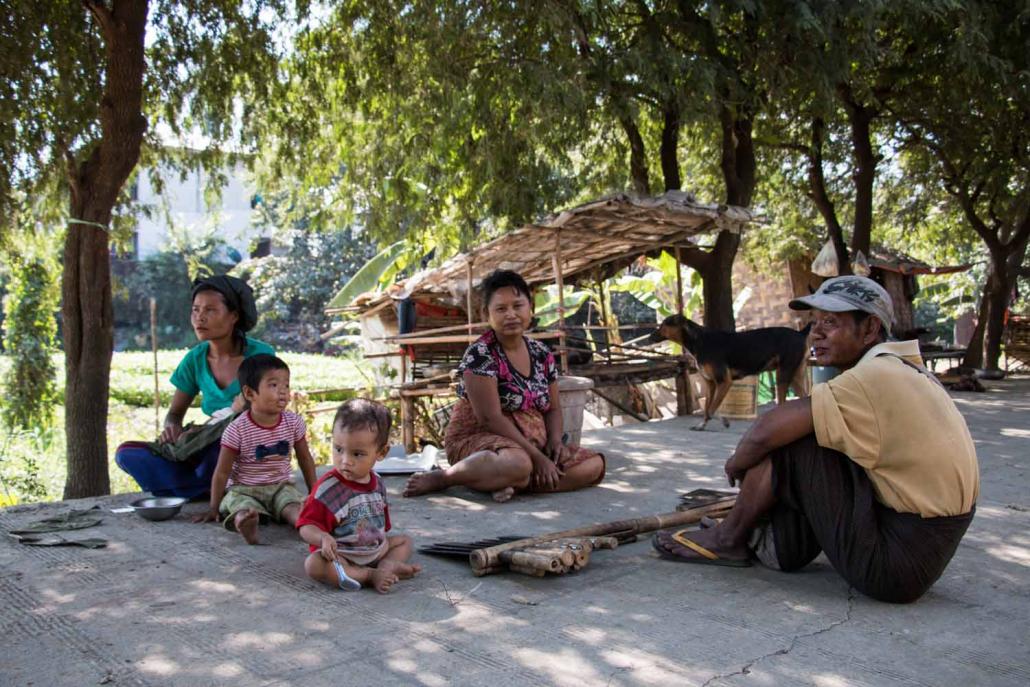 More than 80 percent of those surveyed were living on K2,000 or less per day, and many were trying to get by on considerably less. Additionally, 87 percent of the families surveyed spent no more than K750 per person per day on food. Many had been forced to skip meals due to their desperate financial situation; some families were living off little more than two plates of rice per day.
"The survey targeted families living in the most rudimentary housing who were almost certainly among the poorest of the poor. Even so, the data was alarming," the report said.
Compounding the issue was the fact that the cost of many necessities, including food and rent, was rising, increasing the burden on many of the families.
Living in debt
The low and inconsistent incomes of those working in casual jobs, as well as street vendors and trishaw drivers, mean that many families are often forced to borrow money from informal creditors. These loans can incur interest rates as high as 20 or 30 percent a month.
The survey found that 85 percent of the families interviewed had taken out at least one loan. Many also relied on quick sources of credit, such as that offered by pawnshops and local grocery stores. It found that more than 50 percent of the loans were for basic needs, including food.
But more than a quarter were for health purposes, indicating that most families have no savings to cope when an emergency arises.
Daw Khin Myat, 66, began a spiral into debt when her husband passed away. When he was alive they would travel around the industrial zones selling flowers and fish that they had bought on credit. But after he died and one of her children got sick, she fell behind on her repayments. She can no longer afford to borrow the money that would allow her to purchase products to sell.
Instead, she relies on the K120,000 a month that her daughter makes at a drinks factory. Her son also picks up occasional work on construction sites, but it's still not enough to clear her debts.
"I am afraid of being yelled at by the money lender because I don't have enough money to pay back the loan," she said.
Lives on Loan makes clear that there are thousands of households like Khin Myat's that are struggling with a cycle of debt. But such is the stigma attached to indebtedness, it's a problem that few want to talk about – even in the country's poorest urban communities.
As the interview ended, Khin Myat told Frontier quietly, "Thank you for coming to talk to me and listen to me talk about this. I cannot even talk about it with my family."