Neibban Zay Pwe Daw is one of the liveliest events on the Myanmar calendar and keeping it orderly is a challenge for which one Yangon resident has pioneered an unlikely solution.
By HEIN THAR | FRONTIER
Photos THUYA ZAW
NOVEMBER roughly corresponds to the Myanmar month of Tazaungmone, which has more festivals than any other month on the traditional calendar, most of them related to Buddhism. They include Kathina, the festival of lights known as Tazaungdaing, and the enjoyable neighbourhood event known as Neibban Zay Pwe Daw.
A Neibban Zay event brings communities together to create a charitable market to which anyone may donate goods. It takes place on neighbourhood streets on the full moon day of Tazaungmone and the following day. Neibban in Burmese corresponds to the Sanskrit word Nirvana (or Nibbana in Pali), which denotes the transcendent state in Buddhism where suffering and the individual self dissolves, while zay means market.
Participating households usually donate a particular commodity in varying quantities, which they disburse from one of a line of stalls set up on the street. Those who wish to scoop up these items form a queue, often long, at a temporary stage or mandat located at one end of the street, from where event organisers hand out tokens.
Written on each token is the street number or name of a particular donating household, meaning the bearer is entitled to whatever this household chose to donate. The tokens are shuffled before being handed out, so that the recipients cannot know in advance what they'll be getting.
Depending on the financial circumstances of the households that take part, the items they donate can range from cans of Coca-Cola or a traditional snack to more expensive consumer goods. For each can of coke or snack item on offer, there's a separate token, and a single household may offer more than 100.
After the donor has been tracked down at the relevant stall along the street and the gift handed over, the recipient may retrace his or her steps and re-join the queue to try their luck again. They can do this as many times as they like until the last token has been distributed.
Neibban Zay feels like a game, but sometimes the mood of playful competition turns.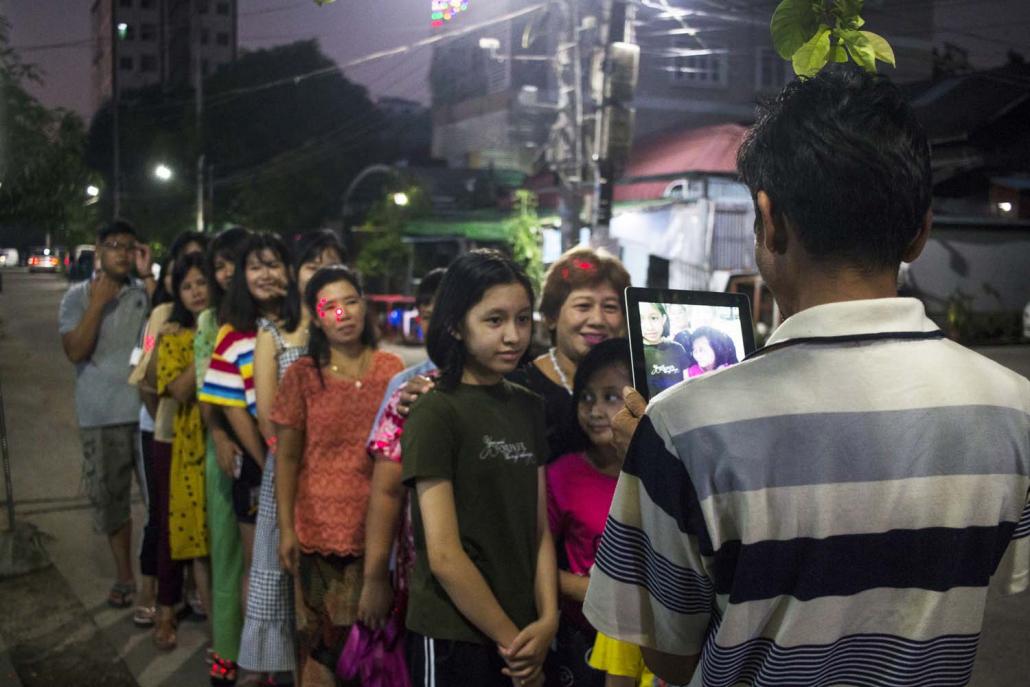 Long queues and frustrated expectations about free gifts can lead to tensions, as occurred in a ward in Yangon's northeastern South Okkapala Township last year. An argument that began in a queue escalated into pushing and shoving and almost became a brawl.
The ward's Innwa Street is home to about 100 prosperous families and it is common for them to donate thousands of items for Neibban Zay, including higher value ones such as rice cookers, crockery and even bicycles.
The chance of receiving high-value gifts attracts a long queue to the mandat in Innwa Street, mostly made up of ward residents, but there are visitors from other, poorer wards.
"I come here to queue every year, and I queue in nearby wards as well," said Daw Aye Myint Kyu, a resident of No. 6 Ward in South Okkalapa. "If I receive food, I eat it, but it's better if I get utensils," she told Frontier.
Such comments are common among those who join queues at Neibban Zay events in towns and cities throughout the country. In areas where very wealthy people live and the donated items are rumoured to include refrigerators, TVs, cash and even jewellery, queues can be long and raucous.
It is strict queue etiquette that once a person has received their token and gift, if they want another go, they need to return to the end of the queue. Resentment brews and arguments start when people try to push their way to the front. The queue jumpers are called kyar pyat thu, which means "interloper", and they spoil the fun-fair atmosphere.
"Some queue jumpers get as many as 40 or 50 tokens; it is not fair for those who observe queue etiquette," said Ko Kyaw Soe, a donor and organiser at the event in Innwa Street, South Okkapala.
He told Frontier that some kyar pyat thu further abuse the spirit of the festival by selling-off the goods they receive. "It is an abuse of the donations. We, as donors, want what we have given to go to those who will appreciate it."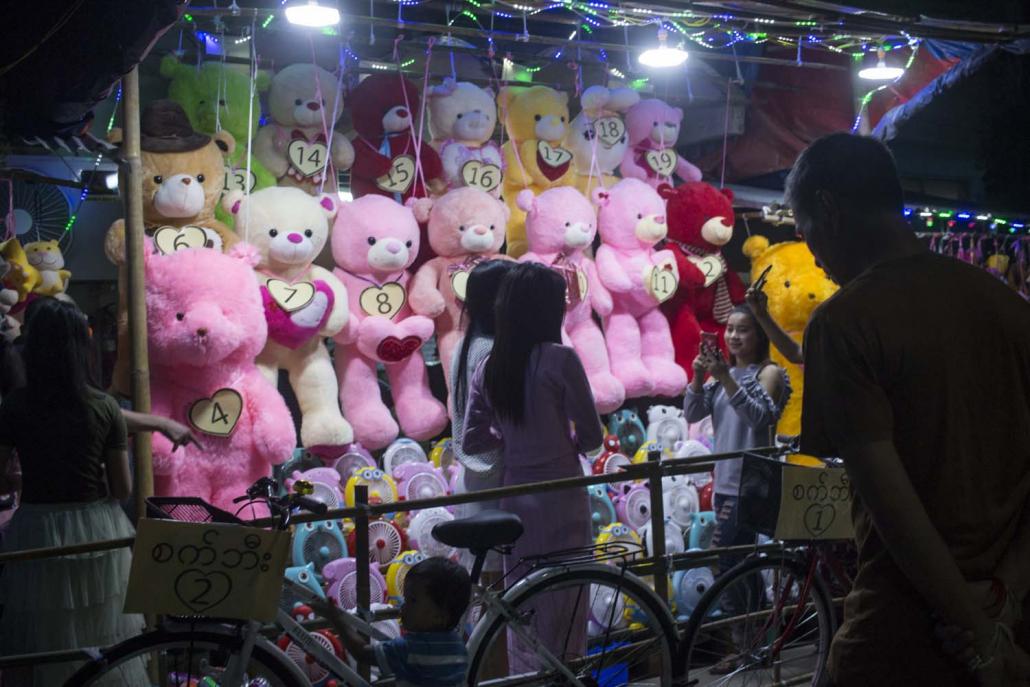 Kyaw Soe has tried diverse ways to control the queue jumpers.
For the previous two years, those queuing to receive the tokens for the first time had their little finger marked with ink. However, unscrupulous people were able to wipe off the ink and barge their way back to the front of the queue right after receiving a gift.
"I tried many methods but none of them worked. However, this year the queuing ran smoothly thanks to a new technology," Kyaw Soe said.
A week before the Neibban Zay event on Innwa Street began on November 12, Kyaw Soe called all the neighbourhood residents together and scanned their faces with the Luxand Face Recognition app on his iPad. The facial recognition app assigned each person a number, creating a visual register of everyone who was allowed to take part in the event.
On the day, as each person reached the front of the queue, their faces were scanned by the app to verify their place on the register before being issued with a token. In this way, he was able to ensure that no one was able to receive more than five tokens, and that participation was limited to local residents, with interlopers barred from taking part.
Kyaw Soe was delighted to be able to distribute five tokens each to 1,800 people. Everyone in the community, including young children and the elderly, got their fair share at an event where 92 households donated 9,000 items. "Many people tried to queue again [after receiving their fifth token], but they were thwarted by the technology," he said, laughing.
But Kyaw Soe is already thinking about how he can fine-tune his system for an even smoother Neibban Zay next year.
"Next year, I'm going to buy a finger-scanning machine. It will be faster and more accurate," he said.
TOP PHOTO: Neibban Zay brings communities together to create a charitable market to which anyone may donate goods, and is usually held on the full moon day of Tazaungmone or the following day. (Thuya Zaw | Frontier)