Months before the United States allowed the use of convalescent plasma in emergency COVID-19 care, Myanmar had already provided the century-old treatment to eight patients.
By FRONTIER
On August 23, Minister of Health and Sports Dr Myint Htwe honoured recovered COVID-19 patients who had donated their blood plasma at a ceremony at the Department of Medical Research in Yangon.
"I thank the donors … for their kindness," he said. "I respect you and am proud of you all.
Late last month, when the US Food and Drug Administration made headlines by issuing an emergency use authorization so that American doctors could use convalescent plasma to treat some COVID-19 patients, Myanmar had already successfully treated eight such patients, the Ministry of Health and Sports says.
"I offer my thanks to the entire medical profession for such successful CP treatment, and for doing your job of saving the lives of COVID-19 patients," Myint Htwe said, turning to the doctors and healthcare workers in attendance.
Convalescent plasma treatment, as the name implies, is the practice of taking plasma from the blood of recovered patients and injecting it into those that are ill. It's based on the idea that antibodies in the recovered plasma will help the patient fight the disease, and the practice has existed for more than a century.
On April 16 the health ministry created an Ad-hoc Advisory Committee for Convalescent Plasma Treatment. At the time, Myanmar had seen five COVID-19 deaths; by the end of April, another patient had died.
CP treatment was already being used in trials or on the gravely ill in China and the US, and Myint Htwe tasked the 12 doctors and public health experts with reviewing CP trials and treatments around the world. They were also instructed to evaluate the medical ethics of the procedure and the feasibility of undertaking it in Myanmar.
Dr Rai Mra, the committee president, looked at both the history of the treatment and its application to COVID-19 patients. The German physiologist Emil von Behring won the first Nobel Prize in medicine in 1901 for showing the treatment was effective at curing and preventing diptheria.
In the past two decades, it has been safely and effectively used to treat patients with SARS and MERS – two earlier coronavirus outbreaks – as well as the H1N1 virus. In each of these pandemics it seemed to lower viral load and cytokine responses – a part of the body's immune response to the virus that can actually cause some of the most severe symptoms.
Rai Mra was encouraged by a study published in early May of severe COVID-19 patients in Wuhan, China – the epicentre of the first reported outbreak – in which all patients treated with CP recovered.
It's worth noting, however, that there were only 10 patients in that study – an extremely small sample – and that studies on CP's efficacy for COVID-19 are still in their infancy. Still, it is generally considered safe, and has definitely received a lot of attention as a potentially viable treatment.
"I looked at all the evidence and I wrote a paper detailing why it was safe and ethical and presented it to the DMR's Ethics Committee," Rai Mra said.
After receiving ethics committee approval, the ad-hoc committee began recruiting COVID-19 patients with severe symptoms on May 13. The National Blood Centre helped create a new plasma donation bank at Waibargi Hospital, and by May 25 doctors began CP treatment on COVID-19 patients for the first time.
But if the research looks promising and the ethics are sound, the feasibility of the treatment is still unclear in Myanmar, particularly given the limited resources. An obvious challenge is that Myanmar has few plasmapheresis machines, which are used to separate plasma from blood.
Not all antibodies act on pathogens in the same way. Labs in Wuhan, for instance, can test plasma specifically for the antibodies that actively destroy virus cells, which are known as "neutralising" antibodies.
At the moment, labs in Myanmar can only test donors for general antibodies, so the concentration of actual neutralising antibodies in a sample is less certain. The National Health Laboratory in Yangon is building a lab that can offer more detailed testing with help from the European Union and the France-based Institut Pasteur, but it is not yet operational. Still, there are some heuristics doctors can employ.
"The most neutralising antibodies are found in the plasma of the most severe COVID-19 patients who recover," said Rai Mra. Because COVID-19 typically affects the elderly the most, he said, older people often produce the most antibodies.
However, donors must be between 18 and 55 years old. Men must weigh at least 49 kilograms and women at least 45 kg, and all are first screened for contagious diseases such as HIV, hepatitis B and C, malaria and elephantiasis.
After recovering from COVID-19, they must test negative in two consecutive COVID-19 swab tests and then quarantine themselves for 14 days before donating.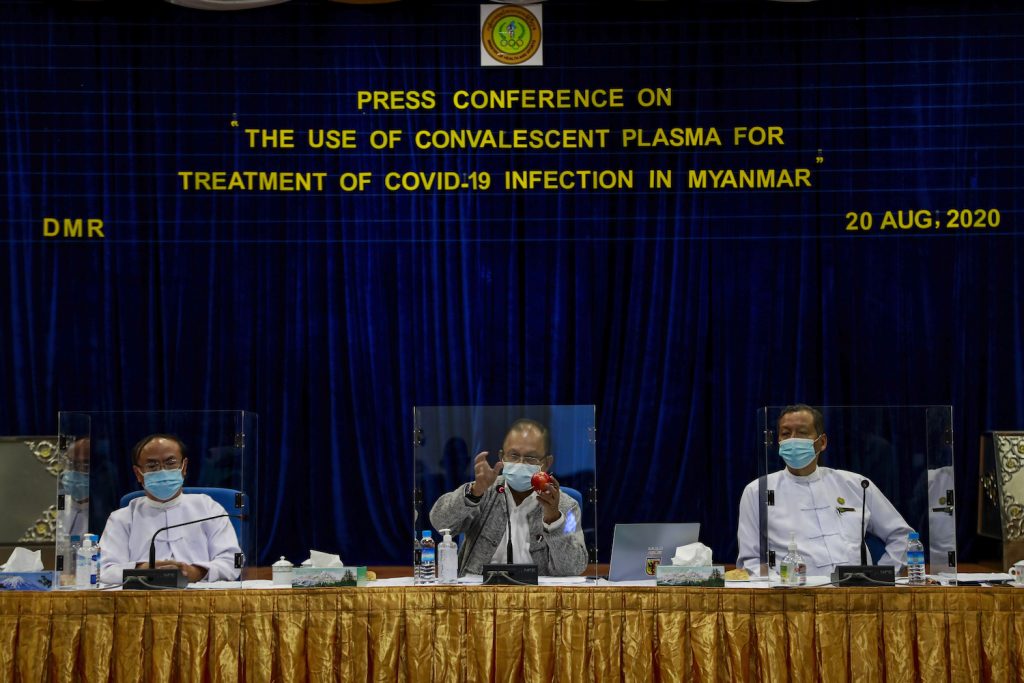 Severe cases only
The World Health Organization says about 80 percent of COVID-19 patients recover without needing to visit a hospital, and many are asymptomatic. Of the 20pc whose symptoms require hospitalisation, about 5pc will end up in a serious but not critical condition.
It is that 5pc that CP treatment could help, said Rai Mra.
Prime candidates for CP treatment are patients whose condition puts them at risk of serious lung damage – for example, if their blood oxygen level has dropped below 93pc or 94pc saturation, or if their breathing rate goes above 30 breaths a minute.
"Treatment with convalescent plasma is not for every patient," Rai Mra said. "This is for patients with severe symptoms."
Of the eight patients successfully treated with CP in Myanmar, six were more than 60 years old and one was over 70. Most had underlying conditions, and some were recovering from recent organ transplants. Another was a pregnant woman with heart disease. Hospital staff successfully delivered her child, who was born prematurely.
"These patients want to survive COVID-19, so they all listened carefully to their medical doctors and followed the directives of the (health) ministry," said Dr Sabai Phyu, head of treatment at Waibargi.
While all eight have cleared the virus, only four have been released from hospital. The other four are still receiving treatment for underlying conditions, or are recovering from their organ transplants, she said.
"There are no COVID-19 patients who need PC treatment right now, but we are trying to prepare in the case of an emergency," said Dr Thida Aung, deputy director general of the National Blood Centre.
Donations are still needed. Waibargi received one plasmapheresis machine from the health ministry in August.
After the machine separates out the antibody-rich plasma, the rest of the blood – the platelets and red and white blood cells – is circulated back into the donor. Because most blood is returned, donors can typically supply 400cc to 600cc of plasma at a time – significantly more than in a normal blood donation. Donors must wait two weeks before giving more.
Generally, one severe COVID-19 patients will use two 200cc packs of CP per treatment, but patients sometimes need four, Rai Mra said.
To enable it to accept more donations, the Ministry of Health and Sports plans to open a plasma collection centre with another plasmapheresis machine at the DMR in Yangon. Dr Zaw Than Tun, the department's director-general, said it will operate under the National Blood Centre. The ad-hoc committee is also looking into accepting donations at a COVID-19 treatment center in Hlegu Township where several patients have recently recovered.
U Ni Tar, a singer from Yangon Region who was treated for COVID-19 at Waibargi from April 14 to May 7, said he donated plasma as soon as he could.
"Donating blood is a noble deed," he said. He did because he "wanted to save severe patients from the deadly COVID-19".
"These patients are the ones who may die if we do not treat them with CP treatment," said Rai Mra. "We've done our job as best we can. No jewels or money can compare with the euphoria of knowing that."