Foreign investors and staff who were outside Myanmar when commercial flights stopped in March are doing their best to manage businesses from afar but unsure when they'll be able to return.
By THOMAS KEAN | FRONTIER
When Myanmar shut its borders at the end of March, Mr Peter Witton found himself in the wrong place at the wrong time – that is, outside the country.
Unfortunately, so were Ms Josephine Price and Ms Genevieve Heng, his fellow directors in Anthem Asia, an investment firm that has taken stakes in a range of Myanmar businesses, from restaurant company RTH to tech firm KyoPay.
From Hong Kong and Singapore, they've adapted and kept the business running smoothly by holding regular calls with staff, companies they've invested in and potential partners. They've even signed one deal remotely – something that they would not have contemplated in normal circumstances.
But after nearly four months, remote management is starting to wear thin.
"There's a lot we can do remotely … we spend a lot of time on Zoom and Google Hangouts. Josephine has done five calls this morning, and it's not even midday," Witton told Frontier from Hong Kong on July 9.
"But with the best will in the world, you can only do so much online. We held a board meeting with a company yesterday and got it down to about an hour and a half, but any Zoom call that goes over 20 minutes is starting to affect people's concentration."
Although COVID-19 has had a severe impact on the economy and dampened the overall investment climate, Witton said Anthem Asia has been "really busy" because many promising companies have plans to expand and need access to capital.
But from 2,000 kilometres away, moving these potential deals forward has proven challenging.
"There comes a point where we need to be back, because it's not just about doing numbers and financial modelling. You need to have conversations with people in person," he said.
"We're no different from anyone else. We're managing it, but we would really like to get back on the ground in Yangon as soon as possible."
---
---
Witton and his colleagues are among thousands, possibly tens of thousands, of foreign investors, business owners and employees who were outside Myanmar when international borders began to close and airlines suspended services.
Some left voluntarily, heeding warnings from their governments that Myanmar's health system would struggle to cope with a significant COVID-19 outbreak. Others had no choice but to depart due to the protocols and emergency response policies of their employers. In some cases, employers had their hand forced by insurers, who refused to continue covering anyone still inside the country.
A trickle of departures in February turned to an exodus by mid-March, and within a week or so the final flights had left the country amid a last-minute scramble for seats. The government formally prohibited the landing of commercial flights from midnight on March 30.
But as COVID-19 case numbers began to stabilise and the economy reopened from the semi-lockdowns of April and May, attention soon began turning to how to get back into the country.
From late May the question began to come up regularly in webinars organised by foreign chambers of commerce, but many businesspeople found that with commercial flights banned and land borders shut, there was simply no way to get back.
In June the government quietly began allowing some "essential" workers to return on relief flights that were originally intended to bring home Myanmar citizens. Government figures show that 278 business visa holders entered the country in June, up from 102 in May – still just a fraction of the 25,000 a month that Myanmar was receiving before COVID-19.
When it announced at the end of June that airports would remain closed through July, it added for the first time that foreigners who wished to travel to Myanmar on relief flights for "urgent official missions or compelling reasons" should contact the nearest Myanmar embassy "for possible exception with regard to certain visa restrictions".
The government has also relaxed its quarantine policy, introducing what's being referred to as the "7+7+7" rule: seven days of home quarantine and a COVID-19 test before departing for Myanmar; seven days of facility or hotel quarantine upon arrival, including another COVID-19 test; and a further seven days of home quarantine.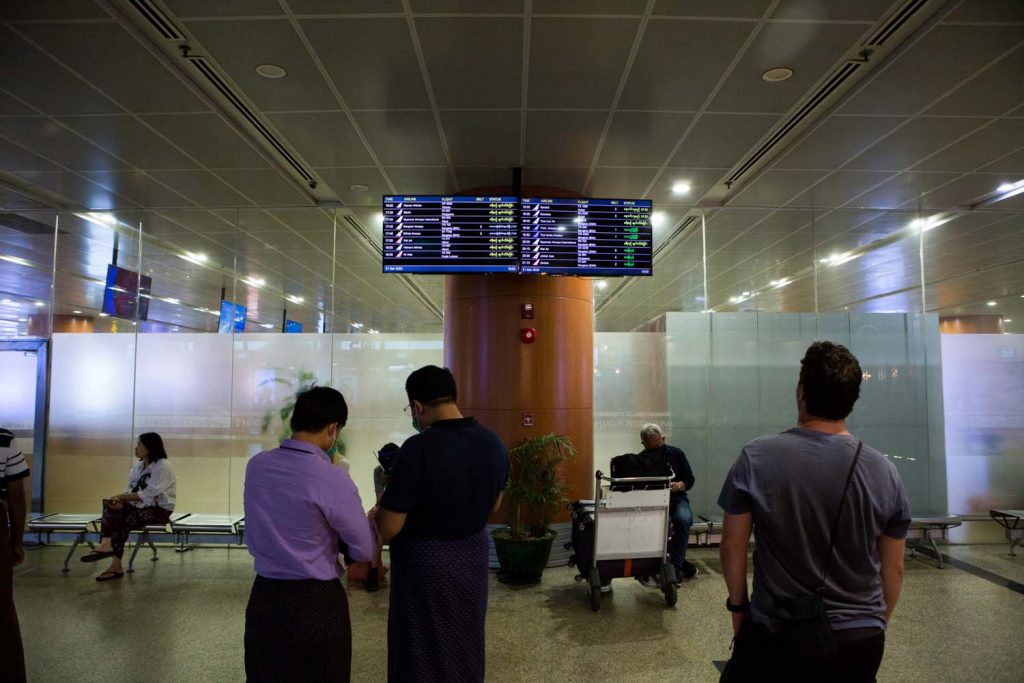 Among the few who have been able to enter the country were 20 Japanese engineers and other officials working on development projects, including the construction or repair of roads, bridges, railways, power infrastructure and hospitals.
The Japanese embassy in Yangon thanked the government for facilitating their arrival in Yangon on an ANA relief flight on June 26, saying they were "indispensable for implementing ODA projects in Myanmar". A spokesperson said there were more than 1,300 Japanese businesspeople waiting to come back, with another 55 expected to return in early August.
For those not involved in government-to-government projects, getting on relief flights has proven difficult, requiring special permission from the Ministry of Foreign Affairs in Nay Pyi Taw. Embassies are also generally not issuing new visas and simply getting to a country where relief flights are departing from is also challenging for some.
Many will likely have to wait until Myanmar allows commercial flights, but that could be months away, particularly for those who are not already in the region.
At a tourism development meeting on July 7, Vice President Henry Van Thio suggested the government would only consider allowing international commercial flights from October, but may join "travel bubbles" that will allow travel between countries in the region that have low numbers of COVID-19 cases.
A spokesperson for EuroCham Myanmar said the uncertainty over when restrictions would be lifted was making it difficult for businesses to maintain operations, let alone expand or make new investments.
While it's difficult to say exactly how many Europeans are waiting to come back to Myanmar, the spokesperson said EuroCham had received "many inquiries" from members about how to return, and there was "a clear need" for international employers and workers to be able to enter Myanmar again.
"The return of foreign employees that are 'essential' for European businesses should be made possible under global standards set on quarantine," the spokesperson said.
EuroCham member Mr Erwin Sikma said the lack of management staff on the ground had resulted in "slow decision-making, fewer new sales deals and growing complications in product and service delivery".
---
---
But foreign chambers and businesspeople also recognise the reasons for the government's caution, and that Myanmar is far from unique.
"Every country in the region is dealing with this challenge, it's by no means unique to Myanmar," said Mr Jeremy Mullins, who heads the Myanmar office of consulting firm Vriens & Partners. "Singapore, for example, is having similar discussions. Everywhere it's about striking the right balance between allowing movement and protecting health."
Ms Ekayi Maw, the chief executive officer of AustCham Myanmar, said the travel and visa restrictions and quarantine measures were "understandable given the importance to protecting the health and welling being of the people of Myanmar as well as all those living and working in Myanmar".
Australians face some particular challenges in returning, she said, including the need to get government permission just to leave Australia. The biggest hurdle though is the lack of flights, as there are no direct flights and numerous travel restrictions to work around.
AustCham is aware of more than 30 Australians hoping to come back as soon as possible, Maw said, adding that there are likely to be hundreds more who would like to return in the coming months.
Until they can return, a number of Australian businesses in Myanmar will face "quite significant challenges".
"The adoption of technology to facilitate working from a distance makes operations possible, but … many need to be back in Myanmar to oversee and continue their operations," she said.
"The Myanmar government clearly appreciates this and we feel like they are doing what they can to help."
After the government announced in late June that essential workers would be allowed onto relief flights, Witton applied to renew his visa at the Myanmar consulate in Hong Kong. The application is being processed, and he is hopeful it will be approved. The next challenge will then be to get to a country with a scheduled relief flight, if commercial flights are still not yet operating.
"We're quite happy to do whatever it is to get on one of those flights. We have no issue on the quarantine once we get back to Yangon. We understand exactly what's required and are prepared for it," he said.
The first thing he plans to do when he gets back? "I want to go to RTH and have a bowl of mohinga!"