A large number of expatriates have departed Myanmar over the past week as the global coronavirus pandemic continues to worsen and international travel becomes increasingly difficult.
By THOMAS KEAN | FRONTIER
IF MR Geoff Hodgson had his choice, he wouldn't be packing his bags to return to Australia.
Since January, Hodgson has been working in Yangon with Switzerland's Centre for Development and Environment on the OneMap Myanmar project, which aims to bring together Myanmar's spatial data in a single place and make it publicly available.
A spatial analyst of almost 25 years' experience, Hodgson took leave from his job with Australia's Commonwealth Scientific and Industrial Research Organisation to sign up for the Australian Volunteers Programme and get posted to a developing country.
Hodgson had expected to live in Myanmar for a year. But then the coronavirus pandemic struck, and as cases increased globally and travel became more difficult, the Australian government issued an advisory warning against all international travel. As a volunteer with an Australian government programme, Hodgson was ordered to leave.
"I'm really disappointed – I wanted to continue my assignment," he told Frontier on March 20. "It was important to me ­– part of my life plan – to come and do development work in a place like Myanmar… I've been so warmly welcomed here that I don't want to go home."
Just getting out of the country has proven complicated. Hodgson was originally booked to leave on March 30. His departure was then brought forward because connections were decreasing and more countries were introducing travel restrictions, but then one leg of his new itinerary was cancelled at the last minute. He's now expecting to leave on March 22, along with all the other Australian volunteers.
It's a familiar story for many expatriates in Yangon, with departures increasing significantly over the past week as the coronavirus crisis has worsened globally and more governments have urged their citizens to consider returning home.
Like Hodgson, though, many have not had a choice, with embassies, international NGOs and foreign companies all withdrawing non-essential foreign staff.
"A significant share of expats working for multinational corporations have already left Myanmar, even though it [the departures] really just started this week. Anecdotally, maybe half of expats in firms I deal with have left or are in the process of leaving," said one Yangon-based business consultant, who spoke on condition of anonymity.
Although multinational corporations are withdrawing staff or instituting work from home policies all over the world, several specific factors have accelerated departures from Myanmar – despite the country not yet announcing a single confirmed case of coronavirus.
"One big concern is the ability to get home to places like Europe and the US, since many flights from Myanmar connect through other countries that have been or may be restricted," said the consultant. "Others seem to be around the state of the healthcare system and challenges around securing medevacs in the present environment, as well as advice from professionals and bodies such as their respective embassies."
Others though have had to decide for themselves whether to stay or go. With the situation changing rapidly, the call can be a difficult one – particularly for those with family members of another nationality who may not be able to leave with them.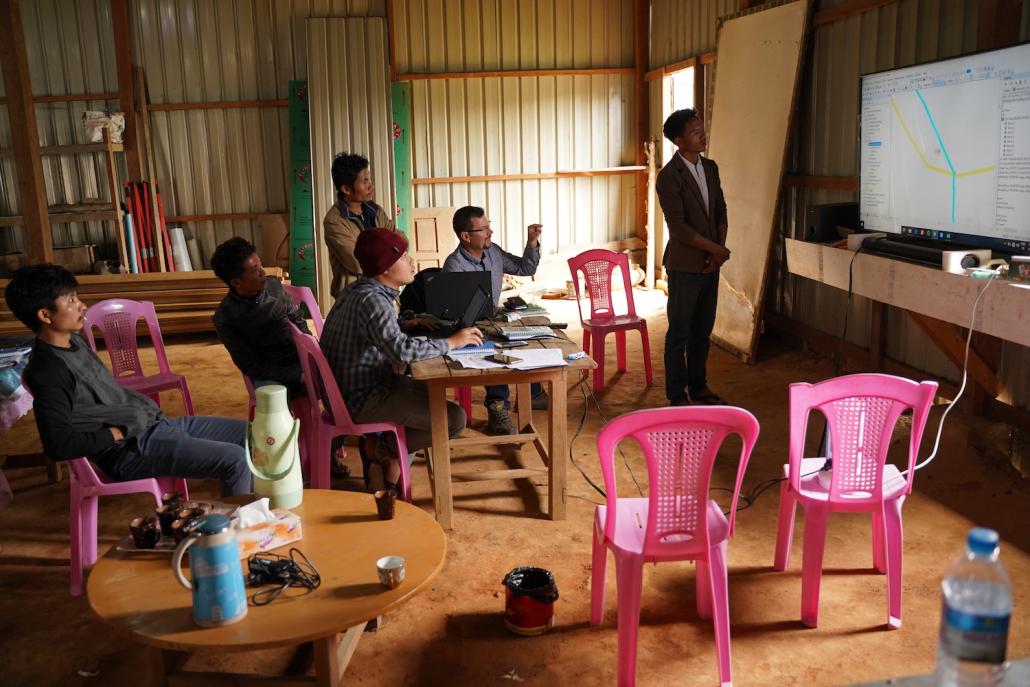 Hodgson said the Australian government's March 19 announcement that it would bar entry to non-residents had sparked "panic" in the expatriate community.
"People are saying, 'If I don't go now I won't be able to get home at all'," he added. "You're put in a difficult position because you need to make a decision quickly."
Many are turning to their embassies for reliable information and advice.
"We're getting expressions of concern from American citizens but everyone has to make the decision for themselves," said Ms Aryani Manring, a spokesperson for the US embassy in Yangon. "We're just trying to put out as much information and be as transparent as possible."
This information has included projections of flight availability out of Yangon. The embassy said on March 19 that flight availability had decreased in recent weeks, and it expects that by April 5 the number of flights to nine major destinations will be one-third below pre-March levels.
However, 64 percent of remaining services will be to Bangkok, and Thailand on March 19 introduced new rules for all foreign passengers – including those in transit – that require them to have a medical certificate confirming they are not infected with COVID-19, and medical insurance of no less than US$100,000 which covers COVID-19. Given it is difficult, if not impossible, for a healthy person to obtain a test, the rules seem to amount to a de facto ban on foreign passengers ­– and have dramatically narrowed options for those seeking to leave Myanmar. At the same time, Myanmar and Thailand have also closed their land border to nationals of other countries.
Singapore announced on Sunday that from Monday night at 11.59pm it would no longer allow short-term visitors to enter or transit through the city state.
The risk of travel restrictions and flight cancellations was a factor in the British government advising all of its nationals in Myanmar to leave as soon as possible.
It also warned in a March 17 Facebook post that the global coronavirus pandemic "is expected to put significant pressure on Myanmar's medical facilities, and they may not be able to offer routine care."
"You should make your own arrangements for leaving the country. We only organise assisted departure in exceptional circumstances and do not anticipate that we will be doing this in Myanmar."
The post triggered an angry response from Myanmar Facebook users, who questioned why British nationals would want to return to their own country ­– where there have been almost 4,000 confirmed coronavirus cases and 177 deaths, and residents are facing the prospect of a year or more in lockdown ­– when Myanmar has no confirmed cases and life goes on mostly as normal. (The British embassy declined to comment.)
Aside from concerns about travel restrictions and health capacity in Myanmar, many also question whether Myanmar is really free of COVID-19. The virus has to date been detected in 186 countries or territories, and Myanmar is the largest country by population to not have a confirmed case.
In a report on March 19, the United Nations Fund for Children, UNICEF, said the World Health Organization "notes that it's biologically plausible that there are cases in the country which remain undetected".
Myanmar has so far only tested 201 people, of whom 187 have been confirmed as negative and 14 are still waiting for results.
"The assumption I think is that there are cases here," said one Western diplomat, who spoke on condition of anonymity. "Myanmar has a long, porous border with China and there just hasn't been a lot of testing."