By MRATT KYAW THU | FRONTIER
ANN, Rakhine State — By-election fever does not appear to have made its way to Ann Township, Rakhine State, whose residents will be electing their Pyithu Hluttaw representative tomorrow, with many still undecided who to vote for.
Four candidates — one each from the Arakan National Party, Union Solidarity and Development Party and National League for Democracy, as well as one independent candidate — are competing for the Lower House seat in Ann, which is located in the centre of the state and is home to the Tatmadaw's Western Region Command.
The dominant ethnic group in Ann is Rakhine, followed by significant Chin and Bamar communities. However, many Rakhine people in the area do not speak the Rakhine language, instead conversing in a dialect that more closely resembles Burmese, and regard themselves as "Ann-Rakhine" rather than Rakhine.
U Thein Swe, from the Union Solidarity and Development Party won the Pyithu Hluttaw seat in 2015, before he gave up his seat to become Minister for Labour, Immigration and Population.
U Zaw Win Myint is the NLD's representative, U Thaung Nyein the USDP and Dr Aye Maung is representing the ANP. Ko Zaw Linn Aung is the independent candidate.
When Frontier asked people in Ann which party they were planning to vote for, many said they were unsure but said they would definitely vote.
Push by the ANP
The ANP has been campaigning enthusiastically in Ann for the past week, hoping to install party chairman Aye Maung, who lost his bid for a state parliament seat in Munaung Township, Rakhine State, in 2015.
About 800 ANP supporters from across the state as well as Yangon conducted a rally around the township yesterday.
Speaking in Tat Taung village on Wednesday, Aye Maung, who is from Rathedaung Township and the only non-native to Ann competing for the seat, said that if the ANP wins in Ann it will build the momentum to gain a majority in the Rakhine State Hluttaw after the 2020 general election.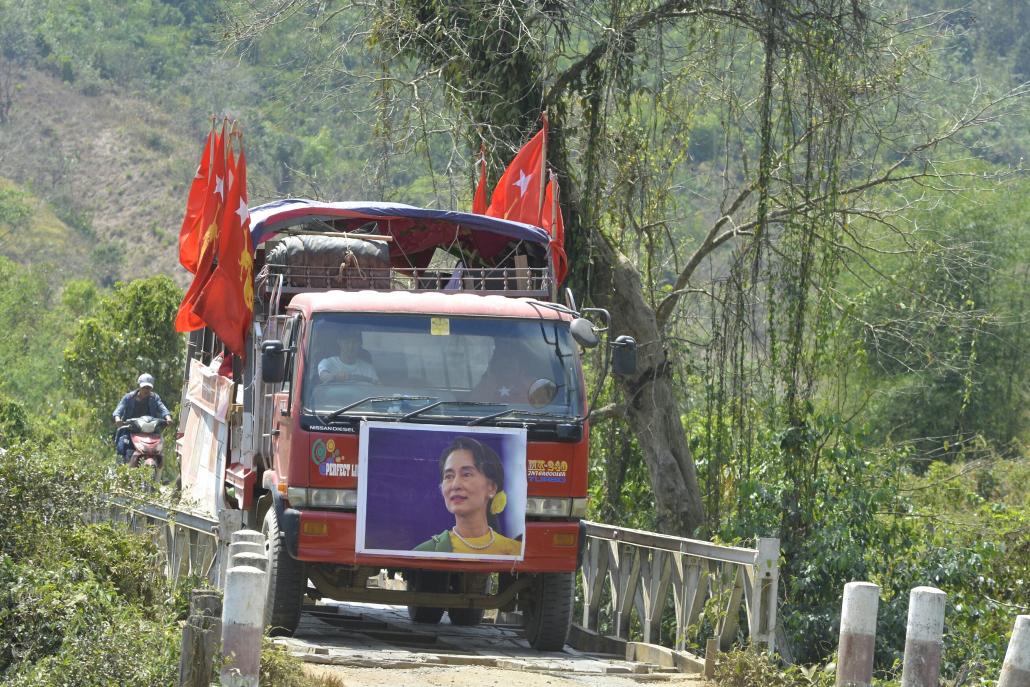 ANP general secretary U Tun Aung Kyaw told Frontier that the party's chances were "50-50" in Ann.
They will face difficulties. The ANP does not enjoy popular support in the town and most of the ethnic Rakhine here tend not to support the nationalistic message that has propelled the party to electoral success in other parts of the state.
"He only came to our township for this by-election," Ko Maung Shwe, a shopkeeper in downtown Ann told Frontier. "At other times, it seems like Ann Township was not on the map for Rakhine and Rakhine ethnicities. I'm wondering why he chose this place."
NLD struggles
There is also limited support for the NLD.  Although the image of State Counsellor Daw Aung San Suu Kyi hangs in some homes, the party doesn't appear confident of victory.
When asked about his party's chances, U Zaw Win Myint, an NLD party member in Ann, responded: "It'll be fine, I guess".
The NLD has carried out some campaigning, bringing performers from Yangon, but overall excitement around the poll appears to be low with only a handful of people campaigning on behalf of most parties.
The USDP has been particularly quiet, campaigning in rural areas. Its party members have been uncontactable since Tuesday.
Zaw Linn Aung, the independent candidate and a former member of the ANP, said he was confident of victory, and particularly of defeating Aye Maung in the vote.
"People in Ann are not extreme-nationalists and they [ANP] cannot persuade [people] with those kind of words. People are liberal here and they know [the candidate] who can do what they want," he said.