An innovative school at Monywa is among the few independent institutions in the country providing free schooling and vocational training for people with disabilities.
By VICTORIA MILKO | FRONTIER
JUST A few hours drive from Mandalay, down a dusty road near the Sagaing Region capital of Monywa, is a revolutionary school for the physically and mentally disabled that is changing lives for the better, one lesson and vocational skill at a time.
The school opened in December 2015 and is a joint project between the Association for Aid and Relief, a Japanese NGO active in Myanmar since 1999, and a blind monk who donated the land. The school is among the first of its kind in Myanmar, providing school lessons, vocational training and accommodation for those in need.
"In past years there were no independent training schools for disabled persons," said Ko Ayah Tet, 25, the school's chairman, who was born with a spinal deformity. "So we planned to found an independent training school for the disabled. And here we are."
The school, which relies heavily on donations from the local community, provides private accommodation for families and young boys, food and basic equipment such as crutches and walkers. There's even a motorised wheelchair that was donated by a private company.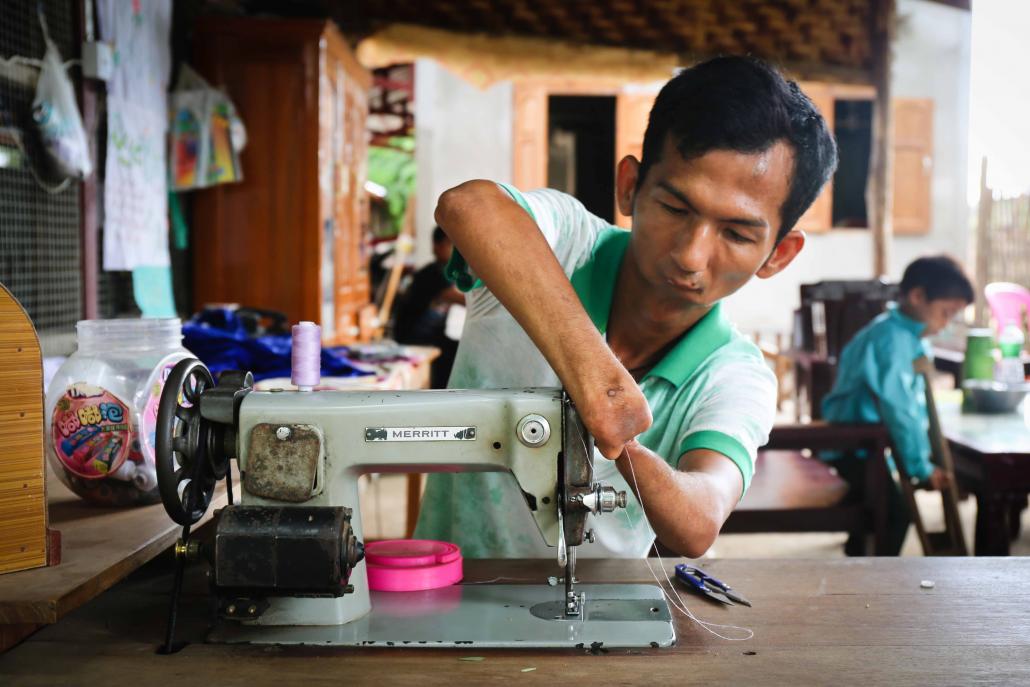 In a country with few facilities for the disabled, the school is an architectural dream for those with physical disabilities and blindness. Each of the school's three buildings is equipped with ramps to enable easy access for those who use wheelchairs or crutches. Walkways linking the buildings are evenly paved and fitted with handrails that function as a guide for blind residents. The doors and toilets are wider than usual ensure easier access.
Even the clothing provided by the school sometimes serves a functional purpose. Ma Cherry, 3, who lives at the school with her family, wears shoes that squeak every time she takes a step, enabling her blind father to monitor her whereabouts in the school's compound.
The sound of children reciting lessons drifts through the windows of classrooms on one side of the compound. Vocational skills, including computer use, tailoring, tarot reading, and astronomy, are taught on the other side of the property, often accompanied by the thump, thump, thump of a sewing machine.
"When I came here I felt like I was an equal," said Ko Sann Thoo, 35, a sewing teacher who lives at the school. "I finally felt like I was equal," repeated Sann Thoo, who was born with one leg, no lower arms and part of his jaw missing.
He often felt stigmatised and misunderstood by residents of his village. Like most communities in Myanmar, it had no resources for the disabled.
"I think it was at the age of three or four I began to notice I was different from others," he said. "People stared at me like I was a freak. They didn't understand my situation and I was so embarrassed I just stayed inside my home."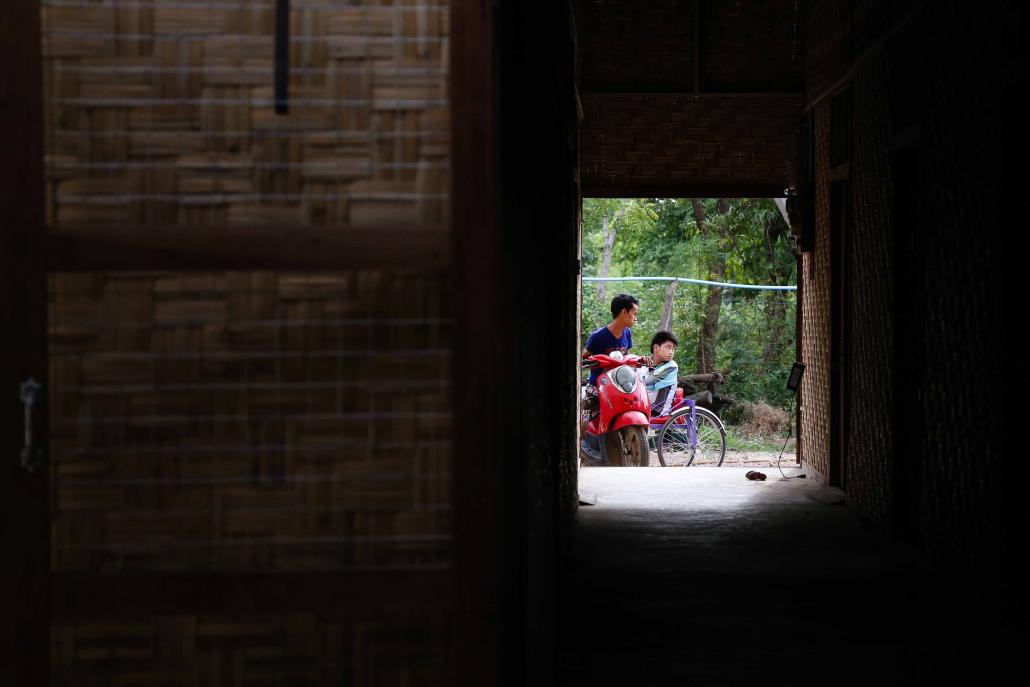 After his family sent him to the government school in the village, he continued to face social, educational and mobility challenges.
"Sometimes I would have to hop to school and I would trip into dirt or land in water," he said. "I would go to school ashamed and covered in dirt."
Sann Thoo said a trip to Yangon to visit AAR's office was a turning point for his education – and, ultimately, his life as a disabled person.
"I went to Yangon to get a fake limb and a nurse asked what profession I was interested in: computers, being a barber or sewing," he told Frontier. "So I said I was interested in sewing."
Sann Thoo began an AAR tailoring course and graduated in less than a year.
"I had been interested in this subject since I was a kid but I never dreamed I would be able to learn it, because I was a disabled person," he said. "But when I met with AAR I was speechless, and happy. I had found a place to learn."
Sann Thoo said his experience inspired him to teach vocational skills to others with disabilities, leading to his position at the school at Monywa, where one of the other sewing teachers is Ma Lu Lin Hein, 29. She contracted polio at a young age and lost the use of a leg.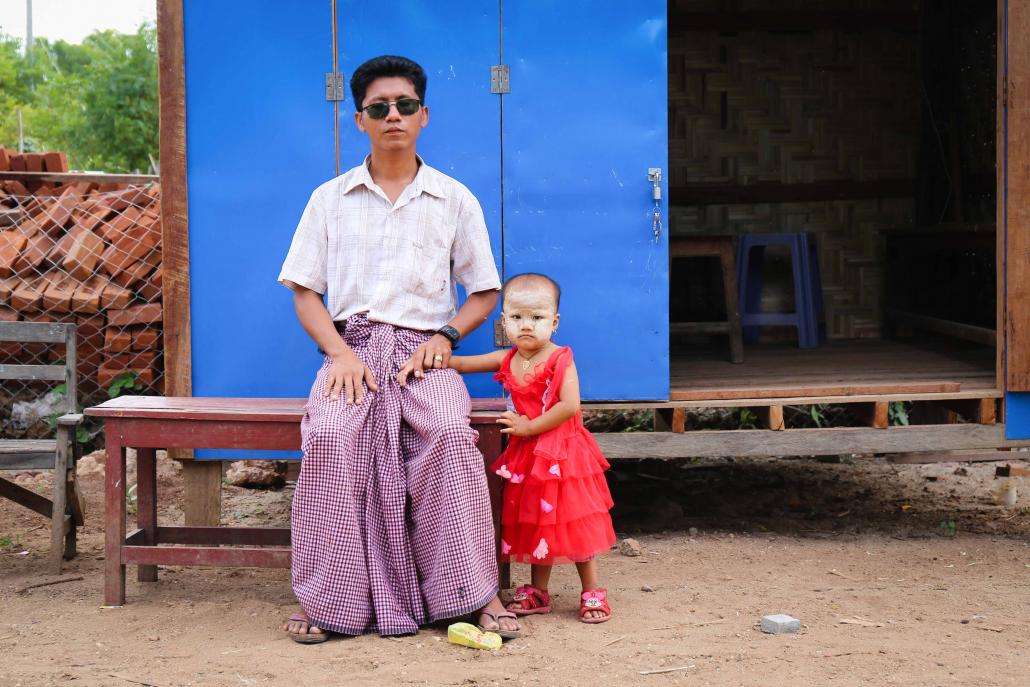 Lu Lin Hein said she believed other people in her village had contracted polio, but she was among the few who had the opportunity to receive training from AAR.
"When I was younger and went to the training school to learn sewing I felt empowered and encouraged," she said. "Now I actively teach kids here and in different groups, hoping that I can give them the same feeling that I had."
Lu Lin Hein said disabled women were likely to experience more stress than disabled men.
"I feel more frightened and more discouraged, being a disabled woman," she said. "There are fewer people to stand up for me and make sure I am taken care of. Who will make sure I am safe?"
Despite her fears, Lu Lin Hein is involved in a project to help a new intake of disabled women at the school. She is helping with preparations for the school's recently completed women's wing, which will provide secure accommodation for single women and young girls looking to attend the school.
"Many potential female students have contacted us hoping to come to the school," she said. "Starting [in September] when we plan to open the women's residency, I hope that we are able to help them all."
Retired teacher Daw Thu Ri Oo, who spent decades working with disabled children and is an advisor at the Monywa school, said there were many challenges facing the disabled community.
"They need equal opportunity and equal access," she said, adding that to achieve equal opportunity, the disabled community also needed adequate political representation.
Thu Ri Oo said she was motivated to volunteer at schools for the disabled, such as the one at Monywa, because many of these institutions lacked properly trained teachers and adequate classroom resources.
"Even when I registered blind and disabled students at public schools the teachers usually said there was no one available to teach the students," Thu Ri Oo said. "That's why we form training centres and schools like these," she said, referring to the school at Monywa. "This is why I volunteer."
Thu Ri Oo said that although there had been an increase in schools and resources for the disabled, much more needed to be done to secure their rights in Myanmar.
"We still need to keep going," Thu Ri Oo said. "We have to work a lot more and work hard so that there will be more opportunities for disabled people. Not everyone has the opportunities like the ones that are found here in Monywa."