At a training centre for women in Yangon, adolescent girls who have experienced trafficking, abuse and sex work, or have been detained for juvenile offences, learn to understand their bodies and protect themselves from HIV and other sexually transmitted infections.
By MARYSOL BALANE | FRONTIER 
MA YIN YIN* is 18 and has just been learning about her menstrual cycle. It's the first time she has received a biological explanation of the changes that happen inside her body every month.
Yin Yin is one of 80 girls living at the Vocational Training Centre for Women in Yangon, which provides shelter for girls who have survived human trafficking and abuse, and those detained for juvenile offences. The centre teaches vocational skills, such as sewing, embroidery and making nets, that the girls can use to earn a living during and after their stay at the centre. The girls stay at the centre for anywhere from a few months to two years, depending on the circumstances under which they arrive.
The vocational training centre for women is one of four run by the Ministry of Social Welfare, Relief and Resettlement, with others in Mandalay, Kengtung in Shan State, and Myeik in Tanintharyi Region.
Aside from teaching vocational skills, the Yangon training centre also partners with non-government and community-based organisations to provide training across a range of topics, including rights awareness, violence prevention and sex education.
The HIV and Sexual Reproductive Health and Rights training that Yin Yin attended was conducted in collaboration with UNAIDS, UNFPA and the Myanmar Positive Women's Network, with funding from the Three Millennium Development Goal Fund, which is supported by Sweden, Switzerland, the United Kingdom and the United States. The training was conducted in two batches at both the Yangon and Mandalay centres, and similar sessions are planned at the Kengtung and Myeik centres.
Daw Aye Naw Win, the principal of the centre in Yangon, said that sexual and reproductive health training is important as some of the girls have experienced sexual assault and some have been involved in sex work. The sessions provide information about how the girls can protect themselves from acquiring HIV and other sexually transmitted diseases.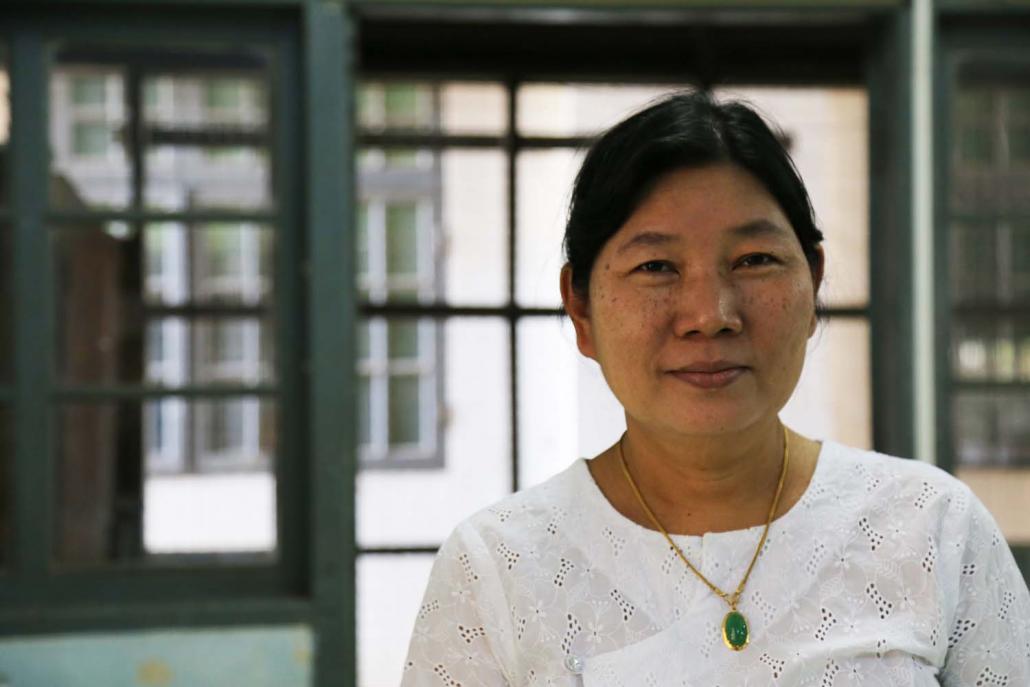 Aside from conducting different training sessions, the centre also provides health services for the girls such as regular HIV testing and counselling every six months, with health care providers going to the centre to administer the tests. Those who are HIV-positive are enrolled in the anti-retroviral treatment programme. Some of the girls who are pregnant are also provided with the health care they need throughout their pregnancy, such as treatment to prevent mother-to-child transmission of HIV.
The centre also provides psychosocial support and counselling services for girls who have been trafficked. They help track the parents and family members to enable the girls to go home. Aye Naw Win said a challenge the centre faces is that girls sometimes prefer to go to friends instead of family members. However, this is not allowed based on the centre's guidelines; for their own safety and protection, the girls can only to family members.
Some girls and young women who arrive at the centre have suffered enormously. Aye Naw Win recounted a girl who was being trafficked for marriage to a neighbouring country. The girl was abducted from her village when she was just 14 years old and lived abroad for seven years.
During that period, she acquired HIV and was on and off on anti-retroviral treatment. By the time she arrived in the centre she was very weak. The center was able to find her mother and brother, who had been looking for her for many years, but the three could only meet briefly before the girl had to be brought to the hospital, where she soon passed away. Telling the story, it is clear that Aye Naw Win found the experience deeply upsetting.
"I remembered her because she was the one we couldn't save," she added.
Despite the heartbreaks and the challenges of caring for girls with different backgrounds and experiences, Aye Naw Win continues with her work because she feels like she is their mother. She has been working in social welfare for women and children for 22 years and was promoted to her current position in 2015. She feels empowered by the process of teaching and empowering young women, and in aspiring to become a role model for them to follow.
But what do girls like Yin Yin aspire for? Like many other young women and men, her dream is to become a singer and actress. But after her stay at the centre, Yin Yin also looks forward to applying her newfound sewing skills to get a job at a garment factory. Armed with the lessons and knowledge received from the various activities at the centre, she plans to work towards the achievement of her dream.
*Yin Yin's name has been changed to protect her identity.
TOP PHOTO: Adolescent girls learn about HIV and sexual reproductive health at a vocational training centre in Yangon. (Supplied)