A wave of disinformation that engulfed social media on November 8 and the days after the election sought to raise doubt about the result and send some sinister messages.
By PHONE HTET NAUNG, ALEX BEATSON and ANDREW NACHEMSON
On November 8, Myanmar finally got its "Facebook election".
The Myanmar Tech Accountability Network's monitoring recorded a surge of Facebook activity on election-related content, with the top 2,000 most shared items having a combined total of more than 15 million engagements. As the scale of the National League for Democracy's win became clear on November 9, the monitoring network recorded more than 12 million engagements.
No previous day had broken the four million mark for election-related content.
But amid this surge in interest on and after election day was an accompanying wave of online disinformation about the results and false claims of voting irregularities. Much of this content was in support of the pro-military Union Solidarity and Development Party, and echoed party leaders' claims that the election was unfair and there had been widespread irregularities.
U Myat Thu, a research assistant at MTAN, said much of the disinformation targeting the credibility of the election appeared to have been coordinated. In some cases, it had begun even before polling stations opened. At midnight the day of the election – well before stations opened at 6am – he said he "noticed systematic disinformation", in which more than 30 Facebook accounts near-simultaneously posted videos from YouTube that claimed foreigners, including billionaire philanthropist George Soros, were influencing the election.
Most of that first wave of disinformation was quickly taken down by Facebook, he said, but YouTube took significantly longer to remove the videos and the account, MMLeakTeam, that had posted them.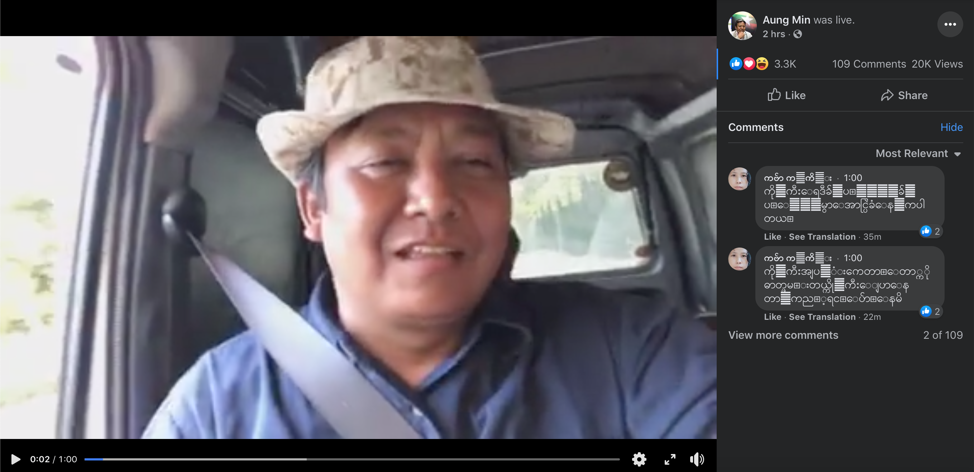 False claims and fabrications
One of the most viral pieces of content Frontier viewed after voting got underway was a video posted by known disinformation peddler Aung Min, falsely claiming that the NLD lost in Kawhmu Township, where State Counsellor Daw Aung San Suu Kyi was running for the seat she won in 2015. Before it was finally taken down, the post had gained more than 42,000 views and thousands of likes and shares. Aung Min also spread a rumour that Aung San Suu Kyi was planning to flee Myanmar after the election, saying, "it is not comfortable to run away in high heels and you cannot get very far" – a comment that could be seen as vaguely threatening. High heels are often used as a symbol for Aung San Suu Kyi.
Aung Min's entire account has since been suspended. A Facebook spokesperson told Frontier that Aung Min has been put in a fake account checkpoint until he proves his identity, although it doesn't appear that Aung Min ever tried to obscure his identity – many of his posts are simply videos of himself talking. Facebook did not answer a follow up email about this issue.
Facebook also claimed that the video about the Kawhmu Township results was not flagged to Facebook by any partners and was taken down in "a matter of hours" once it was discovered. However, Frontier reported this video to Facebook at 7:20pm on election day, and the video was still up at around noon the next day, during which time it amassed another 20,000 views at least.
One post that gained more than 1,100 likes before being removed claimed reports of the NLD winning the election were "fake news", and that the ruling party had won only 153 seats (it won 396 in the Pyidaungsu Hluttaw). Another since-deleted post seemed to pull a page out of United States President Donald Trump's book, dismissing results announced by media outlets. "Do not listen to misinformation, as only the [Union Election Commission] statement will form a legitimate government," the post said, falsely claiming the USDP won 65 percent of the vote countrywide.
Another post alleged that 45 million votes had been cast for the NLD, despite Myanmar having only 37 million registered voters – a complete fabrication aimed at making the election win look fraudulent. Confusingly, the post also referred to the official turnout of around 70pc, and said it was not believable that Myanmar's general election would have a higher voter turnout than the US presidential election.
Other posts were more sinister. One, with over 2,000 reactions and more than 1,300 shares, showed an image of a military boot stomping on a high heel shoe. The post, which is still accessible, was written as if from the Tatmadaw's perspective. "We are the referee of this game. We will transfer to those who win … do not dare to shout without discipline or rely on the high heels," it read – despite Senior General Min Aung Hlaing having said early on election day that the military would respect the outcome of the election.
The exact same content was posted by another user in a different group, also amassing over 2,000 reactions and over 1,300 shares. Another, with over 2,200 reactions and more than 1,200 shares, accused the UEC and NLD of collaborating to commit voter fraud. "This is a valid reason for a military coup," the post said.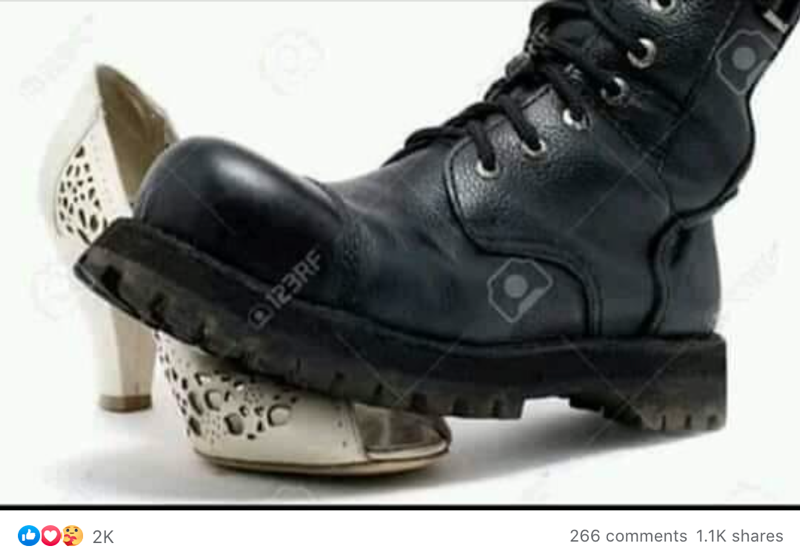 Amplifying reach
Frontier also analysed some 22,000 posts from almost 3,000 pages and groups. In order to maximise reach, most of the confirmed pieces of disinformation had been written on the timeline of an individual account before being shared to a group or page.
This chart shows that relationship between posts and groups. The blue dot represents all posts made to timelines, indicating that the vast majority of disinformation we found in public groups or pages was originally posted on individual timelines, before being shared to groups or pages. Much of the content was then shared to multiple groups, amplifying its reach by orders of magnitude.
For example, this piece of content falsely claimed that USDP candidate U Khin Yi, a former minister for immigration, won in Yangon's Seikgyikanaungto Township, but the NLD brought 700 voters to the polling station after it was already closed to flip the election (official results show the NLD actually won the seat by more than 7,000 votes). The post has just 507 reactions but over 650 shares, including to nine different groups that were being monitored by Frontier.
Some posts do originate in groups or pages, but even they are frequently shared in other groups and pages as well. In one example, an account called Nyein Pyaesone posted directly to a group with over 277,000 members, and the post was then shared 151 more times, including into four groups being monitored by Frontier. This post falsely claimed that the NLD was using counterfeit stamps in eastern Shan State's Mongyawng Township, which the party won in 2015 and held again this year.
This second chart shows the relationships between different disinformation actors, with the blue dots representing groups and the green dots representing individuals. The data shows that many of the disinformation actors were indirectly related to each other, posting similar content in the same groups.
Frontier's analysis found that certain groups, like one that roughly translates to "People who love USDP", were hotbeds of such disinformation. This particular group had nine examples of confirmed election result disinformation shared to its nearly 53,000 followers, before the group was taken down by Facebook. Frontier also identified specific accounts responsible for sharing a significant proportion of this disinformation. For example, an account named Minn Theik Mon with over 26,000 followers was one of the most prolific sharers of disinformation targeting the NLD and the election results.
The surge of disinformation shortly before, during and after the election does not seem to have had an outsized effect.
More generally, both MTAN and digital rights group MIDO said disinformation did not likely influence the overall outcome of the election, although it may have hurt smaller ethnic parties more than larger national parties.
Ko Htun Khine, an editor at MIDO, said there were some limitations in monitoring disinformation in ethnic languages, and some ethnic parties complained of being targeted. "For example, a Kachin party was named as being pro-Kachin Independence Army in areas where people did not favour the KIA, or sometimes they were named as a USDP alliance party or a pro-military party," he said. Myat Thu from MTAN agreed that disinformation against ethnic parties may have had a "big impact".
Overall, Myat Thu said Facebook "did better than in past years". He credited it for having a faster response time but said there is still more work to be done. "Sometimes, Facebook took down fake accounts and accounts that spread disinformation but then they come back with the same name or a small change," he said. "They [Facebook] need to prepare for that."