Yangon tours tend to focus on the city's religious and colonial-era buildings, but Sa Ba Tours gives visitors the chance to find the best food on offer at its many markets, teashops and stalls.
By VICTORIA MILKO | FRONTIER
PLATES OF bright carrot and ginger salad, fluffy mutton pastries, and cups of sweet paw seint tea spread across the teashop table. But it's just a taste of what the group sitting around Mr Marc Shortt, the manager of Sa Ba Food Tours, can expect over the next three hours.
"These are all standard things you would see someone eating for breakfast – try them all," Shortt says, pointing at a pastry plate on the table. "But don't get too full – we've got a lot of eating to do today."
Shortt, who grew up in the United Kingdom to a Burmese father and Scottish mother, says his love of Myanmar cuisine started at an early age and later influenced his own culinary decisions.
"I was always fascinated by the exotic dishes we ate at family events or the recipes being passed onto my Scottish mum by aunties," Shortt said. "Later in life I worked as a chef and a few times [was] even able to sneak on a Burmese dish as a plat du jour in certain French restaurants."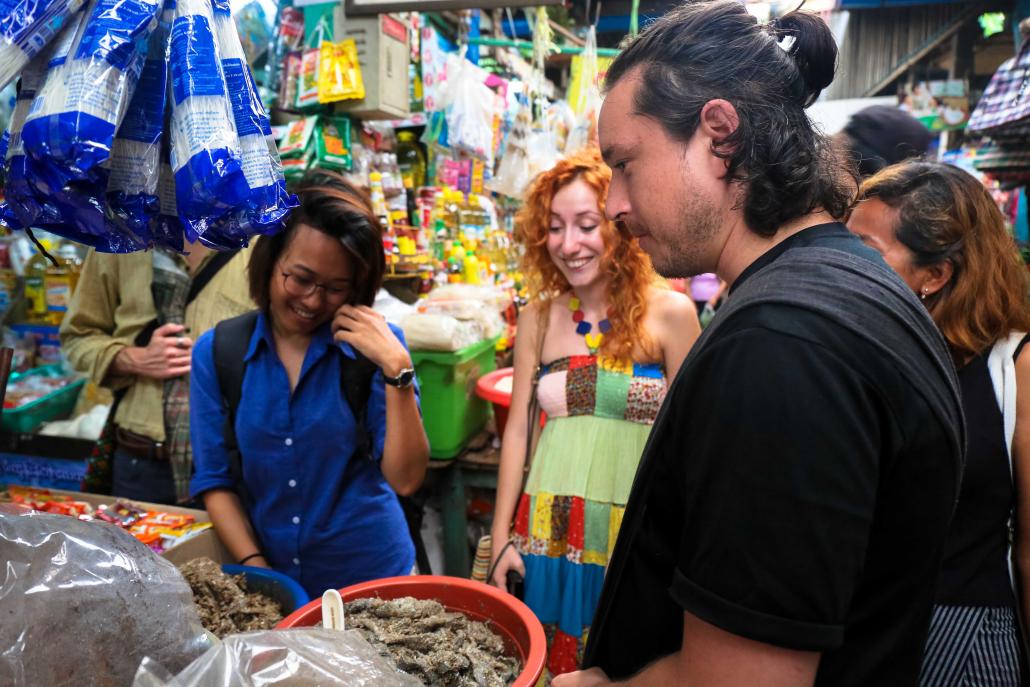 Shortt moved to Myanmar in 2011 to work as an English teacher. Starting a tour company though enabled him to combine his affection for Yangon with his culinary interests.
"My love of exploring Yangon's street food led me to the tours. The atmosphere that surrounds [the city] and the important role it plays within communities … this combined with the unique flavours and techniques used by the chefs or vendors here makes for a fascinating environment. It's great to share this side of downtown [with] people."
His company, Sa Ba – which means "please eat" in Burmese – offers breakfast and dinner tours that show off the breadth of Yangon's food scene and help visitors to overcome some of their uncertainties about trying local dishes.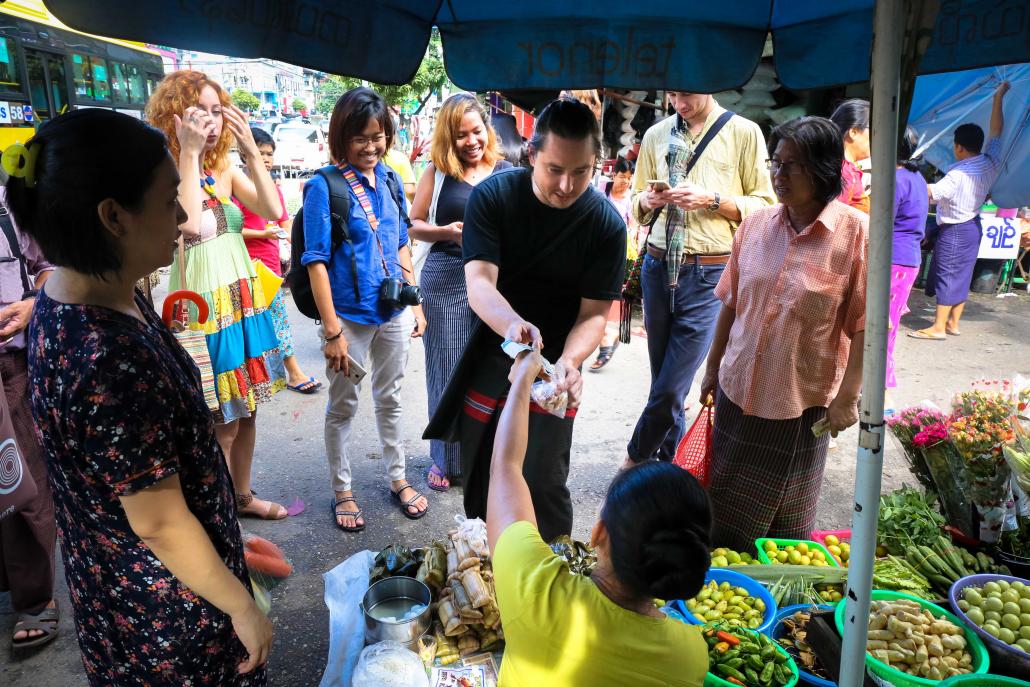 "From my experience among visitors to Myanmar, most come with either a preconception that the food is unsafe, too oily or it's really an unknown entity. Most people know Indian, Chinese or Thai food," Shortt says. "But Yangon is a completely different ball-game and can take time to get your head around."
Shortt's tours typically last around three hours, with guests visiting traditional teashops, sidewalk stalls and crowded downtown markets.
"[We] typically stop at seven different vendors who specialise in just one or a handful of dishes. Then we'll also pass through a market where we can try seasonal fruits, more snacks and see the ingredients that go into the dishes we're eating," Shortt says.
Ms Iulia Țucmă, who was visiting Yangon from Bulgaria for a short-term work assignment, decided to go on a Sa Ba tour after meeting Shortt in an art gallery.
"I had so much fun walking around the streets of Yangon, seeing the touristic places and safely eat local food. The guides are very nice and chill and they taught us many things about Myanmar," Țucmă says. "It's a cultural adventure in the authentic small restaurants and markets."
Tours start at US$30 per person for breakfast and $35 for dinner. Shortt asks that clients book at least 24 hours in advance, requiring a minimum of two people for the tour to go ahead. Picky eaters or those with dietary restrictions need not worry, Shortt says.
"Our well-trained food loving guides are happy to ensure vegetarians or vegans get well fed too."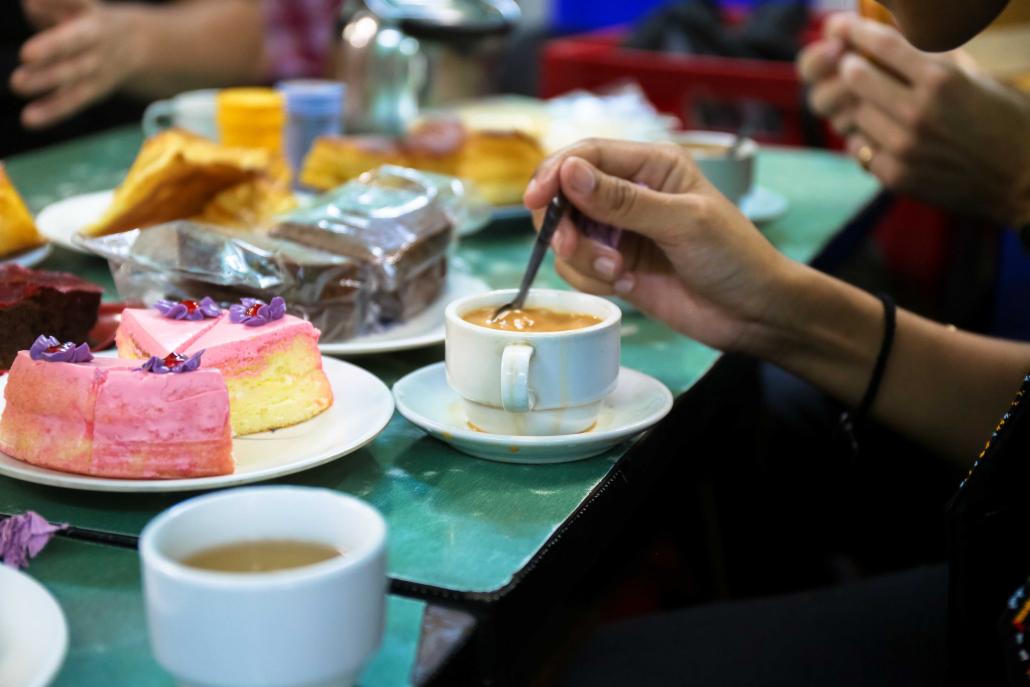 For an additional charge, customers can also customise their tour; being ferried around by trishaw is a popular option. Shortt also offers private cooking lessons that include taking customers to the market to pick up ingredients for the day's home-cooked fare.
Sitting over a bowl of mohinga, Shortt is happy to share his business philosophy.
"Every tour should feel like a friend is showing you around their favourite places to eat, introducing Yangon's rich but humble food scene, intertwined with its people it paints a delicious cultural picture of the city."
For more information or to book a tour with Sa Ba visit their website. 
Hungry for more?
Here are several other options to explore Yangon's food scene.
This company offers the choice of a breakfast, lunch, or dinner tours. Be sure to check out their five-hour "Social Business Food Tour" that take patrons to some of Yangon's social enterprises. Price range from $25-50, with 10 percent of profits being donated to support financial literacy.
Looking to stay out of the sun? Guests on the Urban Adventures "Take a Ride & Streets by Night" can expect a stroll through some of Yangon's smaller streets, finishing with a cold beer on Chinatown's vibrant 19th street.
If staying in and donning an apron is more your style, consider taking a cooking class with Three Good Spoons for all your culinary needs. The business also provides free hygiene, nutrition and cooking classes to disadvantaged and unemployed women.
This article was first featured in the Discover Myanmar special edition of Frontier, published in October 2017.