By KYAW LIN HTOON | FRONTIER
YANGON — The government expects a network of dry ports and improvements to road, rail and port infrastructure to boost Myanmar's logistics capabilities, Minister for Transport and Communications U Thant Sin Maung says.
Speaking at the opening of the Ywar Thar Gyi Dry Port in Yangon's East Dagon Township on November 11, Thant Sin Maung said dry ports could play an important role in facilitating freight movement in conjunction with upgrades to road and railways.
The Ywar Thar Gyi Dry Port will be linked by rail to a similar facility at Myit Nge in Mandalay Region, while a South Korean company is conducting a feasibility study for a dry port in Monywa, Sagaing Region, and another one planned for Mawlamyine in Mon State.
"Dry ports are a good solution for developing the logistics industry," Thant Sin Maung said. "But we will need to build more of these dry ports."
He cited Myanmar's poor ranking on the latest World Bank's Logistics Performance Index, in which it placed 137 out of 160 countries, behind neighbours such as Laos and Bangladesh.
"We are all in a struggle to improve this logistics industry that fell behind other countries for almost three decades," he said.
The Ywar Thar Gyi Dry Port features separate terminals developed by KM Terminal & Logistics and Resources Group. Both terminals were implemented under a build, operate and transfer contract and opened on November 11 in separate ceremonies.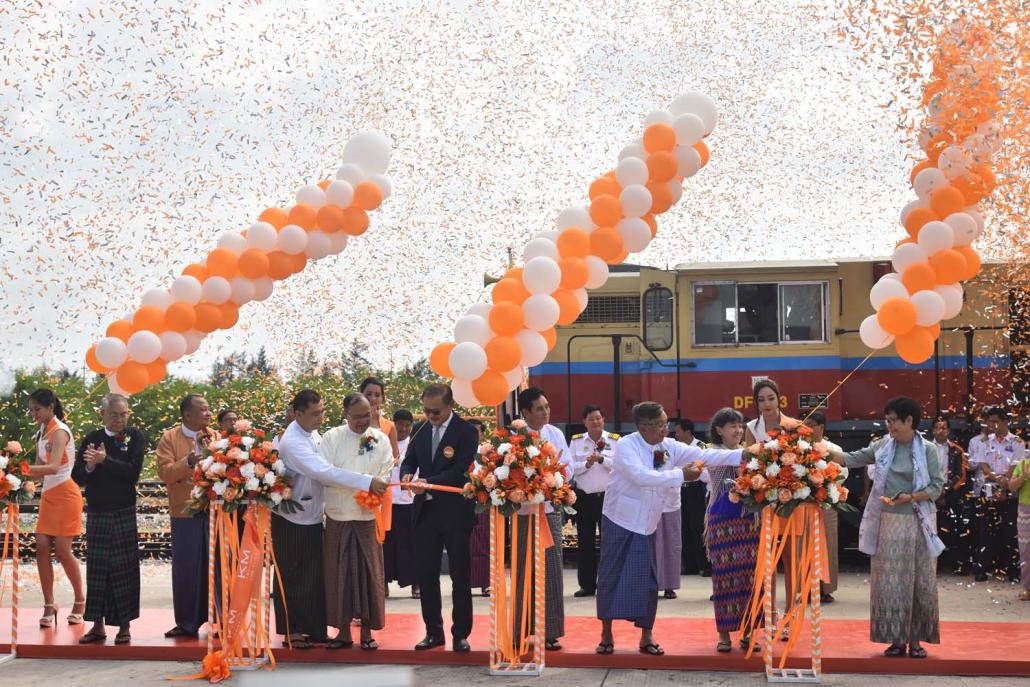 KM Terminal & Logistics invested US$55 million in its terminal and Resources Group $49 million, the companies said.
The Ywar Thar Gyi Dry Port is expected to serve the Yangon River and Thilawa ports and cut transport costs by avoiding traffic congestion and boosting efficiency.
KM Terminal & Logistics is 70 percent owned by Singapore's Kerry Logistics Network and 30 percent by local company Mother Logistics. Resources Group is a 100 percent Myanmar company that shares directors with National Infrastructure Holdings, a company with links to conglomerate Asia World.
In January 2016, KM Terminal & Logistics and Resources Group were selected by Myanma Railways to develop dry port terminals at Ywar Thar Gyi and Myit Nge in Mandalay Region, with each receiving approximately half of the land space at both sites.
KM Terminal & Logistics said the dry port will operate 24 hours a day and feature onsite customs inspection, a computerised track and trace system, cargo insurance and import-export duty exemption for re-export cargo.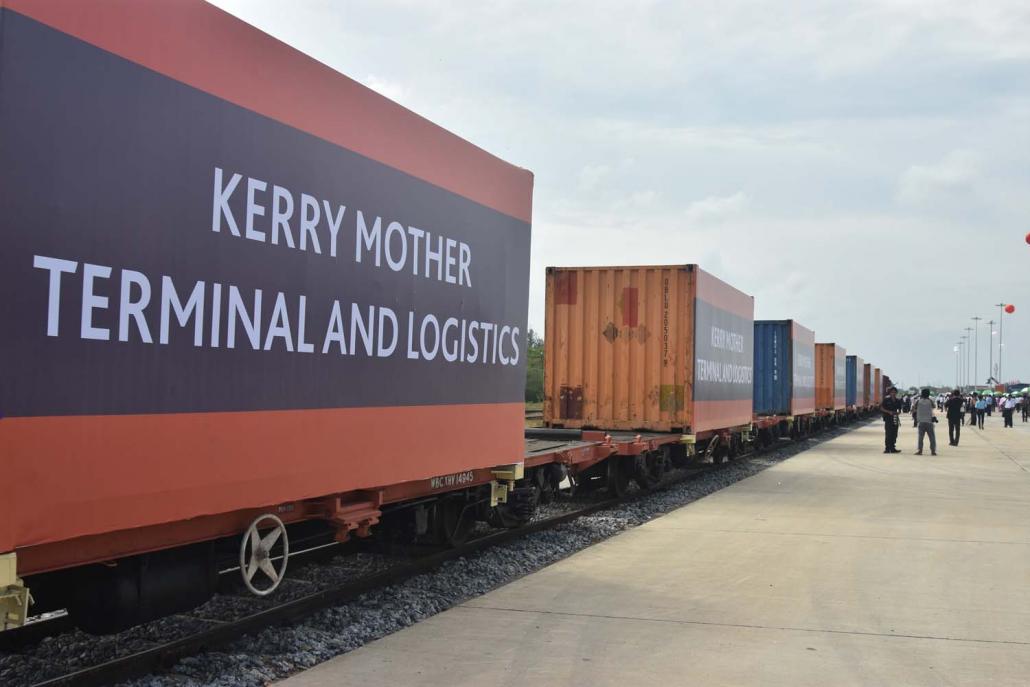 Mr Kledchai Benjaathonsirikul, Kerry Logistics Network's managing director for the Greater Mekong region, said the dry ports were an essential element of Kerry's plan to build a comprehensive logistics network in Myanmar.
He said Kerry hoped in the near future to be able to offer a full suite of services in Myanmar and link the country to ASEAN and the rest of the world.
"Logistics is the lifeblood of our economy. We need the blood to flow freely, and everywhere for Myanmar, the economy to grow and [to become] very strong," he said at the opening ceremony.
KM Terminal & Logistics general manager U Nyi Htut said one freight service a week would operate to Myit Nge initially, increasing to two services next year. Based on demand, the company expects to be able to run daily services in future.