Experts hope that insecticide-treated clothing trialled on rubber plantation workers in Mon State will contribute towards the elimination of malaria in Myanmar.
By OLIVER SLOW | FRONTIER
Rubber plantation workers in Mon State have been participating in a study that experts hope will contribute to the elimination of malaria in Myanmar in the next 15 years.
UK-based Malaria Consortium has surveyed male and female plantation workers to study the effectiveness of insecticide-treated clothing, or ITC, for eliminating mosquito bites. The workers are regarded as high-risk because they work at night, when the mosquitoes that transmit malaria are most active.
In Myanmar, ITC involves clothes that are locally made but sent abroad to be treated with permethrin, an insecticide applied to mosquito nets.
"The advantage is that it acts quickly and repels biting insects," said Dr Jeffrey Hii, Malaria Consortium's regional senior vector control specialist. "It is odourless and safe and does not irritate human skin. When you apply this to your clothing, you do not need significant behaviour change because when you wake up in the morning, wearing this clothing is as natural as brushing your teeth," he said.
Experts say that until now most malaria control programs in Myanmar have focussed on mosquitoes that rest and feed indoors.
"We have already considered indoor transmission, but we have to consider outdoor transmission," said Dr Nyan Sint, malaria regional officer with the Mon State Public Health Department. "Until now we have only used repellents, but they only last for a few hours and people in rubber plantations are not allowed to use them. That's why we are introducing ITC in these areas, which can be combined with repellents," he said.
The number of reported malaria cases in Myanmar has fallen substantially in recent years, but the disease remains a threat. A 2013 report by Myanmar Health and Development Consortium said Myanmar accounts for 75 percent of malaria cases and deaths in the Greater Mekong sub-region and experts have had to fight the spread of a strain that is resistant to treatment.
World Health Organization figures show there were 152,195 reported cases of malaria in 2014, though the actual figure is likely to be much higher. There were 92 reported deaths from malaria in 2014.
Malaria Consortium says malaria is largely confined to certain groups, particularly members of armed forces, migrant workers at logging or mining camps in forested areas and employees at palm oil and rubber plantations and construction sites.
People working outside at night have until now only used repellent to protect against malaria, but it alone does not offer full protection, Dr Hii said.
A study conducted for the US Army found that repellent applied directly to the skin only offers 95.7 percent protection against bites, and ITC clothing alone offers 97.7 percent protection. Used together they provide 99.9 percent protection, the study found.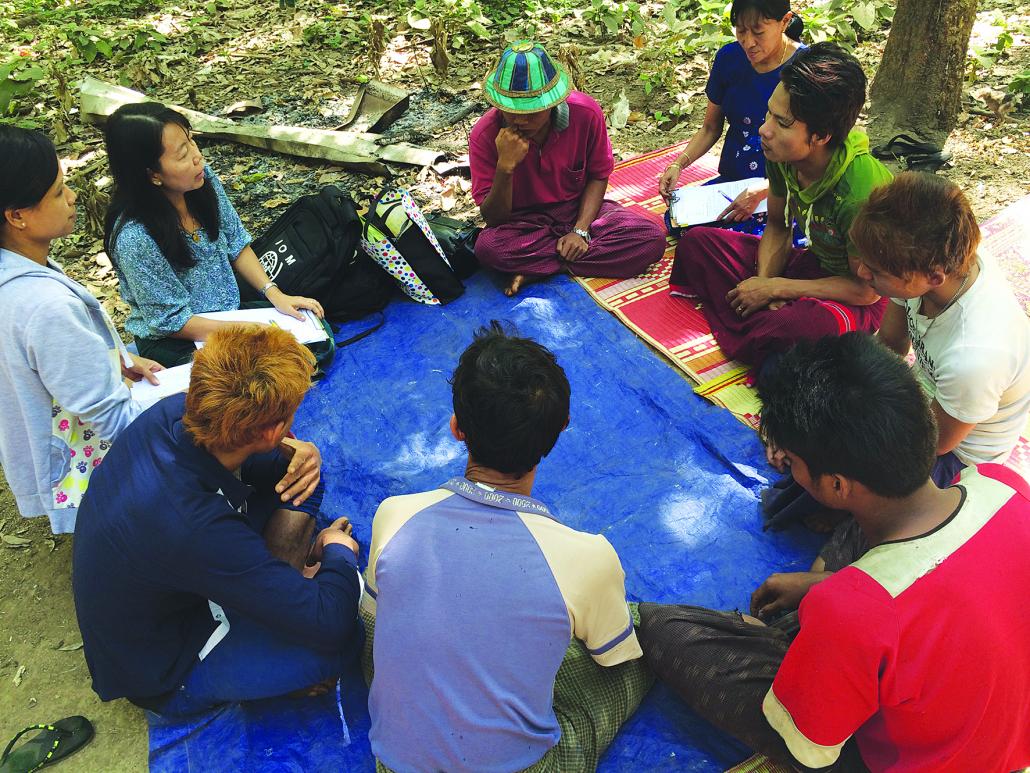 Yet there are still challenges, admitted Dr Hii.
"We acknowledge that this technology may not be 100 percent fool-proof. If washed frequently, the chemical is stripped off and there is need for re-treatment. I can see after three months, people will discard the clothing and will buy another new set. So we need to look into ways to improve treatment tailored to the vulnerable population's need," he said. 
Another challenge is the cost of the treated clothing. The study found that plantation workers were willing to pay between K4,000 and K5,000 for a set of shirt and trousers. The commercial cost of a set is about US$30 (about K36,660), including shipping and taxation.
Malaria Consortium said it is involved in a move with the public and private sectors, which would help make the sets more affordable.
The thriving domestic garment sector can also help to bring prices down, said Dr Myat Phone Kyaw, deputy director-general of the Ministry of Health's Department of Medical Research.
"We have local garment factories producing for our own people, and we also have factories producing clothes in that area [Mon State]. So if we can produce clothes locally, it will be cheaper," he said.
Myanmar plans to be malaria free by 2030, and so far progress has been good. As part of the United Nations Millennium Development Goals, Myanmar sought to halve the number of malaria cases between 2004 and 2014, a target it achieved two years early in 2012, said Dr Myat Phone Kyaw.
"Now we are approaching malaria elimination step by step. Our task is the same as the global goal, in 2030 malaria will be eliminated in our country. To do this, we have to focus on the migrant [worker] population," he said.
ITC is just one strategy for eliminating malaria in Myanmar, experts admit. Others include the genetic manipulation of mosquitoes and an antiparasitic drug called ivermectin.
"Ivermectin kills not only worms infecting people but also mosquitoes who drink their drug-laden blood, causing a dropdown in the mosquito population and studies have shown this could stop or slow transmission of malaria as well," said Dr Hii.