The divisions in the Arakan National Party that prompted Dr Aye Maung to resign as chairman run far deeper than the 2014 merger that created the party.
By MRATT KYAW THU | FRONTIER
ON NOVEMBER 27, Arakan National Party chairman Dr Aye Maung formally submitted his resignation. Although not yet formally accepted, the party is likely to agree to his departure at its next meeting.
The move sent shockwaves through the Rakhine political scene. But Aye Maung is no ordinary Rakhine politician; he is the only one with a genuinely national profile. His outspoken stance on the state's communal conflict over the past five years has earned him praise and support from nationalists across the country. His departure from the ANP will therefore have implications at the national level, too.
The resignation came as a surprise because Aye Maung is seen as essential to the ANP, and vice versa. Without him, the party's future direction is unclear; with the party, it's doubtful he can maintain his present status.
Aye Maung's departure reflects the deep divisions behind the façade of unity that the ANP managed to create in 2015. But the split is far deeper than many appreciate; it's not simply about the two forerunners of the ANP, the Rakhine Nationalities Development Party and Arakan League for Democracy. Over the past year or so, Aye Maung has adopted a number of controversial positions that have caused deep discontent within the ANP.
The uncompromising approach that has propelled Aye Maung onto the national stage has also been a source of tension within the party. Where other leaders in the ANP are willing to compromise with both their colleagues and their opponents, he is accused of forcing his hardline positions on the party by threatening to quit if he doesn't get his way.
Long way to the top
How did a humble veterinarian rise to become a national political figure? Nobody took much noticed when he formed the RNDP to contest the 2010 general election, in part because Rakhine was so far from national attention. His first 18 months in parliament, until mid-2012, were mostly quiet, although it was during this time he began to cultivate important relationships with political figures like Thura U Shwe Mann, the speaker of the lower house.
When communal conflict erupted in June 2012, Aye Maung soon became a prominent voice in local and international media. Eleven Media Group, in particular, served as a powerful platform for Aye Maung to make his voice heard. That cosy relationship lasted until the end of 2014.
By this time he had become one of the leading ethnic minority political voices in the country. His status was cemented at six-way political talks held in April 2015, which he attended on behalf of ethnic minorities together with Daw Aung San Suu Kyi, President U Thein Sein, Commander-in-Chief Senior General Min Aung Hlaing, Shwe Mann and upper house speaker U Khin Aung Myint. Appreciation and respect at the national level brought additional fame within Rakhine State.
He had also helped engineer the merger between the RNDP and ALD that created the ANP. In other minority areas, voters had to choose from a confusing mix of parties and candidates. In Rakhine, the ANP would basically stand alone against the National League for Democracy and Union Solidarity and Development Party – a fact that helped to lay the foundations for its success.
By mid-2015, Aye Maung was targeting the state's chief minister position, and seemed to have all the momentum.
While the ANP was extremely successful, the election was personally a disaster for Aye Maung, who lost his Rakhine State Hluttaw seat to the NLD – and, with it, any chance of becoming chief minister. He quickly faded from prominence, once again ignored by the media.
Party in-fighting
At the same time that Aye Maung's star appeared to be waning, internal tensions were threatening to tear the ANP apart. The first signs of discontent came at the party's inaugural national conference at Thandwe in 2014. There were arguments as senior members of the RNDP and ALD sought leadership posts in the merged entity.
In 2015, some members quit amid disputes over the selection of candidates for the election. When former ALD leader U Aye Thar Aung accepted the Amyotha Hluttaw deputy speaker position from the NLD in early 2016, the party expelled several of his allies. In July of this year, many of the remaining ALD officials quit to re-form their old party.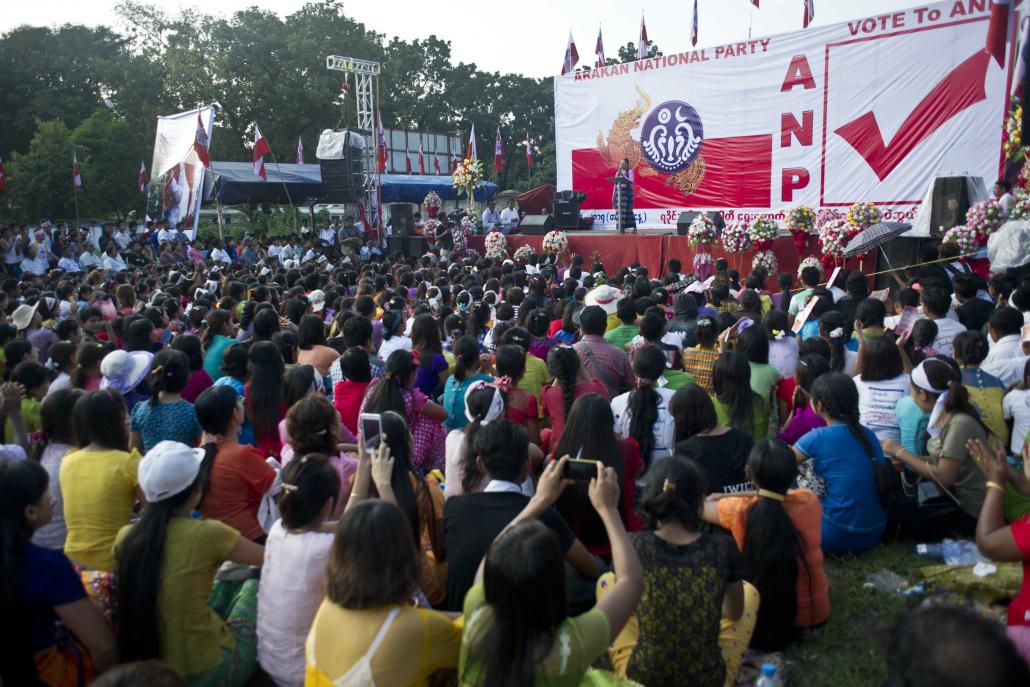 While Aye Maung stayed mostly in the shadows, he maintained a degree of power and prominence in Rakhine State. In April, he engineered a return to parliament with victory in a by-election for the Pyithu Hluttaw seat of Ann, which had previously been held by the USDP.
Unlike his previous stint in parliament, he has been extremely quiet and is yet to ask a single question.
But he has continued to cultivate ties with powerful figures, as demonstrated through his August 11 meeting with Min Aung Hlaing, at which they discussed the security situation and IDPs in Rakhine State. Although he was joined by several senior ANP officials, Aye Maung's policies by this point seem to have been more closely aligned with the military than the ANP.
Aye Maung's testy relationship with the rest of the ANP leadership is not well known.
Frontier understands Aye Maung had tried to resign on three occasions prior to November 27. By making his resignation letter public, he has basically forced the party to bend to his will, or let him leave.
The final split
In recent months Aye Maung has split with deputy chairman U Khine Pyi Soe and general secretary U Tun Aung Kyaw, who are the other top decision-makers in the party.
On October 17, more than 100 people staged a demonstration calling for the expulsion of Khine Pyi Soe and Tun Aung Kyaw for their decision to sack Sittwe branch secretary U Aung Than Wai – an ally of Aye Maung – for alleged corruption.
Two days after Aye Maung's resignation, another significant event occurred. Seventeen ANP lawmakers in the Rakhine State Hluttaw submitted a motion to impeach Minister for Civil Development U Min Aung (NLD, Taungup-2) for allegedly not carrying out his duties properly.
On December 5, hluttaw speaker U San Kyaw Hla (ANP, Ponnagyun-1) formed a five-member committee to investigate the case.
The reason behind the impeachment motion has not been stated. But Frontier understands that in November ANP lawmakers had argued internally over a state government plan to redevelop five markets that fall within Min Aung's portfolio.
Some lawmakers were unhappy that the projects seemed to be progressing without tenders being conducted or budgets being approved by the hluttaw. They believe that he got too close to some prominent local businesspeople.
However, Aye Maung is believed to have argued against submitting the impeachment motion.
Another final issue that antagonised party members is Aye Maung's position on conflict between the Tatmadaw and Arakan Army, whose leader is San Kyaw Hla's son-in-law.
Many Rakhine people and politicians are quietly supportive of the Arakan Army. They note that Aye Maung has never spoken out in support of the group. In this light, his relationship with Min Aung Hlaing is problematic.
What's next?
Aye Maung is one of four lawmakers to resign from the ANP. His close colleague, Rakhine State Hluttaw lawmaker U Kyaw Zaw Oo (Sittwe-2), resigned on December 4 and is expected to join Aye Maung if he starts a new party. In recent months, state lawmaker U Khin Maung Htay (Ann-2) and Amyotha Hluttaw MP Daw Htoo May (Rakhine-11) have also both resigned, although they are not close to Aye Maung.
Aye Maung has not yet discussed publicly his plans for the future. Although many senior ANP members have said they would welcome him back, the split seems irreversible.
The ANP will certainly be a different party without Aye Maung. Replacing him will be difficult; although the ANP has some capable politicians, none have his level of prominence.
The party's national conference is due to be held early next year, most likely in late January. It will have some big decisions to make.
TOP PHOTO: Arakan National Party chairman Dr Aye Maung, left, arrives for the opening day of the 21st Century Panglong Union Peace Conference in May. (Nyein Su Wai Kyaw Soe | Frontier)