With Myanmar's economy in turmoil and unemployment on the rise, thousands are trying to find work abroad but are having to navigate border closures and unscrupulous brokers.
By FRONTIER

When Ko Naing Linn, 25, graduated from university in his hometown of Phyu in Bago Region two years ago, he left for Yangon almost immediately, figuring it would be the best place to land a job.
Even as the economy took a downturn due to COVID-19, he didn't give up hope of eventually finding work in the commercial capital. Then the military seized power on February 1, prompting many businesses and factories to close and some foreign companies to exit the country. The World Bank estimates the combined effects of the coup and COVID-19 have caused the economy to shrink 18 percent, and as the job market shrank, young people like Naing Linn discovered that finding work had become almost impossible.
Months after the coup, Naing Linn decided with a group of friends who were also unemployed to look for work overseas. They contacted an overseas employment agency in Yangon, which said it could arrange jobs for them at a perfume factory in Dubai.
Naing Linn said an agency employee told them they would each have to pay K1.8 million (about US$900) – more than many in Myanmar earn in a year – to be placed in a job.
"The agent said we would have to pay K500,000 to register. Then we would be interviewed via the internet by the employer, and if he was satisfied with us, we would have to pay K1 million. Then, before leaving for Dubai, we would have to pay the rest," he told Frontier on September 20.
Before paying the registration fee, Naing Linn and his friends applied for passports. During this time, he happened to discuss the job offer with an internet savvy cousin. "She got in touch with Myanmar workers in Dubai, and we learned that the agency was lying to us," he said.
Naing Linn called the agent to ask why the jobs at a factory did not exist, and was met with vague non-answers and was rushed off the phone. When Nay Linn tried to call back, he discovered that his number had been blocked, and when he and his friends went to the address they had been given for the employment agency, the office didn't exist.
Naing Linn's family had been preparing to sell over half of their farmland in Phyu to cover the cost of his job placement fee. Had he paid the money, the financial consequences for the family would have been catastrophic.
"I'm so grateful to my cousin for saving us from losing money," said Naing Linn.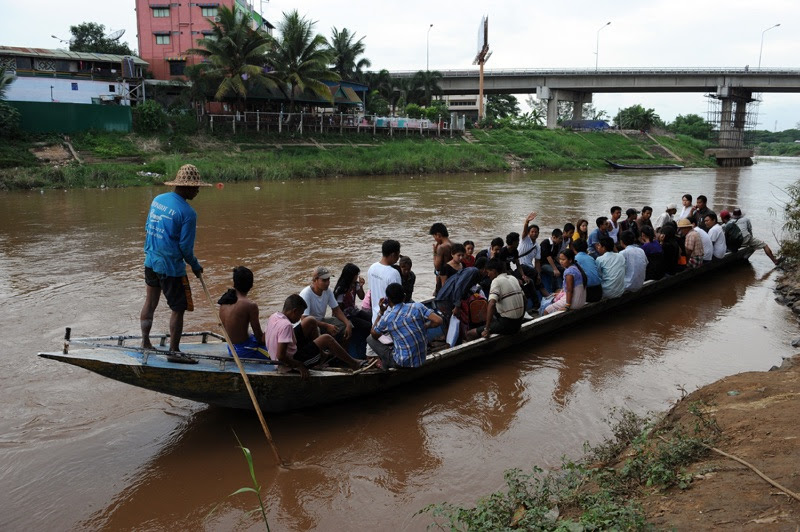 Desperate for work
Myanmar is estimated to have an additional one million people facing unemployment and salary cuts as a result of the economic turmoil caused by the COVID-19 third wave and the coup, the World Bank said in a July report.
U Kyaw Ni, the deputy labour minister in the National Unity Government, a parallel administration set up by lawmakers in April, said business closures have contributed to a sharp increase in unemployment.
"The difficulty in finding a job due to the deteriorating economic situation means many young people are choosing to leave the country," he told Frontier on September 26.
A search by Frontier of labour market groups on social media platforms found that thousands of Myanmar people are trying to find work in Thailand, Singapore, Malaysia, South Korea, Japan and Dubai. These countries, particularly Thailand, have long been common destinations for workers from Myanmar.
According to the labour ministry of Thailand, there were more than one million Myanmar migrant workers registered in the kingdom. But land borders between Myanmar and Thailand have been closed for most of the past 18 months due to COVID-19, so only those desperate enough to cross into Thailand illegally have been leaving. And many are desperate: Thai newspapers often carry reports about groups of undocumented Myanmar workers being arrested.
Many more are seeking to travel through legal channels. When passport offices reopened on September 13 after being closed for almost two months because of the COVID-19 restrictions, thousands queued in Yangon to apply for their passport.
Due to the crowds, many were using a passport agent: a broker who can be hired to bribe the right officials to ensure that applicants do not have to spend hours in lines and receive priority processing. One such agent, who declined to give his name, said most passport applicants are intending to seek work in Thailand and other regional countries.
"I would say the number of applicants was about 30 percent higher than usual when the office reopened on September 13. Most of my clients want jobs in countries such as Thailand and Malaysia," he told Frontier on September 28.
Thailand is an attractive option for workers from Myanmar as the minimum daily wage is about 330 baht (about K19,000), significantly higher than Myanmar's K4,800 a day, but the cost of finding work – including travel and visa expenses – is relatively low.

A 2019 report by the International Labor Organization said Myanmar had a workforce of 24.7 million. Data for the same year released by the Thai labour ministry and Malaysia's human resources ministry showed that a total of two million Myanmar people were working in the two countries, although the real number is likely to be significantly higher.

Despite the interest from Myanmar workers, many countries have not officially opened to migrant workers because they still have COVID-19 prevention measures in place, leading many to consult brokers and agencies who promise to help them navigate the process.

A further complication is the National League for Democracy government's March 18, 2020 ban on job agencies sending workers abroad.

Nevertheless, many brokers and agencies are still promising to help workers navigate the process and land a job abroad. Many are simply scams, said a senior official from the Myanmar Overseas Employment Agencies Federation.

"Countries have banned people from entering to seek work under the current circumstances, but brokers lie to workers and tell them they can go," MOEAF vice chair U Peter Nyunt Maung said.

He said many job seekers have lost money paying dishonest job placement agencies and brokers.

"Most of those seeking overseas jobs are from rural areas and not well-educated," he told Frontier on September 20.

Naing Linn agreed that many people he knows who are hoping to find jobs overseas are relying on brokers, and have little knowledge about which countries are accepting migrant workers.

"All they know is there are no jobs for them in Myanmar, and they have to go where the jobs are. Most of us who want to work overseas, including me, are not aware of the real situation in host countries and we put all our trust in the brokers," he said.

Kyaw Ni, the NUG's deputy labour minister, said officials from his ministry were collaborating with migrant worker associations in foreign countries to try and protect job seekers from scams.

"Many people are going to neighbouring countries through illegal means. It is very dangerous. We are consulting with migrant worker activists to resolve this, and we also plan to raise awareness about this problem among those who want to work overseas," he said.

Asked for details about the awareness raising activities, the NUG ministry declined to answer.
Dubai: a scam hotspot
Naw Theint Myat, 33, has been working as a salesperson in Dubai for three years. She said many of the job placement agencies that advertise their services on social media in Myanmar are illegal.

"I saw a lot of vacancies advertised for jobs in Dubai, because it is one of the few countries
which issue visit visas, while most countries such as Thailand and Singapore don't. But most of the advertisements were scams," she told Frontier on September 26.

Dubai has been a popular destination for job seekers because of employment opportunities in the food and beverage sector and in retail, but now unregistered agencies and brokers are also trying to send Myanmar there to work as housemaids.

In many cases, Myanmar workers enter Dubai with a visit visa arranged by their broker that is valid for three months, and once hired by a household, their employer issues the documents they need to apply for a work visa. The brokers often disappear once the job seeker begins work in Dubai, leaving workers vulnerable to abuse and exploitation by employers.

Theint Myat said it was very dangerous for workers in Dubai to be hired by these unofficial brokers because in the event of a problem, the government will not provide any assistance.

"The United Arab Emirates government has said that agencies must take responsibility for workers who have been subjected to violence, injury or dismissal, and for returning them to their home country. But if workers have no agency to represent them because they have been hired by brokers, the government will not help them. This can make it difficult for workers acting alone to take legal action if they are subject to violence in the household where they work," she said.

Ma Ei Ei Mar, the administrator of Facebook group for workers in the UAE, says dozens of brokers are advertising their services on the internet for people keen to work in the country.

"In my group, we only approve posts that share knowledge about working conditions in the UAE," she said. "I also post information about living in Dubai and name scammers and identify posts that are dishonest. Many people probably hate me, but I don't care."

She advised Myanmar workers not seek jobs as housemaids in the UAE because they would find it difficult to adjust to the huge cultural differences, which is less of an issue in Thailand, Singapore and Malaysia.

"Big families are common in Dubai, so working as a housemaid can be very tiring. Migrant workers in the UAE always tell newcomers not to work as housemaids, but dozens are always arriving to do that kind of work. I heard that 20 Myanmar people arrived on September 30. Many people actually train as housemaids in Yangon to secure jobs in the UAE," Ei Ei Mar said.

Housemaids in Dubai can expect to earn the equivalent of K695,000 to K800,000 a month, compared to K100,000 to K150,000 in Myanmar.

Although the junta's Ministry of Labour did not allow workers to be sent anywhere overseas at the time, agencies which describe themselves as overseas employment agencies, were still advertising on Facebook that they could secure jobs in Dubai and Singapore.

When called in September, one agency told a Frontier reporter posing as a job seeker that there were vacancies for cashiers and house cleaners.

"If you choose Dubai, you can leave within a month, but if you choose Singapore you will have to wait about two months because of the wait for a visit visa, and you must have certificates to show you have been vaccinated against COVID-19. It is much easier if you choose Dubai," the agency said.
The agency in question was not included on a list of registered agencies provided to Frontier by the MOEAF, though that list hasn't been updated since 2019. However, the agency does its business openly in Yangon and advertises its presence with a huge signboard despite the ban on sending workers overseas.
On January 10, junta-controlled media reported that some migrant workers are now being legally sent to Singapore. Peter Nyunt Maung of MOEAF subsequently confirmed this to Frontier, saying some workers were allowed to go to Singapore starting in the last week of November, but much of the industry is still operating illegally.
"Singapore is the only country receiving migrant workers officially," he said. "But this does not include housemaids yet. So, the agencies that are sending housemaids are breaking the rules of the [regime]." Peter Nyunt Maung added that some workers are continuing to go to Dubai on visit visas to find work. "For other countries, we are ready to send the workers if the host countries open for migrant workers," he added.
Peter Nyunt Maung said that more than 300 agencies are registered with the junta's Ministry of Labour and operate with its permission, and the Myanmar Police Force anti-human trafficking unit is responsible for taking action against illegal agencies and brokers.

"It does not look like the official agencies are conducting their business. If they did, the Ministry of Labour would take immediate action against them," he said.
Changes on the horizon
Labour market analysts believe that going forward the junta will focus on sending workers overseas, because it will generate foreign currency through remittances. Peter Nyunt Maung said he thinks the regime will allow people to work abroad as soon as host countries are ready to accept labour from Myanmar.
A World Bank report in 2019 said the value of recorded international remittances to Myanmar in 2015 was about US$3 billion and accounted for 4.6pc of GDP. The remittances were the fourth highest in ASEAN, it said. The Ministry of Labour, Immigration and Population, as it was then known, estimated in 2015 that total remittances (including informal transfers) were actually about $8 billion, or 13pc of GDP, though the World Bank was critical of the methodology used to arrive at this figure.
The NUG sees this move towards sending workers overseas as a ploy by the junta to increase the amount of foreign revenue coming into the country rather than alleviate the economic suffering of families hit hard by the economic downturn.
"The junta only looks after its own interests," he said. "They will do everything for their benefit without caring what will happen to people. Additionally, they will not be able to create new jobs in the country due to their lack of wisdom and poor management."
Kyaw Ni appealed to brokers not to cheat people who are already facing difficulty supporting themselves while the country is in crisis, likening their behaviour to that of dalan – a Burmese word used derogatively by anti-coup forces to describe military informants. Since the coup, anti-junta guerilla forces have killed dozens of people accused of being military informants.
The official from the MOEAF, which is openly working in cooperation with the junta, confirmed that the military regime was keen to send citizens abroad to work.
"The government wants to allow people to leave the country to work in foreign countries. It's continuously talking to Japan to accept more workers as soon as possible," Peter Nyunt Maung said. "Our side is ready to release the workers if the other countries will allow it."
Japan is one of the top destinations of Myanmar workers. Although sending workers abroad has generally stopped since March 2020, a bilateral agreement with Japan enabled more than 3,000 Myanmar workers to travel there between September 2020 and January this year.
Peter Nyunt Maung predicted that Japan would soon allow more Myanmar workers because it has been offering online training for prospective job seekers.
Meanwhile, Thailand on September 13 unveiled new rules for migrant workers from Myanmar and said there would be more than 200,000 jobs available. The Thai government plans to allow the entry of Myanmar workers aged between 18 and 35 who have received two doses of COVID-19 vaccine at least one month before their intended arrival. The plan is based on a memorandum of understanding between the two countries that was agreed before the coup.
However, according to Peter Nyunt Maung, "Thai officials have not yet contacted the Ministry of Labour about it. It means agencies cannot send workers legally yet."
'My dream has evaporated'
Ko Htun Htun Win, 35, of Danubyu Township in Ayeyarwady Region, decided in October to return to Malaysia, where he previously worked on a farm for nine years.
"I returned home 10 months ago because I wanted to open a business in my village, but my dream has evaporated because of the military coup, so it's best that I work again in Malaysia," said the father of two, who asked to be identified by a pseudonym.
Htun Htun Win said he intended to travel illegally to Malaysia via Thailand.
"It takes four days to reach Malaysia, and it will cost K800,000 just for the travel charges. I will have to pray that I'm not arrested while travelling through Thailand," he said.
He said he cannot further delay his return to Malaysia because he has had no work since he returned home and his money is running out.
"If I don't go, my family will be in trouble and I don't want that to happen," he said. "I have two daughters and I want them to have good lives and to be educated, so I need to make more money."