Dengue fever cases have soared this year and doctors and public health experts say weak prevention measures, a lack of medical staff and a focus on COVID-19 have blunted the junta's response to the potentially fatal illness. 
When their seven-year-old granddaughter, Ma Su Pon Chit*, was feverish for three consecutive days in late June, U Tint Tun* and Daw Toe Yi* were gripped with worry.
The high fever was symptomatic of dengue fever, a potentially fatal illness spread by mosquitoes.
Other than when she was at pre-school, Tint Tun and Toe Yi had taken great care to ensure the little girl was never bitten by mosquitoes at their home in Yangon's outer northeastern South Dagon Township.
When the fever persisted for a fourth day, the anxious grandparents took Su Pon Chit to the Shwe La Min private hospital in downtown Yangon. A blood test revealed that she had the first stage of dengue fever, which has three phases after the incubation period: febrile, critical and convalescent.
"Her fever remained high for four days and her temperature was about 105 [40.5C], so we admitted our granddaughter to hospital as fast as we could," Toe Yi told Frontier.
"We know that private hospitals are expensive, but it was very important that our beloved one was treated early," she said.
Su Pon Chit recovered after three days and was discharged, much to her grandparents' relief.
Interviews with public health experts and 20 residents from four of Yangon's largest townships indicated a surge in dengue fever cases among children in Yangon Region this year, and official figures also show a big increase on 2021.
Public health experts expect the number of cases both in Yangon Region and throughout the country to continue rising sharply this year, and say this is partly due to a lack of prevention strategies and public awareness campaigns by the junta's health ministry.
"Prevention on the government side is weak, and treatment has also been affected because government hospitals are not fully functioning due to a shortage of health care staff, so the incidence of dengue may increase this year," said Dr Thidar Htet*, a public health expert who specialises in vector-borne diseases. She and other experts interviewed for this story all requested anonymity due to fears for their safety.
Dr Myo Min Thu*, a general practitioner at a private clinic in Yangon, is sceptical of official figures on dengue cases, which he believes underestimate the situation.
"There are so many cases in the community; I see dengue patients at my clinic every day," he said.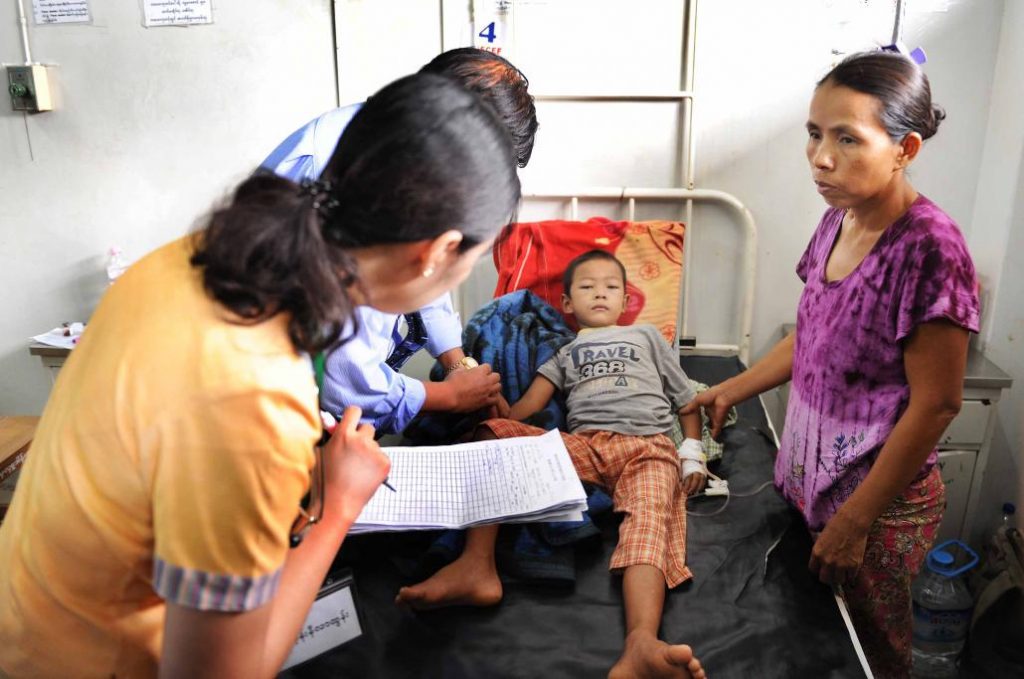 Rising case numbers
Dengue fever is a viral illness similar to a serious case of the flu that is transmitted to humans by infected mosquitoes. The main vector of transmission is Aedes aegypti mosquitoes, according to the World Health Organisation. Symptoms can include fever, a rash, and such severe joint pain that the illness has been nicknamed "breakbone fever" in some countries.
Most people who contract dengue fever recover in about a week, but sometimes it is more serious and can even be fatal. Severe dengue is a leading cause of death in some Asian and Latin American countries and is the most widespread and rapidly increasing vector-borne disease in the world.
Of the 3.5 billion people around the world living in dengue endemic countries and at risk of contracting dengue fever, 1.3 billion are in Southeast Asia. WHO says five countries in the region – Myanmar, India, Indonesia, Sri Lanka and Thailand – are among the 30 most highly endemic countries in the world.
Dengue has been prevalent in Yangon since 1965, but the worst recorded outbreak was in 2015 when over 42,000 cases were reported by the Ministry of Health. Since then, case numbers have fallen each year, with 15,820 cases reported in 2020. Although numbers officially fell to just 5,446 cases and 36 deaths last year, reporting and data collection relating to many different diseases and health issues has been unreliable since the coup, with some health facilities around the country refusing to provide data to the junta-controlled health ministry. Nevertheless, it appears this year's cases are higher than normal.
Junta health minister Dr Thet Khaing Win told a meeting in Nay Pyi Taw on May 23 this year that an analysis of annual dengue fever outbreaks showed there was a high risk of an outbreak this year and stressed the importance of providing health education about dengue fever.
Health ministry figures already show a spike in cases, regardless of the limitations on data gathering from parts of the country. Ministry figures issued on July 20 showed there had been 7,835 reported cases and 31 deaths in the first six months of the year, a 43 percent increase on the total number of cases in 2021.
Apart from Yangon Region, the most affected areas have been Ayeyarwady, Bago and Tanintharyi regions and Mon State.
There's also been a sharp increase in Rakhine State, with 613 cases reported to mid-July, three times more than the 214 cases in all of 2021, according to public health department figures cited by Development Media Group on July 19.
In Yangon, general practitioners at private clinics in Hlaing Tharyar, South Dagon, Tarmwe, North Okkalapa, Mingalar Taung Nyunt and Thingangyun townships all told Frontier in early July that children with dengue were presenting every day.
Dr Than Htike Soe*, a GP in Yangon's inner Mingalar Taung Nyunt Township, said he had been seeing an average of two or three dengue cases a day among children, most of whom were aged between five and 10.
"For every five children with a fever who present at the clinic every day and are tested with rapid diagnostic kits, at least two or three will test positive for dengue," he said.
Doctors and public health specialists say the number of cases is likely to keep rising as the rainy season continues.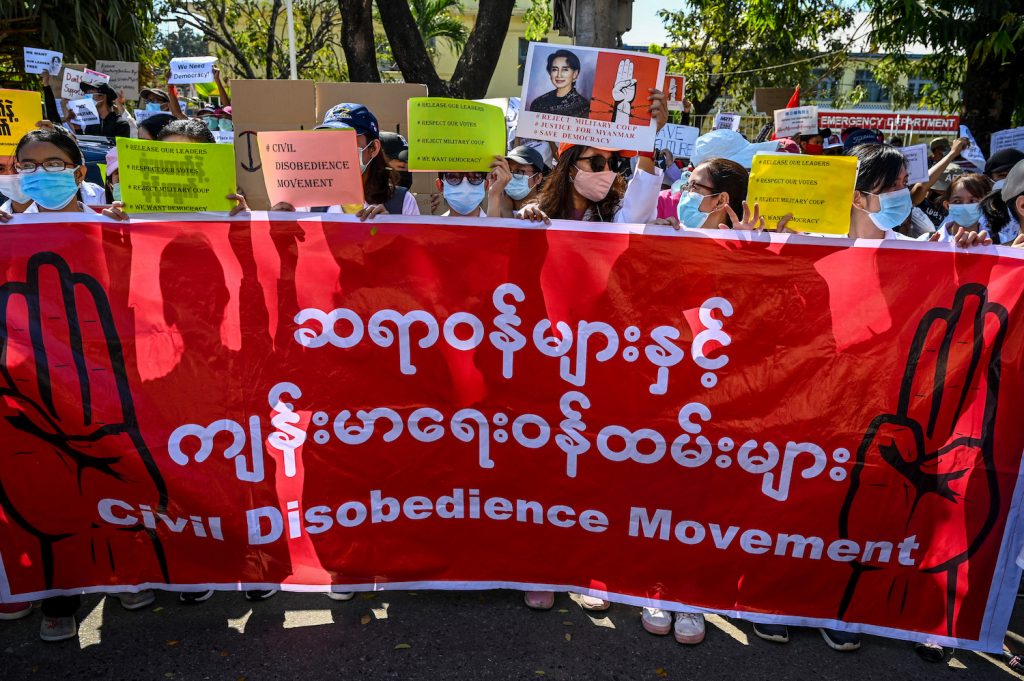 Treatment capacity
A shortage of healthcare staff as a result of the Civil Disobedience Movement launched in response to the coup is affecting treatment for dengue fever. The mass strike in protest of the coup is affecting services at Yangon Children's Hospital, the largest of its kind in Myanmar, and Yankin Children's Hospital, the two main state-run hospitals offering paediatric care in the city.
"Because the hospitals are understaffed they can't accept every patient; after screening, only emergency cases are admitted. Patients whose symptoms are not severe are sent home," said a paediatrician who has joined the CDM but remains in regular contact with medical staff in Yangon.
Family members of patients admitted to private hospitals with large paediatric departments, such as Parami General, Ar Yu International and Shwe La Min, told Frontier they were full in July.
Frontier tried unsuccessfully to seek comment from representatives of the major private hospitals.
Than Htike Soe, the GP in Mingalar Taung Nyunt, said patients who could afford the cost were referred to private hospitals, and that state-run hospitals were for patients of limited means.
"Government hospitals can only accept seriously ill patients because they have human resources problems. Patients without serious symptoms will not be admitted," he said.
Representatives of social rescue teams and blood donation groups told Frontier that most poorer patients go to state-run hospitals.
"Patients in state-owned hospitals are people who don't have a lot of money and that's why we mainly donate blood to them," said U Htin Aye*, who chairs a voluntary blood donation group in Thingangyun Township.
The group donates blood to an average of 15 patients a month at Yangon Children's and Yankin Children's hospitals, he said.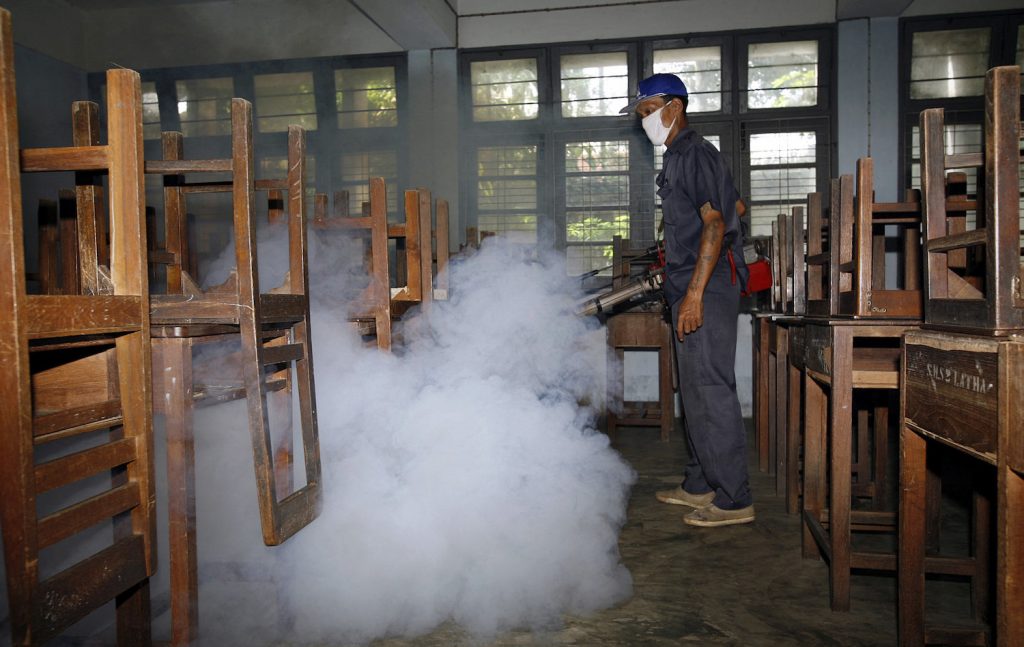 Weak prevention
The regime's deputy health minister, Dr Aye Tun, told a meeting on vector-borne disease control in Nay Pyi Taw on July 20 that it was important to raise public awareness about dengue as part of prevention measures. However, public health experts, doctors and Yangon residents say the increase in cases this year is in part due to weaknesses in the health ministry's prevention and preparation measures, as well as the lack of public awareness campaigns.
They say before the coup, every year the Department of Public Health conducted spraying in public areas to control mosquitoes. The department also distributed dengue testing kits, educational pamphlets, and other materials and equipment needed to combat dengue in townships throughout the country.
Prevention measures included departmental personnel conducting door-to-door inspections in some urban areas.
Than Htike Soe said the weaknesses in prevention and other measures this year were due to human resources challenges because of the CDM and the ministry focusing more on COVID-19 than dengue fever.
Residents of Hlaing Tharyar, South Dagon, Thaketa and Thingangyun townships told Frontier that they had not seen any prevention or preparation activities or awareness campaigns in their areas this year.
"Before the coup, health staff together with ward administrators cleared the bushes near schools and hospitals, and sprayed wards with fogging machines. That has not happened this year," said U Aung Hla*, a Thingangyun resident.
Public health department personnel in Hlaing Tharyar, South Dagon and Insein townships said prevention and preparation activities and public awareness campaigns had been delayed because of the turbulent political situation.
"Before the coup, a government nurse could work alone in her township area, but we do not dare to do that anymore. We have to go to in groups of 10 for healthcare work because we worry about our security," Daw Win Win Soe*, a public health nurse based in Hlaing Tharyar Township, told Frontier on July 20.
"We do our health activities to serve the public, but there are some people who do not like us," she said.
Dr Than Naing Soe, director of the Health Literacy Promotion Unit and a spokesperson for the junta's health ministry, told Frontier that the regime's healthcare personnel were doing the best they could.
"We could control the waves of COVID-19, and the current stable situation of the COVID-19 crisis successfully. For dengue, we are managing with the available resources," he said.
Myanmar's third COVID-19 wave, which began months after the coup, devastated the country and likely killed hundreds of thousands.
For Tint Tun and Toe Yi, treatment for their granddaughter at Shwe La Min private hospital cost more than K700,000 (US$380).
Although Su Pon Chit has recovered, they are worried that she may become re-infected. That's because dengue is caused by one of four related viruses and a person can be infected a number of times during their lifetime.
"Given the terrifying political situation, I'm very worried that if our granddaughter becomes re-infected we will not be able to send her to hospital in time," Toe Yi said.
* denotes the use of a pseudonym upon request for safety reasons.