An LNG-fuelled power plant in Yangon should begin coming online this week but full operations could still be months away due to delays in the construction of a jetty at Thilawa.
By THOMAS KEAN and KYAW YE LYNN | FRONTIER
After months of delays, the first phase of a 400-megawatt liquefied-natural-gas-to-power project in southeastern Yangon's Thaketa Township is expected to come online in the next week, officials have told Frontier.
But a second LNG-to-power project at Thilawa in nearby Thanlyin Township, with installed capacity of 350MW, is still yet to be completed, and both projects could be several months away from full operations due to delays in building a permanent jetty at the Thilawa site.
The jetty will enable the project operators to dock a large vessel, known as a floating storage unit, that can store LNG offloaded from smaller tankers. From there it will be regasified and used to fuel generators at both Thilawa and Thaketa.
A third, 150MW project at Kyaukphyu in Rakhine State is also likely to be delayed until at least September, according to government officials.
A consortium comprising state-owned China National Technical Import and Export Corporation and Hong Kong-listed VPower, together with RGK+Z&A Group as a local partner, is developing all three projects, which were awarded following a controversial tender in July last year. The power plant and LNG terminal at Thilawa are being developed on a port terminal controlled by military company Myanmar Economic Holdings Limited.
The construction of a temporary jetty at Thilawa has enabled the consortium to begin limited power generation at the Thaketa site.
The Ministry of Electricity and Energy's permanent secretary for electricity, U Tin Maung Oo, told Frontier that test runs were expected to begin on June 12 with initial capacity of 20 MW. If the tests are successful, production at Thaketa will be increased, he added.
"For the first phase we hope to produce electricity up to 200MW … that could happen in a week," he said, adding that the Thilawa plant will undergo test runs in July.
Although 200MW is less than a quarter of what the ministry had been anticipating, and has arrived more than two months late, Tin Maung Oo said it would still be significant because it would reduce dependence on Myanmar's depleted hydropower dams.
"Hydropower production is declining due to lack of rain during the hot summer months so it is very important to supply additional electricity from the LNG plants, such as the one at Thaketa," he said.
A source close to the project confirmed a first phase of around 200 megawatts at Thaketa was scheduled to come online on June 16, once testing had been completed.
(Story continues below)
A temporary solution
On June 6, an LNG tanker, CNTIC VPower Global, entered the Yangon River with a full tank of gas and moored at a temporary jetty at the LNG terminal in Thilawa for testing. The terminal, which includes an onshore regasification facility, will be used to offload fuel for both the Thaketa and Thilawa plants.
The 28,000 cubic metre CNTIC VPower Global will temporarily be used as a floating storage unit for initial power generation at Thaketa. Once a permanent jetty, known as a dolphin, is completed at the Thilawa site, a much larger FSU will be moored there instead.
Frontier understands this will be CNTIC VPower Energy, a 126,000 cubic metre tanker built in 1992.
A second FSU will then be moored outside the mouth of the Yangon River, and CNTIC VPower Global will shuttle fuel between them to power the two projects, an official from Myanmar Port Authority confirmed.
The small tanker is needed due to the shallowness of the Yangon River, which prevents vessels with a draught of more than nine metres from entering. The larger FSU will only be able to enter the river with an empty tank.
"Actually, this smaller ship is designed just for shuttling LNG but for the very beginning we will use it as a storage unit," said the source, who spoke on condition of anonymity.
"In the coming two months, two large floating storage units are expected to arrive in Yangon. One will be at Thilawa for storage. The other will be outside, and then that shuttle vessel will carry LNG between them."
"The arrival of the larger vessels will depend on the construction schedule."
The two larger vessels were originally LNG tankers but have been converted to storage units for the project. "This concept is being used all around the world. It's not cheap but it's very quick compared to building a new one."
Speaking to parliament on May 19, Deputy Minister for Electricity and Energy U Khin Maung Win confirmed the plan and said a 126,000 cubic metre FSU was waiting in Singapore. "The dolphin jetty to dock the [large] FSU is expected to be completed in second week of July," he said.
Malaysian energy giant Petronas has supplied the first shipment of LNG for the project, announcing last week that it had delivered 190,000 cubic metres from its facility in Sarawak. The CNTIC VPower Global filled up on May 7 and LNG tanker Golar Kelvin on June 3, Petronas said.
A spokesperson for the consortium developing the projects declined to comment to Frontier.
Delay after delay
The Ministry of Electricity and Energy awarded all three projects to the consortium in September last year following a challenging tender that scared off most bidders.
According to its Myanmar Investment Commission proposals, the consortium plans to invest US$800 million in the projects, which were each awarded on five-year contracts.
One of the major hurdles for prospective bidders was the tight deadline for implementation, particularly given the complexity of the projects and the prospect of heavy fines for any delays.
Under the terms of the tender, the projects were due to begin producing power on April 3 – 210 days after the consortium receive letters of agreement from the Ministry of Electricity and Energy – or pay fines of K200 million a day for Thaketa, K180 million for Thanlyin (Thilawa) and K30 million for Kyaukphyu, a combined total of almost US$300,000 a day.
Both the consortium and the government have blamed the failure to meet this deadline on the global coronavirus pandemic.
The source close to the project said COVID-19 had affected the Thilawa project more than Thaketa because work got underway there later. The arrival of medium-speed engines ordered from Finnish company Wartsila had been delayed, along with the engineers to carry out testing.
"China closed in December and January. When they opened in March the rest of the world closed down. That has caused big problems," the source said.
"We cannot use normal trade lines, we have to do everything differently, such as with air cargo. For example, the final testing engineers had to take a ship to come to Yangon. We tried to get a rescue flight but they weren't allowed on. Then they had to go to the quarantine hotel after arriving … Imagine how difficult it is to work this way."
In his presentation to parliament last month, Khin Maung Win conceded the three projects – as well as others that were underway, such as a 70MW gas-fired plant at Shwedaung in Bago Region – were "a little behind schedule because of the COVID-19 pandemic".
Construction of the temporary jetty at Thilawa had been delayed because engineers from Belgium had only been able to arrive on May 12, and then had to undergo mandatory quarantine, he said.
Meanwhile, a factory in China's Hubei Province building LNG storage tanks for the Kyaukphyu and Thilawa projects had also been forced to suspend production, Khin Maung Win said. Although installation of engines and other facilities had been completed, the delayed arrival of the "ISO tanks", as they are referred to, meant Kyaukphyu was not expected to begin producing power until September, he said. The tanks are used to supply small quantities of LNG to remote locations, and are often delivered in container ships or trucks rather than tankers.
At Thilawa, the construction of the switchyard – a substation attached to a power plant that does not alter the voltage – was still far behind schedule, Khin Maung Win said. But despite the switchyard being just 14 percent complete as of May 20, the deputy minister assured lawmakers the site should be ready for operations by June 16. He also told them the first phase of the Thaketa project would come online on May 30. Both of those deadlines will be missed, however, in part due to delays in building the jetties.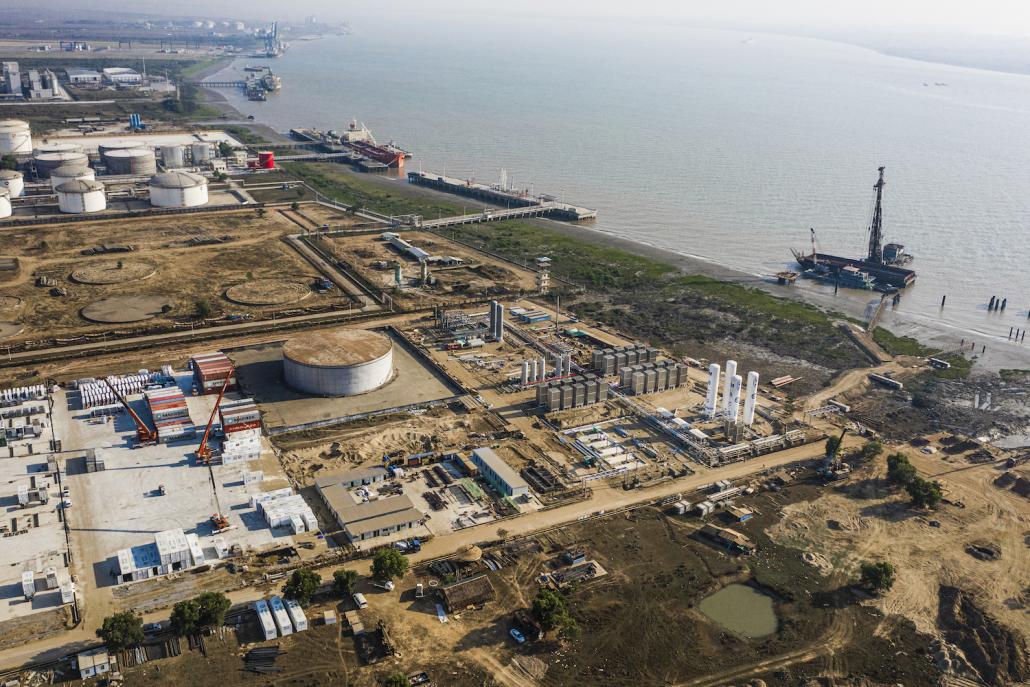 PPA gets cabinet approval but penalties unresolved
When it announced the tender, the Ministry of Electricity and Energy said the tight deadline was necessary to avoid power cuts this past summer. These shortages did not eventuate because of the dampening effect of COVID-19 on the economy and domestic power demand, and the ministry now faces the unusual prospect of a surplus of power – power that it will have to pay for, regardless of whether it is really needed.
It is unclear how the matter of late penalties will be resolved, or even whether the consortium will have to pay any fines at all.
Although the ministry and the consortium have a letter of agreement for the three projects, no power purchase agreement has been signed, making it potentially difficult to enforce any fines as outlined in the tender.
Ministry officials have previously told Frontier the consortium was also invoking or threatening to invoke force majeure, citing the impact of the global COVID-19 pandemic, to avoid any potential penalty.
Often referred to as "act of God", force majeure can be invoked in extreme, unforeseen circumstances – such as the outbreak of war or a natural disaster – to relieve a party of obligations under a contract and exempt them from liability for failing to meet the obligations.
In an interview on April 7, a spokesperson for the consortium said it expected that both the issue of force majeure and penalties would be "settled" in the power purchase agreements, which are yet to be signed. At the time the consortium said it expected the PPAs to be signed in May.
U Soe Myint, the ministry's deputy permanent secretary for electricity, told Frontier on June 8 that and cabinet had approved the PPA for the Thaketa project.
He said Electric Power Generation Enterprise, the ministry's power generation arm, was arranging the formal signing of the agreement.
EPGE could not be reached for comment but Tin Maung Oo, the permanent secretary, confirmed that the PPA had yet to be signed.
"As it has now been approved by the cabinet, the PPA signing will take place within days. It must be done before [power generation begins]," he said on June 8.
He said the PPA committed the government to paying around 12 US cents per unit (kilowatt hour).
"I don't remember exactly, but the tariff ranges were already agreed between the ministry and companies since the tender winners were announced last year."
Regarding the failure to meet deadlines, he said the ministry has yet to decide whether the consortium will face penalties.
"We have yet to evaluate the impacts of COVID-19 on these projects, and decide if there should be any penalty," he said.