An illiterate woman from a Yangon Region village says members of the Union Development and Solidarity Party pressured her into signing a police statement falsely alleging the National League for Democracy bought her vote.
By YE MON | FRONTIER
A villager in Yangon Region's outer northern Hlegu Township says she was paid by members of the Union Solidarity and Development Party to allege voter fraud against supporters of their main political rival, the ruling National League for Democracy.
Daw Khin Thet Maw, 45, an illiterate woman from Nga Chaw Kwin village, said she was pressured into accepting the money and did not understand why she was being paid, or why she was being made to allege voter fraud in a police complaint.
She said USDP members asked her at her home on election day who she was voting for, and she told them the NLD. Three days later, on November 11, two USDP members returned and pressured her into accepting K97,000 then coached her on how to lie to police that she was bribed by two NLD supporters for her vote, she told Frontier on December 9.
"I was not paid by a member of the National League for Democracy to vote for the NLD. I do not understand why the USDP is lying," she said.
USDP representatives in Hlegu have denied that the woman was paid and insist that her testimony was voluntary and unforced.
The two accused NLD supporters, meanwhile, reject the bribery allegation made against them.
The complaint is just one of scores that USDP members have filed with police alleging irregularities in the election. USDP vice chair U Khin Yi said on November 26 that the party had filed 126 complaints with police and more than 1,000 with the Union Election Commission.
On November 8, the NLD won sweeping victories across the country, besting even their 2015 landslide and flipping several USDP strongholds. Domestic and international election observers, while criticising aspects of Myanmar's citizenship and electoral laws, have largely declared the elections free and fair. The USDP, however, claims the NLD cheated and has refused to accept the results.
Khin Thet Maw says that on November 11 two USDP members from Nga Chaw Kwin village, Ko Khine Zaw and Ma Nilar, asked her to go with them to the party's Hlegu Township office to be coached on the false allegations. She was nervous, she said, but the pair told her not to be afraid and to just do as they said.
"I told them I didn't want to lie or accept their money, but I was afraid of them and just did what they said. I was so anxious that, by the time I got home, I was dizzy and had to go to the village clinic," she said.
"My husband scolded me for taking the money," she said. "I voted for the NLD. Now I've decided that I will only tell the truth."
She said she did not initially understand that she would be asked to repeat the false confession in front of police, or that the two would name her as a witness when they filed an official complaint with police accusing the ruling party of vote buying.
The two took her to the USDP township office again on November 15, when they pressured her into signing a statement with her fingerprint, she said.
Then, on November 23, Khine Zaw and Ma Nilar took her with them to the Hlegu Township police station.
"I cannot read or write, so I didn't know what I had been asked to sign, but the police said it was a record of what I had said. They read it out to me on November 23," she said.
Before going to the station, Khine Zaw took Khin Thet Maw to the house of Daw Aye Thuzar Myint in Nyaung Kone village, Hlegu. Aye Thuzar Myint, also called Mi Thu, is a USDP supporter who had protested the UEC's handling of the election at Maha Bandoola Park in downtown Yangon on November 20.
"Mi Thu also coached me on what to say at the police station," Khin Thet Maw said. "[At the police station] I wanted to tell the police the truth but I was surrounded by USDP members. So I said what they told me to say."
She said she was told to say she owed money to two NLD supporters, and that both had agreed to forgive her debt if she cast her vote for the ruling party.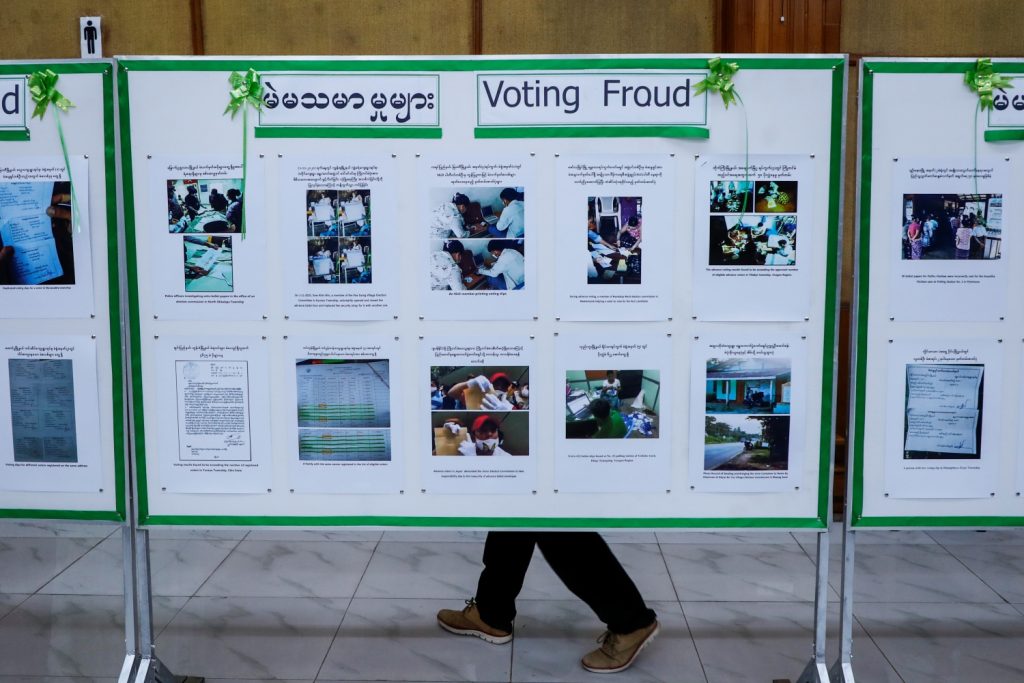 Revealing 'the truth'
Khine Zaw confirmed to Frontier over the phone on December 9 that he was a USDP member but denied paying any money to Khin Thet Maw and insisted she went to the USDP office voluntarily.
"It doesn't make sense for me to have given her the money. She is a USDP member and it was her own decision to go to the party office," he said.
Khin Thet Maw denied that she was a member of any party and said she had little interest in politics, though she voted NLD on November 8.
Khine Zaw confirmed he is the plaintiff in the complaint involving Khin Thet Maw and said he is acting in an individual capacity, without the party's involvement.
U Myat Soe, the Hlegu Township USDP chair, told Frontier that the party did not tell members to file complaints, and the case involving Khin Thet Maw was filed by someone acting of their own volition.
"Most such cases are filed by people making their own decisions," he said. "As far as allegations that we've paid money, we have never offered to do anything like that; we have no reason to and we have no money to pay them."
However, the same allegation, along with several others, was included in a complaint filed with the UEC that was co-signed by the USDP's slate of Hlegu candidates. These were former minister of electricity and energy and Pyithu Hluttaw candidate U Khin Maung Soe, Amyotha Hluttaw candidate U Khin Maung Tint, and U Aung Myo Naing and U Myat Soe, the Hlegu-1 and Hlegu-2 candidates for the regional hluttaw, respectively.
On December 10, after learning about Frontier's conversation with Khine Zaw, Aye Thuzar Myint called this reporter and demanded, "Are you from intelligence? Why did you call Khine Zaw yesterday?"
She declined to comment on the case but said that "we are doing this to reveal the truth," referring to the USDP's campaign to prove their widely-disputed voter fraud and election irregularity claims.
U Zaw Min Htay, deputy staff officer at the Hlegu Township election sub-commission, said the sub-commission had received the complaint but had replied to the USDP that the matter was under the jurisdiction of the police, not the sub-commission.
"We will not investigate offences that are under the police's jurisdiction," he told Frontier on December 8.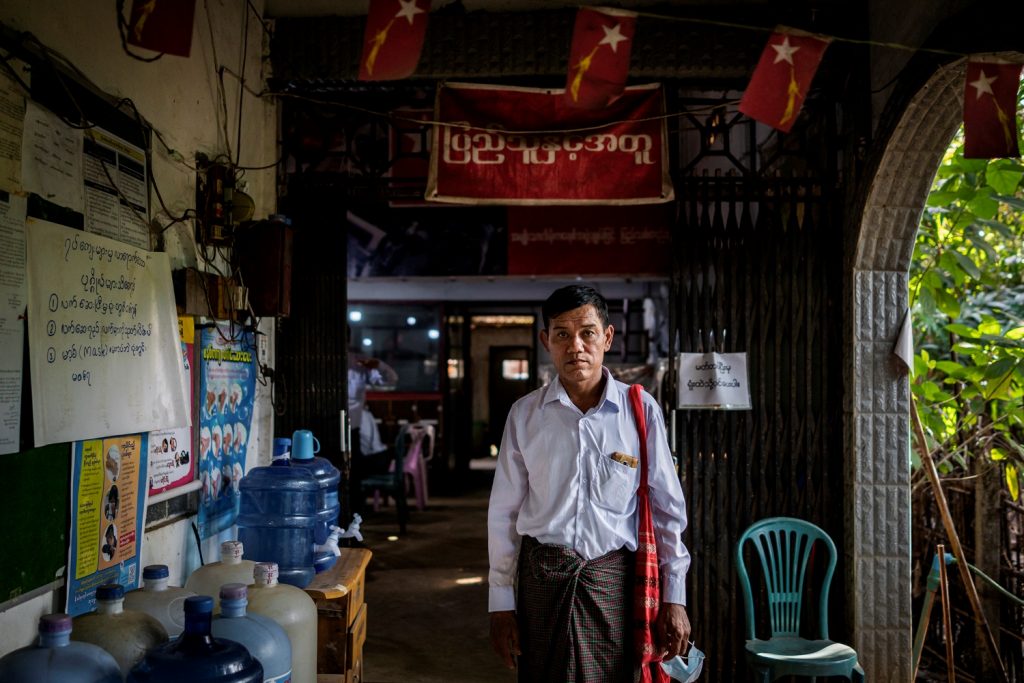 Debt forgiveness
Khin Thet Maw says that, under the coaching of the three USDP supporters on November 15, she was to make up a story that she owed money to two local NLD supporters – U Chit Su, who is also a member of the party, and Khine Thet Maw's own cousin, Daw Phyu Phyu Lwin – and that both promised to forgive her debt if she voted for the NLD.
"I realised I was named in a complaint filed by a USDP member when I was summoned to the police station on November 24," Chit Su told Frontier on December 10. "Khine Zaw has accused me and another NLD supporter of offering to cancel a debt for Khin Thet Maw if she voted for the NLD, but I swear I did not do that and there was no debt."
Phyu Phyu Lwin, 27, who also lives in Nga Chaw Kwin village, told Frontier that she had never lent money to her cousin and that the accusation made by Khine Zaw and Ma Nilar is false.
"I have no extra money to lend to her. I don't know why Khine Zaw filed this complaint," she said. "I think he and the USDP just want to tarnish the NLD's image."
On December 8, Khin Thet Maw went to the NLD's Hlegu Township office to discuss her case with Pyithu Hluttaw MP U Thein Tan, who was re-elected on November 8.
"I told him everything," she said.
Thein Tan called the USDP's complaint a "deliberate attempt to mislead the public", and said he intends to file a complaint with his party's guidance.
"I will raise this case with the NLD's Yangon regional office and will file a complaint at the police station if the party asks me to. I've told the police what I'm doing and asked them to make sure Daw Khin Thet Maw is safe," he said.
Chit Su and Phyu Phyu Lwin say they do not know exactly what laws they have been accused of violating in Khine Zaw's complaint. Khine Zaw declined to comment on the details of the complaint.
Hlegu police did not return repeated phone calls from Frontier seeking clarification.
Under section 58(a) of the Pyithu Hluttaw election law, the maximum penalty for making any form of payment to influence a vote is one year's imprisonment and a K100,000 fine.
The law also requires complaints to be filed with police within 15 days after an election.
Lawyer U Khin Maung Zaw told Frontier on December 11 that Khin Thet Maw could be charged for bearing false witness under section 193 of the Penal Code, for which the maximum penalty is seven years' imprisonment and a fine.
NLD spokesperson Monywa Aung Shin said the USDP just wants to inconvenience the NLD and UEC with its barrage of complaints, but that they cannot change the results of the election.
"The [USDP] needs to understand that the people are no longer behind it," he told Frontier. "Most of its complaints are made-up and we know it."