Some of the "myths" that do the rounds in the education policy debate may not always be backed up by the facts.
By RICHARD SUNDERLAND | FRONTIER
GROWING UP, my father used to tell me that in order to keep my teeth clean I had to eat an apple every day. This sounded plausible enough and came from someone who seemed to know what he was talking about, so I ate a lot of apples.
It wasn't until some years later that I learnt to do independent research and found that this "fact" wasn't exactly true. Yes, eating apples can help – but it's not the whole story. Lesson learnt? Don't always believe what you hear – even it comes from people who sound like they know what they are talking about.
It's the same with education reform. Over the years I've been to many roundtables, conferences and other forums at which education reform has been hotly debated. What strikes me is that while much of this discussion is positive, it's not always grounded in research. 
So, as the National League for Democracy government embarks on its ambitious reform agenda and National Education Strategic Plan, it's worth highlighting some of the "myths" that do the rounds in policy debate that may not be backed up by the facts. Here are three that we think the evidence doesn't always support.
Reducing class sizes results in better education outcomes. The argument goes something like this: Reducing class sizes means that teachers divide their time between a smaller number of students and each child gets more individualised support. Therefore, one of the best ways to transform an education system is to hire more teachers.
The research, however, has consistently found that reducing class sizes costs huge amounts of money – both for additional teachers (including additional training for them to adapt to new ways of teaching) and new infrastructure. The return on investment is actually limited.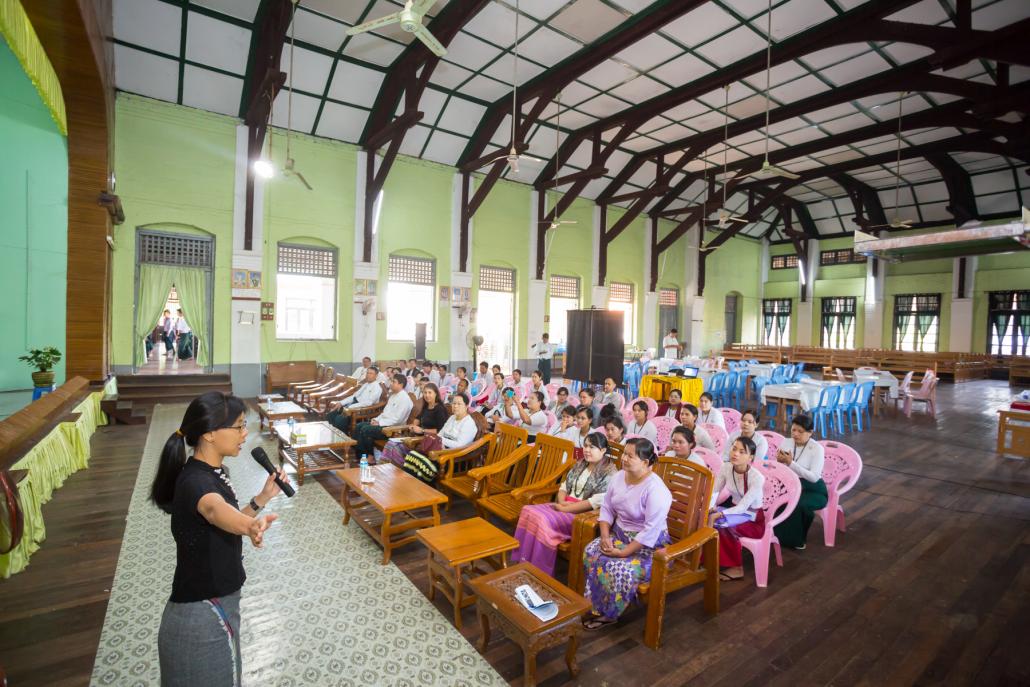 While it is well understood that extremely large classes can limit teacher effectiveness, some of the world's highest performing education systems have as many as 40 or 50 students per class (Singapore and South Korea are often cited as examples). Smaller class sizes don't seem to have a meaningful impact on student achievement until the ratio gets below 15 students to one teacher.
This is an investment few public education systems can afford to make, particularly if they are simultaneously trying to improve teachers' salaries, or invest in training or materials.
Improving the physical infrastructure of schools improves student outcomes. When policymakers from developing education systems visit schools in more developed systems, they often look on with envy at the physical infrastructure of these institutions.
The argument they make is that if their schools had the same level of facilities – air-conditioned classrooms, language labs, libraries stacked with books and beanbags, world-class science labs – student achievement would improve.
Of course, there are contexts – such as rural Sub-Saharan Africa – where the infrastructure would benefit from additional investment. Having power and water, toilets and some basic IT would help. Beyond this, though, the research says that the returns begin to look quite limited.
Good lighting, acoustics and reasonable temperature control are quite enough for good teaching and learning to take place. Our own research on the teaching and learning of English backs this up. And so we're back to teacher education. Up-skilling teachers and helping do better with what they have in the reality of their local context is a much better investment.
Overhauling initial teacher training will radically increase student achievement. Some commentators have argued that by radically improving the quality of pre-service teacher training teachers will be better equipped to deliver outstanding lessons time and time again. Again, though, this isn't always back up by the evidence.
While getting the basics right during pre-service training is important, there is a weight of evidence that suggests that this needs to be complemented by supporting teachers to learn on the job. Most teachers it seems learn after they have left training college and the evidence suggests their first three years in the profession are the most crucial, when educators develop their standard repertoires.
After this point, many teachers' skills plateau and they enter a "coasting phase" where their pedagogy alters only minimally for the rest of their careers. We believe then that to counter this, as well as building solid pre-service training, increased investment for in-service training is also central to helping teachers continue to develop.
This is what we do with our own network of teachers around the world and also in the design of our programmes – a focus on what we call continuing professional development (CPD), which includes peer-to-peer learning, observation and feedback.
HERE IN Myanmar, we're putting our money where our mouths are. With partner funding from the Department for International Development (DFID), the British government's aid arm, and others, we're working with the Ministry of Education to deliver teacher education programmes both in Education Colleges and schools.
These are designed to support all teachers, both those who are about to enter the classrom and those already working. We're sharing knowledge and expertise to help them do better in the reality of their local contexts, learn new methods to teach 21st century skills, and being more comfortable mentoring and giving feedback to each other.
Of course there are other important features common to all education systems – curriculum, assessment and course books, to name but a few. But, as my teacher trainer said to me on my first day at training college many years ago: "Buildings don't teach, white boards don't teach, exams don't teach – teachers teach and that's how people learn." It's hard to argue with that!