Migrant worker remittances have transformed the remote Magway Region village of Mauktin, but unscrupulous job brokers have left many residents under crushing debt, particularly in the wake of the COVID-19 pandemic.
By PYAE SONE AUNG | FRONTIER
The village of Mauktin sits about 16 kilometres northeast of Aunglan town, in the dry, southern reaches of Magway Region.
At first glance, the patterns of life in this farming community appear to have changed little for centuries. After the rainy season residents harvest the crops of paddy, sesame, groundnut, pigeon peas and green peas; "late crops" are harvested in the late winter and summer, including cotton and chickpeas. After the winter harvest, villagers prepare for the next monsoon season. Men gather firewood, sharpen their ploughs and pasture their cattle. Women weave cotton cloth and tend to the homes.
Until just a few years ago, the short journey to Aunglan was difficult. A single truck would take residents' crops to market in Aunglan and return to Mauktin with rice and farm equipment, but mud and potholes meant the forest path it used was impassable during rainy season; instead, cattle were the most reliable form of transport. It was only in 2017 that the regional government upgraded the path from Mauktin to an all-weather road. Partly as a result of this isolation, fewer than one percent of Mauktin's inhabitants have completed high school, and the number of university graduates can be counted on two hands.
But it's also due to poverty. Except for a few wealthy families that farm large tracts, living off the land is a precarious existence, providing Mauktin residents with just enough to subsist. Falling crop prices and increasingly unpredictable weather in recent years have only made matters worse. This year was no exception; early June rains at first delighted farmers, who ploughed and furrowed the soil anticipating a bountiful sesame and green pea crop, both of which require plentiful rain and earn the most money. But the skies barely opened from late July to late September, and high temperatures – often above 38 degrees Celsius – dried out the soil when the young plants were at their most vulnerable.
"It's been like this for five years – sometimes there's too much rain, but mostly there's a lack of it when it is needed most. The money the crops bring in barely recovers what we put in," farmer U Khin Maung Myint, 41, told Frontier. "Every year that we make enough to survive, we count ourselves lucky."
But much else has changed in Mauktin in recent years. Starting in about 2013, two years after the country began opening as part of its transition to democracy, a few, mostly youthful residents – pioneers and adventurers in the eyes of their neighbours – began migrating to Thailand in search of better-paying jobs. Their initial success inspired others; some headed to Thailand, but others found work in Malaysia, in Yangon garment factories, or on sugarcane plantations at Laukkai, in the Kokang Self-Administered Zone in northern Shan State on the border with China.
One local estimated that about 100 of the village's 1,500 residents, mostly single men aged between 20 and 40, are working in Thailand and supporting the families they've left behind. Residents reported a similar trend in the nearby villages of Thiwa, Ponenar, Yamahn Nyo, Mauktin Lay and Hpaungtin.
Ko Aung Min left Mauktin in 2016 and works in the seafood processing hub of Samut Sakhon, which many still call by the old name Mahachai, about 35 kilometres southwest of Bangkok. Speaking to Frontier over Facebook Messenger, he said the difference in wages was vast. "If I work overtime and do not spend on luxuries, [each month] I can send between K400,000 and K700,000 back to my family and still get by in Thailand," Aung Min said.
The remittances are transforming Mauktin. The village "cinema" – a TV set run off a generator – has become obsolete; many homes now have their own televisions powered from rooftop solar panels. Most households have a motorbike, smart phones have become common, and wood and bamboo are gradually being replaced by brick and mortar. Once-landless farm labourers are buying their own plots, and a new generation of village students is completing high school.
While villagers appreciate the many benefits of these remittances, they also know that many of their sons and daughters have paid a high price. Finding employment abroad often entails dealing with a network of unscrupulous money lenders, job brokers and fly-by-night employment agencies that can leave villagers under crushing debt.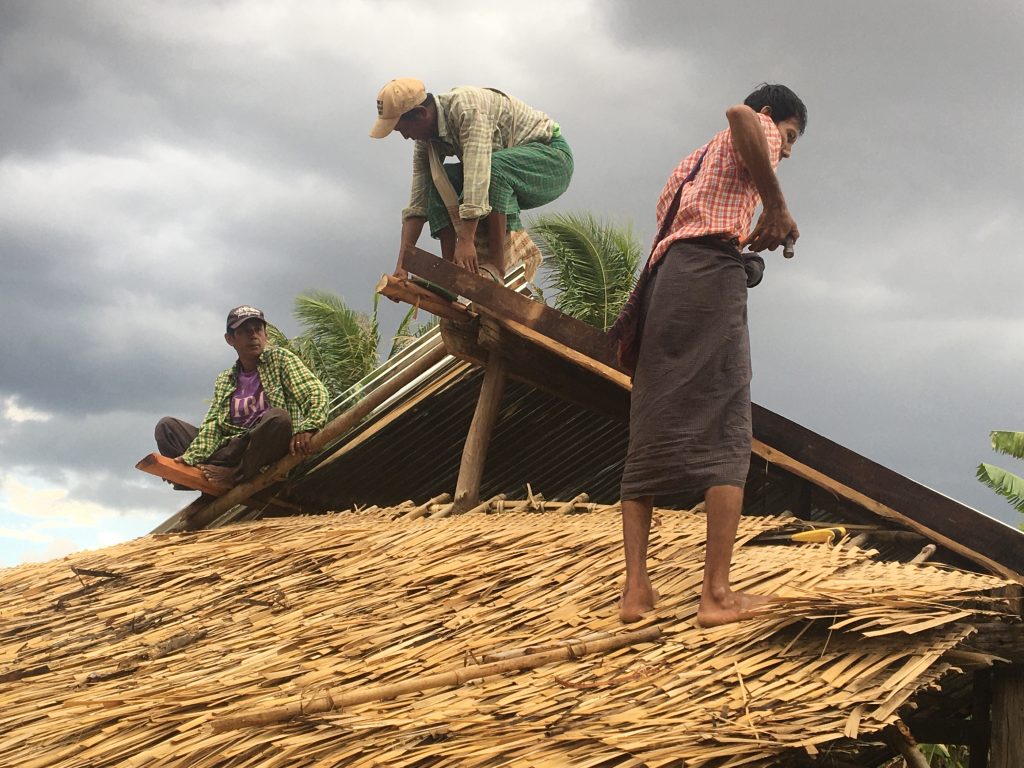 Deadbeat brokers
In early 2019, Ko Khin Maung Myint and 14 others began looking for work in Thailand through local brokers, who connected them to job placement agencies in Yangon.
A broker in nearby Thiwa village, U Kyaw Win, introduced them to another broker in Yangon who, preying on their illiteracy and lack of education, charged them K150,000 each to apply for passports – a process that usually costs just K30,000. The Yangon broker then guided the group to an agency that charged another K1.5 million for a package that they were told would cover all costs until they began work in a Thai factory.
Khin Maung Myint, who could not recall the name of the agency, said that after paying the money they were sent back to Mauktin and told to wait for a call.
"We had to wait seven months for that call," he told Frontier.
They were finally summoned to Yangon that August, and from there they left for the border town of Myawaddy in Kayin State, where they waited another two weeks. The package, it turned out, was not so all-inclusive.
"In Myawaddy, we had to pay for food and rent. We ran out of money and had to work as day labourers, digging ditches for K3,000 a day," Khin Maung Myint said.
After 15 days the broker reappeared and put them on a bus with migrant workers from other parts of Myanmar across the border to Mae Sot. There they spent a night waiting by the roadside for another bus, which took them to Bangkok, where they were met by a yet another broker, a Thai man, who took them for medical checks then finally brought them to Samut Sakhon.
In Samut Sakhon the man dropped them off in dormitories with sheet-metal walls and told them they would live there and commute to the factory for work. But that evening, after the broker left, they were evicted by the building's owner. They called broker but the broker refused to help.
That night, all 15 of them trekked to a highway bus station and, with financial help from other migrant workers in Samut Sakhon, bought tickets home.
They made it back to Mauktin – but that was far from the end of their story.
'What choice did we have?'
Each of the 15 members of Khin Maung Myint's group had paid more than K1.5 million to be placed in work in Thailand, and they now found themselves back in their village with nothing to show for it.
Except for a large debt, that is. None of them had paid the broker and agency fees from savings – instead, they borrowed from informal moneylenders at interest rates of 10pc or 20pc a month. They pledged their houses, land and livestock as collateral. Much of it is now gone.
Although they successfully brought charges against the job placement agency, they were only able to recoup a fraction of what they paid because they had few receipts or written records. Only a few have recovered financially.
"I sold my oxen to clear the debt. Some lost their farmland. [More than a year] after the trip, the rest are still paying off constantly growing debts with the little money they can earn from farming," Khin Maung Myint said.
"But what choice did we have? We had elderly relatives and children to feed and could no longer make a decent living in the village."
"I never want to hear about Thailand again," added U Kyaw Min, another member of the group.
For many, though, the risk does indeed pay off. Ko Nyein Chan Aung, 21, returned to Mauktin in March 2018 after working for two years for the Italian-Thai Development PLC construction company.
"It's the same for almost everyone here; they can pay off their entire debt after working for only three to five months [if they're earning a Thai salary]," he said.
If the work falls through, villagers wind up saddled with debt. Nyein Chan Aung considers himself lucky: his broker's job assurances proved true, and he was able to pay his K1.3 million back after about four months of work.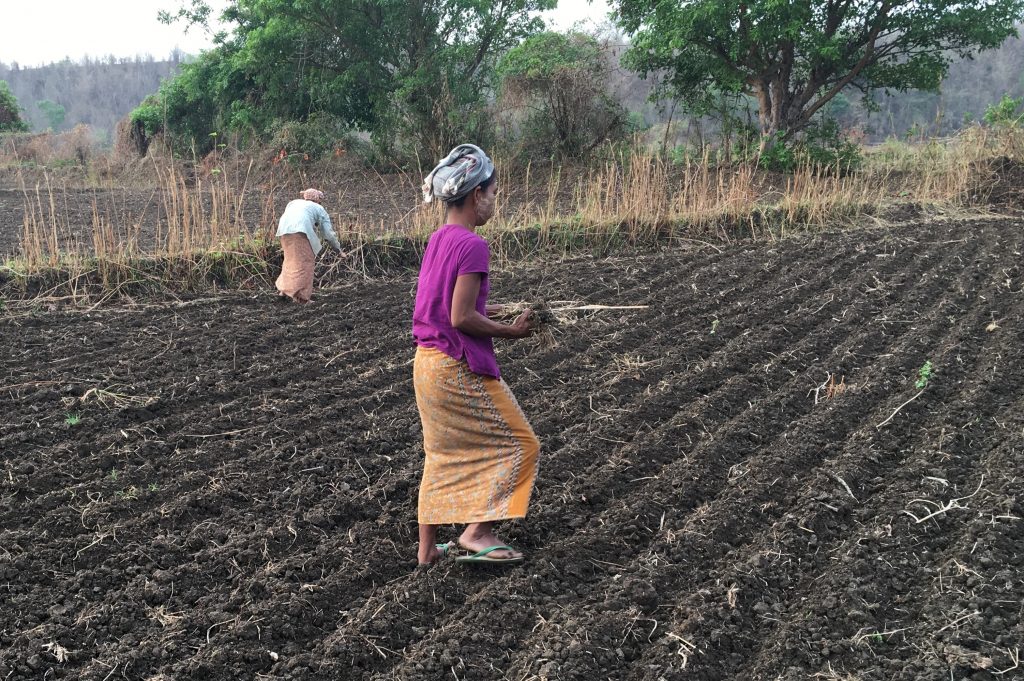 Easy prey
If you ask villagers in central Myanmar how much it costs to secure a job in Thailand, many will quote you a figure from K1 million to K1.5 million.
Officially the figure is far less – the difference, which is substantial, is skimmed off by middlemen, brokers and agents.
The Migrant Worker Rights Network is one of several groups that provides legal aid and advocacy to protect the rights of migrant workers in Thailand, where there are about 2.5 million documented workers from Myanmar and another half a million who work illegally.
The network's U Sein Htay said job agencies cannot legally charge more than K150,000 for a placement and many Thai companies also have a zero-cost policy, which bars them from hiring from recruiters that charge migrant workers a job placement fee at all.
All told, it should cost migrants no more than K350,000 to secure employment in Thailand, but unscrupulous brokers and agencies prey on farmers they see as easy to exploit because of their lack of knowledge, contacts and education, Sein Htay said.
He said the situation was getting worse and the authorities were doing little about it.
"Despite increasing fraud and exploitation, the government, through the Ministry of Labour, Immigration and Population, is weak when it comes to protecting workers, enforcing the law and regulating agencies and brokers," he said.
Job seekers from rural Myanmar are often intimidated by brokers and agencies, and have little means of scrutinising or verifying the validity of contracts or job promises. Some are tricked into paying exorbitant fees for baseless guarantees that they'll be spared the toughest and most menial jobs abroad. These stories are not confined to Mauktin, or even to Magway.
"We have compiled more than 40 files worth of complaints from different regions and states about fraud and exploitation, and that's just the tip of the iceberg," Sein Htay said. "If workers know the name of the agency and have a receipt for the money they paid, they're more likely to be refunded. But, sadly, that's rarely the case."
In late 2019, Ma Thandar Hlaing, 38, and her husband, along with eight other residents of Shantaw Ywama village, in Bago Region's Daik-U Township, decided they wanted to find work in Thailand. They asked a couple in a neighbouring village who had previously worked in Thailand for help.
One of the people they turned to, Ma Khin Mar Lwin, told them to pay K1 million each to have passports made. Ma Phyu Thi, a friend of Khin Mar Lwin's, took the group to Yangon to sign a contract with a job agency on 157th Street in Tarmwe Township, the name of which Thandar Hlaing cannot remember.
The usual waiting game began. Months passed with the group receiving nothing but a series of excuses. Then, in March 2020, COVID-19 hit Myanmar, and Thailand banned all entry from Myanmar at border crossings. The agency in Yangon stopped answering the phone, and Khin Mar Lwin and Phyu Thi disappeared.
Thandar Hlaing had taken out a K2 million loan for her and her husband from a relative who charged only 3pc interest, but it was still a struggle to pay off the debt. In the end, they realised they'd never be able to pay it off, and handed over their home to the relative.
"Paddy fields keep me in work for only one month of the year," Thandar Hlaing told Frontier. "Since we lost our home, I've had to stay in my parents' house and my husband is working as a mason in Mandalay Region."
It is unclear if Khin Mar Lwin and Phyu Thi were victims, culprits, or both. It's possible that, after being scammed themselves, they sought recruits for job seekers in nearby villages to pay back their own debts.
In any event, Thandar Hlaing filed charges against Khin Mar Lwin and Phyu Thi at the Daik-U police station for "cheating and dishonesty" under section 420 of the Penal Code, but she said the case is not being actively pursued. Frontier tried but was ultimately unable to reach local police or the village head.
Cut off by COVID-19
For others like Thandar Hlaing, the COVID-19 pandemic has only made things worse.
Ma Myint Myint Nwe and six other residents of Zadote Ywama village, also in Daik-U, paid K1.3 million each to neighbour and broker Ma Chaw Su, who connected the group with another broker, Ko Myo, in March, shortly before the first COVID-19 case was reported in Myanmar. All seven of them then signed contracts with the Swan Taw Win job agency.
But when Yangon International Airport grounded all international commercial flights in March to prevent the spread of the coronavirus, Swan Taw Win closed shop. Employees told Myint Myint Nwe they could refund her just K150,000 of her K1.3 million deposit. She declined the offer and is seeking legal recourse through her village-tract administrator, but progress has been slow. The MWRN is also providing her with legal help.
"I told the village-tract administrator and he said he would resolve the issue. I have two small children to support and my husband and I struggle to make K8,000 a day as vendors," Myint Myint Nwe said.
But she, at least, had been able to request a refund from the agency she used. Many in Mauktin and nearby villages paid initial installments of between K300,000 and K700,000 – or even the full K1.5 million – before the pandemic hit. Now, with travel restricted, agencies have vanished, and many cannot get ahold of brokers or agencies they've already paid.
One of the most heartbreaking cases involves Ko Maung Nway, whose name has been changed at his request. He was determined to emulate Ko Aung Htwe, the only Mauktin villager to have worked in South Korea, where salaries are about 10 times higher than in Thailand – but the cost of admission is even steeper.
Maung Nway studied Korean in Yangon for two years and was rewarded with a job in South Korea. He passed a medical check, was issued a visa and bought a plane ticket. From language lessons to airfare, he's spent more than K5 million, covered by loans he had expected to pay off after just a few months work.
Since COVID-19 struck, he's been waiting and watching as the interest on his debt has grown ever higher. His family has sold their farmland to help pay down some of it.
"There are many similar stories but they largely remain hidden," said Nyein Chan Aung, the former Italian-Thai employee. "Villagers believe that talking about their debt and economic hardship will bring them shame."
That taboo may be starting to change, however. Nyein Chan Aung said the arrival of social media in rural areas was encouraging more people to speak up.
"These days," he said, "villagers' Facebook posts are increasingly filled with accounts of the horror of debt."