Labour unions want garment factories to suspend operations this month to help prevent the spread of coronavirus at workplaces, but most employers are resisting the idea because of uncertainty over how long the shutdown might last.
By KYAW YE LYNN | FRONTIER
"Imagine how bad the situation would be if one of us here was infected," said Ma Honey Oo, a worker at the Greatmen (Myanmar) Co Ltd garment factory in Bago's Nyaung Inn Industrial Zone.
She said the factory is not overcrowded, but does not have enough space for safe social distancing between workers.
"It could turn the factory into a paradise for the virus, but a hell for us," Honey Oo told Frontier in a telephone interview on April 1.
She is among the employees at Greatmen (Myanmar) who have joined an online campaign calling on the government and employers to arrange for workers to receive paid leave in April so they can stay at home and help to prevent the spread of COVID-19.
Honey Oo appealed for understanding about the situation.
"Don't get us wrong," she said. "We are not lazy; we want to work. But we don't want to get infected and spread the virus to others."
The campaign was launched on March 30 by the Federation of Garment Workers – Myanmar (FGWM), an umbrella association of nearly 30 garment factories based in Hlaing Tharyar's industrial zones.
FGWM founder Ma Moe Sandar Myint said it is difficult for workers at the crowded garment factories to follow instructions issued by the Ministry of Health and Sports aimed at preventing, containing and controlling the coronavirus.
"Our country is beginning to detect local transmission," Moe Sandar Myint said, referring to people becoming infected with COVID-19 because they have come into contact with carriers of the coronavirus who have returned from abroad.
"A big outbreak is possible sooner or later; shutting down factories for one month could greatly reduce the spread," she told Frontier on March 31.
The FGWM campaign, which has the support of other labour groups, including the Industrial Workers' Federation of Myanmar, will be three-pronged.
The first stage was posting the demand for paid leave on social media. As a second step, the group's members plan to shout slogans on the buses that ferry workers to factories. The final step will be to protest outside workplaces.
Labour organisations first proposed that garment factories close for a month due to COVID-19 in February. At the time, operations at some factories were being affected by shortages of raw materials arising from supply chain disruptions caused by the coronavirus. Since then, closures have left at least 10,000 people out of work, and in some cases owners have fled the country without paying salaries and the compensation required under Myanmar's labour laws.
Labour organisations' calls for leave have grown more urgent since the first cases of the coronavirus were detected in Myanmar on March 23, however. The Ministry of Labour, Immigration and Population met representatives from labour and employer groups in Nay Pyi Taw on March 25 to discuss the proposed one-month factory shutdown in April.
Labour federation representatives proposed that the Social Security Board pay 60 percent of workers' salaries during the leave period and employers contribute the remaining 40pc, but both the government and employers have yet to agree to the plan.
The proposal is based on April having 18 working days, or 60pc of the month, and 12 days of holidays (10 days for Thingyan and two Sundays), accounting for 40pc.
Labour organisations want to reach a deal – or at least make a decision – by April 5, because most factories pay salaries on the fifth day of the month.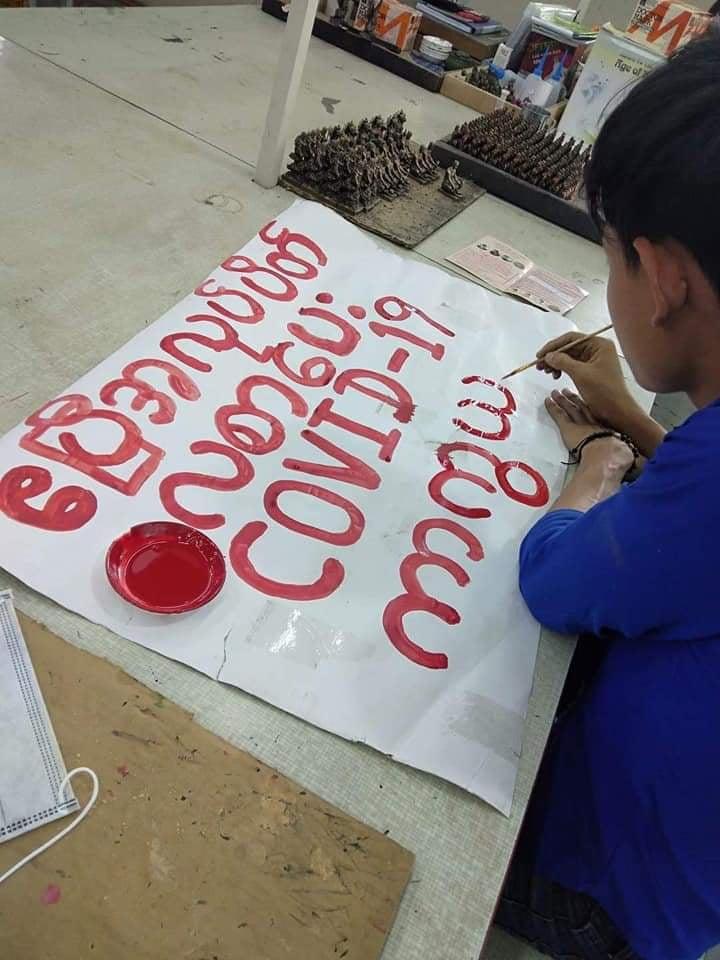 But labour ministry director-general U Maung Maung Aye said the SSB would only provide 60pc of salaries if a factory was forced to suspend operations because a worker had tested positive for coronavirus or exhibited symptoms and its entire workforce had to be quarantined.
"The ministry has yet to decide if the SSB should pay 60pc of salaries under the proposed plan," he told Frontier on April 1.
Employers are reluctant to agree to the plan, both because the SSB has yet to formally assent and also because of uncertainty over how long a shutdown could last.
Daw Yin Yin Moe, a central executive committee member of the Myanmar Garment Manufacturers Association, said that some employers were willing to pay 40pc or more of their workers' salaries during April, but others were not in a position to do so.
"Some employers have proposed paying 20pc of salaries while workers are on leave for a month, while others said they could afford to pay one-third of salaries. Only a few employers can afford 40pc or 50pc," said Yin Yin Moe, who owns the Hla Yin Moe garment factory in Mingalardon Township's Pyinmabin industrial zone.
Employers are also concerned about whether their factories can survive beyond April. Yin Yin Moe said that although access to raw materials was no longer an issue because China has resumed production, the sector was facing a lack of orders until August because of the impact of COVID-19 on Europe and the United States, which are its main markets.
"In the negotiations, most employers are thinking about their long-term survival. If the factories receive no new order from brands and retailers in the next four months, they won't even be able to afford to pay 20pc of salaries."
Frontier understands that government officials share employers' concerns about agreeing to pay salaries during April given the potential prospect of a prolonged shutdown.
Such a shutdown would be highly damaging for Myanmar's economy given that the garment sector is its top export earner, generating US$4.6 billion in sales in 2018-19. It is also a major employer, with more than 500,000 workers in all, of whom more than 90 percent are women.
"We understand their concern, but shutting down the factories in April should be an urgent priority," said IWFM chair Ma Khine Zar Aung, who attended the Nay Pyi Taw meeting.
The possibility of temporarily closing factories was discussed at a meeting between Yangon Region Chief Minister U Phyo Min Thein and labour group representatives on March 30.
The meeting also considered the consequences of a temporary closure of factories, such as whether workers should return to their villages or stay in Yangon.
Khine Zar Aung said Phyo Min Thein told the labour group representatives he would discuss their proposal with the Union government "immediately".
Negotiations between management and workplace labour unions at some garment factories had had been positive, said FGWM's Moe Sandar Myint.
"We have the good news that a factory agreed to extend Thingyan holidays for all of April," she said, referring to the Sioen Myanmar Ltd garment factory at Hlaing Tharyar Industrial Zone 2, which had agreed to grant leave for the Thingyan holiday from April 5 to May 3.
"The factory and workers are still negotiating over payment for the one-month break," Moe Sandar Myint said.
At least one industrial zone outside Yangon is considering the temporary closure of its factories.
The management committee of Bago's Nyaung Inn Industrial Zone has been discussing with employers if factories should be closed.
"Employers are considering a temporary closure because of the risk of virus spreading among workers," committee chair U Hein Htet told Frontier on March 31.
"The main problem is payment; that's the bottleneck."