Police have fired tear gas and rubber bullets to break up peaceful demonstrations in major cities, with videos and photos showing officers and people in plainclothes beating and violently arresting protesters.
By FRONTIER
Police have staged violent and unprovoked crackdowns on peaceful demonstrations across the country, firing tear gas and stun grenades to disperse protesters in Yangon, Monywa, Mandalay and other towns and cities.
In Monywa, the capital of Sagaing Region, a woman is reportedly in intensive care after being shot by security forces, while hundreds of people are thought to have been detained nationally, including at least five journalists.
A crowd has gathered outside Insein Prison in Yangon tonight waiting for news of relatives and friends who have been arrested. Local media reported that more than 100 people were arrested in Yangon alone, and around 10 prison trucks loaded with arrested protesters were seen entering the prison.
Overnight, the military junta warned that protesters caught violating section 144 orders – which are in place in many cities and ban protests, demonstrations and any gatherings with five or more people – would face severe penalties, including several years' imprisonment.
In Yangon, the heaviest violence occurred on Bagayar Road in Sanchaung Township, where members of the General Strike Committee of Nationalities began protesting in the morning together with residents, erecting temporary barricades to try and protect themselves from police.
As armed riot police charged along the road, firing tear gas into side streets, terrified protesters and bystanders ran into apartment buildings. Frontier also observed police firing rubber bullets directly at people attempting to flee from buildings.
At least three Frontier staff covering the protests were hit with tear gas and spent much of the afternoon sheltering inside apartments in Sanchaung with residents and protesters, as police waited outside. Officers were also spotted confiscating goods from street vendors and taking food from shops.
After leaving Bagayar Road, protesters soon regrouped further to the west on Baho Road. Police advanced again, firing more tear gas, including into homes along Baho Road.
Photos from other media outlets show a police officer grabbing a pregnant woman by the throat, and another pointing a gun directly at a medical worker sitting barely a metre away.
Police appear to have made dozens of arrests in Sanchaung alone, with a Frontier reporter observing at least 21 people being put into a prison van, including a journalist from Myanmar Now. Also among those arrested were two bus drivers who apparently stopped their vehicles in the middle of the road to prevent police from reaching protesters.
Police also dispersed protesters in Hledan, arresting photojournalists from the Myanmar Press Agency and the Associated Press.
In downtown Yangon, there were similar scenes as police threw stun grenades and fired rubber bullets to disperse a small number of protesters. One officer threw a stun grenade directly at a Frontier journalist, but it failed to detonate. Police arrested at least three people, and brandished batons at a Frontier journalist who tried to take a photo. The police violence seemed entirely disproportionate given the relatively small scale of the demonstrations and their peaceful nature.
But some of the heaviest violence against civilians took place in the Sagaing Region capital Monywa, where residents had yesterday formed a "people's administration team" led by local National League for Democracy lawmakers. The team said it would work with the General Strike Committee to "ensure the safety and stability of Monywa residents".
Videos from Monywa showed plainclothes people beating protesters with metal poles and dragging them violently into police vans. Another video shows a woman being hit in the face by a man in plain clothes while she is being held by three police officers.
Among those arrested was Monywa Gazette CEO U Kyaw Kyaw Win. Videos show him being arrested by three people in plainclothes and being violently forced into a prison van.
"While he was broadcasting live this morning, he was caught by plainclothes men and taken to a truck. It is not yet known where he has been taken," colleague Ko Naing Soe told Frontier.
Hundreds of protesters are thought to have been arrested in Monywa and some people are still trapped inside Zaung Kyin Pin Monastery.
Meanwhile, a journalist from the Hakha Times confirmed that its CEO, Pu Lalawmpuia, was arrested around 3pm. A livestream of his arrest shows him repeatedly telling police he is a journalist and showing his press card, but they detain him anyway.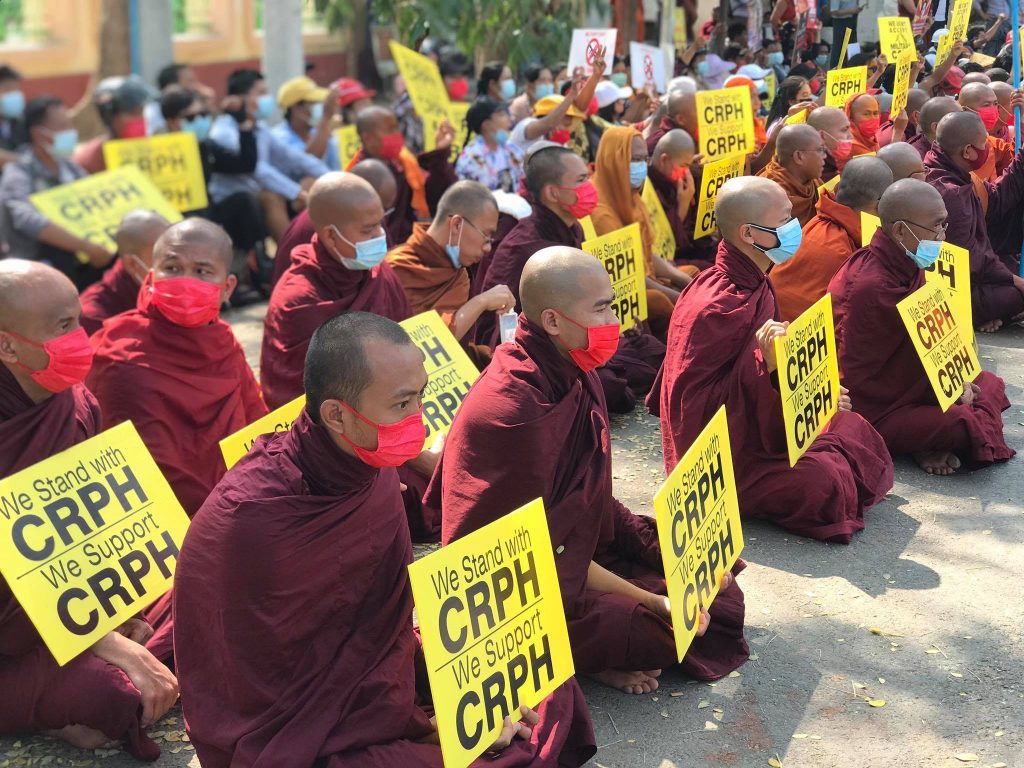 In Mandalay there were few protests around the city during the day after police forcibly dispersed small rallies early in the morning, sending protesters scrambling.
However, around 2pm protesters and monks staged a sit-in protest in front of Mya Taung Monastery on 35th Street in Maha Aung Myay Township. Large numbers of police arrived at around 3pm, prompting protesters to flee and monks to go back into the monastery. At around 3:30pm, police shot into the monastery compound with slingshots, hitting and injuring two young men who live in the monastery.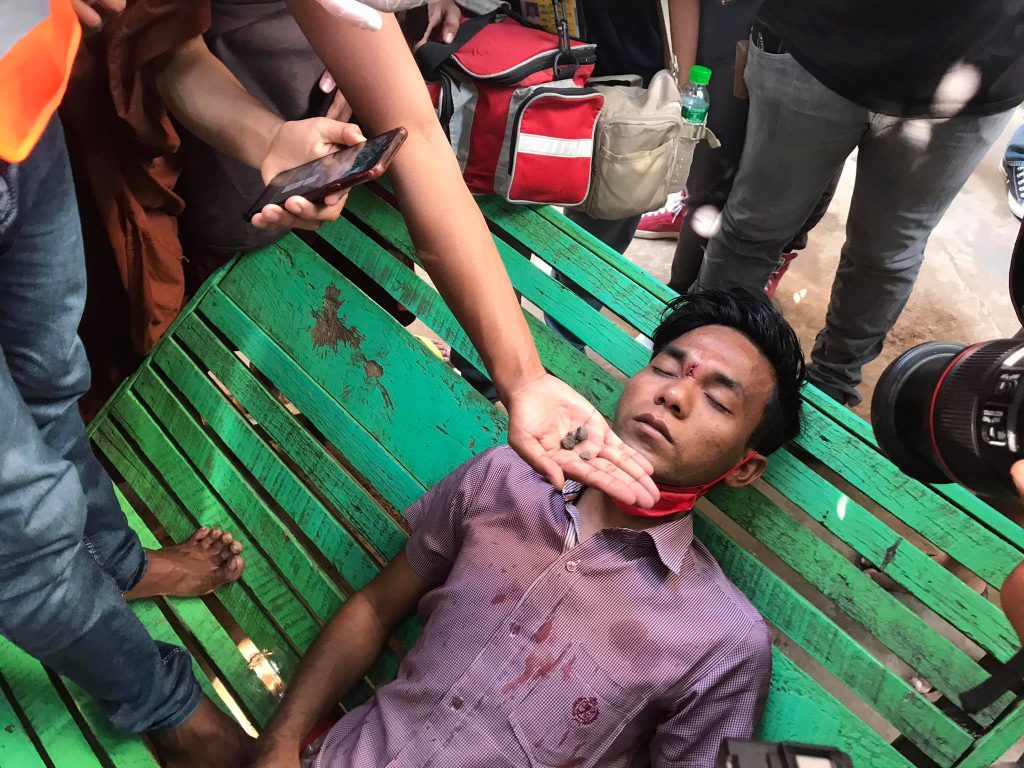 Meanwhile, two senior National League for Democracy members, Daw Win Mya Mya and U Aye Thein, were also reportedly arrested in Mandalay this morning.