As demand soars among well-off urban residents for butter-rich cakes, pastries and croissants, efforts continue to boost the domestic production of milk, a crucial source of nutrition in a country where one third of the children are malnourished.
By THOMAS MANCH | FRONTIER
ON A DAY like any other, Yangon's hippest bakery is a bustle of tong-wielding customers choosing pastries under the warm glow of vintage-style lights. A human conveyor belt of 20 chefs, shoulder-to-shoulder in tall paper hats, can be seen through ceiling-high windows filling shelves with green tea muffins, hotdog puffs and croissants.
Ko Saiwoon Si, 24, is sitting by a wall of lush plastic foliage sharing a swiss roll and chicken floss with four friends. A red G-Shock watch dangles from his wrist as he speaks about his favourite, the black forest dream cake. "The decoration of the cake is very beautiful; the top of the cake has a strawberry." Across the table, Ko Sai Soe Min Thu, 23, says the bread is more delicious than elsewhere.
Myanmar's growing love affair with butter is greasing the wheels of a growing bakery market.
ASEAN data shows butter imports soared by US$1 million in 2016, to $2.5 million. Cheese imports jumped from $2.1 million in 2015 to $3.6 million last year, and milk imports have been steady at about $1 million for the past three years.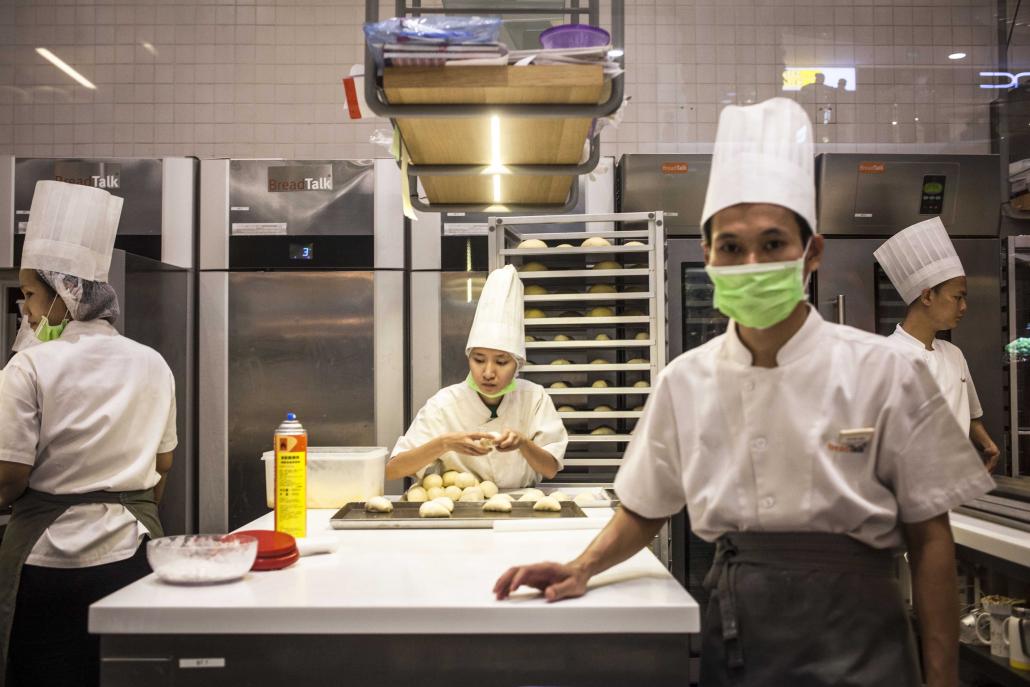 Saiwoon Si and Sai Soe Min Thu have eaten at Bread Talk twice a month since it opened in ritzy Junction City mall in April. They're just two of the Yangonites chewing through three metric tons of creamy, golden dairy fat a month.
Bread Talk's butter supplier is New Zealand dairy products giant Fonterra. The company's Southeast Asia managing director, Mr Paul Richards, said consumption jumped by 15 percent during October because of a promotion for Japanese pastries.
"Yangon isn't that big a place. You just need some of these things to take off and suddenly it sparks across the city," Bangkok-based Richards told Frontier during a recent monthly visit.
Fonterra, the world's largest milk exporter, has about 22,000 staff in 140 countries and territories, including seven employees at its office on Strand Road.
"Whilst we firmly believe in the massive potential of this market, it's a long burn," said Richards.
The company's research highlights the potential for growth in Myanmar. It shows annual milk consumption of 10 litres per capita, far behind that of Malaysia, the world's sixth biggest dairy producer, where it is 60 litres per capita. New Zealand practically runs on the white liquid, consuming 270 litres per capita a year.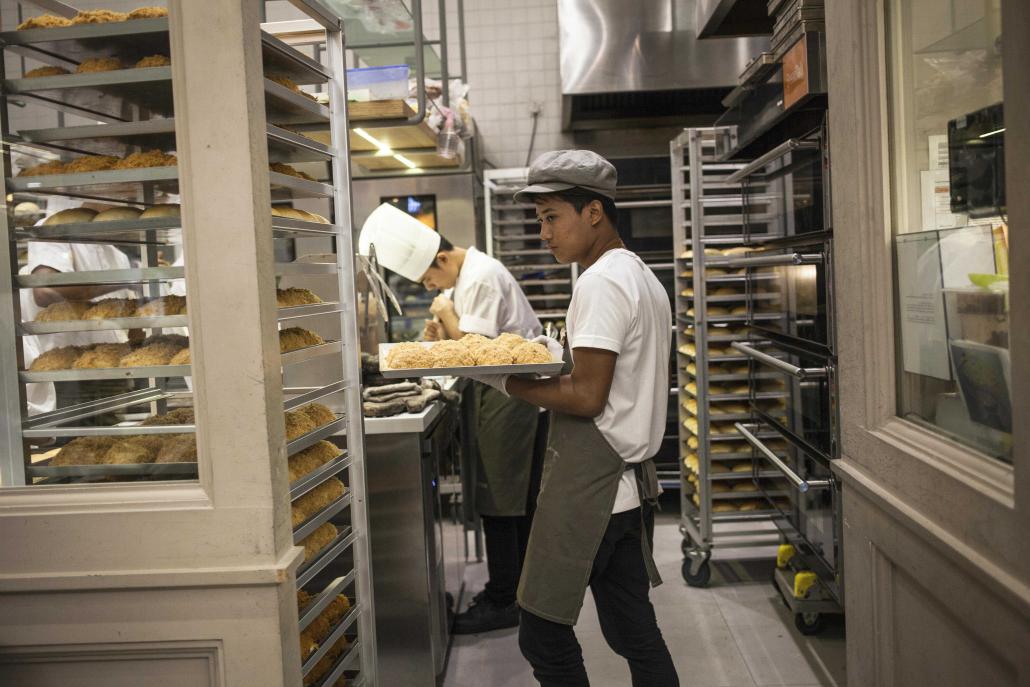 With a minimum daily wage of K3,600, milk is a luxury product in Myanmar. Fonterra sells Anlene milk powder at K5,500 for 400 grams, and Anchor butter at K4,400 for 227 grams, through the City Mart supermarket chain.
"Fresh milk is still seen as a valued commodity all over Southeast Asia … people are embracing it, so people are prepared to pay for it," said Richards.
The food business is where Fonterra makes its bread. New Zealand butter is found in the croissants at City Mart's Seasons Bakery and in the butter cake at J'Donuts.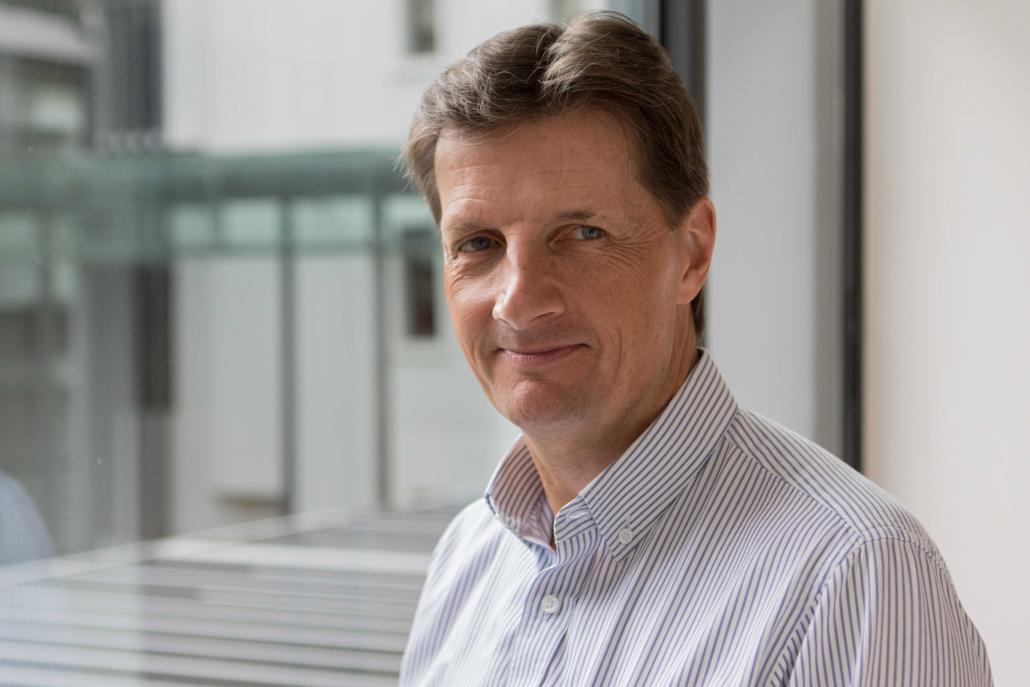 Richards declined to reveal what the Myanmar market is worth to Fonterra, but said the food service business expanded 25 percent over the past year. Sales of branded products rose in the "high single digits". Data for ASEAN shows New Zealand butter imports doubled in 2016, to $1.4 million into Myanmar.
The market for milk products can only grow, said Richards, as more bakeries open (including another Bread Talk outlet in November), more five-star hotels are built, more tourists visit and development continues.
Fonterra is just one player in a competitive dairy market, in which America's Kraft cheese, Denmark's Lurapak butter and Thailand's Dutch Mill fresh milk are also jostling for sales.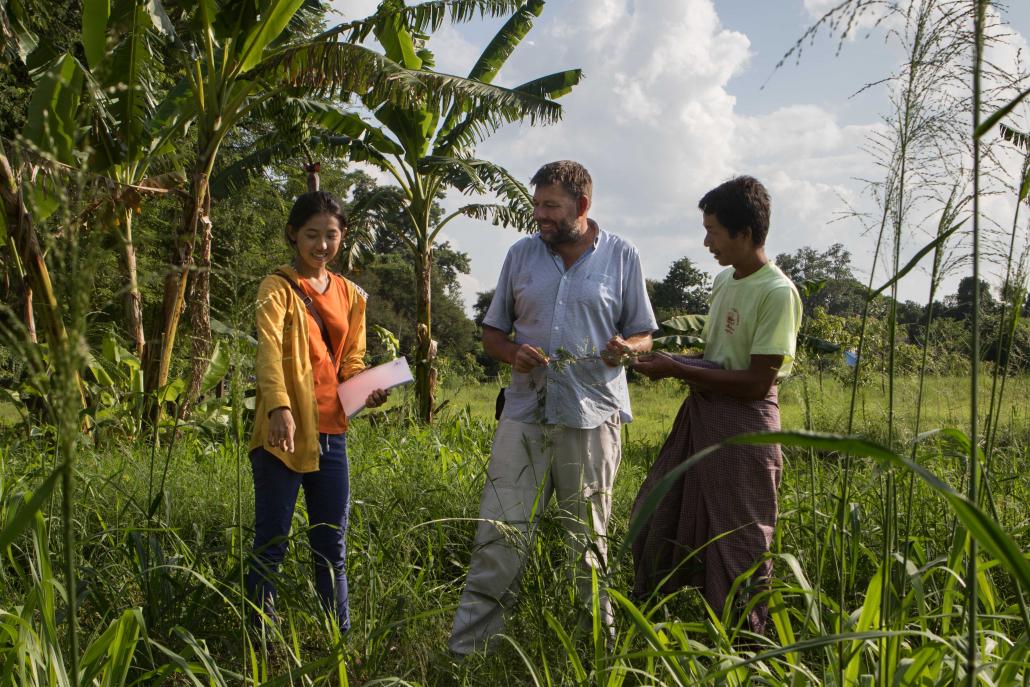 The domestic dairy industry is undeveloped and producers cannot compete against foreign companies. As well as missing out on a bigger share of an expanding market, the lack of development in the industry has contributed to a national health problem caused by a lack of nutrition. Milk and other dairy foods are highly nutritious and include calcium, which is essential for improved bone health, as well as potassium, vitamin D and protein.
The Ministry of Health and Sports' National Health Plan 2017-2021 shows that more than one third of children aged under five are stunted due to prevalent malnutrition.
As Frontier reported in March, a Department of Medical Research study by nutrition specialist Dr Moh Moh Hlaing showed that more than 300 of 835 primary school children, or 36 percent, drank milk less than once a week.
The research findings were presented at a national meeting on nutrition in January, at which State Counsellor Daw Aung San Suu Kyi urged the government ministries, donor countries and NGOs at the event to strengthen efforts to tackle the nutrition deficit.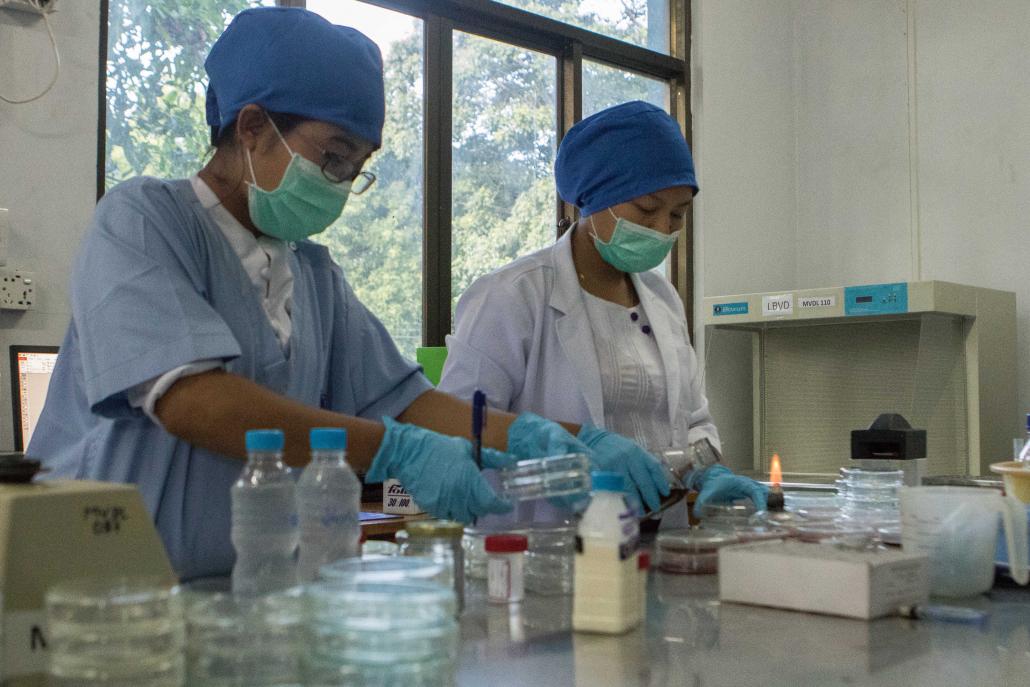 The previous government took steps to improve child nutrition when it teamed up with global packaging giant Tetra Pak in June 2013 for a three-year program to distribute UHT milk three times a week to children at schools in Nay Pyi Taw, Yangon, Mandalay and Ayeyarwady Region.
Meanwhile, New Zealand has provided US$4.2 million in funding for a joint project with Myanmar to help develop the dairy industry.
The technical adviser for the Myanmar Dairy Excellence Project, Mr Kent Weston-Arnold, who spent two years on a similar project in Pakistan, said the domestic dairy industry has potential but there's a long way to go.
Four New Zealanders and six employees of the Livestock Breeding and Veterinary Department are working on project, which began by providing advice to seven "nucleus farms" in 2014.
But hopes that the knowledge imparted would trickle down to smaller, neighbouring farms were not realised. The approach has changed to working closely with about 110 farms and including another 120 farmers in discussion groups.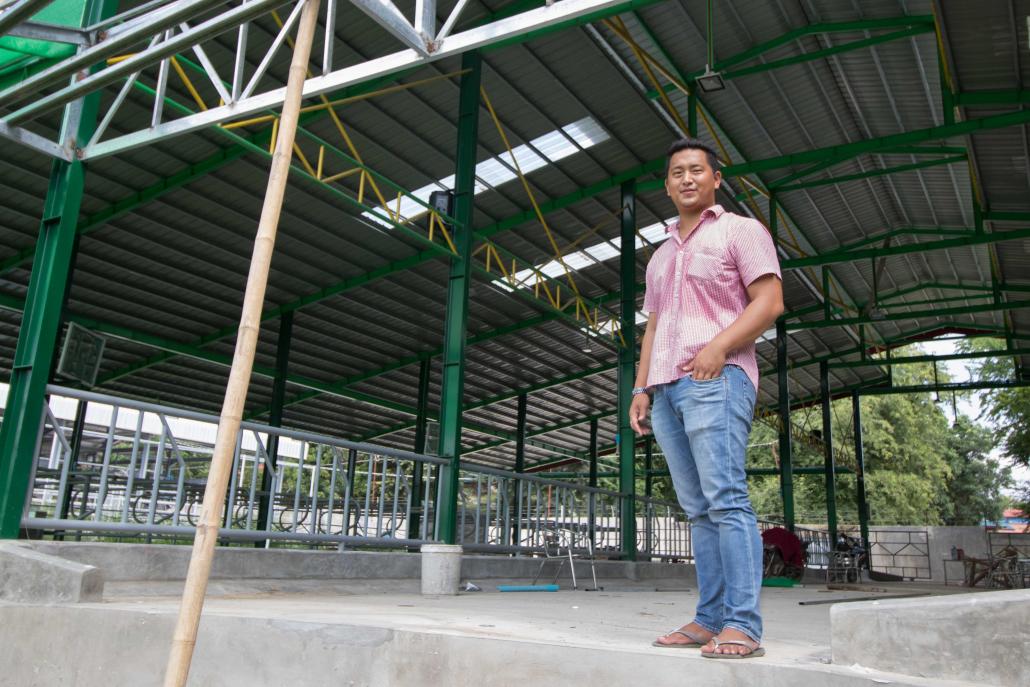 Weston-Arnold uses gestures to communicate with farmers. During a recent visit to Mandalay Region, his hands were in constant movement as he indicated to farmers whether he thought a cow was too small, needed more water, or was recovering well after calving.
Traditionally, Myanmar dairy farmers tie their cows to a tree and give them feed and water twice a day. Yields are low at six litres to eight litres a day – a third of what is achieved in many other countries – and have improved only slightly in recent years.
For fodder, farmers rely on nutritionless and increasingly costly rice straw and supplements, such as cotton-seed cake, bean flour and rice bran. Roadside grass is sometimes cut for fodder.
"If we could replace the use of rice straw with the use of good quality fodder, that would have a massive impact on the industry," said Weston-Arnold.
As a nutritious alternative, the project is encouraging farmers to grow Mombasa grass, which has been described as gourmet dining for cattle.
The tropical grass grows in long, thick-bladed tufts which can be cut for fodder every 19 days during the summer. Importantly, Weston-Arnold said, it's half the price of rice straw, but has 60 percent more energy and 100 percent more protein.
Despite the challenges, the project has seen some successes. U Hmwe Thein, a dairy farmer in Koneywar Village in Sagaing, was initially sceptical of the project's foreign experts and their promises about the impact of Mombasa grass, so he decided to plant it on two acres of "bad land". A delighted Hmwe Thein is now saving K300,000 a month on the cost of dry feed.
At the Shwe Oh dairy farm on Mandalay's northern outskirts, U Tin Win and his son, Ko Kyan Shone Kyin, farm 170 cattle. They are planning to move their 60 milch cows into a new barn and are building a modern herringbone-design milking shed capable of handling 10 cows at a time with vacuum suction teat cups.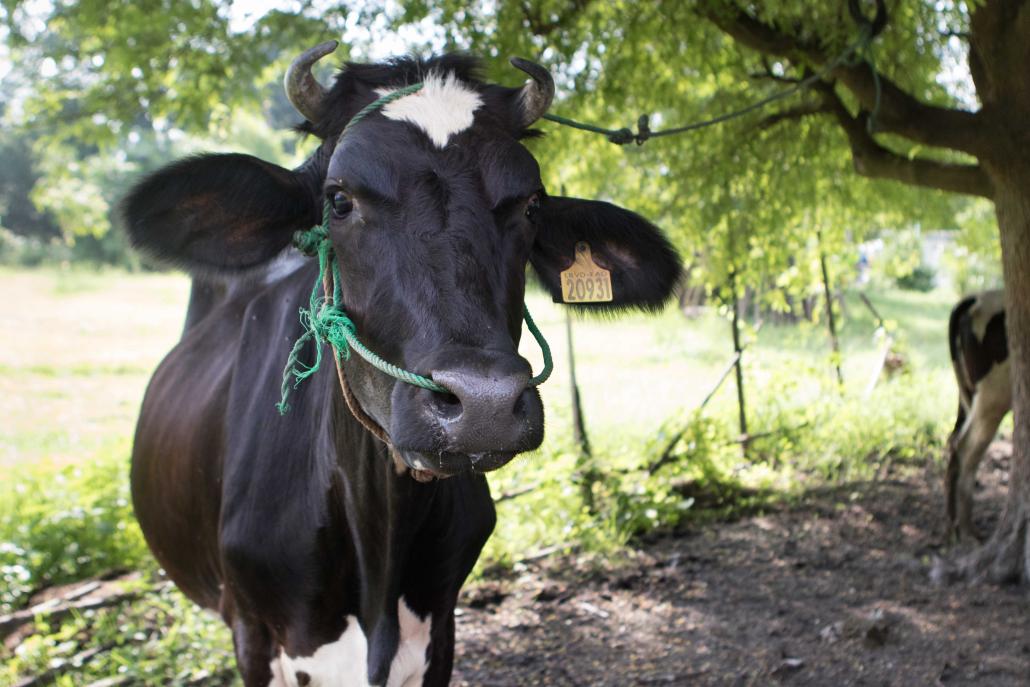 The father and son team also buy milk from other farmers to make yoghurt and a little cheese, sold along with milk at the family's three Mandalay shops and also marketed in Kachin State.
"State of the art, for Myanmar," said Weston-Arnold of Shwe Oh's operation. Through their continued innovation, Shwe Oh has seen profit minus labour and feed cost rise from K2.1m a month to K6.1m.
But Shwe Oh will need more than an improved cash flow to compete against imports; it's widely understood a regularly tested milk quality standard and refrigerated supply chain are essential for create a modern industry.
At most dairy farms, cows are milked twice a day, usually by hand, a practise that the Asia Dairy Network said in a 2014 report was the "main vector" for spreading disease. The milk is then transported unrefrigerated for up to five hours for delivery to a buyer or supplier.
Weston-Arnold says milk is often adulterated with water, milking equipment is almost always rinsed with cold water and there are only "three or four" suppliers that can refrigerate their product.
A quality standard is being developed in Nay Pyi Taw by the Livestock Breeding and Veterinary Department and New Zealand has equipped a spartan LBVD lab in Mandalay that is due to test 1,000 samples from about 40 farms this year.
Weston-Arnold wants to create a new model for dairy farming communities throughout the country.
By the end of the year, the project is due to establish a refrigerated collection service for a community of 300 dairy farming families south of Mandalay. The farmers will transport milk to a central collection point. The milk will be tested along the supply chain to ensure safety.
With phase two of New Zealand's aid program wrapping up in February 2019, Weston-Arnold is optimistic it can achieve at least one success to encourage future growth in the industry.
"Whether or not it's sustainable without us," he said, "I don't know."