A land ownership dispute in Dagon Seikkan Township has upset a local NGO's efforts to provide housing for low-income families, and divided a community.
By WIN ZAR NI AUNG | FRONTIER
IN JUNE 2017, Daw Nyo moved from Dagon Seikkan Township's 93 Ward to a new house in the same township, at a development called Moe San Pan.
The house was modest: around 250 square feet, with bamboo walls and an iron roof. But after years of living in informal housing, she was excited – her dream of living in her own home seemed within reach.
Moe San Pan is one of 11 community-led housing projects in Yangon developed with technical support from a Myanmar NGO called Pyomay Eain (Lady's Home), which goes by the name Women for the World in English.
The projects are organised by the Women's Saving and Development Network, which comprises Women's Saving Self-Help Groups (WSG) that WFW has been helping to establish in Yangon and elsewhere since 2009.
Residents buy homes in the development by making monthly repayments over several years. The homes are cheap – normally between K1 million and K3 million – and interest rates are just a few percent a month.
Daw Nyo's home at Moe San Pan cost K1.25 million and she took a K465,000 loan to pay for an extension. She was told she could pay the money back in monthly instalments of K67,000 over a period of three years.
At Moe San Pan, a housing committee of seven people oversees management of the 58 houses. Each household pays a monthly fee into a fund that is overseen by the committee, and the funds are then paid into a bank account in Yangon.
But Daw Nyo and nine other households at Moe San Pan are refusing to pay the monthly fees and demanding a refund on previous payments, after being told by local officials that the land on which Moe San Pan is located is state-owned and they have no right to live there.
The situation at Moe San Pan has become increasingly heated, with both sides filing or threatening to file legal complaints, and hosting multiple press conferences to air their respective claims. The housing committee has ordered the 10 households to leave, and repainted the 48 other homes in an apparent attempt to make clear who is on which side.
Daw Nyo, who has been forced to step down from the housing committee, says she is determined to fight.
"I couldn't afford to buy a house in the next 10 years because of my situation, so I was happy to think I could buy this house," she told Frontier. "But I wouldn't have bought it if I knew it was a squatting area."
Land dispute
When the housing committee that developed Moe San Pan acquired the 1.5-acre site in Dagon Seikkan's 89 Ward, they signed a sales contract with a farmer, U Saung Oo, who claimed to own it.
Saung Oo's wife, Daw Htay, said that she believed that she and her husband owned the land, but if the government decided to take control, there was nothing they could do.
Daw Phyu Phyu Khine, the head of the township National League for Democracy branch and the Yangon Hluttaw representative for Dagon Seikkan-1, said that the land in question was seized by the military government in 1999, but had not yet been developed.
Frontier was unable to confirm this with government officials. But residents at Moe San Pan have been given temporary household lists by the ward administrator that identify them as sibin kyu kyaw – "municipal squatters".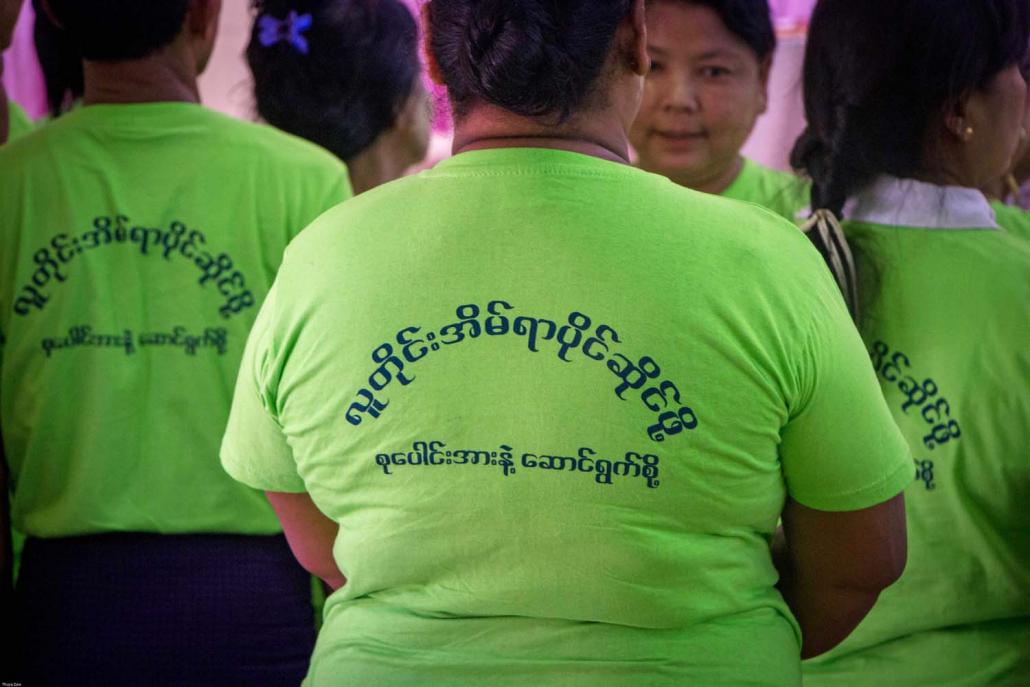 The housing committee has denied there is a problem with the land ownership. At a press conference in North Okkalapa Township on November 20, committee member Daw Thet Thet Wai said that residents had already paid tax to the municipal body, Yangon City Development Committee, and received a receipt.
"YCDC didn't say anything and we don't have any problem as we respect the rules," she said.
But U Kyaw Thant Zin, a YCDC official based in Dagon Seikkan, disputed her claim. He said the receipt shown at the press conference was actually payment of a municipal fine, levied under section 68 of the YCDC Law, for building a house without a permit.
After paying the fine, they have to either apply for a permit from the government or demolish the homes, Kyaw Thant Zin said, but because they had done neither the housing committee was being fined each day under section 69 of the YCDC Law. He added that because the residents had not paid the fines accumulating under section 69, YCDC had filed a complaint to police in Dagon Seikkan Township. The relevant police station could not be reached for comment.
Kyaw Thant Zin said the government had plans to develop the Moe San Pan site, which the Moe San Pan housing committee would have learned if it had followed the correct procedures.
"They didn't make any enquiries to our department [about the status of the land]. They should make enquiries … they built the housing without asking for permission. They didn't follow any regulations," said Kyaw Thant Zin.
"This wouldn't have happened if the organisation [WFW] obeyed the rules and regulations when they helped the people," he said. "If they break the rules, then this is what happens."
Daw Nyo said that finding land for the project had been an issue from the start. Members of the WSG received a K1.25 million loan from KEB Hana Bank with help from WFW before they even knew where they would build their homes. WFW had identified one potential plot but it was later ruled out because of a government gas pipeline project. "All of us were searching for the land and eventually one group found this place," she said.  
Community development
Founded in 2004, Women for the World aims to empower communities to solve their own problems. It works across a range of areas, including disaster risk reduction, low-cost housing, financial inclusion and capacity building. It was formally registered in 2014.
The group's director, Daw Vanlizar Aung, said her organisation's role was only to provide organisational support to the Moe San Pan residents, and that the residents had constructed the houses themselves.
It had helped them access loans from microfinance institutions. By saving at least K200,000 with the network, members can become eligible for a loan, which they can then use to build a home.
The housing projects were a necessary response to the lack of support from the government for poor communities, she said, adding that the others around Yangon had been successful, with none of the problems of Moe San Pan.
"We are helping with systems, money, technology and advice for the residents to get a better life," said Vanlizar Aung.
Asked about Moe San Pan, Vanlizar Aung said, "The government will consider two courses of action. They can take action against them using the law, or they can allow vulnerable people to own this land under the law."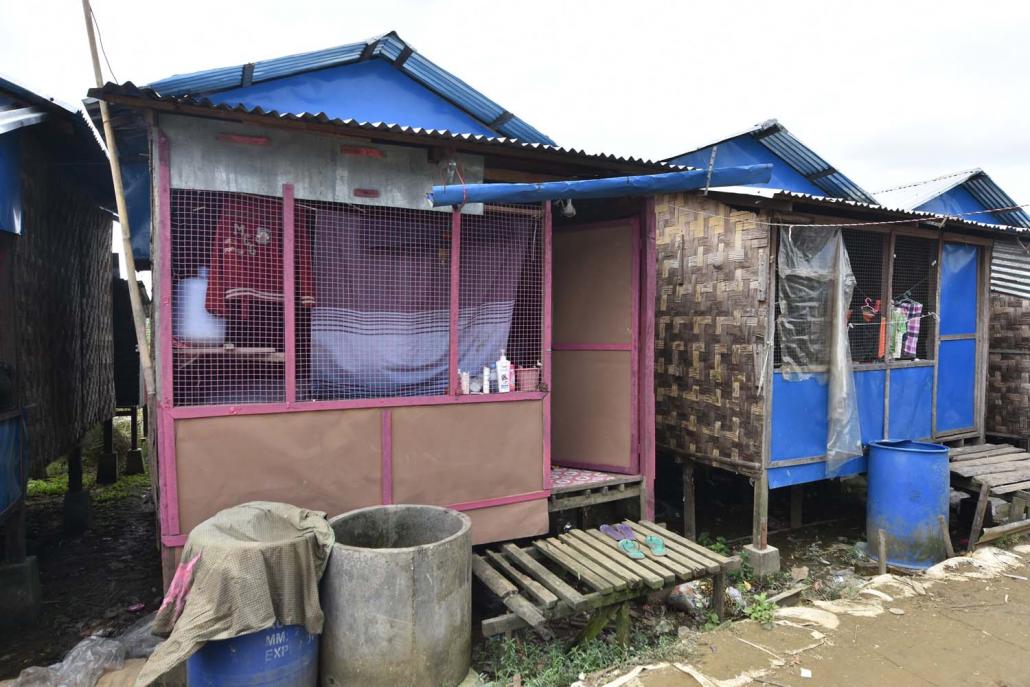 If the government chooses to evict the residents, WFW plans to provide them with support, she added. "I have already conducted a legal analysis," she said. "We have identified a section [of the law] to support them."
"They are in poverty not because they are lazy but because the legal system has made them poor. They can't afford to buy land because it is too expensive. This system [at Moe San Pan] is better than having no system at all for housing," she said.
WFW's saving groups and housing projects do indeed seem to have helped many people. Speaking at the November 20 press conference in North Okkalapa, Moe San Pan resident U Zaw Myint said, "For people like us who have no home of our own, it's so helpful to be able to work with this organisation."
Zaw Myint appealed to the government to connect Moe San Pan to the electricity grid and issue residents with ownership and identity documents. "They should do it now instead of waiting until the election is near," he said.
Rising tensions
On the exterior wall of a home at Moe San Pan is a poster. "If someone defames another they can be punished with imprisonment, a fine or both under section 500 of the Penal Code. Abusive speech in a public area can be punished with imprisonment, a fine or both under section 294 of the Penal Code," it reads.
It's not the only sign within the community of the dispute that has torn it apart. The homes of the 10 households who have demanded their money back are blue, while the rest have recently been given a multi-colour paint job since the dispute erupted. Thet Thet Wai from the housing committee said this was because the colour change was because residents wanted to celebrate Christmas, but this seemed an unlikely reason given that most residents are Buddhists.
Following the press conference at which the 10 households aired their grievances, Vanlizar Aung filed a complaint of defamation against Daw Nyo and two others to police in Insein Township.
The accused were interviewed at the station on December 4, although it is unclear whether police will proceed with the case. Daw Nyo said she plans to file her own complaint to police against Vanlizar Aung, but is trying to determine which section should be used.
My first visit to Moe San Pan resulted in one of the most intimidating experiences I have faced in more than seven years working as a reporter.
I had interviewed some residents of Moe San Pan in nearby Yuzana Garden City and made a last-minute decision to visit the housing project. When I was buying a bottle of water at a shop nearby, a man I had interviewed earlier that day saw me and invited me to his home. As we stood outside the house, his wife related their story again. Three men in their mid-20s approached us; one was holding a long knife. They stood nearby, listening to our conversation, but didn't say anything. I quickly ended the interview and rushed off, going straight to my office.
A second visit went little better. In late November I had called both sides at Moe San Pan to get permission to take photographs for the story. Although they agreed, I was unable to go because of illness. When I tried to reschedule for December 12, I could only reach the side of the 10 households. On the way to Moe San Pan, we got a call from the housing committee, saying they wouldn't give us permission. We proceeded anyway, planning to only photograph those who had invited us. After we arrived we were followed and photographed; a few minutes later, Vanlizar Aung called.
She was very, very angry.
"If something happens to the life of these people, you have to take responsibility," she yelled down the phone. "You need to follow the rules of the community. I'm angry … The community are angry. They have a conflict and they are fighting each other. We are trying to do some reconciliation."
And then she asked: "How much money do you get to sell this story? How much money do you get by selling their life?"
Negotiating a settlement
Women for the World is not the only one trying to bring the two warring groups at Moe San Pan back together.
Daw Phyu Phyu Khine, the NLD lawmaker for Dagon Seikkan-1, has met with both groups of residents and Vanlizar Aung.
She helped to broker an agreement under which housing committees from several WFW-backed projects would jointly refund the 10 households for the cost of building their homes. At a later meeting, however, the housing committees said they could only pay one-third of the cost.
"After that the problem got bigger and the 10 households held their first press conference," Phyu Phyu Khine said.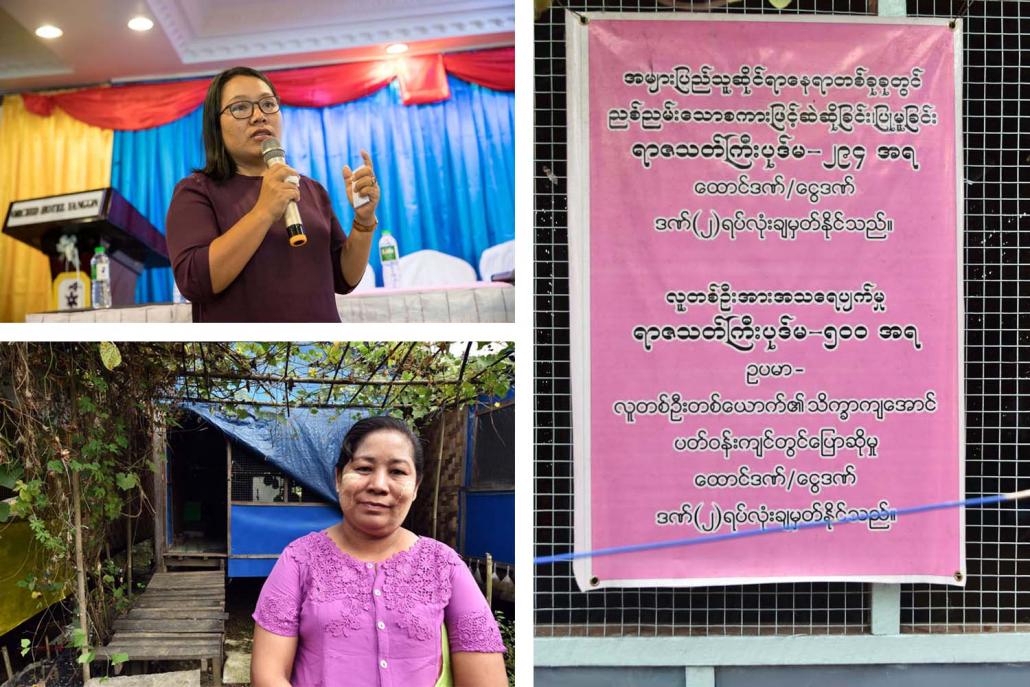 Thet Thet Wai said they had refused to pay because the households had inflated the cost of construction.
They [10 households] are making a lot of trouble for us. Because we borrowed money through a group system, we have had to repay their share as well as our own," she said.
Phyu Phyu Khine said she was neutral in the case but also concerned that some may be profiting from the plight of vulnerable people.
"I am watching the dispute closely. Some poor people really want to believe that they can get a home by paying just [a small amount]," she said. "It's very easy to ask a question in parliament but I don't want to hurt thousands of people as they paid money for these houses."
The dispute remains unresolved and Daw Nyo said she would continue to try and get back the money she had spent.
She said she had spent her whole life hoping to one day own her own home, and had believed she was doing the right thing to achieve that.
"I didn't have a house, while other people were able to squat without paying any money," she said. "But now I'm a squatter, despite paying money."
TOP PHOTO: Steve Tickner | Frontier