After numerous delays, Yoma Strategic Holdings broke ground on the "Landmark" mixed use development in downtown Yangon on February 16. Yoma's head of real estate Mr Cyrus Pun spoke to Frontier about the project's latest developments, the issues they faced in reaching this point and the company's other major projects. 
By OLIVER SLOW | FRONTIER
The ground-breaking ceremony for the Landmark project is due to be held on February 16. Could you give an update of the latest developments and plans for the project?
It will be a mixed-use development with two office buildings, two hotels – one a business hotel, the other a Peninsula Hotel – and a branded residence, which will be Peninsula Residence.
Then underneath these buildings will be the retail complex. A big part of the project will of course be the heritage conservation of the Myanmar Railway building, which will be turned into the Peninsula Hotel.
How important is that building to the overall project and will it definitely remain?
It's hugely important; it's symbolic to the overall project. Our commitment to the authorities and to the people of Yangon has always been to restore that building to its former glory. We will build one of, if not the, best hotel in Yangon.
It will be a top of the range at hotel. If you look at the hotels that Peninsula has been building and investing in around the world, they are very selective about their projects. They only have 11 hotels around the world and they are dedicated to building and developing these projects – there's an unbelievable level of attention to detail.
Heritage conservation is an essential part of the overall project. We will put a lot of attention into how we can conserve and also how we can rebuild and restore to ensure that [the railway building] is sustainable for the next 50 to 70 years.
We are conserving as much as possible. If there are parts that need to be dismantled, the same material will be used in the rebuild.
What's the level of investment for this project and when do you expect it to be completed?
The whole project, excluding Peninsula, will be around US$700 million. It's a four year project, so we are looking for completion by 2021.
There have been many high profile delays in moving this project forward. Have they now been resolved and could you talk a bit about what those delays were?
It's been well documented that there were a lot of delays, but you have to bear in mind that it's a very complicated project for a number of reasons.
Firstly because of the investment structure. We're bringing on certain international companies to invest in this project, including Yoma Strategic, FMI [First Myanmar Investment], Mitsubishi Corporation and Mitsubishi Estate. Then there's also IFC [International Finance Corporation] and Asian Development Bank, so we have a lot of stakeholders.
These multinationals require very sophisticated legal structures to protect their investment. Part of the issues that have caused delays is the mismatch between the existing legal framework and what these international institutions were looking for.
IFC and ADB are debt financiers to the project, as well as an equity investor. So there's another layer of complication where these financial institutions require what you might call "developed countries" type of collaterals. So there's a lot of discussions to allow for the securitisations that these financial institutions are looking for.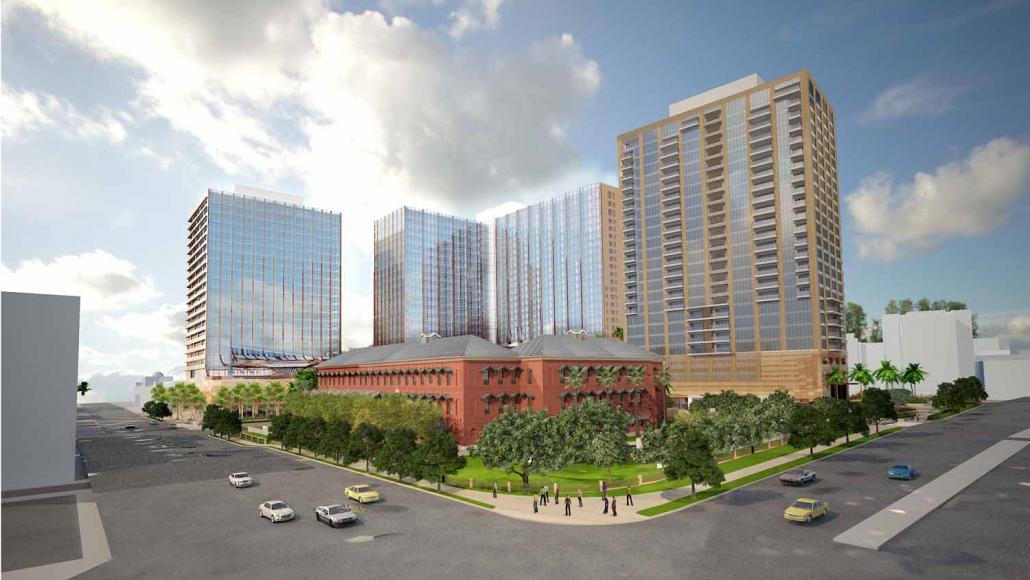 Another layer of complication is that there are separate plots of land [for the Peninsula Hotel and the rest of the project]. There's no mechanism for that, so we need to look for alternative mechanisms to be able to divide the sale title into two separate projects, and each of the investors need the required legal rights and protections for each of these projects.
So it's legal framework versus the complication of the stakeholder, which is one issue that took a long time to resolve.
Another challenge we faced was that during this period, there have been many changes within the Ministry of Railway, when it was called that [now the Ministry of Transport and Communications]. We've had three ministers throughout this whole project. So obviously when you have leadership change the new leader tends to re-look at some of the projects.
What about some of Yoma's other real estate projects? How are developments at Star City in Thanlyin?
It's going very smoothly and steadily. We have already completed the first two phases, so we have already put 2,000 units into use, and all these units have been sold out already – apart from about 100 units that we're still handing over to buyers.
So the buyers are very satisfied. We now have about 2,100 residents living in Star City, so it's becoming a very vibrant community. That enables us to provide more facilities. For example, we now have nine restaurants, a supermarket, a clinic, and many supportive amenities.
So it's coming into shape. Of course this will be expanding further.
What's the long term plan out there? Are you planning to turn it into a city of its own?
Yes, we will obviously develop a lot more out there. We're not just building apartments, but a community. We will build a school, Dulwich, and are working very closely with them. That school will help anchor the community. Nearby there will be hospitals, so our sister company Pun Hlaing Siloam Hospital will be looking to expand into Thanlyin in the near future. A big part of Star City will also be retail.
But more importantly we see Star City as a real transport hub for all of Thanlyin. We don't just look at immediate projects, we plan for a very long time. Even before we start building, we look 20 years ahead at how we want to the plan the sights, which parts of land will be dedicated to what. Of course these plans can change as time goes by but that's how we start.
So that's very important. We envisage that Star City will become the major town centre for Thanlyin Township and that's why we place a lot of importance on developing Star City as a transport hub.
In what way would it be a transport hub?
The link to the city centre. We're looking at building a ferry terminal; we're buying ferries now that will be able to shuttle residents as well as the wider Thanlyin population from Star City to downtown Yangon.
We will also have a bus interchange at the terminal, so it becomes a natural place for anyone to cross the river. We have started [the ferry terminal] and plan to finish by the beginning of next year.
I understand the river is very low there. Is that an issue for the terminal?
It is. So you have to build the pier a few hundred metres out onto the river.
Just because of the size of the population, we envisage Star City to be very popular. It's important that it will not only be for residents at Star City, but also for people living in Thanlyin.
Do you have any other projects in the pipeline? Or is it about focussing on the existing projects?
We're always looking for new opportunities. For the existing projects we have now – Landmark, Star City and Pun Hlaing – we have quite a steady growth projected.
For the time being the land bank is enough to keep on building [on current projects], but beyond these projects we're also looking at new opportunities. We're looking at some of the tenders that the government is putting forward, and we're looking at potentially collaborating with other groups to develop land, not just in Yangon but in other cities.
There's been a slowdown in the economy in the past year or so, particularly in the real estate sector. How do you see both developing in the next three to five years?
In many ways the real estate market reflects the general health of the economy, or people's sentiments about the health of the economy.
You see a slowdown in buying property when people aren't necessarily positive about the economy or what is to come. And that happened last year, around the time of the election. At the same time, I think it's also partly because most of the buying during the height of the euphoria was speculative.
The market can change very quickly when there's a different wind blowing in the whole country, and when it stops, sometimes it stops for a while. I think that points to the fact that sentiment does matter.
But I don't think there's a shortage of buying power. People are still interested to buy, but speculators tend to make a decision based on how much money they think they'll make – if they think the price is steady, then it becomes less attractive to them.
But I don't think it's bad that prices are steadying and not going through the roof, because that would be unsustainable. So over the next three to five years people will have to adapt to the new environment. As a developer we take a long-term view and don't necessarily look at what's happening this year or last year.
I think what is quite clear is that over the next few years the market will adapt. We have started to do things that people are looking for – targeting end users rather than building for speculators to buy.
There are also some factors that will heavily influence the market: how the banks will treat mortgages, the availability of finance to buyers. If the middle or working class can afford to buy through financial systems, the type of buyers will change a lot.
TOP PHOTO: Theint Mon Soe — J | Frontier