Myanmar's public health system is collapsing under the military regime, and a shortage of personnel means recovery could take at least a decade.
By FRONTIER
U Hla Ko Oo*, 40, is slowly dying from cirrhosis of the liver as his wife struggles to arrange the treatment he needs at short-staffed state-run hospitals in Yangon.
In February, Hla Ko Oo was in pain from ascites, an abnormal build-up of fluid in the abdomen that causes swelling, so his wife Daw Aye Aye Win took him to the emergency department at North Okkalapa General Hospital near where they live. Instead of being admitted, doctors at the 800-bed facility asked that he return the next month.
Hla Ko Oo returned to the hospital and was admitted on March 14. He was discharged a week later, even though Aye Aye Win thought he was still very unwell and wanted him to remain under care. She believes he was discharged prematurely due to a shortage of healthcare workers.
"The staffing situation in government hospitals is inadequate. The junta wants to show the public that government hospitals are operating normally, but it is just for show because they can no longer provide full medical services," she told Frontier on April 1.
It was the second time Hla Ko Oo had such an experience at North Okkalapa General since the military seized power in February of last year. Last December he was admitted with dysentery, and his wife said he was also discharged while he was still weak and showing symptoms on that occasion.
In contrast, Aye Aye Win said that when she brought her 70-year-old mother, Daw Yi Yi Swe*, to North Okkalapa General to be treated for kidney disease before the coup, she was impressed by the level of care provided by doctors and other healthcare staff.
"The hospital's service was as good as a private specialist hospital. The healthcare staff were very kind and caring to the patients. I was satisfied with the care my mother received," she said.
Health sector sources, including former high-level health ministry bureaucrats, say the shortage of healthcare professionals is preventing the junta from providing the level of care at government hospitals that was possible before the coup.
The shortage is occurring despite moves by the State Administration Council to fill vacancies caused by healthcare workers leaving their posts and joining the Civil Disobedience Movement (CDM). Medical students have also joined the mass strike in defiance of the coup, leaving the junta with limited options to replenish the dwindling ranks of healthcare workers. Meanwhile, many private hospitals and clinics are too afraid to hire healthcare workers that walked out on their public jobs for fear of retribution from the military.
"No matter how much the military recruits doctors to replace those who joined the CDM, the healthcare system is in a state of collapse. It may take at least 10 years for the healthcare system to recover and it will be a difficult recovery," a retired public health specialist who requested anonymity told Frontier on March 31.
"This is the result of the military coup," he said.
United Nations High Commissioner for Human Rights, Ms Michelle Bachelet, told a session of the UN Human Rights Council in Geneva on March 21 that Myanmar was increasingly at risk of state collapse, with shattered economic, education, health and social protection systems. 
"Collapse of the health system has had devastating consequences for Myanmar's COVID-19 response," she warned. "The country's precious development gains have been destroyed by conflict and the military's abuse of power."
The junta's Ministry of Health has not said how many of its personnel are participating in the CDM. CDM Medical Network member Dr Sitt Min Naing told Frontier on April 1 that about 40,000 healthcare workers were still on strike. He said data on the number of healthcare personnel in the CDM was updated every six months.
Meanwhile, striking doctors and nurses who tried to provide care for COVID-19 patients outside of state institutions have been targeted in crackdowns by junta forces and many are still in hiding. UN OCHA Myanmar reported on January 26 that there have been 415 attacks on healthcare workers, with 286 arrested or detained, 128 health facilities attacked and 30 health workers killed during military crackdowns since the coup. 
Dr Khin Maung Lwin, the former rector of Mandalay University of Medicine, says that even though CDM healthcare professionals want to provide care for the public they cannot do as much as they would like because of the crackdowns and other forms of persecution and harassment.
"The healthcare professionals who joined the CDM have not fled the country but they have had to leave their homes and go into hiding and are providing care where they can," he told a virtual public forum in January. After going on strike, Dr Khin Maung Lwin became an advisor to the National Unity Government, a parallel administration appointed by lawmakers elected in the 2020 polls which the military refused to recognise.
"We did not join the CDM because we do not want to provide health care to the public; We joined the CDM because we do not want to work under the military," he told the forum, which was hosted by the NUG's health ministry.
More than 14 months after the coup, the collapse of the public healthcare system has grim implications for responding to illness or medical emergencies in urban and rural areas, and treating victims of conflict, including increasing numbers of people displaced by fighting.
"Healthcare workers have always been very rare human resources in this country," Dr Win Ko Ko Thein, a former Deputy Director of the Department of Human Resources at the Ministry of Health and Sports who joined the CDM after the coup, told Frontier.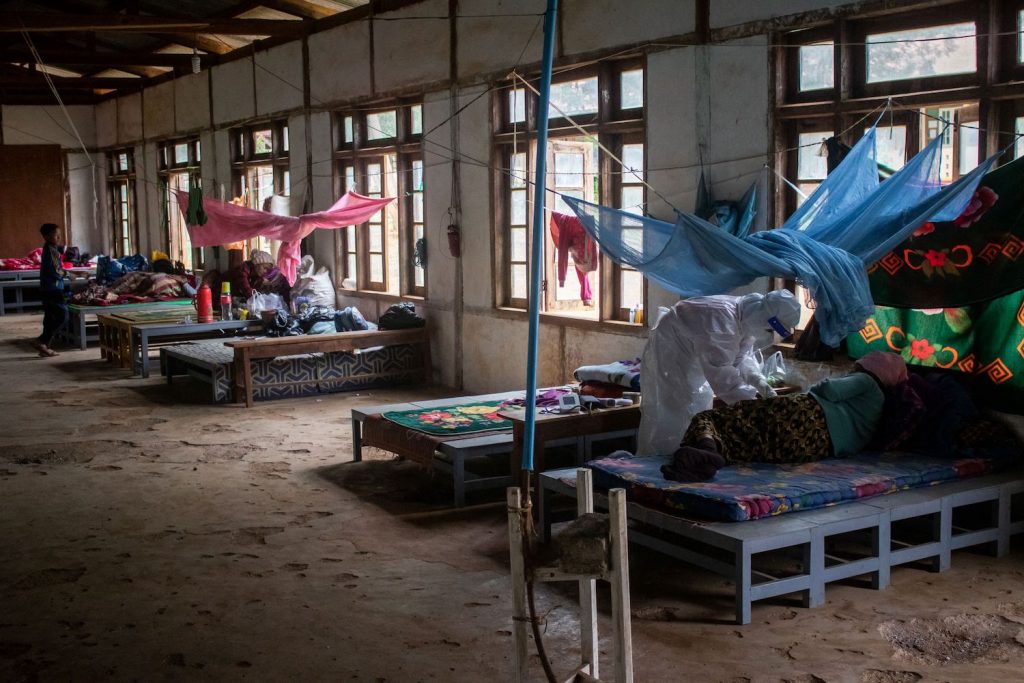 The junta's attempt to fix shortages
Responding to the impact of the CDM on public healthcare in July last year, junta leader Senior General Min Aung Hlaing said "many" personnel would be assigned to hospitals and other facilities affected by shortages. "Otherwise, we will arrange the deployment of doctors through a contract system," he said.
In a possible indication of exasperation over the situation, the SAC health minister Dr Thet Khaing Win told a ceremony for graduating nurses in Nay Pyi Taw on February 28 that they were to serve their assignments dutifully and were "not to abandon patients in any circumstances".
In April, a spokesperson for the health ministry declined to provide figures when asked by Frontier about the number of healthcare workers appointed since the coup, or the number that had joined the CDM.
"All we can say is that medical staff at public health and medical services departments became quite complete during the fourth wave of COVID-19," Dr. Than Naing Soe said.
However, relatives of 10 patients admitted to government hospitals in Yangon and Mandalay regions and in Mon and Kayah states told Frontier they were not operating at capacity because of staff shortages.
They all said that the number of healthcare workers in patient admission and outpatient departments was at least half that before the coup.
"Only one house surgeon [junior doctor] is supervising and managing the whole ward. An assistant surgeon [senior doctor] comes to the ward sometimes," said Daw Khine Khine Soe, who was admitted to North Okkalapa General Hospital on January 30 to be treated for kidney disease. The ward holds up to 50 people at a time. 
"Some doctors who have not gone on strike are critical of counterparts who joined the CDM and often say they are the reason why government hospitals cannot operate at capacity," she added.
A doctor in Kayah State, who is in hiding and asked that his name not be used, told Frontier on April 2 that some 25-bed station hospitals are unable to treat civilians injured in fighting because of a lack of healthcare workers and medicines.
"Non-CDM health staff now ask injured patients to go to Loikaw General Hospital. Private hospitals in Loikaw will not treat civilians injured by landmines because they assume they are members of the People's Defence Force," he added.
A Frontier review of announcements on state-run MRTV found that at least 389 healthcare workers accused of joining the CDM faced charges for incitement under section 505A of the Penal Code as of May 7 last year, the last day such lists were publicised. Those targeted for arrest included professors, specialists, assistant surgeons, medical superintendents and township medical officers under the Ministry of Health and Sports.
As well as filing charges against medical personnel, the junta has also threatened to revoke the passports of healthcare workers who joined the CDM. In March, the junta terminated the citizenship of Dr Zaw Wai Soe, the NUG's health minister who has also been charged with treason.
The shortage of healthcare workers is exacerbated by the refusal of many private and charity-run hospitals and clinics to hire CDM doctors and nurses because they fear repercussions from the regime.
Frontier spoke with a former doctor who resigned in protest from a private hospital in Mandalay city last year, after the Myanmar Private Hospitals' Association suspended doctors who joined the CDM and filled vacancies with military doctors. Speaking anonymously, he said doctors who declined to join the CDM are cashing in on the situation by providing services at private hospitals and clinics.
"The earnings of non-CDM healthcare professionals in the private sector are booming but counterparts who joined the CDM have had to flee their homes," he said.
Medical students join the boycott
In many cases, medical students have joined healthcare workers and their professors in refusing to participate in the junta-controlled system.
In an apparent act of desperation, Senior General Min Aung Hlaing offered to waive fees for medical students who agree to serve under the regime.
"In the coming academic year, students at universities of medicine, universities of dental medicine and universities of nursing who work for the State will be educated for free," he told a SAC meeting in Nay Pyi Taw on March 29.
"Those who do not discharge their duty for the State will be required to pay for their education," he added.
Myanmar has five civilian medical universities across four cities – two in Yangon and one each in Mandalay, Magway and Taunggyi – and a military medical university also in Yangon. Each university has about 1,500 students and they each accept many of the top scorers in the annual matriculation examinations. 
The junta's health ministry said on April 4 that undergraduate courses at universities of medicine and medical colleges would resume later that month. However, many medical students are boycotting classes in protest against the military regime.
Ko Ye Kyaw Thu*, a postgraduate student who was studying to be a psychiatrist at the University of Medicine (2) in Yangon, supports the CDM and is among those refusing to attend classes. He previously worked at the Hpa-an Public Health Department in Kayin State but since joining the CDM is now in hiding.
"It takes another two years' study to become a psychiatrist after completing a medical degree, but I intend to continue boycotting classes in protest against the junta," said Ye Kyaw Thu, who claimed 12 of the 14 postgraduate students enrolled in his course are boycotting.
At the University of Dental Medicine in Mandalay, 148 of the 157 final-year students were given failing grades because they boycotted classes for most the year, according to a letter from the rector on March 3. Dr Aye Thandar*, an assistant lecturer at the university, said about 80 percent of the 300 academic staffers had quit to join the CDM as well.
"I'm proud of my 148 students. We will continue to fight against the junta," she said.
* Indicates the use of a pseudonym.