Ahead of the ongoing Karen National Union congress, civil society groups demanded the resignation of the central executive committee over an alleged criminal enterprise, while new evidence also implicates the junta-aligned Kayin Border Guard Force.
By FRONTIER
In late 2019, U Shwe Win sold a small plot of land near Mae Htaw Talay village, where he lives with his family in the south of Kayin State's Myawaddy Township, to a company that said it wanted to develop a new town.
"The land I sold was outside the village, 20 minutes away [by motorbike] near the river," said Shwe Win, 56, referring to Thaung Yin River, called the Moei in Thai, that separates Myanmar from Thailand.
That land has since become the centre of a major controversy within the Karen National Union, Myanmar's oldest ethnic armed group, which has been closely allied to the anti-junta struggle since the 2021 coup. Both civil society groups and other KNU members have accused some senior leaders of involvement in the development project that critics warn could be linked to human trafficking and forced labour.
The bombshell allegations have coincided with the ongoing KNU's 17th Congress, where some of the accused leaders have either stepped down or failed to secure re-election. Further complicating the picture, Frontier has unearthed new information also indicating involvement in the project by the Kayin State Border Guard Force, a rival militia aligned to the Myanmar military that has clashed with the KNU and resistance groups since the coup.
Shwe Win, who served on the Mae Htaw Talay village development committee, said the area is sparsely populated, with a small number of households owning a large amount of land. He was not the only resident who sold plots to the company, though some instead opted to rent out their land on 20-year leases.
"The land was bought on behalf of the company by brokers, and many sold because they were offered more than the market price," he said. "When I sold my plot, I noticed that the document I signed said it was for a housing project being developed jointly by the Mu La Ei Ahlin company and Trans Asia."
Mu La Ei Ahlin is registered in Myanmar's Mon State, while Trans Asia is registered in Hong Kong, and is reportedly a subsidiary of Huanya International Holdings Group. The new city has been referred to by some as the Huanya International City Project.
It's not the only shadowy project in the area. Shwe Win said there is another development project about 45 minutes north of Mae Htaw Talay by motorbike called KK Park, which allegedly has much in common with the controversial Shwe Kokko new city project, even farther north in Myawaddy Township.
Like Shwe Kokko, KK Park may have links the Kayin BGF and Yatai International, a company chaired by a Chinese fugitive who was arrested in Thailand last year. Shwe Win said BGF and Yatai representatives came to the village in 2018 to buy land from residents for the KK Park project.
"Because they were afraid of them, some local people sold their land even though they didn't want to," he claimed.
Shwe Kokko has been under increasing scrutiny for its alleged involvement in illegal gambling, cyber scams and forced labour. Shwe Win said KK Park is no different.
"I have heard reports of security personnel threatening and beating workers who wanted to go home," he said. He claimed one Mae Htaw Talay resident went to work there in 2019, and around a year later the family was informed he had died but weren't told the cause of death or given the body.
On May 10, Yatai published a statement in the Bangkok Post, denying any involvement in KK Park or criminal activity in general. "We are a professional enterprise engaged in real estate development and urban construction," the statement read.
Shwe Win said villagers who sold their land for KK Park were intimidated into accepting a low price, so when he was approached for the Huanya project he alerted KNU officials.
"Mae Htaw Thalay village is in a mixed government-KNU area, so I went to meet KNU elders and sought their help so that the price of the land would not be discounted," he said.
However, the following year, in 2020, KNU central executive committee member and defence department head Roger Khin was pictured at a signing and ground-breaking ceremony for the Huanya project. A banner at the ceremony read: "KNU – Huanya Cooperative Signature And Foundation Stone Laying Ceremony", implying direct involvement by the ethnic armed group. Little attention was paid to the event at the time.
But in the years since, casino projects linked to online scam operations have become a scourge in Southeast Asia, with victims from across the region often being promised legitimate jobs before being held captive, physically abused and subjected to forced labour. Some of Myanmar's non-state armed groups have been linked to the industry, including the Kayin BGF and the powerful United Wa State Army, which has observed a ceasefire with the military since 1989.
But it was more of a shock when similar accusations were levelled against the KNU, which has long been aligned with Myanmar's pro-democracy movements and has built a reputation for respecting human rights.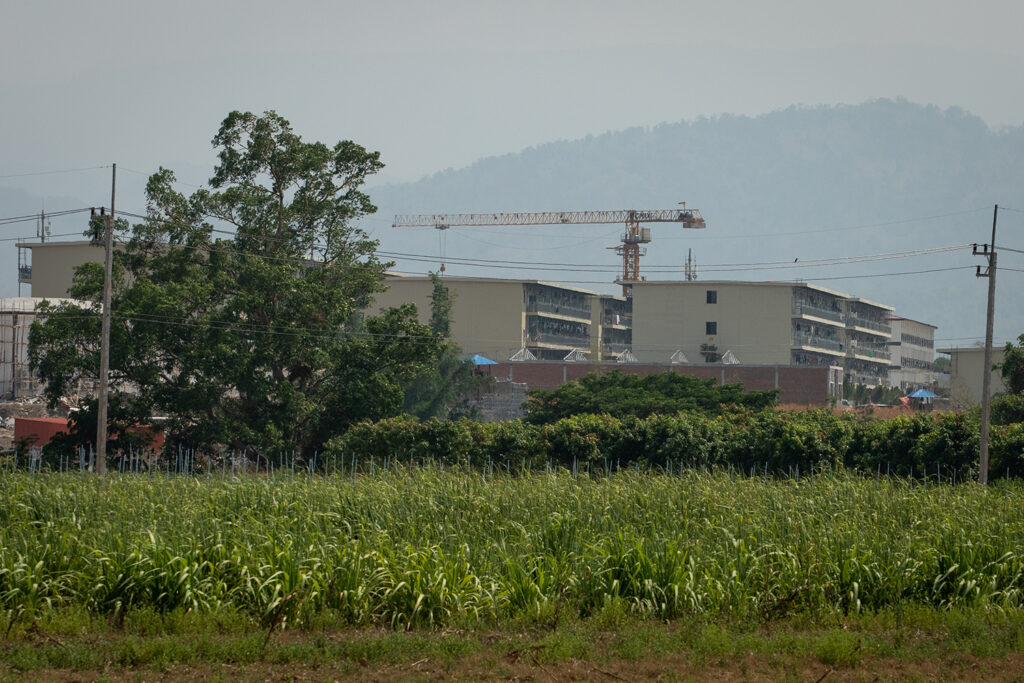 All a big 'misunderstanding'
On February 23 this year, 68 Karen civil society and diaspora groups issued an open letter demanding the resignation of all KNU central executive committee members over their alleged involvement in what they described as a casino project.
"Without the approval of the KNU's top leaders and Myanmar generals, the project would not have developed that fast," said the Karen groups. They warned that the Huanya International City Project could be a hub for illegal online gambling, human trafficking, sex work and money laundering.
The KNU responded three days later, denying that any of its leaders were involved in the project, declaring that it did not permit criminal activities on its territory and explaining that Roger Khin attended the 2020 ceremony as an observer. The KNU said Trans Asia International Holding Group and Mu La Ei Ahlin signed a land leasing contract at the 2020 ceremony, but that Mu La Ei Ahlin withdrew from the project sometime last year and was replaced by the TrustStar Company.
Roger Khin told Frontier in March that he only attended the ceremony as a witness for those who had sold land for the project, to ensure they received proper compensation. He added that the documents approving the Huanya project were issued by the government and had nothing to do with the KNU, but could not provide the documents. He said when he saw the KNU named on the banner, he asked that it be changed, but at that point a photo had already been taken.
"What I can say with certainty is that I didn't receive any benefits from this project, nor did I approve this project," he told Frontier, also claiming that some reports have confused the Huanya development with the separate KK Park project farther north, and that this had led some to believe the former would feature casinos.
"As far as I have learned, the [Huanya] project includes construction, tourism and other businesses, but there is no casino-related business. KK Park is not far from Mae Htaw Talay, so some people mistakenly think that it's the same. As far as I can see, only a few buildings have been built for the new town project and there are no casinos or gambling as some people have said."
Shwe Win said there are many buildings under construction at the Huanya site, and some are completed, but he doesn't know whether they are being used as casinos. He did say there are Chinese and Myanmar people not from Mae Htaw Talay village living in the compounds.
After the KNU congress began in late April, fresh allegations were made by the group's powerful Brigade 5. In internal documents that later leaked to the press, Brigade 5 accused Roger Khin and four other officials of complicity in the project and called for an investigation.
KNU spokesperson Padoh Saw Taw Nee confirmed to Frontier on May 1 that the leaked documents were authentic. During an earlier interview in March, he said the KNU opposes illegal activities like online gambling and human trafficking.
"Everyone already knows which organisation is involved in gambling," he said, seemingly referring to the BGF. But Taw Nee also welcomed the concern expressed by Karen civil society groups and said the KNU would have an open discussion with them.
Smoke and mirrors
Sources told Frontier that affiliates of the Kayin BGF are also backing the Huanya development. A resident of Mawlamyine's Myaing Tharyar ward, where Mu La Ei Ahlin is officially registered, said BGF members can be seen regularly at the company office.
"Border Guard Force members are coming and going from the office all the time; you can tell they are Border Guard Force because of their uniforms and by looking at their cars," said a ward resident who asked not to be named, adding that she never saw regular civilian workers at the office.
Records from the Directorate of Investment and Company Administration list U Maung Tun Than Soe as one of Mu La Ei Ahlin's directors. A BGF source told Frontier he is a former member of the Democratic Karen Benevolent Army, another KNU splinter group that has continued meeting with the military since the coup, and a business associate of BGF commander Colonel Saw Chit Thu. Attempts to reach Maung Tun Than Soe by telephone were unsuccessful.
While Mu La Ei Ahlin supposedly pulled out of the project and was replaced by TrustStar, the same BGF source said this was just smoke and mirrors. He said the two companies are partners and their managers have a close relationship.
"Both Mu La Ei Ahlin and TrustStar are companies related to the BGF so this project is likely to be similar to the Shwe Kokko and KK Park project," the source said, adding that Huanya is behind Trans Asia, as others have reported.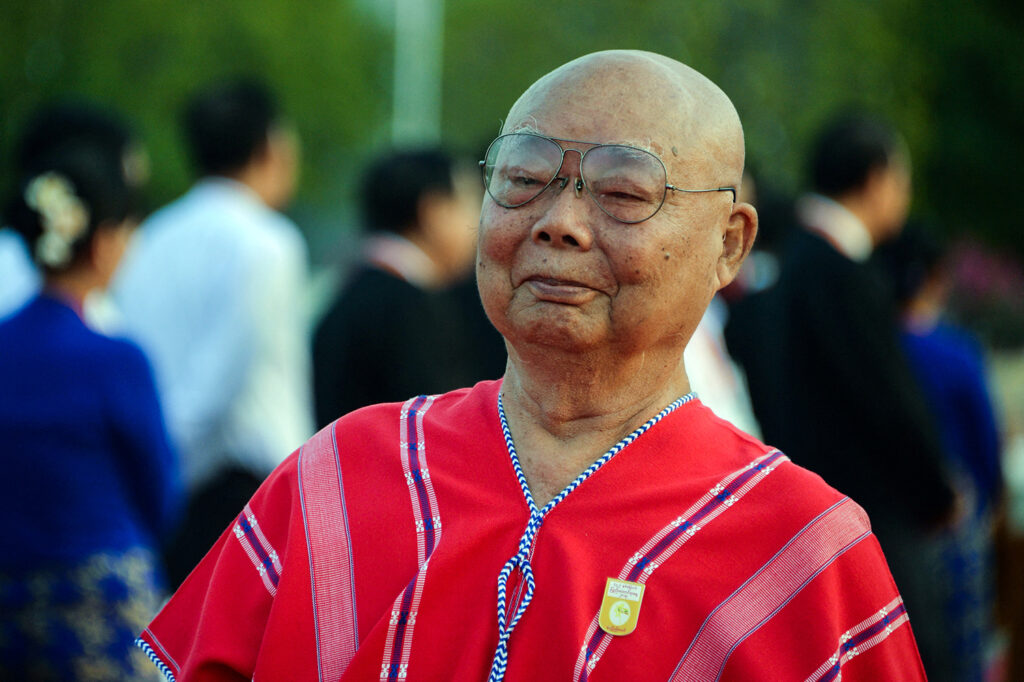 But further complicating the picture is the fact that some believe the KNU's chairman, Saw Mutu Say Poe, had become too friendly with the BGF and the military junta. Fresh controversy was sparked in March when Mutu Say Poe and Roger Khin attended a meeting with BGF and DKBA leaders. They were reportedly joined by KNU Brigade 7 commander Saw Phaw Doh, who was also named in Brigade 5's leaked complaint.
A high-level KNU source defended Mutu Say Poe's attendance at the meeting, saying no agreements were made and it was just an attempt to promote harmony among different Karen groups.
But the source also sought to downplay Mutu Say Poe's role in the KNU, saying the chairman has not truly led the organisation for more than two years due to his advanced age and deteriorating health. The 90-year-old was reportedly briefly hospitalised last month after collapsing.
Perhaps more detrimental to his authority than his old age, Mutu Say Poe has appeared politically out of step with much of the KNU since the coup. Initially, he continued to endorse the Nationwide Ceasefire Agreement, even as his commanders launched fierce attacks against the military and trained a new generation of resistance fighters. He also courted backlash earlier this year when his daughter accepted an honorary title from coup leader Senior General Min Aung Hlaing on his behalf in Nay Pyi Taw.
Mutu Say Poe did not seek re-election this month, and was replaced at the congress by vice-chair Padoh Saw Kwe Htoo Win, who some expect to take a harder line against the military regime. A KNU source involved in logistics for the congress also said Roger Khin failed to secure re-election, as did some unspecified leaders of Brigade 7.
If Mutu Say Poe or any other senior KNU members were involved in any controversial business dealings, these could be jeopardised by the leadership shake-up, which many hope will also bring in new leaders who are more politically aligned with the broader resistance movement.
"At this congress, the chairman is about to retire, and the people who fit the current revolutionary landscape are most likely to become the new leaders," said the KNU source.
May 10: This article has been updated to include a statement from Yatai denying involvement in KK Park.