The artists behind Myanmar's small and shadowy graffiti scene are motivated more by the fundamentals of visual theory than they are by politics.
By JARED DOWNING | FRONTIER
Photos MARO VERLI
The next mural by the ROAR (Release Of Artistic Rage) graffiti crew will feature Batman and Superman on an alley wall on 19th Street. No, it will not be a Bansky-esque social critique, or a paid Hollywood sponsorship.
"We want to paint Batman and Superman just because we like them," said the ROAR member known as Bart.
When Bart, 20, isn't tagging (writing anonymous signatures in public places) on city infrastructure in the dead of night, he collects comic books and Pokémon cards. He and crewmember 9 Micro queued for two hours to see the latest Star Wars film. When they set out at night to bomb (paint) a bridge or wall, they always carry an action figure of the movie's villain, Kylo Ren, along with their spray cans and masking tape.
ROAR doesn't always paint superheroes. Its members have spent years learning the fundamentals of visual art and applying them to spray paint and concrete. Its work – tucked away on rooftops, dumpsters and lamp-posts or sponsored for large sums by businesses – can be deep, meditative experiments in colour and line.
Rather, the trio, like much of Yangon's street art community, simply paints what it wants. In a country with a rich history of stifling artistic creativity, Myanmar graffiti didn't grow out of revolutionary ideals and fighting the power. It simply saw a concrete wall as just another kind of canvas.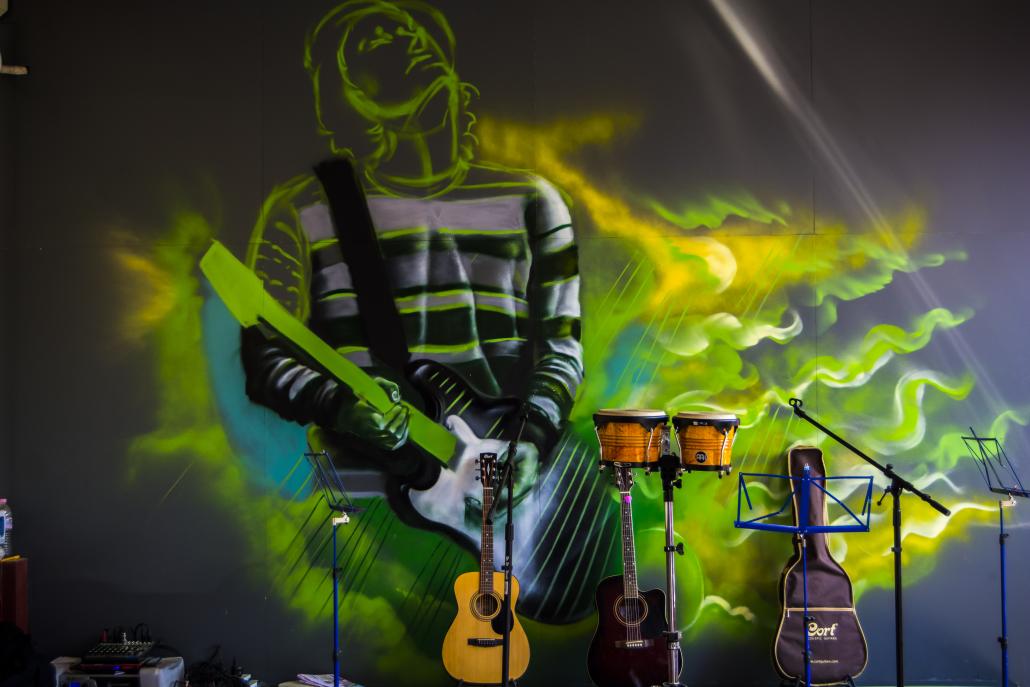 Canvas and can
In fact, when it came to possibly the most famous piece of Myanmar graffiti, the much-talked-about Barack Obama portrait painted before the United States President's visit in 2012, the ROAR crew scoffs.
It was cheesy, Bart said. An obvious target. "[The artist] knew that Obama was coming, and they knew that his face would get media attention. He used spray paint just to label it as graffiti, but it isn't really graffiti…Real graffiti you paint just for yourself."
Ko Toe, a member of the Yangon Street Association graffiti team, agrees that most Myanmar street artists don't have any real motive other than the art itself – for better or worse.
"Only a few, five or six people, that's all," he said, when asked about those who paint to destroy, either as spray can revolutionaries or vandals. "[The rest] just want to do their job, make their art."
YSA is part of Myanmar's graffiti old guard. They were Bart's role models in high school, he said, when he first began looking up graffiti images in internet cafes and linking up with other artists.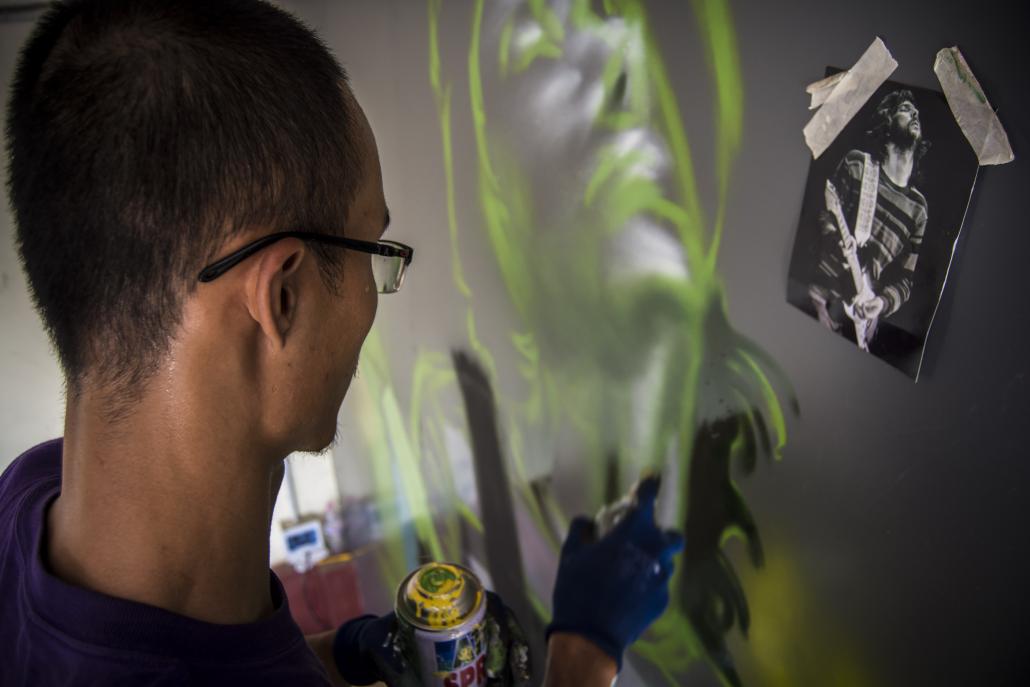 Bart said there was more graffiti then. The stardom of elusive British graffiti artist Bansky inspired high school kids in Myanmar to meet up to bomb the streets with their tags and show off their work on Facebook. The Eagle Garden skateboard park in Thingangyun Township was a hotspot, but the space was eventually demolished, and with it went the graffiti trend.
"[Artists] were closer back then. We used to have a lot of graffiti on the streets." Bart said. "People got old, they got jobs."
ROAR member 9 Micro cut in. "But we are too stupid!"
Ko Toe agreed that there are fewer street artists, but said those who remain are more passionate. The graffiti scene is populated by musicians, film-makers and gifted artists such as Wunna, the oldest ROAR member at 38. He was a professional painter and graphic designer long before he started experimenting with concrete and aerosol.
Thus, the graffiti scene behaves more like any other fine arts community, more about self-expression than destroying the status quo.
Ko Toe's YSA crew usually aims only to make walls more attractive. It never touches monasteries or churches and stays away from some cities, such as Kalaw and Taunggyi. "If the town itself is really beautiful, we don't paint that," he said.
Then, he added, "Sometimes we do try to destroy the system, because some systems are really bullshit."
Ko Toe does not believe graffiti should not be political or revolutionary, only that there should be no inherent message tied to it at all. He is somewhat more sympathetic than Bart of the artist behind the Obama portrait, but he does think it exploited graffiti's iconoclastic image – a stereotype he finds destructive. 
"The other side is that some people, not the government, society, thinks that it's not about the art, it's destroying," he added. "We need exhibitions to show them it's not about vandalism. If we can show them there's something beautiful on the corner."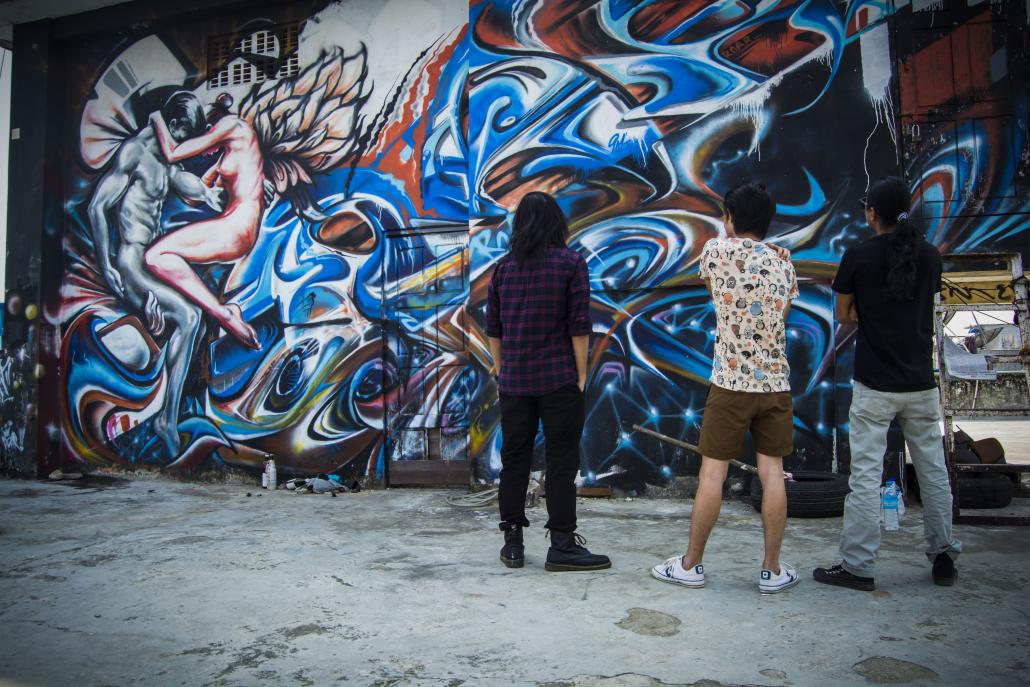 Legitimate vandals
Graffiti artist Ko Satan (a name that reflects his philosophy that the Devil exists only in the mind) doesn't care what anyone thinks.
The former Yangon University fine art student was expelled when he and some friends got drunk and destroyed a sculpture on the campus. He claimed their inebriated minds found the statue terrifying, but he wasn't trying to defend himself. He said he doesn't love art as a concept. He just loves to paint.
Ko Satan takes commissions, occasionally big ones from corporate sponsors, but he only ever paints what he wants, which could be trees, people, the bulldog emblem on his jeans. Whatever he feels like.
"I don't have second thoughts," Ko Satan said. "If they don't like it, they can go back and paint over it," he said. "Once I was painting a monkey at Hledan Junction, and an old lady said, 'Why are you destroying this? Go to your home to do that!' And I said, 'In my home I don't have a free space to paint.'"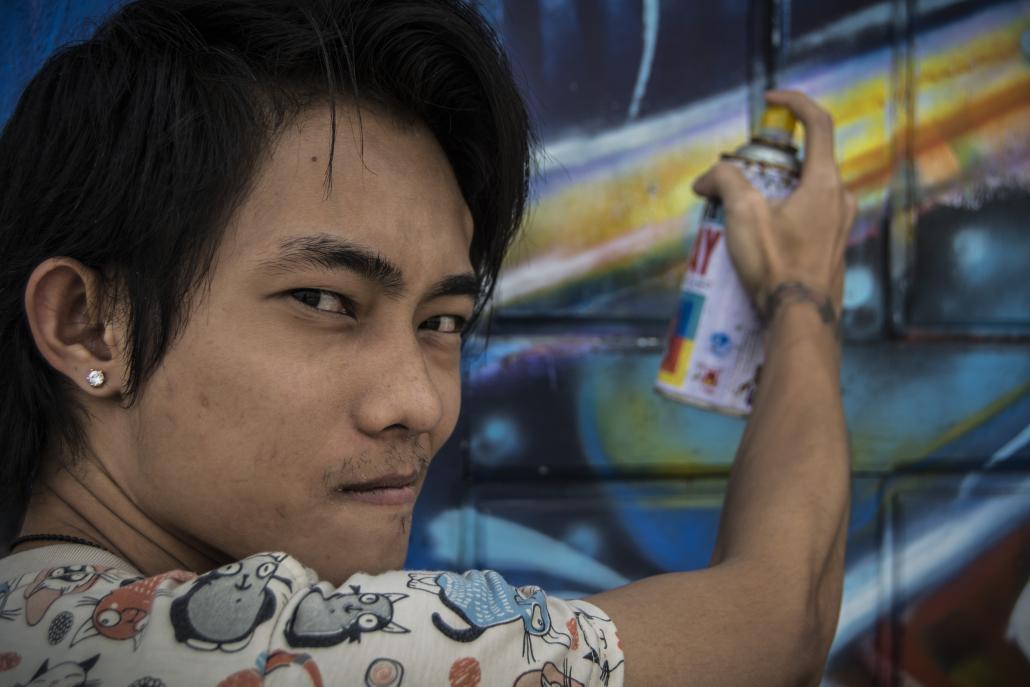 The push for "free space to paint" may be growing in Yangon. In December the French Institute held the first Yangon Street Art Festival, an exhibition sponsored by Tuborg Beer. Elodie Sobczak, who helped organise the event, argued that graffiti has a place in Yangon's growing fine art scene but it needs breathing room.
"A city like this could be very different if street art were accepted," she said. "Especially for graffiti artists, they need legal space for the art to be shown."
Yet Ms Sobczak is optimistic. "It's changing little by little."
For the ROAR artists, the change has come from more commissions and legitimate exhibitions. They don't mind taking money for what they do, as long as they get to do what they want.
Once, after participating in an art festival at Mawlamyine, they kept painting. "We bombed the whole city that night," said Bart.
"We all started as kids who just like to draw stuff," 9 Micro added.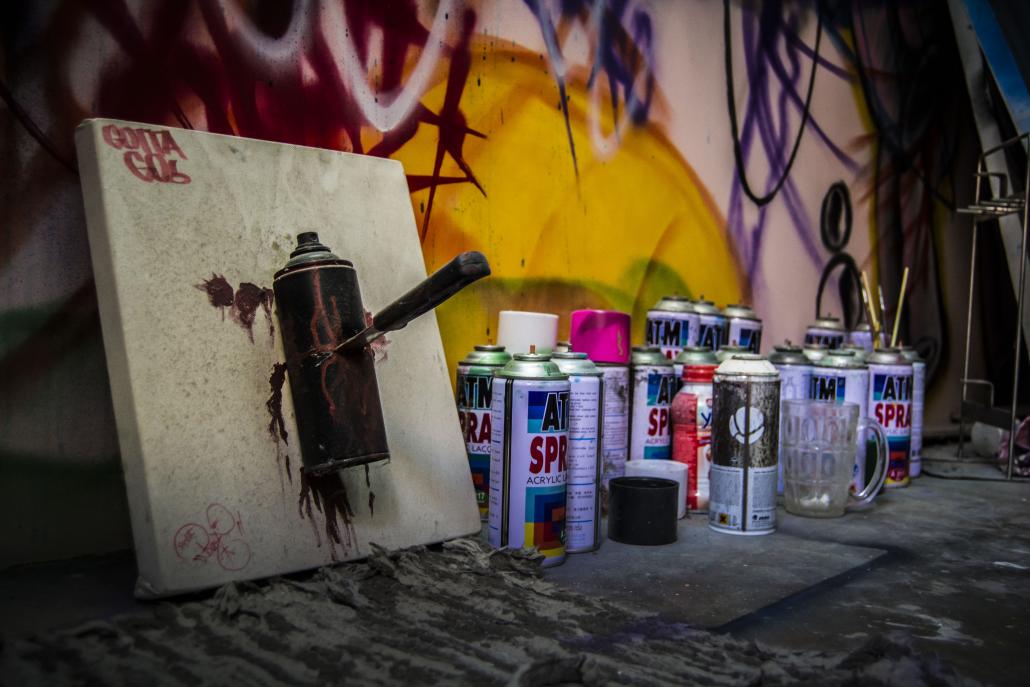 Indeed, their largest mural is one of the hardest to find, tucked away on the roof of a condo in Yangon's southeast. It is a sprawling fusion of abstract forms, Myanmar and English characters and surreal figures, seamlessly combining the different styles of Bart, 9 Micro and Wunna to spell the letters R O A R.
It was painted as a reunion project when Bart returned from Singapore for a holiday. The crew doesn't know how many more of these shared projects it will have. Bart will stick with graffiti; he wants to help bring it into the fine art world, he said, like street painters in New York and Los Angeles, even if it means joining them there. "Yangon cannot support artists with our way of doing things," he said. "We're reckless."
But he will never stop painting what he wants.
Maro Verli contributed to this report.