Farmers winning multi-year legal battles against polluting mining companies is worth celebrating, but such victories raise questions over what the government is doing to hold polluters to account.
By BEN HARDMAN | FRONTIER
IN A landmark victory for environmental law in Myanmar, three farmers in Tanintharyi Region have battled through the court system to persuade the Dawei District Court to order two mining companies to compensate them for the destruction of their betel palm plantations.
The companies, Myanmar Pongpipat Company and Eastern Mining Company, operate mines in neighbouring valleys in the Tanintharyi ranges in Dawei Township, about an hour's drive from the regional capital. Tin has been mined at the sites for decades but nearby communities only began to report negative impacts from mining after the two companies acquired and greatly expanded the mines. MPC entered an agreement with the government in 1999 and EMC began mining around 2011.
In a judgment delivered on January 7 against MPC and two more on January 28 against EMC, the companies were asked to pay damages of up to K114,800,000 (US$82,536) for each claimant. This great success should be celebrated, but it raises the question of what the government has done to hold these companies to account.
Mining inevitably produces waste, including sediment and liquid tailings, and mismanagement can be catastrophic for communities downstream. In Tanintharyi, livelihoods have been destroyed as thick layers of sediment, fouled with heavy metals and high levels of salts, have inundated farmland after heavy rain. In the two cases against EMC, a Thai mining expert said he had never seen such damage, in which creeks had disappeared under a pile of waste.
The farmers and community-led mine monitoring groups were supported by two civil society organisations, Tanintharyi Friends and the Dawei Pro Bono Lawyers Network, as they made the journey to Dawei for up to four hearings a month over several years. Unfortunately, free advice and support from mining experts and lawyers is not an option for most people, in a legal system that is heavily stacked against marginalized rural communities wanting to take on large, well-connected companies.
In previous cases against MPC, villagers' claims were dismissed in June 2018, after more than three years in the courts, simply because the Supreme Court decided it had taken them too long – a year – to initiate proceedings. MPC even launched criminal defamation proceedings against a journalist in Thailand who reported on the villagers' plight.
January 2020 marked the first time a court had found either MPC or EMC liable for environmental damage. However, this long wait was not for want of environmental laws and regulations.
Myanmar's environmental laws date to 2012. A new framework established an environmental ministry, known as the Ministry of Natural Resources and Environmental Conservation since 2016, and the Environmental Conservation Department. The law tasks them with monitoring potentially harmful projects and enforcing environmental protections. Previously, regulation was the remit of the mining department, which also granted licences and collected revenues and therefore suffered from a conflict of interest in regards to environmental protection.
What action could MONREC and the ECD take against the mines opposed by the farmers, or any mines for that matter?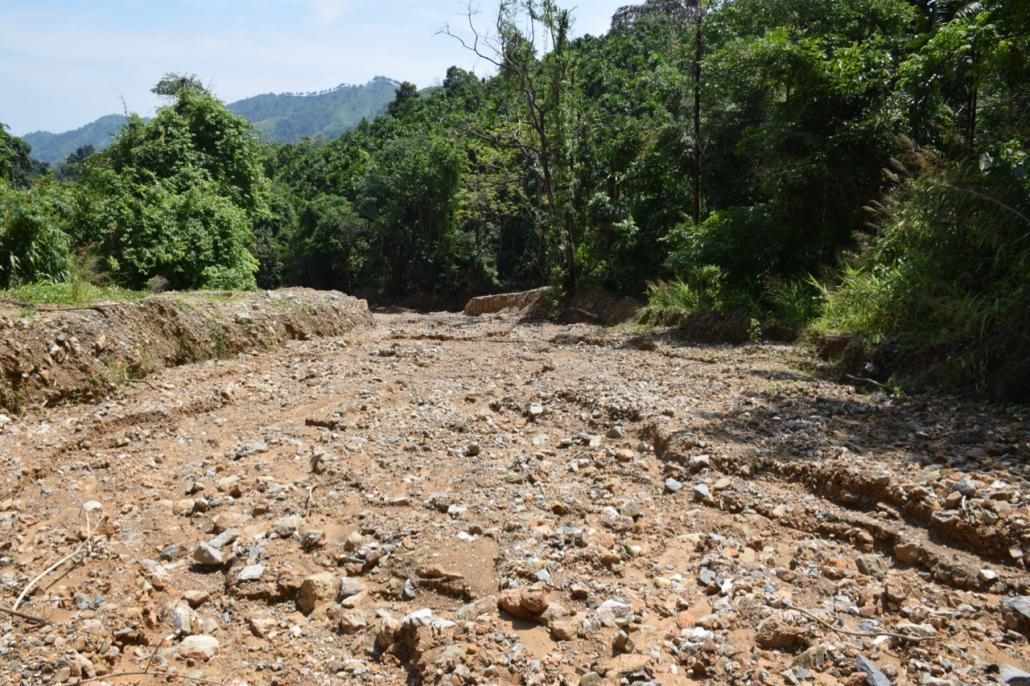 ECD has focused its efforts on environmental impact assessments, or EIAs, which seek to identify and mitigate the harm caused by projects such as mining operations. The MPC mine has been suspended several times, mostly recently in February 2018, but it was allowed to restart eight months later. Asked afterwards about the continued risk of sediment pools overflowing in heavy rain, a MONREC official responded that it was difficult to "prevent a natural disaster" but that monitoring had improved.
Yet the Dawei District Court confirmed that the cases of environmental damage were not natural disasters and, in light of a wealth of evidence, found the companies responsible for pollution.
The farmers gave powerful testimony and there are compelling images of the damage caused by mining waste. Even the draft version of a report, seen by this author, that EMC commissioned a government-approved consultant to write said that mining waste was entering creeks. Unsurprisingly, EMC did not share this draft or a final version with the court. A local administrator testified that mining waste was still flowing from the EMC site during the rainy seasons in 2017 and 2018. Satellite images from 2012 and 2016 show catastrophic changes. Mining monitoring groups, formally recognised by the Tanintharyi government, have documented this environmental damage, submitting reports and meeting members of parliament and government officials.
Rather than just requesting EIAs or suspending mines, MONREC and the ECD have the power to conduct investigations, impose fines, demand compensation for affected people, require clean-up operations and even bring criminal charges against repeat offenders. Yet they chose not to do this, so it was left to communities to seek remedies in the courts against powerful companies.
This is not just a problem in Myanmar. A United Nations report in 2019, Environmental Rule of Law, highlighted that despite a 38-fold increase in environmental laws throughout the world since 1972, enforcement remains a dire failure. In Myanmar, this pattern is reflected by communities demanding accountability and providing evidence, and the government ordering temporary suspensions and EIAs and alluding to natural disasters.
Perhaps the lack of accountability reflects a concern for development and livelihoods? Civil society organisations, such as those that supported the farmers, are often accused of being anti-development. Yet mining provides as little as 1.1 percent of Myanmar's GDP and mining normally produces fewer jobs per dollar of revenue generated than almost any other sector. In comparison, one acre of betel palms can generate an annual income of $7,000 for a farmer. The cost of remediating damaged creeks and farmland can be equivalent to tens of millions of dollars, far exceeding the revenues of most mines. The court in its January 28 judgments even rejected demands that EMC remediate a creek, leaving the community to bear the cost of this damage.
It has been suggested that the ECD does not have the political support to challenge the historic power and resources of the mining department and its state-owned mining enterprises. Yet the head of one such state-owned enterprise has been arrested on corruption charges and the mining department itself is under the control of MONREC.
Until governments start using their powers to sanction polluting companies, communities will continue to pay the costs. Although the Myanmar courts may offer a modicum of accountability – and only if communities can access legal services – any compensation won in a multi-year suit will usually be too little, too late. The polluters are still not paying. Whether it is communities around the Tigyit power plant in southern Shan State suffering from cadmium poisoning, villagers downstream of the Mandalay Industrial Zone being affected by untreated wastewater, or communities displaced by the Thilawa Special Economic Zone in Yangon whose livelihoods have not been restored, MONREC and the ECD have the powers, and a duty, to address these situations.
Instead, in late 2019, EMC was granted a permit to mine until 2030, and both companies have appealed the judgments against them. For those affected, the fight continues: two farmers returned to court in late April to appeal the decision not to order EMC to remove thousands of tonnes of mining waste and remediate the creek in the centre of the village.
Meanwhile, with the rainy season due to begin at the end of May, the communities wait in fear that monsoon downpours will bring fresh deluges of mining waste.