The closure of Myanmar's biggest mines due to the post-coup conflict has contributed to an 80 percent plummet in export earnings from the sector over the last two years.
By FRONTIER
Monthly earnings from Myanmar's mining exports have shrunk from more than US$150 million to only $30 million since the 2019-20 fiscal year.
Although on-off border restrictions imposed by China to limit COVID-19 continue to disrupt trade, much of this 80 percent drop is due to a halt in production at copper mines in Sagaing Region run by Chinese companies Wanbao and Yangtze, which revealed on May 6 that operations had been suspended since soon after the February 2021 military coup.
This has denied the junta a key source of foreign currency, the short supply of which has been indicated by the regime's imposition of capital controls in recent months.
The copper mines are Myanmar's biggest by production volume and are an important source of revenue for the state, as well as for the military directly through shares held by its sanctioned conglomerate Myanma Economic Holdings Limited.
The failure to resume operations is largely a result of the post-coup conflict and the threat posed by armed resistance groups, some of which have targeted mining infrastructure. Workplace strikes aimed at denying revenue to the regime have also been a factor.
Myanmar is endowed with a wide range of valuable minerals. Data from the Department of Mines shows that the most mined include non-ferrous metals such as copper, lead, tin and zinc, ferrous metals such as nickel and chromium, precious metals such as gold and silver, and jade and gems.
Copper, the third most widely used metal in the world, is extracted at three of the five largest mines in Myanmar – Letpadaung and Kyisintaung in Salingyi Township, Sagaing Region, and the Monywa mine, named after the Sagaing regional capital. Of the other two, nickel is extracted at the Tagaung Taung mine in Mandalay Region's Thabeikkyin Township, and lead, silver and zinc deposits are mined at the Bawdwin pits in Shan State's Namtu Township.
Chinese companies dominate the sector. Wanbao Mining Co Ltd, a subsidiary of China North Industries Group Corporation Ltd (an arm of Chinese state arms producer Norinco), is licensed to operate the Letpadaung mine until 2051. Yangtze Copper Co Ltd, a subsidiary of Wanbao, operates the Sabetaung and Kyisintaung mines under an agreement that expires in 2028. China Nonferrous Metal Mining Group and Taiyuan Iron and Steel Group have been permitted to operate the Tagaung Taung mine until 2032.
Transparency campaign group Publish What You Pay estimated in a report that in the 2020-21 fiscal year, ending in October, the junta earned $417 million from Letpadaung, $187 million from Sapetaung and Kysintaung and $121 million from Tagaung Taung
"The mining sector is very lucrative for the junta in terms of revenues and royalty payments," said Mr Clancy Moore, director of Publish What You Pay Australia.
However, over the past two years, mining has diminished as a revenue stream. Although global demand has remained high, data from the junta's Ministry of Commerce shows that between April 1 and August 12, earnings from minerals exports almost halved compared to same period last year, falling from $254.45 million to $139 million (about $30 million a month). This followed an even steeper drop in 2020-21 from the previous fiscal year, from $1.871 billion over 12 months ($156 million a month) to $895.6 million.
The cost of conflict
Mining investors told Frontier that exports had been hurt by COVID-19 restrictions on border trade with China and Thailand, which were imposed in the second quarter of 2020 but periodically lifted and reimposed since then. However figures from the commerce ministry show that formal border trade only constituted around 20pc of the total value of Myanmar's official mineral trade in both the 2018-19 and 2019-20 fiscal years.
Illicit border trade is believed to be greater, and insiders told Frontier that the clandestine trade in precious metals and rare earths (of which Myanmar is believed to be the world's third largest exporter) had also been hit by border restrictions, as well as by other factors that are less clear.
Myanmar does not regulate or keep figures for rare earths, which are extracted in areas bordering China under the control of armed groups, including a Border Guard Force under Tatmadaw command. However, statistics published by China's customs bureau show that rare earth imports from Myanmar totalled only $230 million between January and August. Such figures back anecdotal accounts that tell of a significant slump in shipments since July. A Global Witness report on Myanmar's environmentally destructive rare earth trade suggests that exports to China had reached $750 million per year by 2021.
Although there was never a lockdown on sea trade, statistics from the Myanma Port Authority show that COVID-19 also vastly decreased the number of container vessels leaving port, constraining export volumes and hiking prices.
However, sources in the industry say a larger factor in the export decline than the pandemic is a fall in production, the main cause of which is the post-coup unrest in parts of Sagaing, Magway, and Mandalay regions that host mines and processing plants.
"There are many areas where mining operations cannot continue because the situation is not peaceful, even though businesspeople have mining licences and pay tax to the authorities," said investor Daw Toe Toe Win*.
"The big mining companies licensed by the government can't operate in parts of the country where the lack of full territorial control means [the junta] can't protect them," said industry insider U Saw Tin*.
The Department of Mines did not respond to Frontier's questions about how mining operations have changed since the coup. However, on August 12, junta mouthpiece the Global New Light of Myanmar attributed the decline in mineral exports to a fall in production caused partly by domestic unrest.
Following the suspension of operations at Sagaing's copper mines in February last year, the Tagaung Taung mine in Mandalay Region was also shut down after three pylons that supply electricity to the site were sabotaged by the Sagaing-based Htigyaing People's Defence Force on January 7.
It was one of at least 15 attacks targeting big Chinese projects or their infrastructure between the coup and June 28 this year, the Myanmar Institute for Strategy and Policy, a think tank, told Frontier. It said they included eight attacks targeting the Letpadaung, Kyisintaung and Tagaung Taung mines.
More peaceful forms of resistance to military rule have also curbed production.
Yangtze employee U Myint Kyaw* told Frontier the main reasons for the initial post-coup suspension of operations, before the armed struggle began, "were the COVID-19 crisis and the number of staff who went on strike to show support for the Civil Disobedience Movement".
The CDM is a mass strike launched in the days following the coup. Although largely undertaken by government staff, it was also joined by private sector workers in industries considered strategic for the junta.
Highlighting the scale of the walkout at the mines, Myint Kyaw said the number of Wanbao employees shrunk from more than 7,000 to about 500 following the coup, while the Yangtze workforce fell from about 4,000 to nearly 300.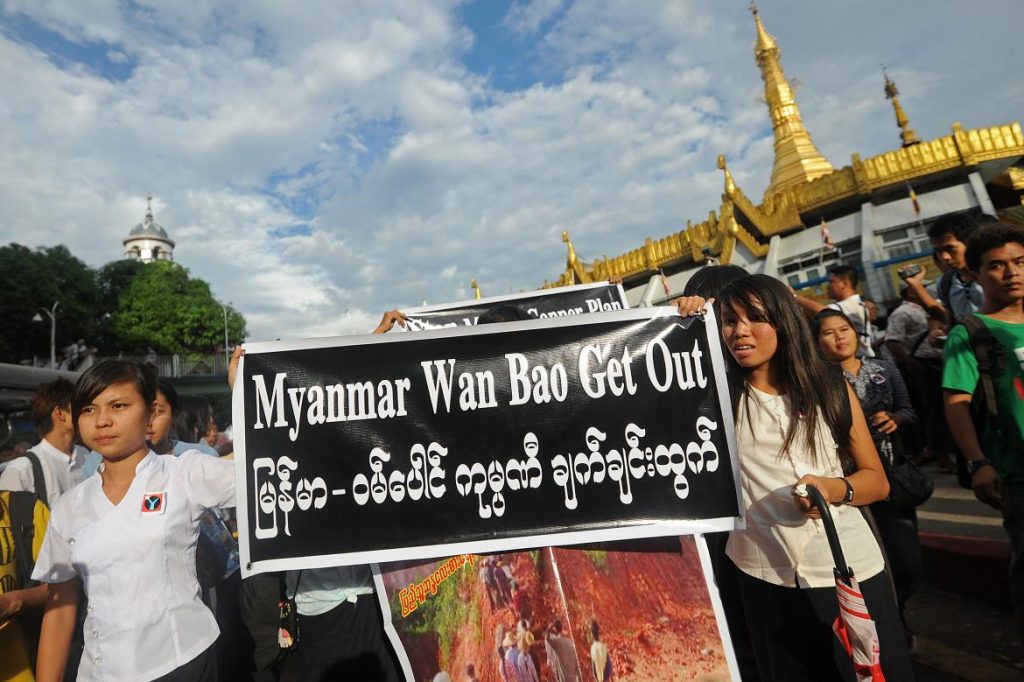 Resistance groups pledge to 'destroy' mines
However, despite the halt to production, large stockpiles remain at the mining sites. Myint Kyaw said there were around 60,000 tonnes of refined copper at Wanbao's site and about 40,000 tonnes at Yangtze's.
Another Yangtze employee, U Hla Htun*, said both it and Wanbao had been able to deliver some copper from their stockpiles to China under military escort.
Nearby residents and resistance fighters familiar with the companies' logistics confirmed these shipments from the Letpadaung mine, saying trucks continue to ferry copper to Kyauk Myat village on the Chindwin River, where they load barges that travel on to China.
U Aung Min, leader of the Letpadaung Regional Anti-dictatorship Strike Force, said the junta goes to great lengths to guard these consignments and protect mining infrastructure in general. He said soldiers threaten to torch villages if any part of the supply chain is targeted by resistance groups. They have followed through on these warnings, he said, by raiding villages, torturing and dismembering civilians and burning down homes at least 10 times. In one of these raids, troops allegedly killed two Yangtze employees.
In an attempt to stop news of these atrocities from getting out, soldiers "cut phone lines, the internet and electricity," Aung Min added.
However, resistance groups say they are determined to keep targeting mining operations because of their role in funding the junta.
A spokesperson for the Salingyi GZ People's Defence Force said it would "destroy the projects at once" if the copper mines restart production because the revenue would be used by the junta to "buy bullets to kill people".
The group was one of 16 resistance armies from Salingyi and nearby Yinmabin Township in Sagaing that declared on April 21 they would destroy the Letpadaung mine if Wanbao resumed operations.
In a statement issued on June 27, Wanbao and Yangtze said they did not want their mining operations to be involved in conflict. "We wish nothing but peace and development for the entire communities. We call on all groups, armed or otherwise, to respect the lives and livelihoods of our colleagues at the mine site," the statement said.
Junta spokesperson Major-General Zaw Min Tun did not respond to Frontier's questions but told RFA Burmese in May that the military would deploy troops to protect the mines if they were attacked.
"As a government, we have a responsibility to protect all investments in the country and must provide security for them," he said, adding that the junta was "working to get things back on track" at Letpadaung.
However, industry sources say that reviving mining won't be possible amid raging conflict.
"If the country is peaceful, mining sector production will rise together with foreign currency earnings," said investor Toe Toe Win, adding that, unless the fighting stops, "the industry won't recover".
* Denotes the use of pseudonym for safety reasons