By SEAN GLEESON & MRATT KYAW THU | FRONTIER
YANGON — Myanmar has risen slightly on the United Nations' benchmark Human Development Index, with senior UN figures urging more action from the government to lift livelihoods across the country.
Moving up to 145th place out of 188 surveyed countries, Myanmar last year became the last member country of the Association of Southeast Asian Nations to rise out of the lowest HDI category, based on slight rises in life expectancy, educational attainment and per capita income.
"It's important, it's an achievement, no question about that. But it's only a step," said UN Development Programme economic advisor Mr Thomas Kring at the 2016 Human Development Report's Yangon launch Wednesday.
Despite rising to the medium human development category, Myanmar remains the lowest scoring ASEAN country on the index, behind Laos (138th) and Cambodia (143rd), and scored poorly relative to its neighbours in several development indicators published by the UNDP.
Among ASEAN countries, Myanmar recorded the second-highest rate of stunting from child malnutrition (35.1 percent), the second-lowest rate of public health expenditure (1 percent), the highest number of internally displaced persons (644,000), the highest female suicide rate (10.3 per 100,000 people), and the third-highest male suicide rate (16.5 per 100,000 people).
"While I wish to warmly congratulate the government and people of Myanmar for achieving Medium HDI status, I also urge the Government to do more to accelerate human development for all," said Ms Renata Dessallien in a Wednesday statement.
"This requires a range of policy decisions, budgetary decisions, institutional follow through, and it includes tackling some of the recent economic challenges that have emerged."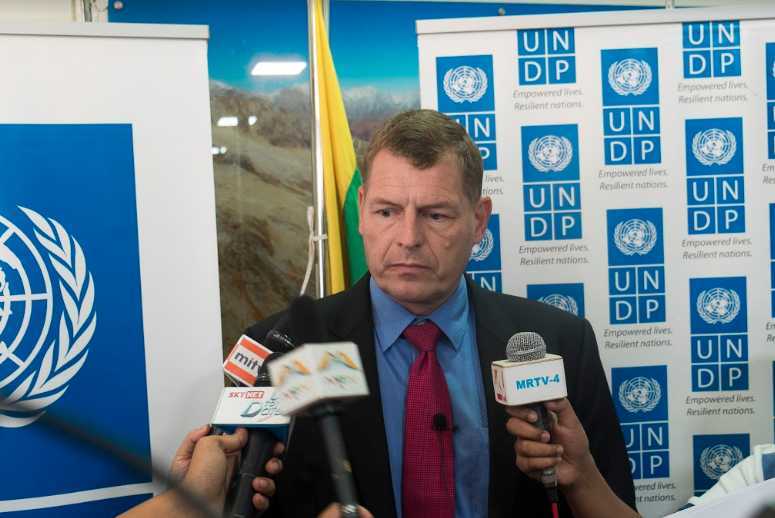 On a state visit to Singapore last year, State Counsellor Daw Aung San Suu Kyi told local business leaders that Myanmar's economy would rival that of the city-state within the next two decades.
"At the beginning of Singapore's independence, the then Prime Minister Lee Kuan Yew said that in 20 years' time, Singapore would have caught up with Burma," she said, in comments reported by Channel News Asia. "I think we have to change that a bit and say: In 20 years' time, Myanmar will have overtaken Singapore."
Singapore is the highest-ranked ASEAN nation on the human development index, scoring fifth overall, with an average life expectancy at birth 22 years higher than Myanmar and a per capita income nearly 16 times that of Myanmar's average.
Asked about the State Counsellor's comments on Wednesday, Kring demurred from offering an assessment of their likelihood.
"The country has potential for achieving a high level of economic growth," he said. "The challenge is to ensure this growth benefits everyone, and to have the policies to support education for everyone … and that we have the environment to continue to attract investment. I'm sure then Myanmar will be well placed to catch up to Singapore."