The Social Security Board has accumulated a K240 billion fund that it wants to spend on improving its efficiency and upgrading its healthcare services.
By KYAW YE LYNN | FRONTIER
THE SOCIAL Security Board is seeking greater financial autonomy so it can access a cash pool that has hit K240 billion and is likely to grow considerably in the years ahead.
Perversely, the money has built up because the SSB's service – while improving – remains relatively poor. Contributions are mandatory for businesses with five or more staff but many registered workers are unaware of their eligibility to make a claim.
Others choose not to bother because of the time and effort required, and the glacial pace at which payments are disbursed. There are relatively few SSB-run clinics and hospitals, and their reputation is such that those who can afford to do so tend to visit private or public clinics instead.
One thing that the SSB – part of the Ministry of Labour, Immigration and Population – has got better at is registering workers. A total of 1,230,686 workers were registered as of July, of whom more than 800,000 had registered since the Social Security Law was implemented in 2014.
SSB director general U Maung Maung Aye told Frontier in an interview at the board's office in Nay Pyi Taw on August 8 that the board's overall performance had been improving under the new system but the agency needed more autonomy in order to make further changes.
"We need more freedom in order to improve our performance," he said.
The Social Security Law, which was enacted in 2012 and replaced legislation enacted in 1954, states that the SSB has financial autonomy. However, it functions like a government department.
"The law said SSB could have financial autonomy at the appropriate time. However, we are just a department under the ministry at the moment. We still have to make proposals and ask for budget allocations step-by-step … so we find it difficult to move forward," said the director general.
"Autonomy is needed to move freely. When I say freely, I don't mean without order or discipline. But I mean we must have the authority to freely make decisions and to freely carry out the things we need to do."
Service problems
The board often received complaints about poor service at the three hospitals and 96 clinics under its management and delays in paying benefits, Maung Maung Aye said.
He said that if the board could manage its funds freely it could easily hire doctors and improve the services at its clinics. The doctors and nurses at hospitals and clinics run by the board were assigned from the Ministry of Health and Sports, and the board is only allowed to pay a doctor a maximum of K200,000 a month.
"Human resource shortage is a big obstacle for us to provide effective healthcare services," said Maung Maung Aye. "A doctor in private practice earns at least K400,000, so it is not surprising that not many doctors want to work for us."
To overcome the human resources shortage, SSB reached an agreement with Yangon-based Care Well Medical in 2015. It paved the way for two SSB-Care Well clinics to open in Yangon's Hlaing Tharyar Township and one each in Mingaladon and Shwepyithar townships. These clinics have been much more popular with insured workers than those run by the SSB.
Maung Maung Aye said the board had also begun one-year pilot projects with private hospitals at Myeik, Myitkyina and Taunggyi on April 30 using what's known as a purchaser-provider-split (PPS) payment system.
The SSB has signed contracts with the hospitals under which they agree to provide healthcare to insured workers and then bill SSB at fixed rates for services and other costs, such as medicines. Workers are not required to pay anything.
If the patients need treatment outside of the services agreed in the contract, they will be referred to an SSB hospital, said Maung Maung Aye.
In the pilot project, private hospitals are providers of healthcare service for the insured workers," he said, adding public hospitals would also be providers in the future.
He added that the board had fixed payment rates for each of the agreed services at the contract hospitals and clinics and workers didn't need to pay.
"After the pilot project, we will evaluate it and invite more private hospitals to join us," he said.
The minister has already agreed to expand the SSB's healthcare services under the PPS system, and negotiations have begun with private hospitals in Yangon and elsewhere. Public hospitals will also be included.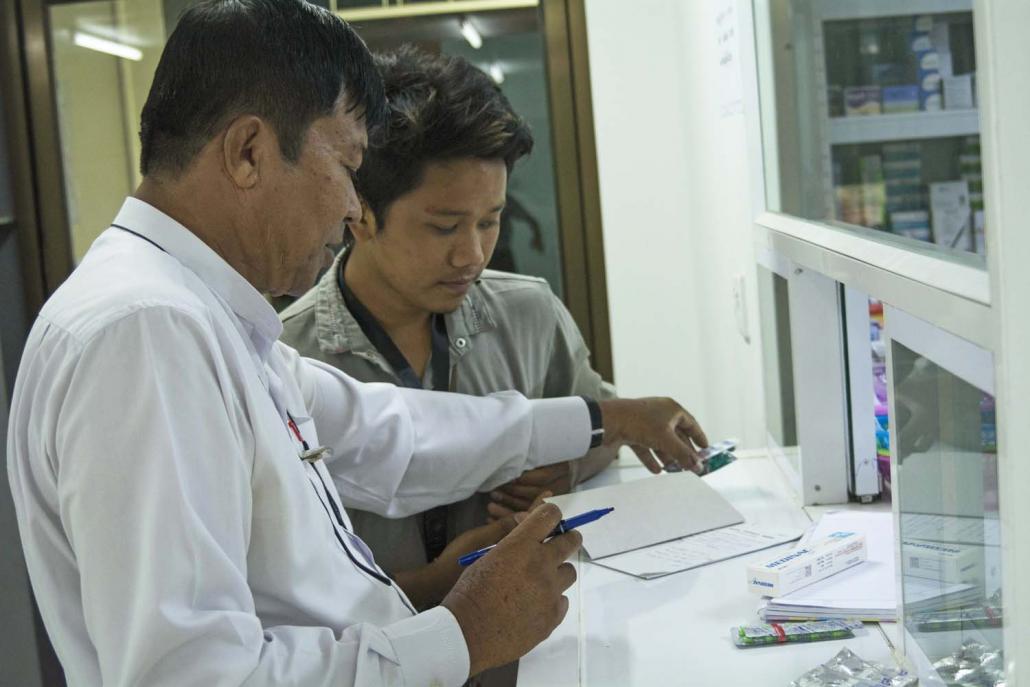 Maung Maung Aye said that although ministry policy did not support hiring private doctors, SSB would continue to run the hospitals and clinics under its management.
"We know there are many things that need to be done to earn trust from insured workers," he said.
Cash pool
Maung Maung Aye acknowledged that the SSB had accumulated the K240 billion fund because of delays in paying benefits and poor knowledge of the compensation scheme among workers in the past.
He refused to provide detailed information about contributions, expenses and reimbursements, saying that the department as well as the Auditor General's Office conducted regular audits. The money is held in an interest-bearing account at Myanma Economic Bank.
However, he did provide some indication of the SSB's income and expenses. In this year alone, it expects to receive K95 billion in contributions, Maung Maung Aye said.
Over the past four years it has processed 607,302 claims and paid out just K24.681 billion in reimbursements, he said. A maximum of 25 percent can be spent on management expenses.
"Insured workers are becoming more aware of the scheme's benefits and we are expecting more employees to join," Maung Maung Aye said.
The board is hopeful that the 2012 law will be amended in the coming years to not only grant financial autonomy but also compel all civil servants to make contributions.
Section 12(a) of the law stipulates that it does not apply to employees of government departments, government organizations or regional administrative bodies that do not conduct business.
Amending the law would enable more than 800,000 public servants to join the scheme, said Daw Than Than Nu, director at SSB's Insurance Division.
"Only about 16,000 government personnel have joined the scheme so far," she told Frontier.
Autonomy with accountability
The International Labor Organization, a United Nations agency, has been providing technical assistance to SSB to upgrade its administration, IT system, medical services and legal framework.
Liaison officer in Myanmar Mr Rory Mungoven said the ILO recommends that the SSB be given more autonomy so that it has more flexibility to recruit, enter contracts with external providers and upgrade facilities and is not reliant on the national budget.
At the same time, there are many things that need to be done to strengthen governance at the SSB, including improved auditing and actuarial standards, and giving workers and employers a role in the decision-making process.
"At the end of the day is the important thing is that the contributions to the scheme are being returned to the members in the maximum way," he said. "Having a good governance structure and in particular one where the workers and employers are involved can really help the fund make the best decisions in the interests of the members."
He said there were many things that the SSB could do right now to improve services, particularly in terms of cutting red tape to both make it easier for members to make claims and ensure they receive payouts faster.
"When people are injured or on maternity leave, it's important that they receive benefit at the time not many, many months after," he said.
SSB could also extend its medical services to include not only insured workers but also their dependents, which would bring millions more people into the system.
One area where progress is being made is on upgrading its IT system. A 2014 initiative to digitise data and introduce smart cards has been abandoned and a tender process for a more comprehensive SSB Information System is underway. A total of 15 companies have submitted bids and a winner is expected to be chosen soon.
Mungoven said 2,300 SSB employees were providing services to 1.2 million insured workers throughout the country, and the paper-based system had reached the "end of its limits".
"Having an upgraded IT system that can manage all of the accounts will be a very big step forward," he said.
TOP PHOTO: A Social Security Board clinic in Yangon. (Teza Hlaing | Frontier)