The smart new buildings rising in Yangon are the products of economic growth that is barely touching the lives of people toiling at the grassroots, many of them victims of debt bondage.
By ANDRE MALERBA | FRONTIER
THE HOME and workplace of U Naing Lin, his wife Ma Than Nwe, and the birthplace of their four children, is the compound of a brick factory on the outskirts of Yangon, in Hlegu Township. Apart from short trips to the market and occasional visits to a nearby pagoda for festivals, their lives are confined to the dusty landscape of the compound, dominated by towering, smoking brick kilns and dotted with bamboo huts.
The bricks, which serve as their means of survival – and entrapment through debt – are contributing to an economic revival from which they are excluded.
Making bricks does not earn them livable wages, pay their medical bills or send their children to school.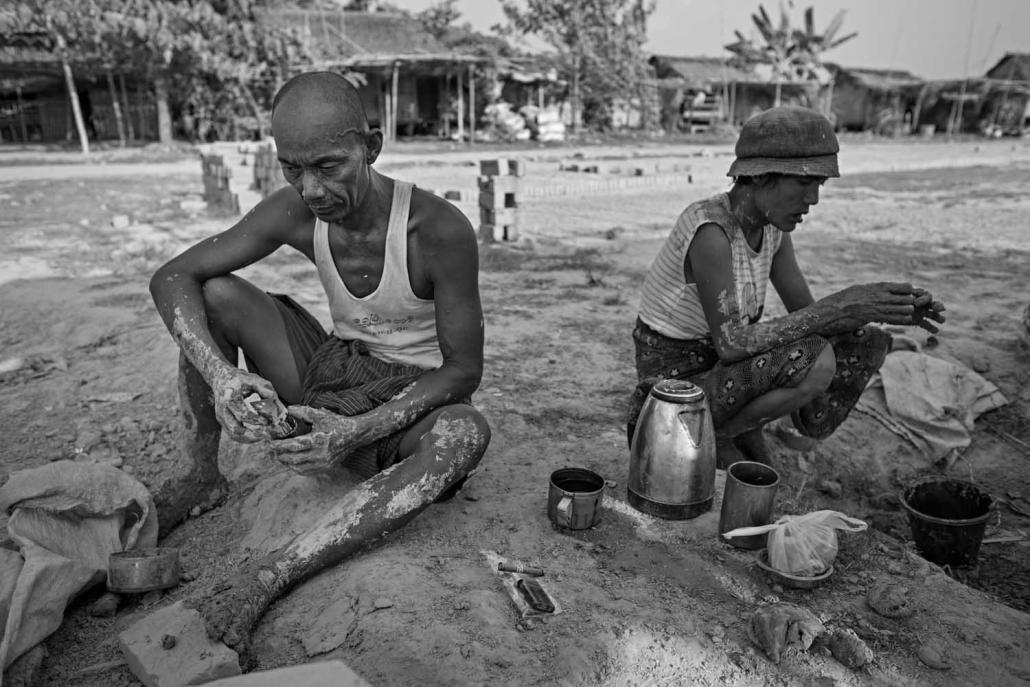 About 15 years ago, Naing Lin and Than Nwe travelled to the brick factory on a promise of work. They came from Hinthada, a rural town on the Ayeyarwady River in Ayeyarwady Region. Their stay was intended to be short but the cost of living forced them into debt.
One evening last year, Naing Lin was resting on the slatted bamboo floor of his home, part of his face illuminated by a coppery strip of light from the setting sun.
"We did not know that we would fall into debt and have to stay for so long, otherwise we would not have come," he told Frontier.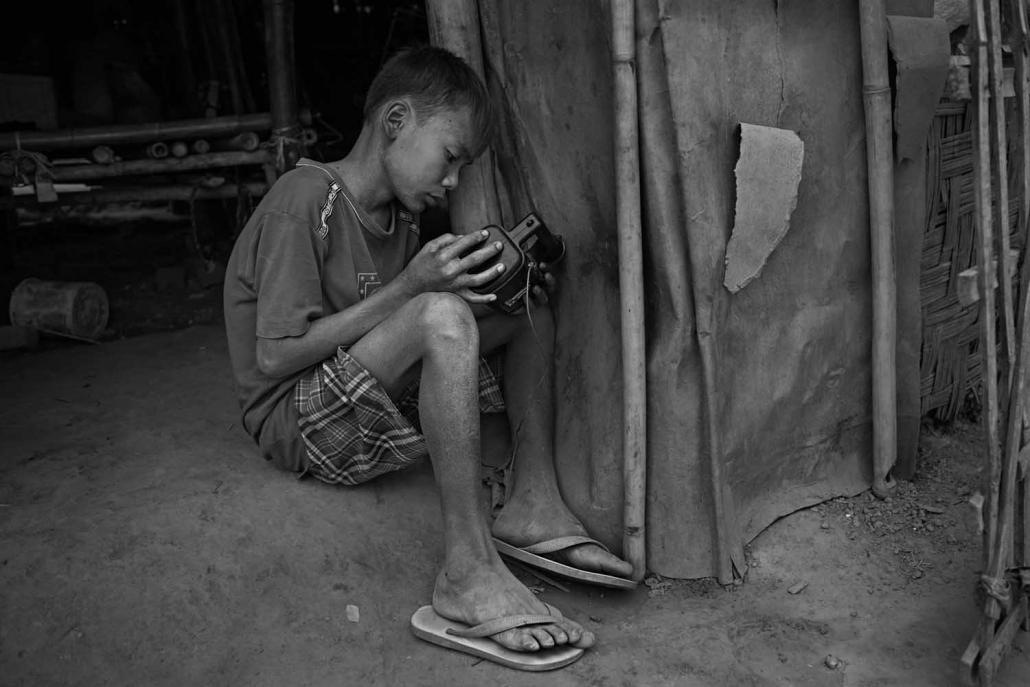 Faced with the prospect of being unable to return home, they eventually started a family. Their first son, named Naing Lin Oo, after his father, turned 14 last year. Than Ko is 10, and his sister, Saung Ning Wai, is seven. Their youngest, Sandar Lin, is two years old. She was named by her father who adored her as a lucky child. Sandar Lin means "shining moon".
Collectively, Naing Lin, Than Nwe and Naing Lin Oo earn about US$150 (K205,000) a month and are paid every 10 days. Their work consists of gathering the muddy mixture, forming it into bricks, and laying it out in the sun to dry so that the bricks can be stacked into kilns. Sometimes they receive a bit less if they are unable to meet their quota.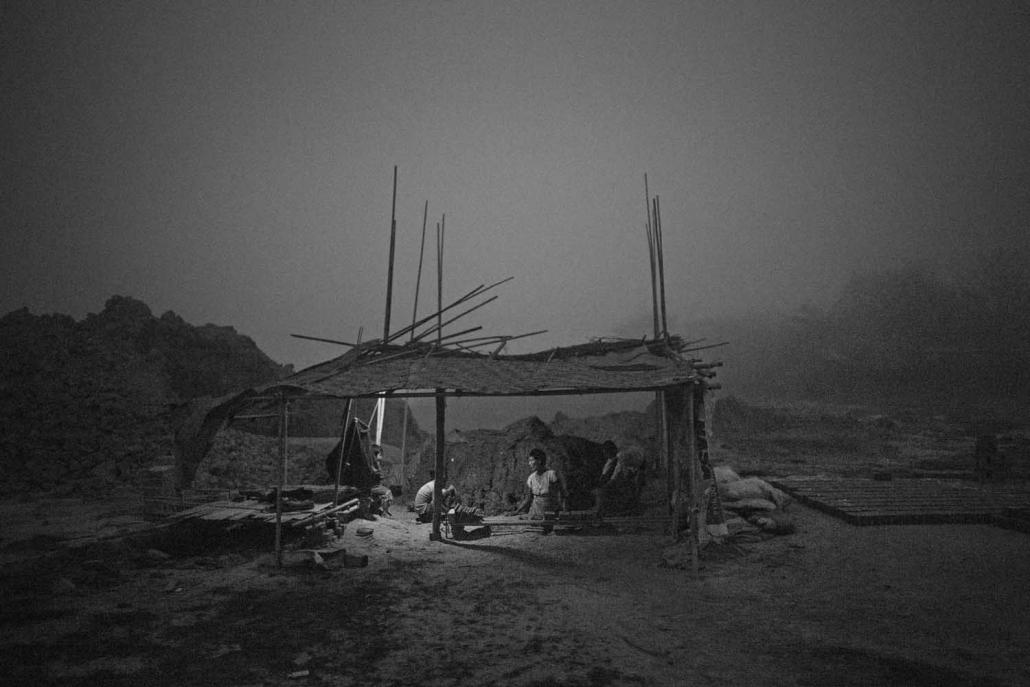 The two younger children spend their days playing and caring for their baby sister. Between production cycles or on their "off days", Naing Lin Oo and his parents work other, back-breaking jobs such as carting cracked bricks away from the kilns. They live rent-free in the factory compound, but that has not helped them stay out of debt. They almost always owe money to neighbors or friends and family.
The lack of money affects more than just their ability to afford clothes and food –though they often eat only one or two small meals a day. The three younger children are still at an age where they accept life as it is.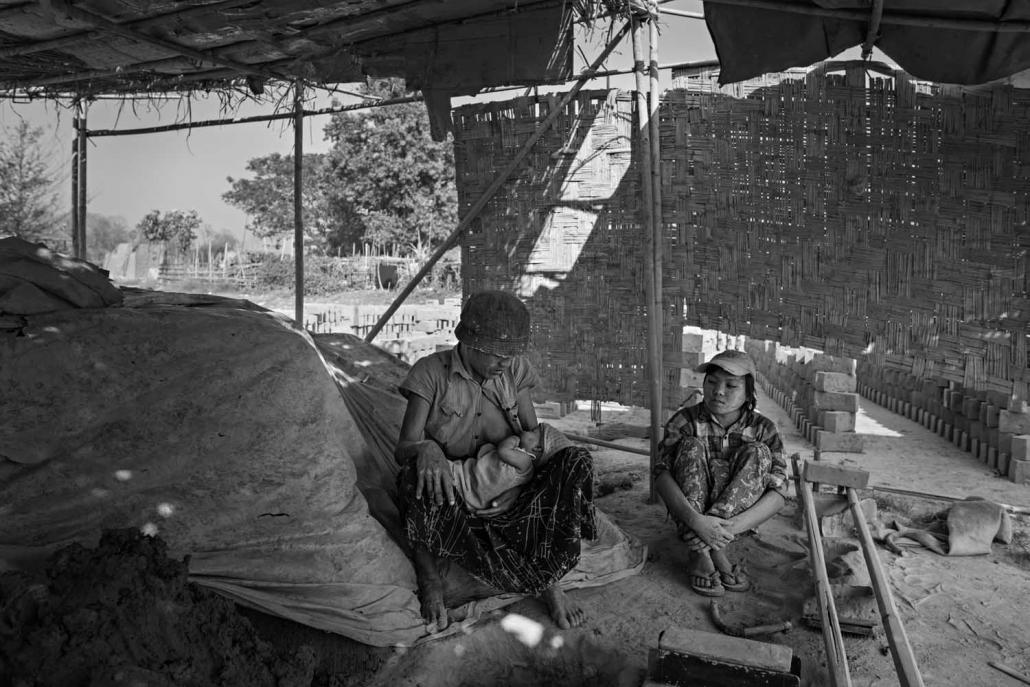 However, Naing Lin Oo often becomes angry about not being able to keep what he earns, which goes to his parents. More than a few times, the issue would escalate into a shouting match between Naing Lin Oo and his mother. "He is a bad boy; he tries to run away and doesn't care about his family," Than Nwe said.
Naing Lin Oo likes to be alone as much as possible and left the family for a while to work in the construction sector with some other young men. Since returning to live with his parents and siblings last year, he often goes after work to a nearby rubbish dump to fossick for goods to re-sell so he can supplement his income.
Before 2016, there was little change in the family's lives. Although their home is only about an hour's drive from Yangon, their lives have not been affected by the drastic shifts and turbulent events of the commercial capital. Naing Lin and Than Nwe were aware of the national uprising in 1988 but had no recollection of the protest movement in 2007 known as the Saffron Revolution.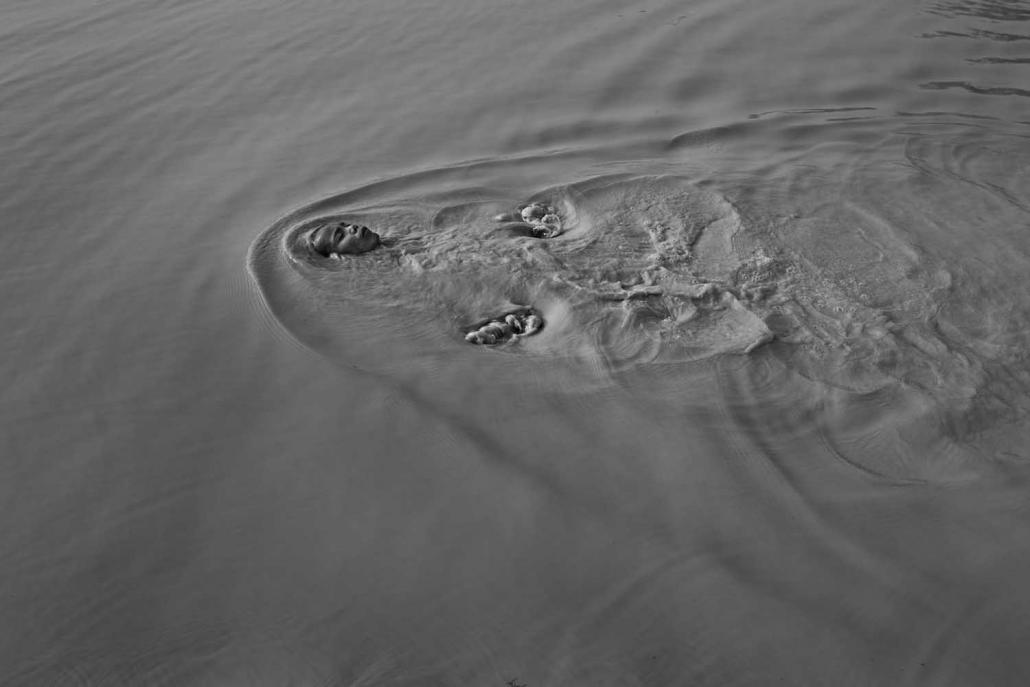 In the historic 2015 election, regarded as one of the freest and fairest since independence, Naing Lin and Than Nwe were offered cooking oil and rice for their vote. However, when it was discovered that they were not registered to vote, no effort was made to enroll them and they did not participate in what may have been the most significant moment of their country's modern history.
In mid-March last year, Naing Lin collapsed and died while working on an unusually hot day. He was buried in an unmarked grave on the other side of the rubbish dump, a few minutes walk from his workplace for the past 15 years.  There was little time for grieving and Than Nwe and Naing Lin Oo returned to work almost immediately.
In the days that followed, when Than Nwe was resting during the brick making process, she would talk fondly about her husband, recalling his kindness and how much he loved his family.
In the evening, resting in their simple bamboo hut, she would play with her youngest child, Sandar Lin, and say: "Look at her face – it's just like her father's."
I first met U Naing Lin and his family in 2015 while wandering through the brick factory, photographing for a personal project. I lacked a translator, but their faces and something about them stayed with me, even though I did not see them again for the rest of the year.
At that time the most obvious changes to Yangon were the new buildings going up. The stacks of bricks on the streets, waiting to be laid into the towering walls, kept reminding me of Naing Lin and his family, and the powerful image in my mind, of these buildings being built on their backs, struck me deeply.
I knew that the story of brick makers is one that has been told many times and likely wouldn't receive much interest internationally, but I didn't want to let that stop me.
I applied for a grant focused on exactly this type of story, was awarded the funding, and started working on the project in 2016. Naing Lin would often say to me, "We must have been friends in a previous life, otherwise how would we have found each other?"
I will never regret doing this project. The relationship we shared was something that will always stay with me and is something I will strive for in all the projects I set out to do in the future.