Innovative social enterprise Doh Eain is collaborating with downtown Yangon residents to give them and their heritage building homes a secure future.
By SING LEE | FRONTIER
Photos THEINT MON SOE aka J
"The bricks are thick and the roof is four to five centimetres thick. There is still no rain leakage. The construction quality was much better," said U Thein Aung, the proud owner of a two-storey home on Yangon's 47th Street that's been in his family for about 90 years.
The house was built with bricks and wood. There are two apartments on each floor, and a small courtyard in the middle of the house for light and ventilation, which was a rare design innovation at the time, Thein Aung said. It is undergoing its first major renovation since it was built more than 100 years ago.
The house was bought by Thein Aung's grandfather in the 1930s. "I hope this house would be inherited generations by generations," said Thein Aung, 68, who has lived in the house since he was born.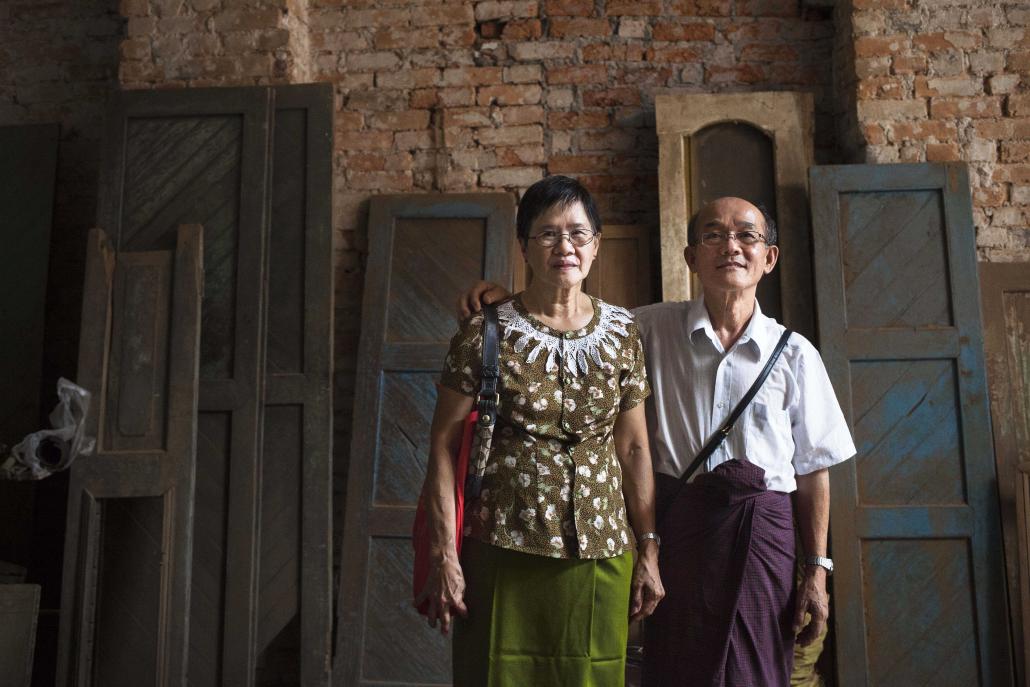 Thein Aung's grandfather sailed from imperial China to colonial Burma during the late 19th century. His grandfather had a small construction business in Hoisan, Canton (now Taishan, Guangdong), and he migrated to Rangoon in the hope of making a better living in Burma, which he regarded as a land of opportunity.
Thein Aung graduated from Rangoon Arts and Sciences University (now the University of Yangon) and first worked as a civil servant. After marrying, he managed the restaurant business owned by his wife, who is also a third-generation descendant of Cantonese immigrants. Their four children grew up in the house on 47th Street.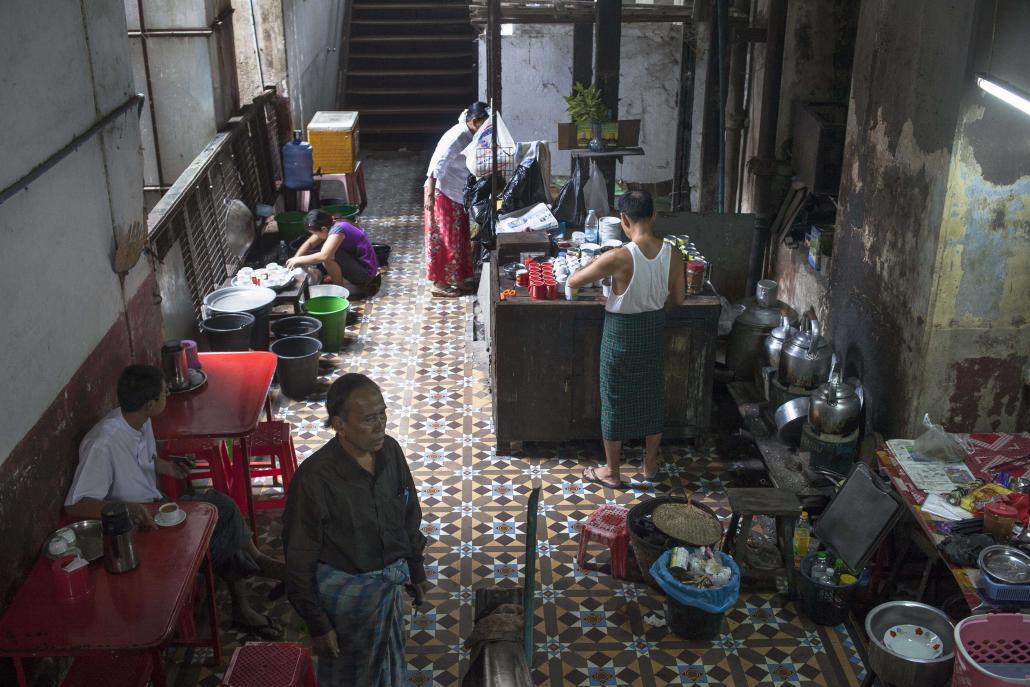 Their home is being renovated by Doh Eain ("Our Home"), a social enterprise that refurbishes heritage buildings and rejuvenates back alleys in the former capital.
The partnership will help to restore the century-old house to its former glory. The revenue from leasing the house after it is renovated will contribute to Thein Aung's income and to Doh Eain's heritage preservation and urban renewal projects.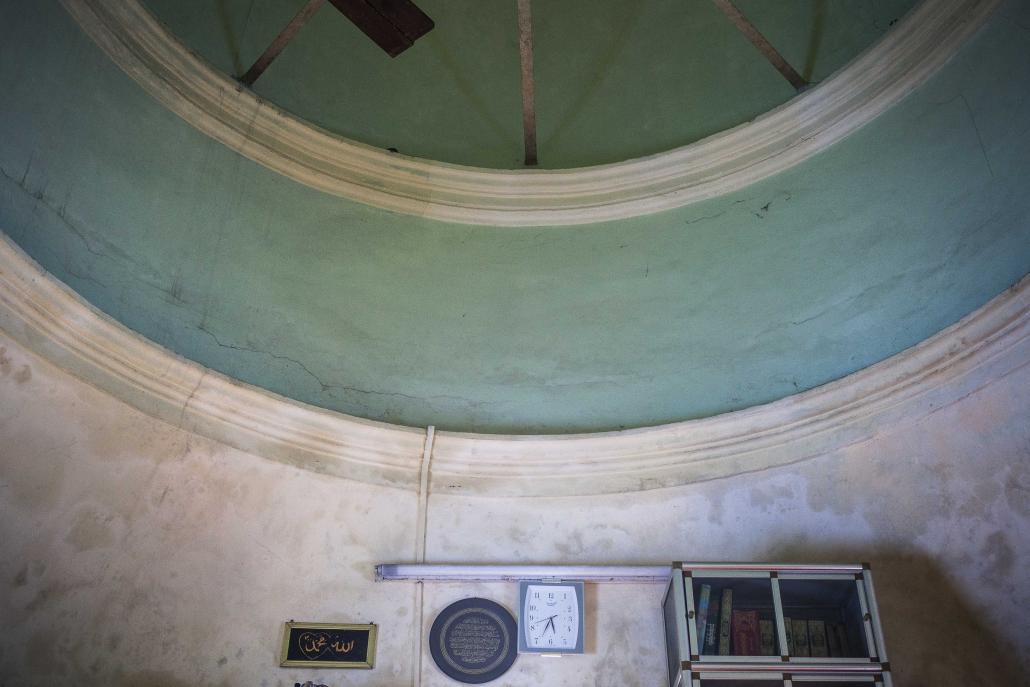 Thein Aung, who has moved into a small, modern apartment, said he would miss his former home but was proud that its preservation would contribute to the aesthetic value of its neighbourhood. He repeatedly expressed the hope that the house would remain in his family for generations.
Thein Aung requested a copy of the issue of Frontier that carries this report. "I want to share it with our children," he said.
The seaman's home
U Ghulam Hla Tin, 55, wanted to see the world after he completed high school in 1978 and decided to become a merchant seaman. "I wanted to look around the world," he told Frontier.
He began work in 1988 and retired as a navigator in 2010. His longest stint as a merchant seaman was the first; he spent four years at sea, with only brief stays in Hong Kong and Macau.
In 1999, a year before he married, he bought an apartment on Bogalay Zay Street, next to the one his parents had purchased in 1968. During World War II, Ghulam Hla Tin's father's family fled to India. His parents met and married there before returning to Burma after independence in 1948.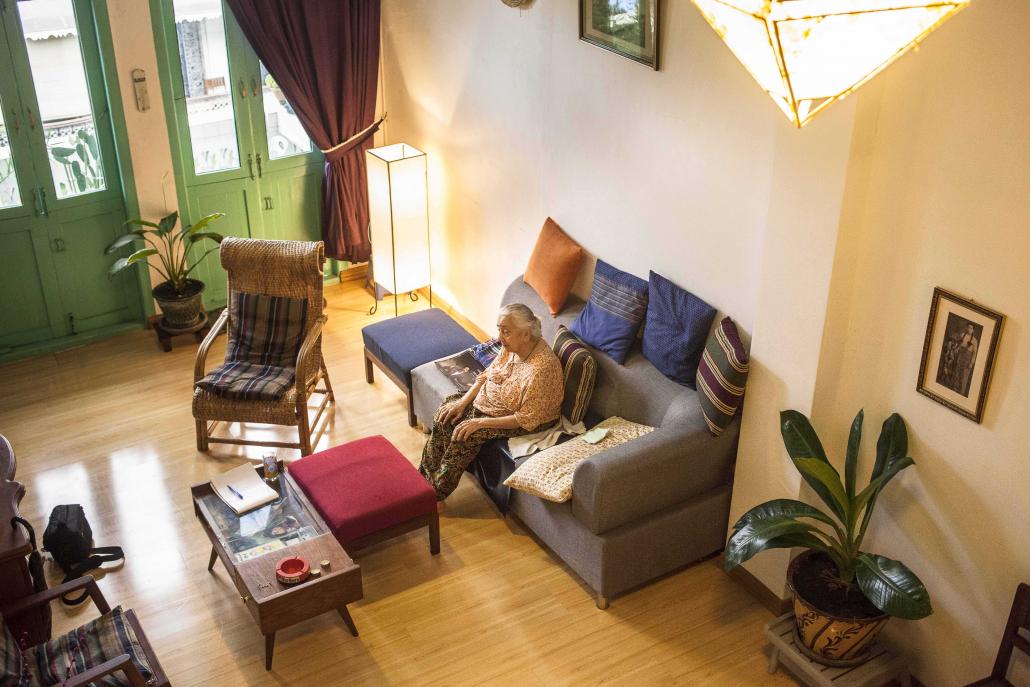 "My plan was to have my own home and my own car after I married, and when I went to sea my wife could stay with my mother living nearby," he said. His two sons grew up in the Bogalay Zay Street apartment.
After retiring as a merchant seaman, Ghulam Hla Tin became a taxi driver. In 2014, one of his customers was Ms Emilie Röell, a Dutchwoman who had lived in Yangon since 2013 and was to become the founder of Doh Eain, launched informally in late 2015.
Ghulam Hla Tin and Röell became friends and their initial chance meeting was to result in his apartment becoming Doh Eain's first refurbishment project.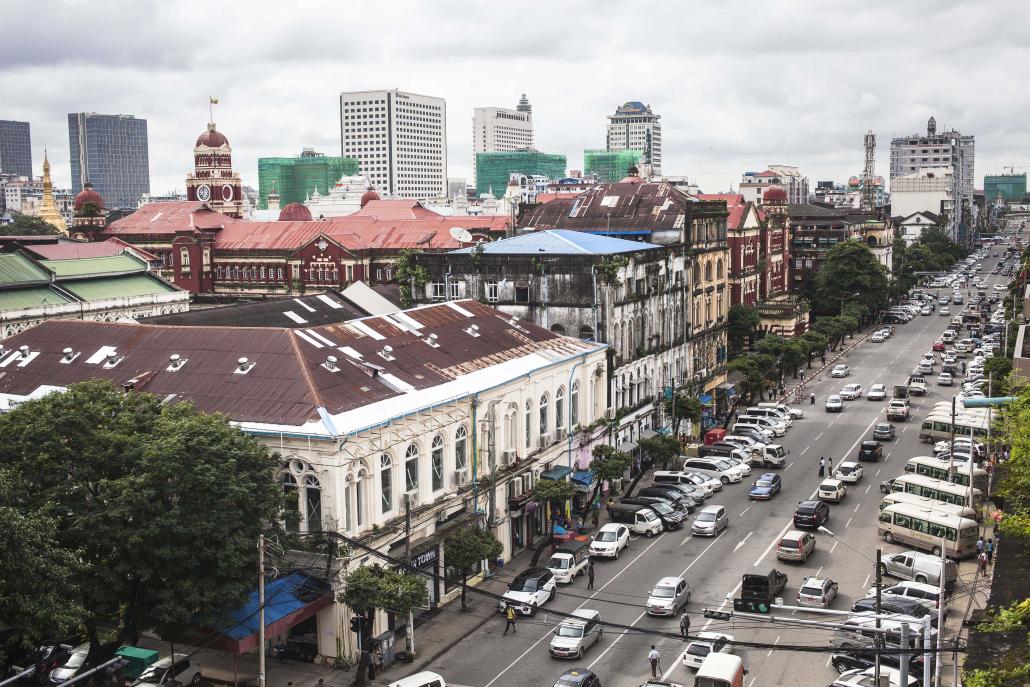 During a visit to the apartment, Röell suggested that the part of a loft be removed to expose the apartment's high ceiling.
Ghulam Hla Tin enjoys the extra light in the apartment on sunny mornings but he was initially opposed to the change. So was his mother after the remodelling began.
"My mum came from next door and asked, 'What are you doing, Ghulam?' I said, 'Don't  look at it for a month, just look after it is finished,'" he recalled.
After the project was completed, Ghulam Hla Tin became the operational manager for Doh Eain, which is working on its seventh refurbishment project and has grown to a staff of eight.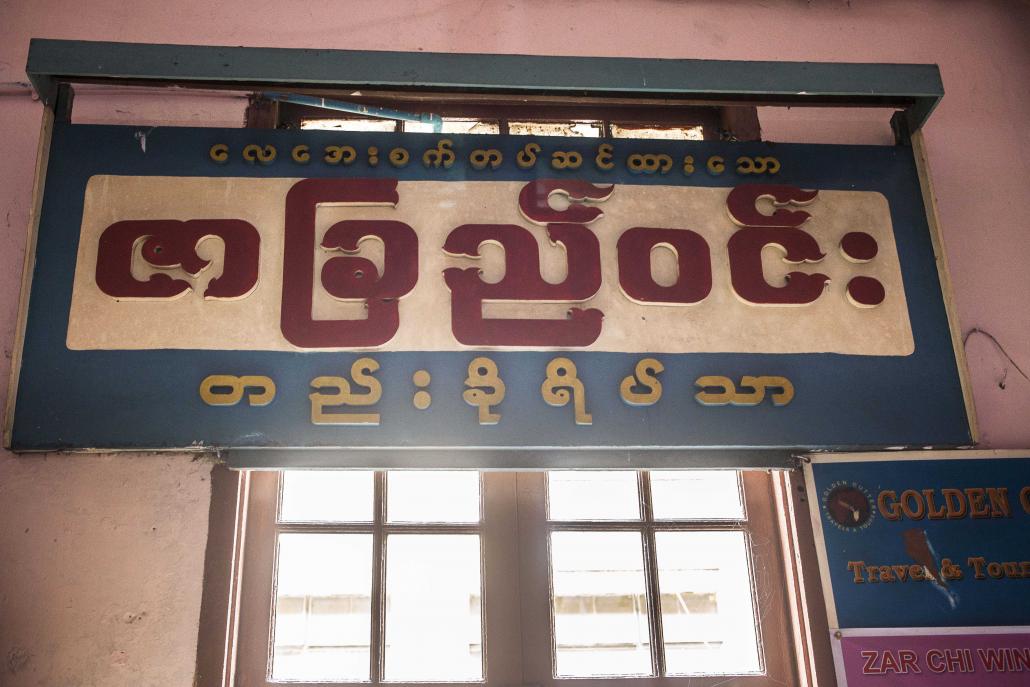 Ghulam Hla Tin's refurbished heritage apartment has become a guesthouse advertised on Airbnb. The income from guests has repaid the cost of the refurbishment and helps to support the retiree's family.
"We make friends with our guests. Our family lives next door. We cook them lunches on Saturdays. It is the local traditional food," Ghulam Hla Tin said.
The teacher and his team
The head of design and building restoration at Doh Eain is Mr Albert Company Olmo, a Barcelona-born building engineering graduate who spent seven years working with Myanmar migrants and refugees at the Mae Tao Clinic in Thailand. 
He was involved in building projects at the Mae Tao Clinic in Mae Sot and also taught constructions skills at a school for migrants.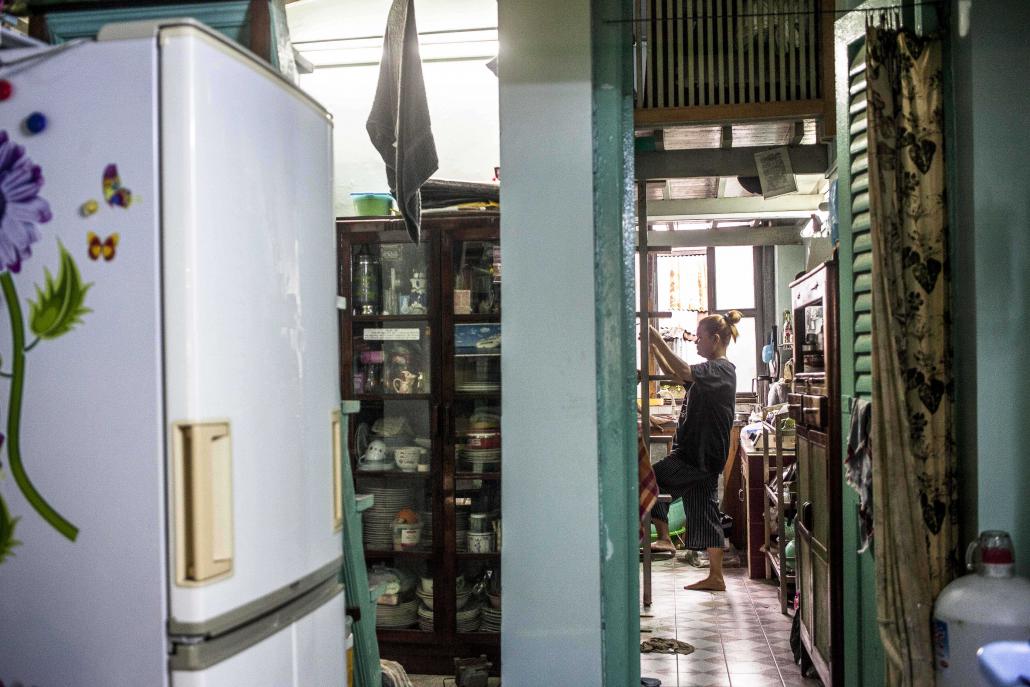 In 2012, Company Olmo co-founded angora architects, which is based in Mae Sot and seeks to promote sustainable construction techniques through responsible design.
Company Olmo, who has remained a team leader at angora architects, has brought some of the workers he trained in Thailand back to their homeland to work on refurbishment projects.
They arrived in Yangon about a month ago and have been working on the refurbishment of Thein Aung's 47th Street home, a task that Company Olmo said was challenging because it was vastly different to the projects they had been involved with along the border.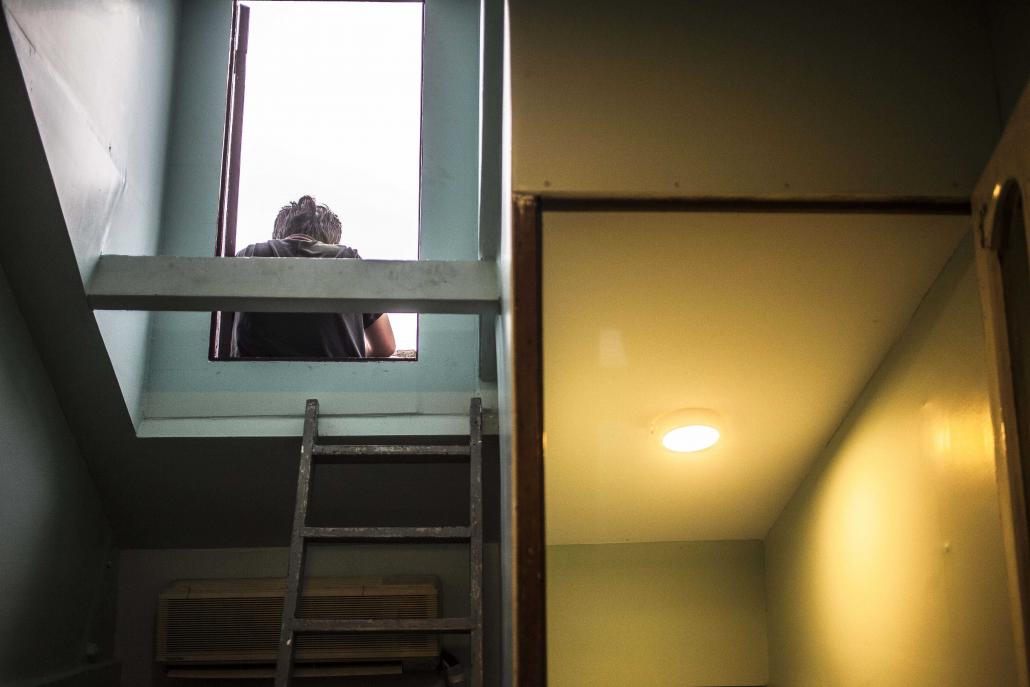 The team was used to working with a low budget and readily available materials, such as bamboo, and it had to adapt to unfamiliar concepts and construction techniques.
"They do not understand why we need to expose the bricks; they think it is bad for the building to look old. They are getting used to a new philosophy," Company Olmo told Frontier.
"We follow the vision of the owners," he said. "We inspect the house and make plans to fix the damaged structure. After ensuring safety, we look for aesthetics. What is the character of the house? What are the elements which make this house distinctive?" he said.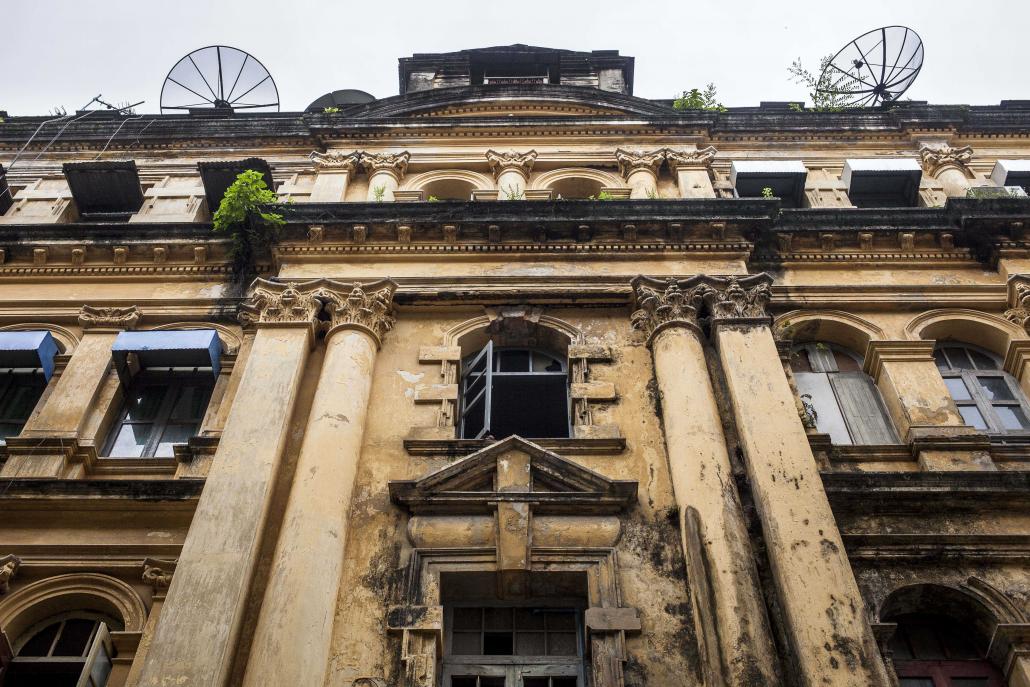 "We try to keep most of the things they had, such as the wooden furniture, and use them to re-decorate the house."
Company Olmo bought a team of 15 construction workers to Yangon for Doh Eain projects, which he described as "fascinating" because they combine old and new architectural elements.
"Some of them had never visited Myanmar. Some of them never lived in a city. They were really scared at first, but they become really excited now," he said.