Watermelon growers and traders were profiting handsomely from exports to China until border trade was decimated by Beijing's zero-tolerance approach to fighting COVID-19.
By FRONTIER
Watermelons have been one of Myanmar's most lucrative cash crops, but this year frustrated fruit merchants have been dumping mounds of decaying fruit by the side of the road near the Chinese border.
Images of the rotting fruit in the Muse 105-mile border trade zone in northern Shan State have been circulating on social media in recent weeks, serving as a visual metaphor for many in the country of the wider economic downturn caused by COVID-19.
Watermelons are typically exported through the Muse 105-mile border trade zone, about 10 kilometres from Muse proper, and the nearby Kyin San Kyawt gate, which partially reopened on November 26 after being closed for four months as a precaution against the spread of COVID-19. Kyin San Kyawt is one of five trade points in the Muse area, but the only one that has reopened to date.
Since then, trucks loaded with the fruit have been arriving at the trade zone in the hope of delivering their perishable cargo to China, but delays have immobilised the industry.
Watermelon growers are facing major difficulties exporting the otherwise lucrative crop to China and are having to increasingly rely on the domestic market, where prices are much lower.
Even though the Kyin San Kyawt gate has opened, shipments have been stymied by health checks for COVID-19, regulations aimed at preventing the spread of the coronavirus and the imposition by China of new tariffs on the fruit.
Long queues of trucks pile up, drivers are subjected to regular COVID-19 checks like temperature scans and proof of vaccinations, and the watermelons must be transferred to a truck operated by a Chinese driver at the border, which is much more expensive than a Myanmar truck and driver.
All this means that it now takes trucks roughly 15-20 days to deliver a consignment of watermelons to China from the 105-mile zone, according to Myanmar fruit traders. The delays affect the quality of the produce and are increasingly causing losses for exporters, prompting some to simply abandon their rapidly spoiling loads. Authorities at the Muse Fruit Trading Center have warned that trucks caught dumping fruit beside the highway would be fined K50,000, but it seems to have had little effect.
Nang Kham Khin, from Muse-based fruit trading company Sai Myint Bo, said that before the restrictions came into force trucks from Myanmar could pass through the 105-mile zone and reach the Chinese fruit wholesale market in one day, assuming there was no major traffic jam.
To expedite exports, the Muse Fruit Trading Centre has advised truck drivers to ensure they carry certificates showing they have been vaccinated twice against COVID-19. Fruit traders have also been warned to only export quality fruit, but the delays have been making that an uphill battle.
"Watermelon lasts for two weeks at most, after it is picked; any longer than that and it deteriorates," said one watermelon farmer who has a six acre farm in Nay Pyi Taw's Tatkone Township.
Exporters who manage to get their produce to their destination are fetching about CNY6,000 (about K1.66 million) a ton for watermelon, but prices remain highly volatile, ranging anywhere from CNY1,500 to CNY7,000 depending on supply and demand. On top of that, spoiled shipments and increasingly high overheads make profit margins even more unpredictable.
"The price is good enough, but overhead costs are rising and some fruit is lost because of transport delays. It is important that only standard quality fruit is exported," said Nang Kham Khin.
Sai Khin Maung, deputy chair of the Muse fruit trading centre, estimates that it costs between K1.5 million to K2 million to transport a truckload of watermelon from the Muse 105-mile zone to the border. Each truck can carry around 16 tons of watermelon.
He told Frontier in November he would hold talks with the authorities to try to reduce overhead costs, but exporters told Frontier in January there had been no change. It is unclear if any negotiations have taken place, with officials from the junta's commerce ministry declining to comment.
Chinese tariffs and border trade
When China reopened the border gates on November 26, it added another cost to watermelon exports by placing the fruit on its normal trade list, which means it now attracts a tariff. Traders say the tariff is around CNY230 (around K65,000) per ton, but the rate is unstable and changes frequently.
Fruit merchants say they need to reconsider the profitability of the crop before they continue sending watermelon to the border.
"I'd like to advise fruit merchants to contact brokers in Muse and receive updates on the situation before they send shipments to Muse," said Nang Kham Khin.
Border trade accounted for 33 percent of all foreign trade last financial year, show figures from the junta's Ministry of Commerce. More than half of all border trade passes through Muse, though there are other crossings with China in Shan and Kachin states.
The closure of border crossings with China since July 2021 has had a massive impact on overall trade. The total volume of border trade with China from October 1, 2021, to November 19, 2021 – the most recent figures available – was barely US$100 million. In the same period in 2020, trade was around $700 million, despite also being impacted by the coronavirus pandemic.
Figures from the ministry highlight the huge impact the border closures are having on watermelon exports specifically. Around 30,000 tons of watermelon were exported to China through border trade from October 1 to November 19 in 2020, but in 2021 the figure for the corresponding period was just 60 tons.
About 50 12-wheeled trucks carrying shipments of watermelon arrive at the 105-mile trade zone in Muse every day, but only about 20 actually making it across the border each day. In previous years, up to 400 trucks would cross the border each day during harvest time, traders said.
Myanmar traders say exports to China through Kyin San Kyawt and Chin Shwe Haw, another border gate east of Muse in the Kokang Self-Administered Zone, are yet to return to normal despite reopening nearly two months ago.
"It may take more time for China-Myanmar border trade to be able to return to normal. But we all must try to solve this problem as much as we can amid the difficulties," said Sai Khin Maung from the 105-mile fruit trade centre.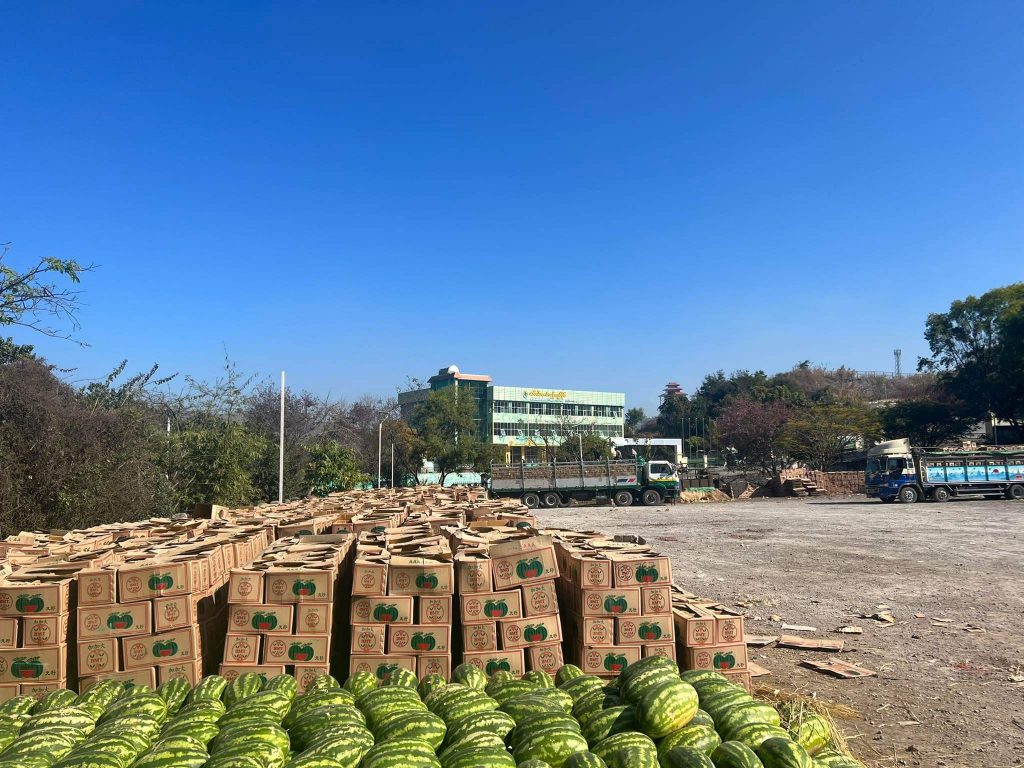 A domestic market lifeline?
Watermelon, which can be grown throughout the year in Myanmar, is mainly farmed in Mandalay, Bago and Sagaing regions, and is ready for harvest three months after planting. Although the crop was mostly exported to China through Muse in past years, the delays at the border and rising overhead costs have prompted many farmers to turn to the domestic market. Although the local market yields lower profits, it's still preferable to the Chinese market today because at least farmers know they'll be able to sell their fruit.
"For the time being, we're not exporting to China. If a shipment [to China] is delayed, we suffer a big loss. Also, overhead costs are too high. We can sell on the domestic market, but it may take more time," said Ko Zaw Zaw, who grows watermelon on 10 acres (4.4 hectares) in Bago Region's Phyu Township.
"A 12-wheeled truck load of watermelon fetches between K1.5 million and K2 million on the domestic market, depending on quality," he said. By contrast, traders said they previously made around the same amount for just one ton exported to China.
"The domestic price fluctuates; it was down in November and December but has recovered and a 12-wheeled truck load fetches more than K2 million," Zaw Zaw told Frontier in early January.
Farmers say it costs about K1.5 million to grow an acre (0.404ha) of export quality watermelon and they are earning a profit of only about K200,000 an acre if they sell on the domestic market. In comparison, profit from watermelon exported to China was previously about K1.5 million to K2 million an acre, they said.
While those profit margins may tempt some to continue shipping to China, Zaw Zaw said some growers have faced big losses because of the difficulty exporting. "Some farmers invested as much as K40 million or K50 million to grow watermelon; the potential losses are far bigger than for other crops," he said.
Domestically, growers sell watermelon via brokers or direct to sales centres in Yangon, Mandalay, Mawlamyine in Mon State and Dawei in Tanintharyi Region.
Ko Aung Zaw, who grows six acres of watermelon on his farm in Mandalay Region's Wundwin Township, said the last time he sent a truckload of watermelon to China was in June. "I am hearing that exporting to China is not really possible anymore, so I am only selling at local markets," he said.
An official from the junta's Ministry of Agriculture, Livestock and Irrigation said 59,000 acres of watermelon were grown throughout the country in 2020-21, down from 63,000 acres in the previous fiscal year.
Grower Zaw Zaw said farmers had no choice but to reduce the area devoted to growing watermelon because of the difficulties exporting to China. "The watermelon market has been no good since 2018," he added.
Among other issues, watermelon growers say they need to be sure of selling to China before investing in the chemical fertiliser they need to use to ensure the fruit is export quality. At the same time, there has been a sharp increase in the cost of fertiliser, further complicating the industry.
Watermelon farmer Aung Zaw said growers need access to the Chinese market and cannot rely on domestic sales for the long-term.
"I would be willing to take the risk and grow watermelon every season," he said, "if [access to] the Chinese market was reliable."