In Sagaing Region, local people linked to resistance groups risk death to document the conflict, providing media outlets with a vital – if inevitably partisan – source of information from the ground.
By FRONTIER
Ko Sitt Naing stared in despair at the burnt dead body. It lay among ashes with its hands tied behind the back and was so charred it was impossible to even know its gender.
The burnt village around him smelled acrid, and white ash was falling like snow from the sky. Sitt Naing took out his smart phone and started recording, documenting a total of eight blackened bodies.
On May 30, Tatmadaw soldiers entered the village of Hin Thar in Sagaing Region's Ayadaw Township. In one day they burned 23 houses and over 300 tonnes of paddy, and killed eight villagers. Residents told Sitt Naing that two of them were burnt alive.
"Seeing that scene made me wonder whether the junta's soldiers were even human," Sitt Naing told Frontier.
Sitt Naing, who is 37, was once an officer in the Myanmar Police Force's Special Branch, a plain-clothes unit charged with spying on the population. After the February 2021 military coup, he joined the Civil Disobedience Movement against the junta and left the force. Since May last year, he has fought in a small resistance army called True Arrow in Ayadaw. Although distrusted at first for being a former police spy, he soon proved himself on the battlefield and earnt his nom-de-guerre (Sitt Naing meaning "conqueror"; as with other local sources, his real name has been withheld to protect his identity).
However, after the events of May 30 in Hin Thar, Sitt Naing decided that ambushing the junta's forces in retaliation wasn't enough; he also wanted to expose what was happening in Sagaing to the rest of the country, and to the world.
Since then, Sitt Naing has split his time between True Arrow and a parallel role in the information wing of the resistance. When he isn't fighting, he documents junta atrocities and the activities of resistance groups – known as People's Defence Forces – and sends the material to media outlets or disseminates it over social media.
While some may label him a citizen journalist, he doesn't identify as such. Instead, he sees his communications work as integral to – rather than in any way independent from – the struggle to overthrow the junta. In an environment where news organisations cannot safely have reporters on the ground, people like Sitt Naing provide a vital, if inevitably partisan, source of first-hand information about a fast-moving conflict.
"What the military is doing here is so bad that it doesn't want the public to see it," Sitt Naing said. The devastation in Hin Thar has been replicated across Sagaing, where widespread resistance to the coup has been met by brutal clearance operations waged by the military and proxy civilian militias. Monitoring group Data for Myanmar said on August 27 that out of almost 30,000 houses torched by junta troops, two thirds were in the region.
Besides the several hundred killed in Sagaing, the Myanmar Institute for Strategic and Policy Studies said this month that more than half a million had been driven from their homes, accounting for more than two-thirds of those displaced in Myanmar since the coup.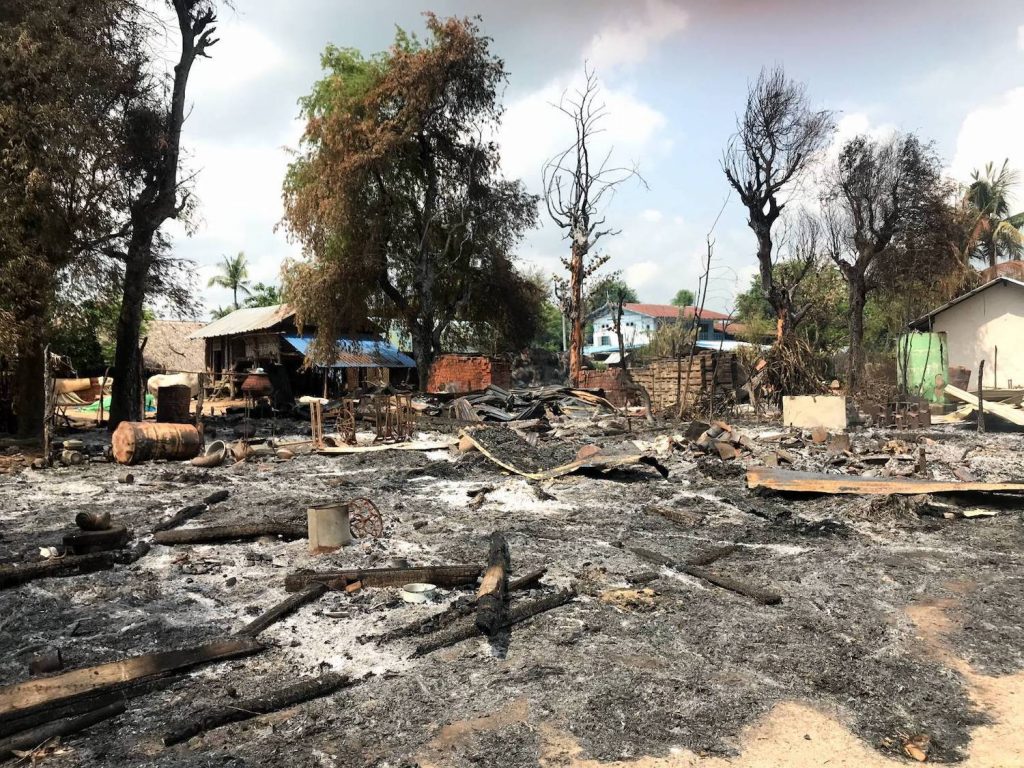 Sitt Naing said he had to keep reporting these crimes because, "if nobody sees them, it's like they never happened". However, thanks to an internet blackout, he can't report in real time.
When he finished taking photographs of the burned bodies in Hin Thar, Sitt Naing got on his motorbike and drove to the nearest place where he could use the internet. The journey to the location, on the border with Mandalay Region, is over 80 miles on a dangerous road with multiple military checkpoints. It took him a whole day to get there.
The junta has cut mobile internet access in areas where resistance is strong. While large areas of Rakhine State containing more than 1.1 million people were deprived of the internet before the coup, at a time when the Tatmadaw was locked in fierce conflict with the Arakan Army, the current blackout in Sagaing is the most extensive in Myanmar so far.
Last September, the eight Sagaing townships of Kani, Yinmabin, Pale, Ayadaw, Budalin, Wuntho, Pinlebu and Kawlin were the first to be cut off. Then in March this year, mobile internet was suspended indefinitely across the whole region – home to 5.3 million people at the last census in 2014 – except for the towns of Monywa, Sagaing, Shwebo and Kalay, which together contain about a million people. Villages near these towns can access faint 2G signals but elsewhere the internet is only available via fixed-line connections. These are rare in rural areas, while authorities in Sagaing towns only permit them for a select number of businesses and households, as Frontier observed on a visit to the region in April.
"Forget football matches, I can't even listen to a song from the internet in my village," said Ko Steel (also a revolutionary code name). The 33-year-old stopped tending his farm in Sagaing's Ye-U Township when the post-coup conflict came to his village. Now, he spends his days collecting and disseminating news of the conflict and connecting journalists with PDF fighters.
When he wants to post updates on social media or send material to news outlets, he drives his motorbike to a friend's farmhouse in a village elsewhere in the township. If Ko Steel rigs a phone to a pole on the roof of this farmhouse, it can pick up a 2G connection that, through the hotspot function, provides a weak internet connection to other devices in the vicinity. As observed by Frontier, this type of improvised connection has become a mainstay of resistance groups in the region.
"This way, I am just able to send photo evidence of the military's violence to the media," said Ko Steel, who besides sending material directly to news outlets also runs two Telegram channels and three Facebook pages, including one for resistance army the Ye-U PDF. On these platforms, he provides battle updates, complete with photos and videos, and publishes interviews with resistance fighters.
Early warning
Lack of internet is not only a problem for those wishing to broadcast the military's crimes.
It also means that residents of a village have little chance of knowing when Tatmadaw soldiers are headed their way. While these troops are often on the hunt for resistance fighters, they inflict collective punishment on the communities that host them. During many of their raids, they loot homes, destroy food stores and massacre villagers who are unable to flee in time.
Although these killings continue, village residents are increasingly getting tip-offs about troop movements via SMS text messages and phone calls from resistance groups with networks of trained scouts, enabling them to evade the marauding soldiers.
"I have a friend in a PDF who I call three times a day to check whether soldiers are approaching my village," a farmer in Ayadaw told Frontier. He said that before he established this connection in May, he was constantly worried that the military would attack at any moment and catch the village unprepared.
This life-saving early warning service by phone or text is also provided by the teams behind local news pages and channels on Facebook and Telegram.
These teams tend to be closely affiliated to PDFs, although some, like the Ayadaw Post, strive for greater objectivity in their online reporting, even if their members also take part in the fighting. Most of them started by sending news and press releases from PDFs to established Myanmar news organisations, but they have increasingly focused on improving the flow of information within Sagaing, both online and offline.
"We need to inform the region where the junta's forces are marching to and where their airplanes are heading," said a 27-year-old former schoolteacher who reports for the Ayadaw Post, which has more than 125,000 followers on Facebook. The former teacher, who goes by Ko Tony, told Frontier the outlet also "connects displaced people with the donors who want to support them".
Ko Steel said that, besides running social media accounts, people like Ko Tony and himself also call and text villagers when army columns are approaching and provide them with routine updates about the conflict elsewhere in Sagaing. They also print and disseminate paper pamphlets and bulletins, although these tend to be devoted more to revolutionary exhortations and motivational material than timely news updates.
Despite their central role in disseminating information from the ground, these groups and individuals have rarely had the opportunity to be trained in journalism or communications. "We have taught ourselves by reading articles from mainstream news outlets and just try to do our best," said Ko Steel.
They also receive little if any payment for the risks they take, even from the mainstream media outlets that regularly use their photos and information, often without crediting them. "I have to ask my mother for money to pay for my phone bill and motorcycle fuel," said Ko Tony, whose reporting work requires him to constantly drive across Ayadaw.
Ko Steel said they also sometimes feel frustrated by the lack of recognition from the public and suggested they may not be able to continue without some form of external support. "When we disappear, Sagaing will be in the dark, like [the junta] wants us to be," he said.
The National Unity Government's Ministry of Communications, Information and Technology did not respond to an interview request. However, an official in the parallel government who did not want to be named told Frontier that the NUG was in the process of appointing township-level officers under the ministry, who will assist communications work. He added that the NUG was also trying to deploy technology to enable internet access in blacked-out areas but declined to provide more detail.
'We did it together'
Although their work contributes to daily media reports, people like Sitt Naing, Ko Steel and Ko Tony have also been instrumental in exposing some of the junta's worst atrocities. A standout example is the massacre in the village of Mone Taing Pin in Ye-U Township.
Mone Taing Pin can trace its roots back more than a thousand years to the kingdom of Bagan. Soldiers from the Tatmadaw, who claim to be defenders of this ancient Bamar legacy, entered the village early on May 10 in a blaze of gunfire. While most residents fled, some stayed behind. When the fleeing villagers returned two days later, they found 28 charred bodies in the smoking remains of houses.
"First, they [the soldiers] took people to a monastery and asked them about PDFs fighters," a resident who asked not to be named told Frontier. "When the people said they knew nothing, they killed them and took them to random houses that they set on fire."
"That was one of the most barbaric crimes in Sagaing," said NUG Minister of Human Rights U Aung Myo Min. He told Frontier the NUG and the public only came to know the full extent of what happened because of the work of local information teams.
Members of these teams had initially tried sending reports and photos of the aftermath to the media but failed to gain much traction. With details of the massacre still sketchy, it initially looked little different from the Tatmadaw's many other atrocities in the region. Yet, it wasn't long before a comprehensive photographic and video archive documenting the soldiers' crimes was found – by chance – at another location and traced back to Mone Taung Pin.
In early June, a villager found a discarded phone in Tabayin Township, bordering Ye-U to the southwest. The phone turned out to belong to a Tatmadaw soldier and contained 144 photos and videos of him and his colleagues arresting, torturing and killing people and even joking about it afterwards and taking selfies.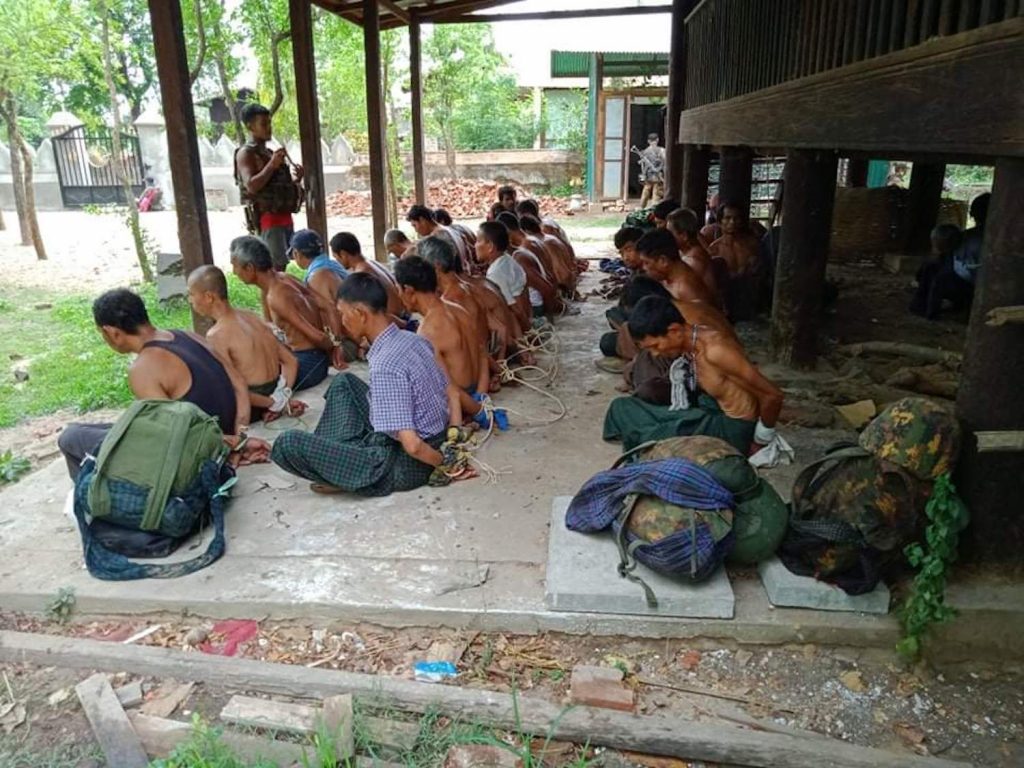 The villager gave the phone to the Depayin PDF, who then sought the help of other PDFs and information teams to determine where the recorded crimes took place. The Ye-U information team that Ko Steel belongs to was able to identify the location as Mone Taing Pin, allowing an investigation to take place there.
However, the massacre only received wide public attention when a decision was made to send the actual phone handset to journalists working for Radio Free Asia, a United States government-funded news organisation with a Burmese language service. "Because of the internet blackout it was impossible to send all the images and videos, so we decided to send the whole phone," said Sitt Naing.
The resulting RFA story published in late June went viral. Containing one of the smuggled videos in which soldiers joke about murdering civilians, it shocked people around the world. Follow-up reporting identified the commander and battalion responsible for the killings.
"This case blew up because we did it together," Ko Steel said of the collaborative work between information teams, resistance armies and ordinary villagers. This work, he hopes, has produced an enduring record of the military's inhumanity.
Aung Myo Min shares this hope, saying, "This evidence is more than enough to drag the terrorist military before international courts." The documenting of potential crimes against humanity by the junta, with an eye to international accountability, is being undertaken by a number of parties, Frontier reported in July. The NUG's human rights ministry is also recording evidence of atrocities. For Sagaing, they continue to depend on the work of local information gatherers.
"It's difficult and takes time to get strong evidence," said Aung Myo Min. "But with the help of volunteers and information groups on the ground, the junta can't hide its brutal acts."