A Frontier journalist explains what it was like to cover the brutal police crackdowns on peaceful protesters over the weekend, which turned the streets of Yangon into a war zone and left at least four dead.
By FRONTIER
On the night of February 25, I watched in horror as police descended in large numbers on the backstreets of Tarmwe Township, where residents were protesting the replacement of local ward officials by the military junta. Shaky video footage showed police marching in formation, beating their batons on their shields, and later firing tear gas to disperse residents.
One of our photojournalists was there, and I later asked him what had happened. His terrible descriptions made this ward in the heart of Yangon sound like a battlefield. I struggled to imagine it, but failed – it was like nothing I'd seen before. But I also realised I might have to face the same experience the following day. At that point, police in Yangon had mostly refrained from using violence, but it seemed like something had now changed.
I'd spent much of the day covering demonstrations in Hledan, a densely populated area home to many students. Protesters have regularly blocked the five-way junction at Hledan since the February 1 coup, sometimes facing off with a line of police on University Avenue. A few weeks ago, I had stood on the flyover above the junction, watching these police move water cannon into place and warning protesters to disperse. Ultimately, that day, the police decided against using force.
It seemed like February 26 would end the same way. A group of about 1,000 protesters had set up on Hledan Road, just west of the junction, and were singing and chanting peacefully. The police were a short distance in front of the protesters – perhaps just 15 metres or so – but had not made any attempt to disperse them.
At around 3pm, the protesters decided to go home. As the crowd began to go their different ways, the police suddenly began running towards us, beating their shields with their sticks. As we all began to run, we discovered that there was a line of police advancing on us from the other direction as well – it seemed like they were trying to trap us. We fled into the narrow streets off Hledan Road, which are filled with small stores and apartments, but the police immediately followed. We heard numerous gunshots – presumably rubber bullets – and police also threw some stun grenades, or sound bombs. I was shocked that the police would fire into such narrow, apartment-lined lanes.
I hid in a second floor flat near Hledan Market with other journalists and protesters. The owner of the flat gave us food and drink, and told us not to worry about the police – if they came to her apartment, she would protect us, she said. This act of kindness and courage from a total stranger was comforting and encouraging. Later, when I learned that one of the 11 people police detained in Hledan was a restaurant owner who had sheltered protesters, I understood the risk she'd taken for us.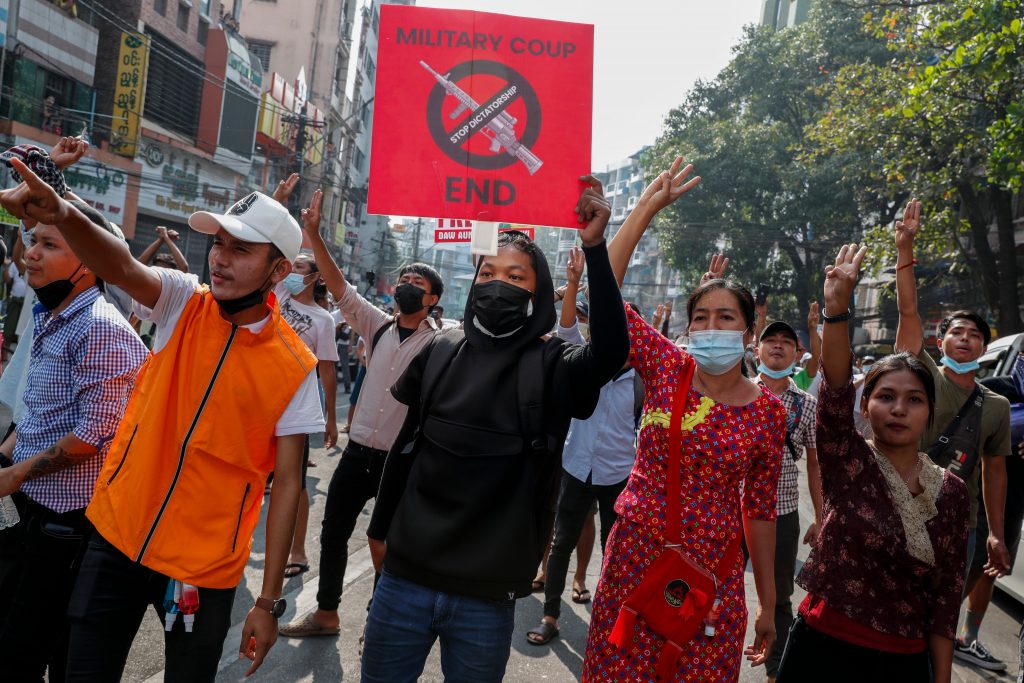 Despite the violence, more protests were planned for the next day. I arrived early on February 27 at the Myaynigone area of Sanchaung Township, where around 2,000 people, mostly members of the General Strike Committee of Nationalities, were planning to march up to Hledan. Before they could begin moving, police swooped in, beating their shields with their sticks, while officers behind them lobbed teargas and stun grenades, and fired rubber bullets.
We immediately scattered, running as fast as we could. I ducked into the stairwell of a random apartment building, where a sixth-floor resident invited us to shelter upstairs. Not everyone was so lucky; the police detained 21 people, including a video journalist from Myanmar Now who was livestreaming the protest. I watched as police pushed them to their knees and then hit them on the head and kicked them in the back. By the time they were taken away, most were covered in blood. I felt so helpless, and guilty – it was only by chance that I had escaped, and I couldn't do anything to help. I resolved to continue covering the protests until I was arrested, too.
The following day, February 28, was even worse. Police began using live rounds in the morning, killing two protesters at Hledan in an apparent attempt to scare everyone off. They also fired copious teargas, stun grenades and rubber bullets, injuring many people in the process. As they advanced, protesters would scatter and take shelter in apartments and homes, but once police moved on they would simply re-emerge and form new barricades. Throughout the day, the protesters repeatedly chanted, "If you press us, we will rise up. If you touch us, we will fight back."
Over these few days, I developed a deep admiration for these young protesters. Not just because of their bravery, but also because of their skill; each day, as they gained more experience, their tactics improved. The police simply couldn't crush them; each time they advanced, the protesters melted away. If the police withdrew, they returned to the same spot; if the police stayed, the protesters simply moved to a new location. They used social media to study the situation and work out where they should go next.
It wasn't clear if the pressure was getting to the police or they had just been told they no longer needed to restrain themselves, but an ugly side began to emerge. At one point, when I was sheltering on a balcony, I overheard a police officer yell, as he fired at protesters, "We crack down not only because it's our duty, but also because we love to do it. Everyone who is outside now will be killed." I took photos and videos of the group as they walked past and shortly afterwards our apartment was hit by a hail of rubber bullets.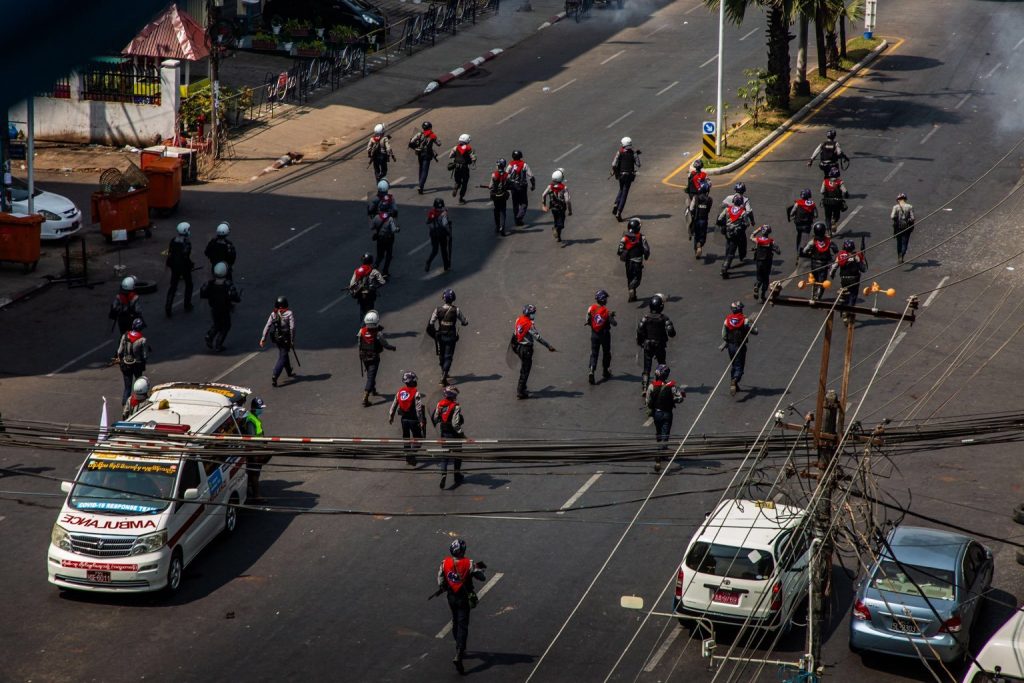 February 28 will live in infamy, a permanent testament to the brutality of the military. At least 18 people died across Myanmar. In Yangon there were four confirmed deaths, and in the evening people set up makeshift memorials for those who had given their lives for freedom and democracy, before going home. Shortly after 8pm, when the nightly banging of pots and pans had died down, the streets went silent. This nightmare that began on February 1 has gradually turned Yangon into a battlefield in the day and a graveyard at night.
I began writing this on March 1, and as I neared the end, wondering how to sum up the experiences of the past few days, my phone began to light up with notifications. A Democratic Voice of Burma journalist was livestreaming his own arrest in Myeik. On February 28, while I had been running from the police and talking to protesters manning barricades, Ko Aung Kyaw had been documenting abuses by police and military personnel against protesters in the Tanintharyi Region town, and now the security forces had come for him.
In the livestream, Aung Kyaw holds the camera in the darkness and points it past clothes hanging on the balcony toward some bright lights at ground level. There's a constant "ping" of rubber bullets and objects fired from slingshots. He yells at the officers to stop shooting and they curse back at him. After a minute or so, they appear to bash down his door, and the livestream cuts out soon after that.
Although journalists have never been completely safe in Myanmar, we are now more vulnerable than at any time since the military handed over power to the quasi-civilian U Thein Sein government in 2011. I know one thing though: we will not be cowed. I will continue to report on the protests, the abuses and the arrests, because it is the only way I can fight back.