Weeks of fierce fighting erupted last month in the strategic southern Shan town of Moebye, resulting in an uneasy stalemate between the Tatmadaw and a coalition of resistance fighters.
By FRONTIER
On the full moon day of Thadingyut, October 9, People's Defence Force fighters gathered for a traditional ceremony at a village near Moebye, a town in southern Shan State's Pekon Township close to the border with Kayah State.
Seven elders from seven nearby villages intoned prayers and tied pieces of cotton thread to the men's wrists, in a ritual that the Karenni believe will provide protection from harm.
In the past, these ceremonies were held to secure better crop yields or prevent drought or epidemics. However, since the coup they've been performed to "protect and strengthen the morale of the defence forces fighting in the revolution," said a resident of Moebye, whose population of almost 30,000 people is, like neighbouring Kayah, majority Karenni.
The prayers are usually offered in churches belonging to the largely Christian Karenni community, but due to continuous heavy fighting in and around Moebye, the ceremonies have been relocated to PDF bases and internally displaced people's camps.
Since the February 2021 military coup, resistance groups have regularly fought with the Tatmadaw for control of Moebye. The town is strategically located on a major supply route to the Kayah capital Loikaw, 25 kilometres to the southeast, and occupies a mountainous area crucial to the defence of Nay Pyi Taw, 200km to the west. However, up until last month, most clashes were short-lived and sometimes lasted for little more than an hour.
That changed on September 8, when PDF sources say about 400 Tatmadaw soldiers advanced on Moebye from the south under the cover of artillery fire, in an apparent effort to flush out resistance fighters in the town. This lightning advance sparked several weeks of almost continuous fighting, in which a coalition of resistance groups denied the Tatmadaw full control of the town and prompted it to partially evacuate its troops.
Moebye PDF fighter Ko Saw claimed the Tatmadaw's initial assault was a failure. Although its heavy weapons fire destroyed a church and several houses in the town, "residents quickly fled from harm and PDFs were well prepared to defend [Moebye]", he said, referring to the combined forces of the Moebye PDF, Karenni Army, Karenni Nationalities Defence Force, Karenni Revolution Union and United Resistance Force.
"Some of our comrades were injured but there were no fatalities," Ko Saw said of the eight-hour battle. He credited the lack of civilian deaths to "local people's experience of war", meaning they had learnt how to evade danger. Frontier phoned the junta's Ministry of Information, where an official referred questions about the Moebye conflict to the deputy minister, Major-General Zaw Min Tun, who didn't respond. Further attempts to get comment from the ministry were unsuccessful.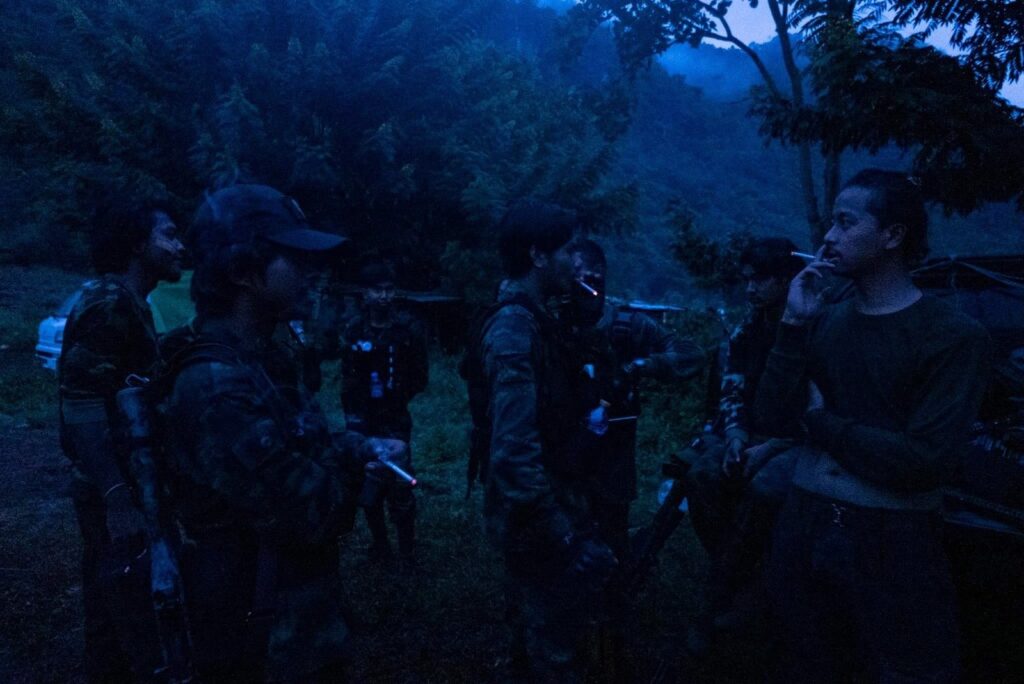 A town in flames
After PDFs posted images on social media of dead Tatmadaw soldiers and weapons seized from the September 8 battle, Tatmadaw sympathisers issued calls on their Telegram channels for the Karenni resistance to be annihilated.
The following day, resistance fighters say the Tatmadaw force returned with more than 100 extra soldiers and greater firepower. "They carried out airstrikes, fired heavy weapons continuously and entered Moebye in tanks," a spokesperson for Moebye PDF told Frontier.
The spokesperson, who asked not to be named, said the combined air and ground assault represented a serious escalation in the Tatmadaw's attempts to secure the town. "It seems the military has changed its offensive strategy," he said. "It's clearly focused on the Karenni region and is working to crush it."
The spokesperson said that in the face of such overwhelming force, resistance groups withdrew but continued to harry the occupying soldiers. "We have to use these guerrilla tactics because we don't have enough weapons and manpower to confront them directly," he said.
"Many houses in the town were hit by heavy weapon fire and burnt down that night because the fighting was so severe," said Moebye resident Meeta Khu, who had fled the town and recalls watching from a distance as huge plumes of smoke rose into the sky.
He would learn four days later that his home had not been spared. "A PDF fighter who returned from the town on September 13 told me my house had caught fire," said Meeta Khu, who is living in an IDP camp near Moebye.
Over the following week, Tatmadaw troops garrisoned themselves in school and religious compounds across the town. However, these soldiers were largely unable to leave these redoubts, according to PDF sources, because of continuous fire from a growing coalition of resistance groups from southern Shan and Kayah states.
This prompted the Tatmadaw to adopt more brutal tactics. "On September 19, the army captured more than 100 residents and held them at two monasteries, using them as human shields," said the Moebye PDF spokesperson, adding that two resistance fighters were killed and three were wounded that day.
"The junta forces were trapped in Moebye, so they had to take residents hostage to protect themselves," said Khu Khu, a fighter with the Moebye PDF. "However, our coalition forces were able to rescue the detained residents on September 23."
Khu Khu was referring to a partial evacuation on that date of most of the Tatmadaw force under heavy artillery fire, leaving about 100 soldiers in the schools and religious compounds. He said the retreating soldiers tried to take their civilian captives with them, so they could continue to use them as human shields. However, with PDFs in pursuit, the soldiers soon dropped them so they could more quickly flee from the town.
This pursuit of the retreating soldiers was not without cost, though. Three Moebye PDF fighters were captured and their bodies were found at the bottom of a 35-foot well six days later, said the Moebye PDF spokesperson.
"With the help of local people we recovered their remains and gave our soldiers a proper burial," the spokesperson said.
An examination of their bodies suggested that two had been killed instantly by gunfire and the other had bled to death from a bullet wound to his right thigh.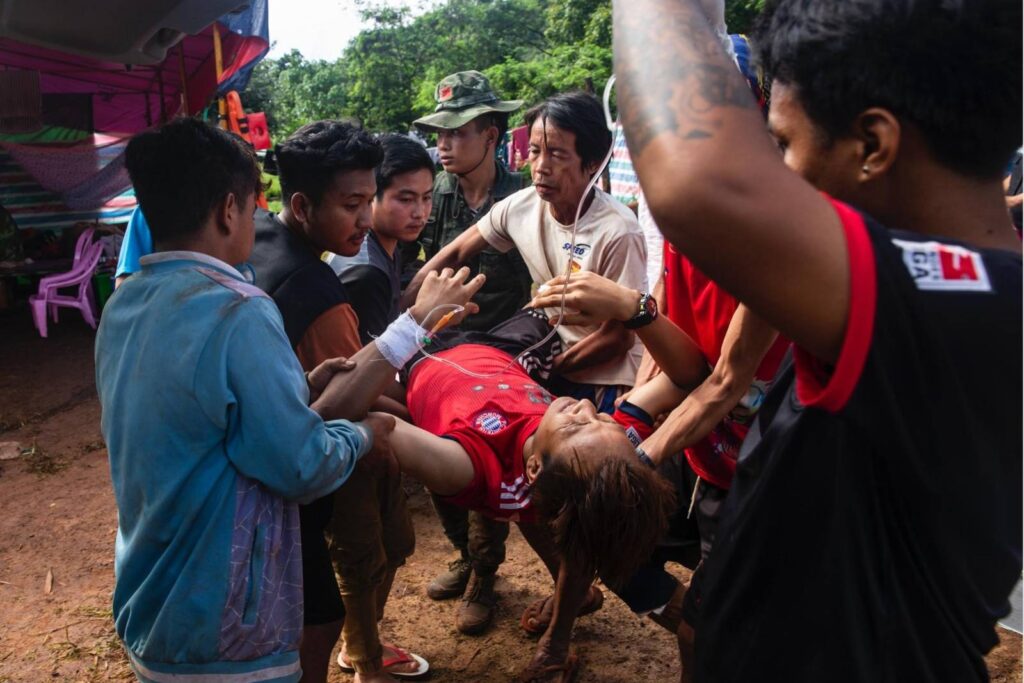 A revolution of all classes
A photojournalist using the pseudonym Ko Kyaw San, who has been covering the conflict in the area since late July, said the fighting peaked between September 27 and 29.
"On September 27, I didn't have time to take photos because I was helping to move injured fighters … The fighting was intense, with heavy gunfire lasting into the night," Kyaw San told Frontier.
He was embedded with medical teams away from the front line but this did not spare him from danger. "We experienced heavy weapons fire near the area where injured fighters were being treated," Kyaw San said.
What surprised him most, however, was the calm way Moebye residents fled their homes and returned after the shooting had stopped.
"The more the local people experience fighting, the more they know when it's likely to happen and how to avoid it. As soon as the fighting cools down, they return to their homes and continue to support the revolution with enthusiasm," he said, referring to their willingness to keep providing food and funds to PDFs, despite the costs of the conflict.
"Because of the enthusiasm and participation of the local people, there's a feeling that the Karenni region will become the first liberated area in the revolution," Kyaw San said, referring to Moebye as well as Kayah, where many of the same resistance groups operate.
He said covering the fighting had also given him huge respect for the medical teams attached to PDFs, which include doctors who left their government jobs to join the Civil Disobedience Movement after the coup.
Kyaw recalled that when a PDF soldier was hit in the head by shrapnel, "a medical team quickly set up a temporary operating theatre [close to the fighting] and CDM doctors operated on the injured soldier. I will never forget that scene. We are fighting a revolution that involves all classes," Kyaw San said.
The fighting in the town ended on October 2, but with Tatmadaw soldiers still occupying parts of Moebye, tensions remain high and most of the town's residents are staying in IDP camps. Clashes still erupt in nearby rural areas, and the Moebye PDF has advised residents to avoid using the main roads to Nay Pyi Taw and Loikaw and to shelter in a safe place.
PDF sources say the fighting from September 8 to October 1 claimed the lives of about 80 Tatmadaw soldiers and nine resistance fighters, while six civilians were killed and 13 injured, including three children aged under 10.
The Tatmadaw does not publish its own casualty figures and attempts to contact it for comment were unsuccessful.