The junta has not yet arrested journalists en masse, shut down media houses or re-imposed censorship, but Myanmar's media workers are bracing for the worst.
By FRONTIER
"They chased after him, and hit him in the chest with the barrel of a gun," said Sai Mun, an editor at the Shan Herald Agency for News, describing the treatment one of his stringers received from Tatmadaw troops while reporting during the first hours of the coup.
The reporter had gone to take photos of soldiers stationed between the towns of Muse and Namhkam in northern Shan State and wound up being beaten by his subjects.
"When he fell to the ground, they smashed the mobile phone he was taking photos with. They told him he couldn't take photos, and said he could be killed if he did," Sai Mun said.
Sai Mun said his stringer's tale does not appear to be an isolated incident. In the days following the February 1 military coup, he said reporters found it difficult to go out and gather news – and even to move about with standard journalism equipment, like cameras and laptops.
"We told our reporters to hide themselves for a while," Sai Mun added, pointing to an array of legal tools that authorities can use to lock up journalists. In urban areas, journalists are worried about being charged with online defamation under section 66(d) of the Telecommunications Law, he said, while in rural areas they fear prosecution under section 17(1) of the Unlawful Associations Act, for links to ethnic armed groups.
The day after the military seized power, most newspapers were cautious in their retelling of events. However, after a tense few days where few people dared to protest on the streets – and mass arrests of journalists were rumoured every evening, but did not occur – the eruption of nationwide protests from February 6 has given the media some breathing space. Journalists have covered the uprising with few restrictions, and one confirmed detention of a reporter in Mandalay on February 9 lasted less than a day. However, journalists remain highly vulnerable to arrest and abuse; at press time, there are unconfirmed reports of journalists being hunted by the police and army in eastern Shan State and Ayeyarwady Region. Meanwhile, a change of guard at the Ministry of Information has many fearing a return to draconian censorship.
Already, private broadcasters are being hobbled with no clear legal basis. Mizzima TV and the Democratic Voice of Burma, two news channels licensed under the NLD government, have been unable to broadcast since the coup, and it's unclear whether they will be allowed to return.
DVB News director U Toe Zaw Latt told Frontier on February 2 his newsroom didn't even know who to ask about the shut-off. The minister for information before the coup, U Pe Myint, was detained by the military in Nay Pyi Taw and later told to return to Yangon but his whereabouts are unknown. Toe Zaw Latt said he's still waiting to hear from the information ministry as to whether their broadcast contracts are still valid.
"We have been banned since February 1 … but we are still publishing stories on Facebook and YouTube," he said. "We had a contract and already paid K600 million for three months of broadcasting," he said.
The outlet has since moved to a satellite channel to continue broadcasting but has lost its advertisers.
But most of the changes so far seem to be on the ground rather than in Ministry of Information edicts. Sai Mun is not the only the one to notice the shifting atmosphere. When Ko Thurein, editor of Media Top 4, tried shooting photos of military trucks deployed in front of Yangon City Hall on February 1, he was attacked by Tatmadaw supporters celebrating the coup at Sule Pagoda, in the heart of downtown Yangon. A reporter at a local outlet and another from a Japanese outlet were also reportedly beaten by pro-military supporters.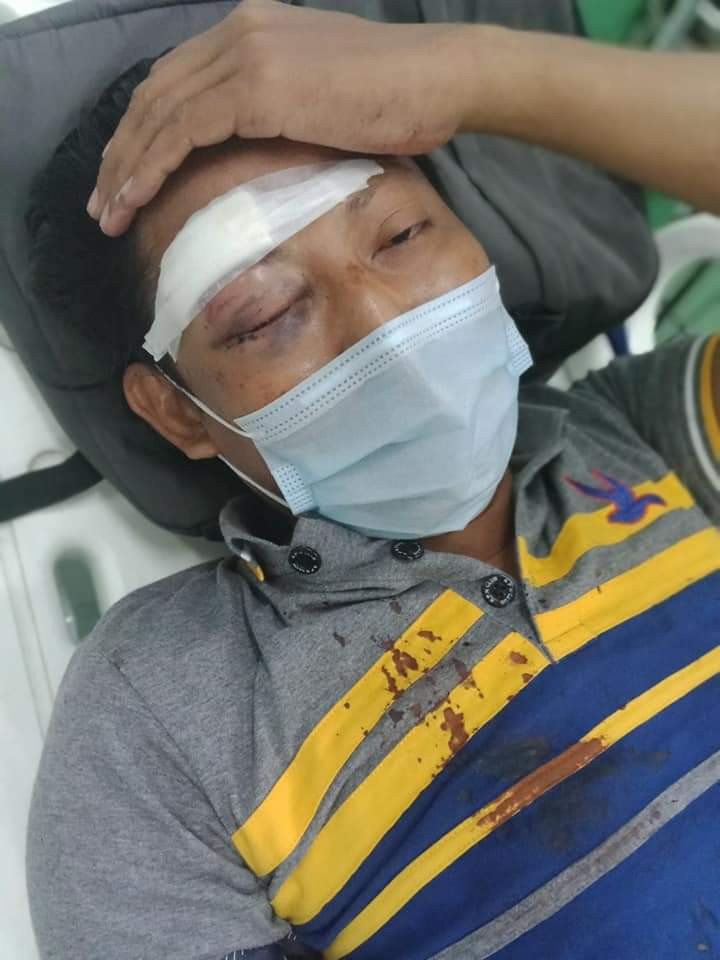 The anti-media sentiment appears to have been fanned by the Tatmadaw, which on January 30 accused journalists of misconstruing a statement by Senior General Min Aung Hlaing on possibly revoking the constitution. The following day, some social media users urged others to attack reporters if they covered a pro-military protest at the eastern gate of Shwedagon Pagoda.
Thurein covered the event and even livestreamed an argument he had with military supporters. But he's decided to avoid them in future, where possible.
"I do this job out of passion and I will continue to do it. But I have to be careful in covering pro-military protests in the future," he said. "Nobody will take responsibility if something happens to me, and only I will have to suffer."
Toe Zoe Latt, the DVB news director, is also worried for his reporters.
"We're concerned about their safety right now," he said. "We have already trained them for potential conflict or arrest."
For nearly 50 years, from 1962 until 2011, Myanmar journalists worked under some of the strictest censorship in the world, with Ministry of Information staff reviewing everything from art and literature to social pages and advertising before they went to print. It was particularly heavy-handed on matters of politics, the economy, ethnicity, internal conflicts, crime and the military. After the military-backed Union Solidarity and Development Party came to power in 2011, ex-general President U Thein Sein began relaxing some restrictions – including, significantly, abolishing pre-publication censorship in August 2012. Myanmar shot up the press freedom rankings, although started to slip again under the NLD due to arrests of journalists under statutes such as the Telecommunications Law. With the military back in control of all levers of power, many worry about a possible return to the bad old days.
This fear and uncertainty have not been exacerbated by the military's appointment of U Chit Naing as the new information minister on February 2. The author of several self-help books, Chit Naing served in the Tatmadaw from 1978 to 1981 and as director general of the information ministry under former dictator Senior General Than Shwe from 1997 to 2009. From 1995 to 1997 he was also the chief executive officer of military-owned Myawady News.
From 2015 to 2018 he served on the Myanmar Press Council, which was established under the 2014 News Media Law to protect journalists and uphold media ethics. He was elected to the council by the Myanmar Writers Association, of which he is a member, but his role in either body has only earned him the suspicion of the press corps.
Few Myanmar journalists believe the new minister will be a protector or proponent of media freedom. One former MPC member told Frontier on February 3 they expect his role to basically consist of directing the military regime's propaganda.
"I don't expect anything good from him in the way of freedom of expression or the media. When the rest of us discussed these things at regular council meetings … he never took part, he just took notes in his notebook," said the former MPC member, who asked to stay anonymous.
Calls by Frontier to several spokespersons for Chit Naing and the information ministry were not returned.
On February 7, junta chief Min Aung Hlaing added two deputy information ministers ­– Tatmadaw spokesman Brigadier General Zaw Min Tun and U Ye Tint, a former information ministry director general.
Many worry the ministry may dissolve the MPC in the days or weeks to come. Aung Hlaing has announced that members of the Anti-Corruption Commission and the Myanmar National Human Rights Commission will remain in office, but he has not yet commented on the future of the press council.
"Now, ordinary people are using social media as citizen journalists, and military propaganda will fail because of them," believed the former MPC member. "But the [the military government] will nonetheless target independent media organisations to suppress accurate information."
MPC joint secretary U Myint Kyaw told Frontier on February 3 that for now the council was continuing to monitor the state of press freedom. He said he believes the new information minister will be solely responsible for the military regime's media policy, but he has not yet spoken with Chit Naing in his new role.
"We will meet the information minister if he wants, but I will quit [the MPC] if press freedom begins to collapse in this country," he said. "Until then, I will remain a council member."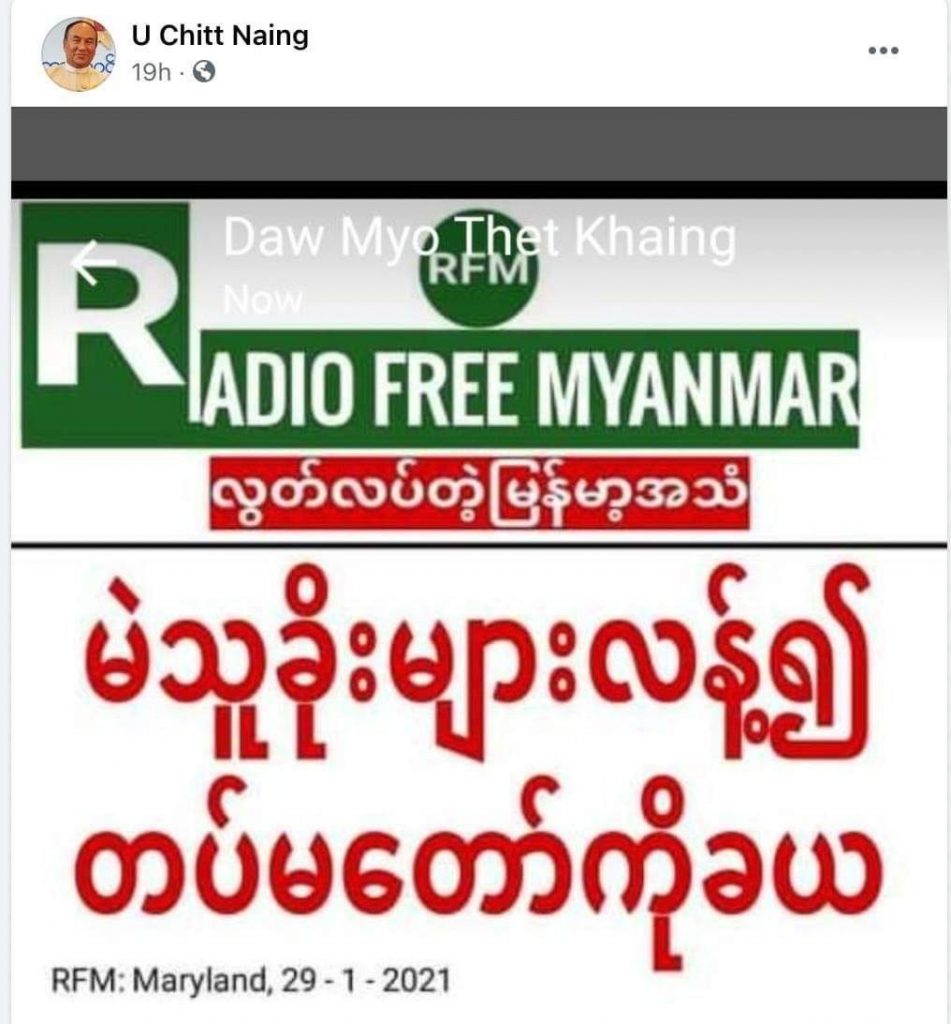 That the council remains at all right now may be a hopeful sign. Past coups included mass arrests of journalists and the forced closure of publications, Myint Kyaw noted. Still, he said, journalists must remain vigilant. "Anything can happen right now," he said.
The press was already on edge, monitoring the new regime for signs of a looming crackdown, when Chit Naing made his first statement as information minister on February 2. In it, he accused some unnamed news outlets of spreading rumours and misinformation on social media to "incite unrest" and "create instability".
The irony of the statement is that the minister has himself been accused of spreading rumour and misinformation online. Through his Facebook account, which has since been deleted, he regularly reposted virulent anti-Rohingya hate speech and anti-NLD disinformation from fake-news site Radio Free Myanmar, which Facebook has tried to scrub from its platform.
Read Frontier's expose of RFM here.
The day before his Facebook account disappeared, on February 3, Chit Naing shared a post about the military coup, adding, "The Tatmadaw has saved the country from the dictatorial one-party rule [of the NLD]," as well as an RFM post that read, "the [NLD] vote-stealers have now kowtowed to the Tatmadaw in fear."
In television coverage of protests in Mandalay on February 9, state-run MRTV and Tatmadaw-owned Myawady aired CCTV footage of protesters who had been peaceful throughout much of the day throwing stones and water bottles at police officers, but neglected to show the moments immediately prior, when police doused the crowd with water cannon. "The people only responded after they were hit first," a local reporter covering the event told Frontier.
At least one other journalist, a freelancer named Bagyi Aung, was arrested while covering the protests in Mandalay that day but was released later that evening.
Although the information ministry has yet to lay down any new regulations, some printing houses have asked newspaper and magazine publishers to sign a document accepting full responsibility for the printed contents.
"We are still publishing without threats from the military, but we're prepared for the worst of times," said one editor, speaking anonymously. "I think bad things are going to happen under this military regime. We really expect censorship to be re-established."