A precipitous decline in fishery resources prompted a three-month ban on all offshore fishing in Myanmar waters, but members of industry and civil society groups say more needs to be done to combat rampant illegal fishing.
By KYAW LIN HTOON | FRONTIER
OFFSHORE BOATS and their crews returned to work on September 1 at the end of a three-month suspension of activities off Myanmar's entire coastline during the breeding season for fish and shrimp, but the outlook for the marine catch is grim.
In previous years, suspensions were partial, and last year applied to 70 percent of vessels, but this year was the first time a ban applied to all offshore commercial fishing. The Department of Fisheries, under the Ministry of Agriculture, Livestock and Irrigation, imposed the total ban because of a drastic decline in the marine fishery catch.
There has been a 90 percent decline in Myanmar's marine fishery resources in the past 40 years, according to research conducted by the department in collaboration with the United Nations Food and Agriculture Organization under the EAF-Nansen Programme, which is funded by the Norwegian government.
U Myint Zin Htoo, the department's deputy director-general, said further research would be conducted to determine what effect the three-month closure had on fish numbers. "We hope the closure will lead to a significant increase in stocks," he told Frontier in late August, suggesting that the publication of findings could take some time.
Frontier visited Tanintharyi Region's Myeik District in July, in the middle of the closed season, to learn more about the decline in fishery stocks and illegal fishing off the coast – subjects that are often raised by the region's MPs in the regional and national parliaments.
Myeik District, which encompasses the townships of Myeik, Kyunsu, Palaw and Tanintharyi and is home to almost half of Tanintharyi Region's 1.4 million people, is the hub of the fishing industry in southern Myanmar. The government has licensed about 2,500 boats in the district for inshore fishing and about 800 for offshore fishing.
"However, there are at least another 1,000 illegal fishing boats, according to our research," said U Tin Ko Ko Oo, founder of Our Future Initiative, a Myeik-based non-government organisation focused on the sustainable management of marine resources.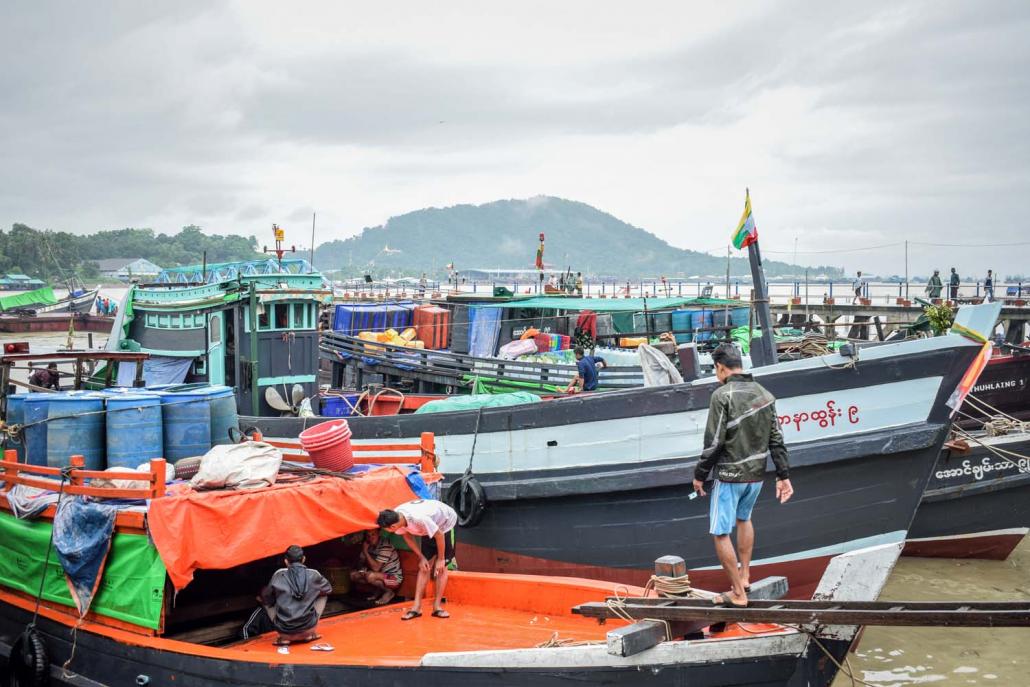 Research by Our Future Initiative conducted last year also found that the volume of marine fishery products legally exported from Tanintharyi was a fraction of the amount received from Myanmar vessels at the Thai seaport of Ranong, across the Kra Buri River estuary from Kawthaung, Myanmar's southernmost town, suggesting rampant smuggling.
"I found a difference of three times between the amount exported from Tanintharyi, as shown in government data, and the amount imported through Ranong," said Tin Ko Ko Oo. The research also revealed that 90 percent of the fishery products unloaded at Ranong originated from Tanintharyi.
Amyotha Hluttaw MP U Zaw Hein (National League for Democracy, Tanintharyi-7) has been active in raising the concerns of the region's fishers in the parliament since 2018, especially illegal fishing by trawlers operating in areas close to the shore where only small boats are allowed.
During a field trip last November to inshore areas near Domay and Mali islands, which lie off the coast about 140 kilometres north of Myeik town, he saw 10 illegal trawlers, on which the names and identifying numbers had been concealed, and reported the incident to the Department of Fisheries. In response, the department formed a committee comprising MPs, government officials and local businesspeople to investigate Zaw Hein's complaint and the wider problem of trawlers fishing illegally off the Tanintharyi coastline.
Speaking to Frontier by telephone from Nay Pyi Taw in late August, he said the committee had been unable to identify the trawlers he had seen or take action against anyone who operates or owns them.
Zaw Hein said a draft law being prepared by the Ministry of Livestock, Agriculture and Irrigation that would combine and replace the 1989 Law on the Fishing Rights of Foreign Fishing Vessels and the 1990 Myanmar Marine Fisheries Law could add teeth to efforts to police illegal fishing and should be expedited. But he said that, despite work on the draft at the ministry starting five years ago, it had yet to be sent to parliament.
He said that, under the current legal and regulatory framework, too much discretion is reserved for district-level officers in the fisheries department, entailing a constant risk of corruption. He complained that, "Traditional fishers pursuing their livelihoods inshore are arrested and jailed immediately, but if bigger commercial offshore vessels breach the law, they face fines that aren't too heavy."
Tin Ko Ko Oo said that the definition of inshore versus offshore areas of the sea in current regulations was too imprecise, and does not take into account tidal movements or the presence of islands, many of which are important breeding grounds for sea life. He said "heavier penalties" should also be stipulated for illegal fishing.
Zaw Hein said he suspected that the delay in submitting the draft law to the parliament was due to collusion between businesspeople involved in the fishing industry and officials in the Ministry of Agriculture, Livestock and Irrigation.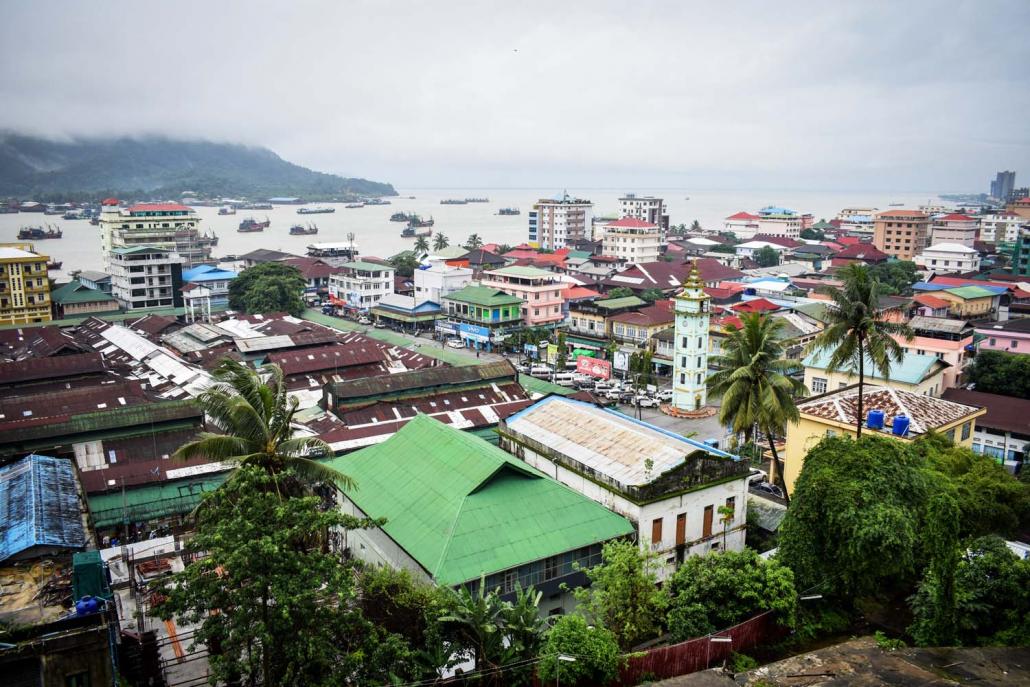 Amyotha Hluttaw MP U Okkar Min (NLD, Tanintharyi-8) asked about the reasons for the delay in the Upper House on August 30. He began by discussing the impact of big trawlers operating illegally in inshore waters on fishers in small boats who use traditional methods and struggle to make a living. He also said that fishing regulations, for instance relating to the size and type of nets that can be used, need to be updated.
He finished his speech in parliament by referring to the guardian nat spirit of waterways, U Shin Gyi, whose name is also a slang term used by Myeik-based fishers for patrol teams that can include members of the fisheries department, the police and the navy.
"Now the fruits of the sea in Tanintharyi are not benefitting the lives of the region's fishers but are instead passing into the control of U Shin Gyi," he said in a comment that seemed to insinuate corruption on the part of the patrol teams, and which prompted a reprimand from the parliamentary speaker about the use of "offensive" language.
Myint Zin Htoo told Frontier at the end of August that the draft law was before the government's Security, Peace and Stability and the Rule of Law Working Committee.
"When the text comes back from that committee, we will submit it to the cabinet and if approval is given, the ministry can submit it to the parliament," he said.
Myint Zin Htoo said that despite efforts by the fisheries department and the navy to take action against illegal fishing, the number of vessels operating illegally had increased.
He cited departmental figures showed that the number of vessels seized for illegal fishing had risen from 21 in 2017-18 to 67, including three foreign boats, in the first nine months of the current fiscal year ending on October 31.
In a move that the department hopes will result in better enforcement, tenders were called in June for companies to install a Vessel Monitoring System that would allow the movement of boats between offshore and inshore areas to be precisely monitored through GPS devices affixed to boats and a central control centre, according to Myint Zin Htoo.
"We have already signed contracts with six companies out of eight companies that won tenders," he said, adding that, once all contracts are signed, companies and boat owners will have three months to work together and install GPS trackers on boats.
He warned that any fishing boat without the trackers would be banned from going to sea after the deadline. However, he told Frontier that a control centre still needed to be built, leaving some doubt over whether the VMS would be up and running by that time.
U Thet Soe, the vice-chairperson of Myeik District Fisheries Federation, said the federation approved of the plan to install a VMS because it could help the industry to meet the more stringent standards required for exporting marine products to lucrative markets such as the European Union.
He said fishing boat owners would be required to cover the cost of installing the GPS devices and training their staff in the new system, but he considered it worthwhile. "If our country has a VMS it will result in a significant reduction in illegal fishing," he said.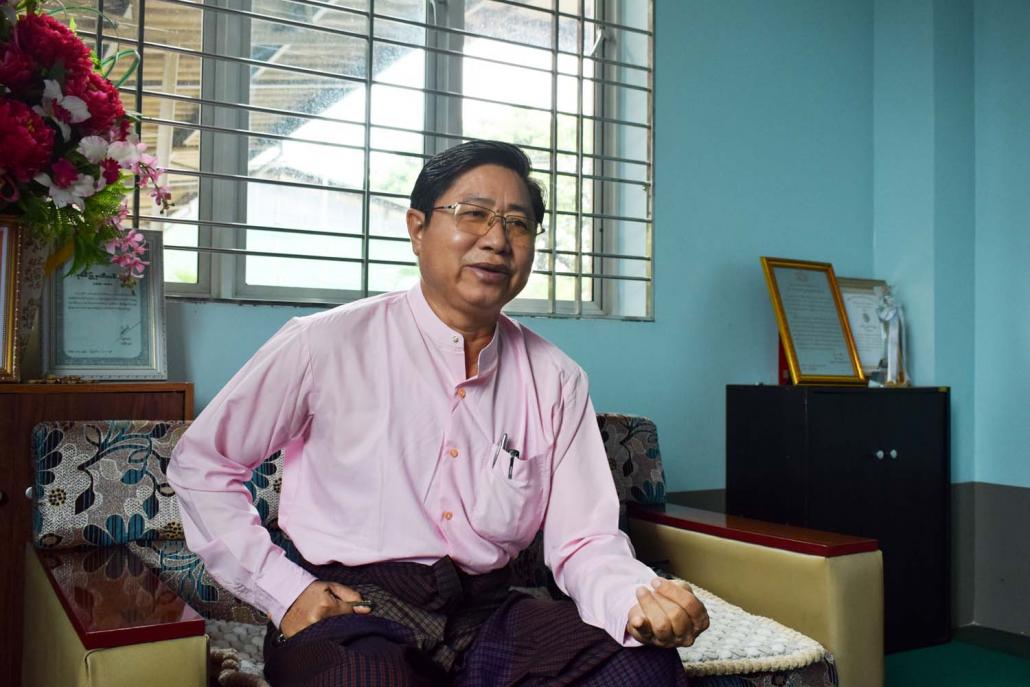 Tin Ko Ko Oo from Our Future Initiative said the fisheries department could still be doing much more to combat illegal fishing, including by conducting more detailed research into fishery stocks, and said that a more targeted ban on fishing during the breeding season could be more effective than this year's total ban.
"We need to find out exactly which species breed in which block at what time. If we know the basic facts, then we can ban fishing only in specific blocks, as happens in other countries," Tin Ko Ko Oo said.
However, big names in the marine fisheries business, such as Thet Soe and others in Myeik, Kawthaung and Dawei, are aware that the slump in stocks means that they will have to shift from fishing to aquaculture.
From Myeik town, Frontier visited nearby Pahtaw Pahtet Island, where crab farms are being developed by U Hla Than, chair of the Myeik District Fisheries Federation and one of the industry's biggest tycoons.
Frontier also tried unsuccessfully to interview him in 2015 for a story called "Fishing for trouble in Myeik".
Hla Than owns a soft-shell crab production company based in Myeik called Pyae Phyo Tun, as well as a fleet of fishing boats, cold storage facilities and a shrimp processing plant.
Thet Soe said making the transition to aquaculture because of declining resources was no problem for wealthy industry players such as Hla Than, but was a challenge for small and medium-sized operators.
"The government should provide more support to the aquaculture sector. It should open local one-stop service centres for paperwork ranging from land use permits to business licenses, and also help to develop the necessary infrastructure," he said.
U Myint Maung, a 52-year-old helmsman who has worked on fishing boats for more than 30 years, told Frontier at his home in Myeik, "Hundreds of thousands of people work as labourers in the fishing industry and I worry how they will make a living in the coming years, because there are not many fish left in the sea." 
TOP PHOTO: Fishing boats anchored close to Myeik. A three-month fishing ban during the breeding season for fish and shrimp ended on September 1. (Kyaw Lin Htoon | Frontier)