Food delivery platforms have helped restaurants and teashops stay afloat during the pandemic, but some business owners are uneasy at the steep commissions they charge.
By EAINT THET SU | FRONTIER
As most life retreated from Yangon's roads during the coronavirus lockdown, couriers for food delivery platforms such as Food2U, GrabFood, and foodpanda became a much more common sight.
Their growing presence on the otherwise deserted streets marked a necessary switch for the local food and beverage industry from dine-in services to online food delivery amid stay-at-home rules.
But restaurateurs say that steep commission fees charged by the delivery platforms are diminishing already-tight profit margins. None of the platforms Frontier contacted were willing to reveal their rates, and some did not respond at all.
Noodle shop 9th St Myeik Kat Kyay Kite in Lanmadaw Township now relies on Food2U and foodpanda for most of its orders. Although marketing provided by the apps has boosted sales, owner Ko Toe Pyae Aung said the 30pc charge from foodpanda is hard to swallow.
"I would think it was too much during normal times," Toe Pyae Aung told Frontier. "But in these times of COVID-19, I have to give in."
He said a 20pc commission would be "ideal", while receiving the income from sales every two weeks instead of every month would help cash flow.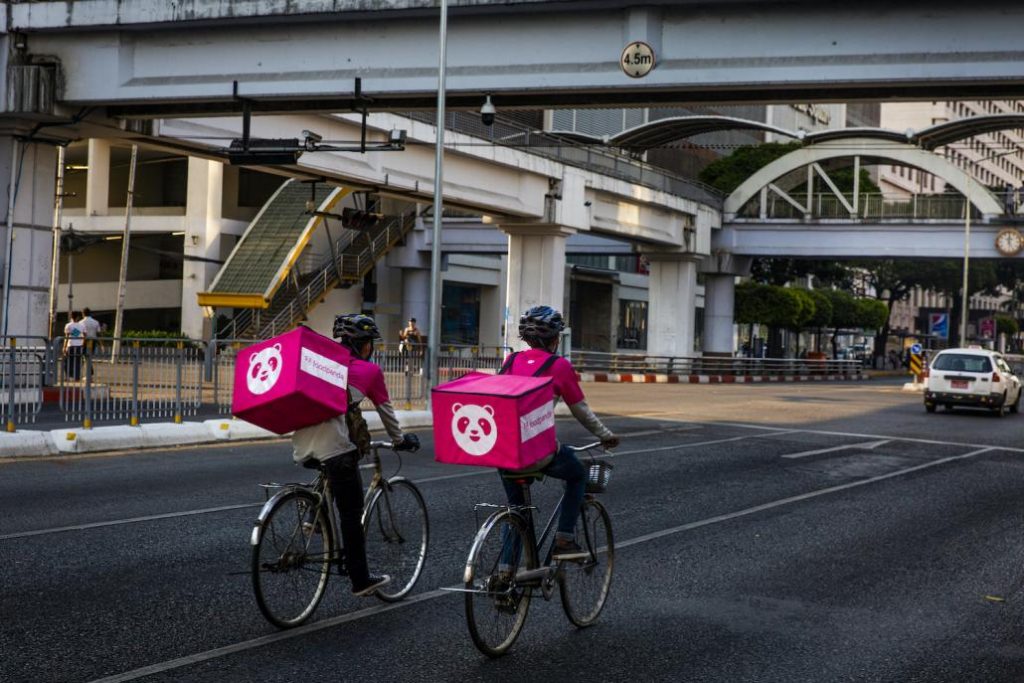 Sign up or close
Before COVID-19, food delivery businesses were mostly the preserve of restaurants serving international cuisine targeted at foreigners or wealthier locals.
The pandemic, by prompting the forced closure of all dine-in services, quickly changed that. While restaurants could still serve takeaway, many reported a precipitous drop in sales. As a result, small eateries and teashops like 9th St Myeik Kat Kyay Kite ­– where the traditional appeal is face-to-face socialising over cheap meals – faced a tough choice: close down or sign up for their survival.
Ko Win Htein opened Sandee café in Pabedan Township on March 22, just days before restaurants were told to provide take-away services only.
"We were left with no other choice than to use third-party delivery services," he said.
After surveying his options, Win Htein said he picked foodpanda ­because it offers free delivery. "I had to pick the most convenient [delivery service] for our customers," he said.
Although Win Htein confirmed that foodpanda charges a 30pc commission, most other restaurant owners contacted by Frontier were reluctant to discuss the commission fees for specific delivery companies.
They explained that they were worried about being seen as criticising the delivery companies, because it could affect the business partnerships that they are now heavily reliant on.
A fast food chain spokesperson who asked for anonymity "due to the sensitivity of the issue" told Frontier that restaurants are left to pick up the tab for foodpanda's free delivery.
"So their charges are a little more than other delivery partners, who charge us a bit and then take delivery charges from customers based on distances," said the spokesperson. The chain would consider dropping some of its five delivery partners depending on future trends.
Nilar Biryani and Cold Drinks in Pabedan Township signed up during the pandemic to four delivery services. All of them "have an average of 20pc commission rate per sale", said co-owner Daw Thida Sint, without specifying the rates for each delivery service she used.
The Manhattan Fish Market and Pezzo Pizza branches rely on food deliveries for 80pc of their total sales, said Ko Myo Win Zaw, managing director of Food Network Myanmar, which holds franchising rights for the chains.
The outlets have been working with several delivery platforms since before the pandemic but the financial squeeze of commission fees has triggered a search for new partners with lower rates, he said.
"I think they should charge commission fees that makes sense to both parties in the interest of mutual survivability," he said. "I personally think that 30pc is not a number that makes sense for restaurants during these periods."
The issue of food delivery app commissions is far from limited to Myanmar. Many cities in the United States are setting limits on commissions, which in some cases were as high as 40pc, to support struggling restaurants; New York, for example, has limited commissions to 15pc, plus up to 5pc for fees like credit card charges. In Australia, a food writer has launched a petition to get UberEats and Deliveroo to reduce commissions from as much as 35pc, and new competitors offering lower commissions have entered the market. In Singapore, where companies like GrabFood, Deliveroo and foodpanda charge from 25 to 40pc, the government has come under pressure to enact a law to limit commissions.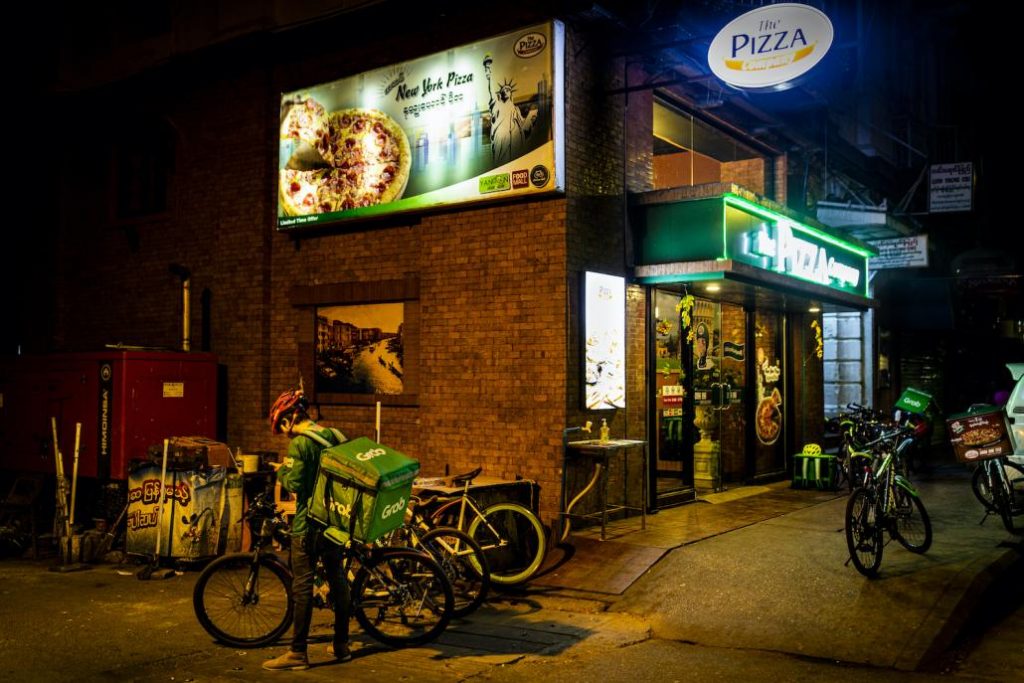 'Confidential' commissions
Frontier contacted foodpanda on the subject of its commission rates but got no reply.
Several other delivery platforms did respond but none were forthcoming with the details of their fees.
Ma Myat Su, a spokesperson for Food Mall, said, "We cannot provide you with the exact numbers of commission fees that we charge our partner restaurants as we consider those as confidential."
Grabfood's fees depend on the type of partnership it has with the F&B outlet, said spokesperson Ko Myat Kaung Min, who did not give a range for the commissions. He added that restaurants running co-marketing campaigns with Grabfood tend to pay less because they shoulder advertising costs.
Commission fees are used to promote businesses, insure delivery staff and provide hygiene items such as hand sanitiser to staff, he said.
For small, independent outlets, Grabfood launched a campaign in May that converts commission fees into customer discounts for those restaurants by using the promotional code "#LOCALHEROES".
Delivery apps also charge sign-up fees to outlets, but Yangon Door2Door states on its website that it has been "providing opportunities for smaller restaurants and social businesses by waiving listing fees."
Myo Win Zaw from Food Network Myanmar said commissions were not everything. Just as important are the level of exposure an app provides and how that converts into sales, he said.
"A sustainable model would be for everyone to share the costs to get the benefits," he said.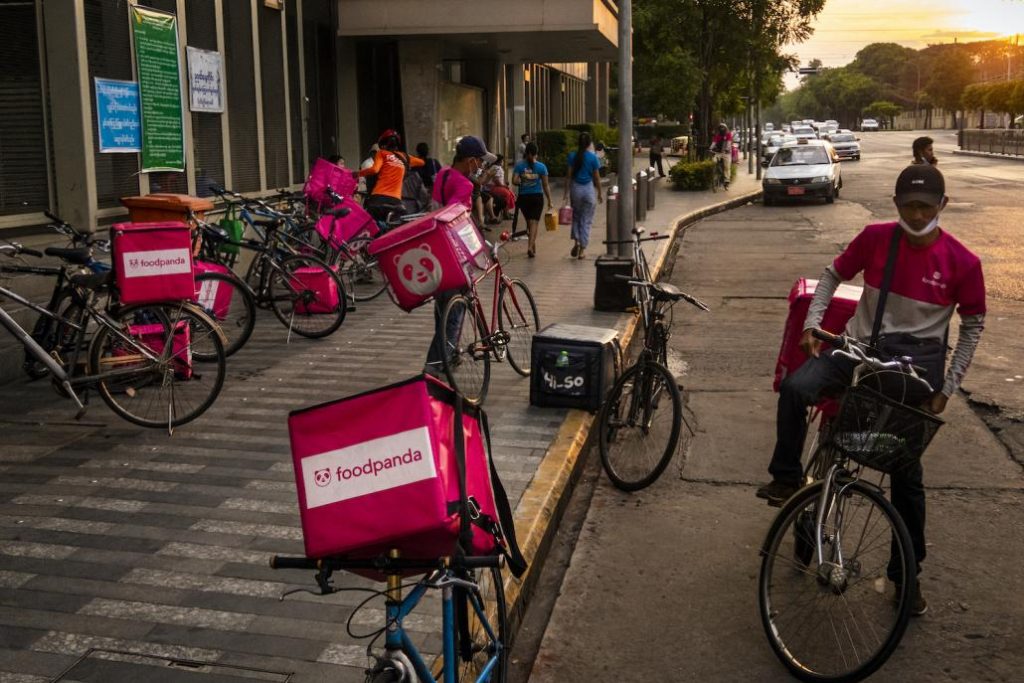 Here to stay
As restaurants have started reopening their doors since the government began lifting restrictions from the middle of May, they've found that the return of physical customers has not erased the need for a digital presence.
Restaurateurs say they are facing the uneasy prospect of a transformed F&B landscape where third-party companies now hold considerable sway over their businesses.
Having got a taste of food delivery apps for the first time as a result of COVID-19, many customers are likely to continue using them – particularly at a time when people are still wary of spending time in public spaces.
Meanwhile, dine-in service has not returned to normal, and it's unclear when it will. Aside from fewer customers willing to venture outside for a meal or snack, F&B outlets are also limited in the number of customers they can accept, and have to observe other prevention rules set by local authorities.
"The customer behaviour changes are expected and not many will come back for dine-in for a while even after the restrictions are lifted. We will have to continue our partnerships [with food delivery companies]," said the spokesperson for the fast food chain.
Pandemic or not, Thida Sint said her biryani restaurant would embrace the third-party platforms. "It is an international norm for restaurants to have delivery services bring food to customers and our restaurant is just keeping up," she said.
For Toe Pyae Aung, an ideal scenario would be platform-free, but he concedes that creating more partnerships is likely "if they can offer fast deliveries and spread the delivery range to a wider territory; foodpanda only gives me four kilometres."
Myo Win Zaw said though delivery platforms were "inevitable" for the majority of restaurants, the time had come for "innovation and business model transformations" in the industry.
Neighbourhood F&B outlets could drop third-party services by forming their own shared delivery fleets, he suggested.
"Delivery aside," he said, "restaurants will need to find ways to create safe dining in desirable atmospheres, promote takeaways, sell online, and try to digitise in most aspects."