While COVID-19 gets all the attention, air pollution contributes to far more deaths each year in Myanmar and a recent joint study has helped shed light on the sources of this pollution in Yangon.
By KIRT A. PAGE | FRONTIER
As I set out with my dogs early one morning last month I was greeted with an annual "Happy Sweet December" by my gardener and neighbours. The air was cool and pleasant and I was looking forward to a nice walk. But as I strolled down the hill, a layer of thick smoke covered the neighbourhood, and the sweetness of the morning quickly evaporated as the acrid taste of burning leaves and plastic began to irritate my nose and throat.
Although the smoke in Yangon's air is most visible during the winter months, the problem starts much earlier with a pollutant that is nearly imperceptible to the human senses. Between September and October there is a subtle rise in particulate-matter (PM) pollution in Yangon. As the rainy season subsides and the winter months begin, the pollution becomes more noticeable. The haze reaches a crescendo in February-March and we sometimes find ourselves breathing air that would be rated as unhealthy by the United States Environmental Protection Agency.
The rainy season brings a much-needed reprieve that lasts for a few months until the cycle begins again. Measuring equipment detects this type of pollution easily and enables the annual cycle to be observed. This was my motivation for founding the Air Quality Yangon project. The AQY team has been monitoring air quality for the past two years to gather data, raise awareness about air quality and how it affects human health, and teach young people about environmental science.
Although AQY's data and the data collected by a reference-grade air quality monitor in the US embassy compound have provided insights into the seasonal patterns of PM pollution in Yangon, the recent publication of a scientific study has revealed valuable information about the sources of the pollution. But before explaining the results of that study, it is important to understand how PM pollution affects Myanmar, and why it is a major environmental and public health concern.
What is PM pollution?
Many different pollutants can cause poor air quality and affect human health. However, AQY is mainly concerned with PM pollution, specifically PM2.5. This refers to particles that are 2.5 micrometres or less in size, with a diameter that is about 25 times smaller than the thickness of an average human hair.
These particles can be inhaled deep into the lungs and even cross the blood-brain barrier. They can have profound impacts on human health: chronic exposure to PM2.5, even at moderate levels, can cause chronic obstructive pulmonary disease, heart disease, stroke, lung cancer, and acute lower respiratory illness. They are a major contributor to premature deaths.
Scientists are able to measure the concentrations of these particles in microgrammes per cubic metre (µg/m3) using various techniques, and have translated these concentrations into the Air Quality Index scale, which ranges from 0 to 500. The AQI aims to give the public an easy to understand indication of their level of pollution exposure. The AQI is divided into six, colour-coded levels of health concern, illustrated in the chart below.
PM pollution patterns in Yangon
There have only been a handful of studies on air pollution in Myanmar. One of these is the State of Global Air (SoGA) report, released annually through collaboration between two institutions in the US, the Health Effects Institute, in Boston, and the Institute for Health Metrics and Evaluation, in Seattle. Data collected from 1990 to 2019 shows that the average annual population-weighted PM2.5 concentration in Myanmar falls within a range considered to pose a moderate risk to health (33 µg/m3 or AQI 95) for some people, particularly those sensitive to air pollution.
Like most air quality studies of Myanmar, the SoGA relies on satellite observations and modelling. Although helpful, this is no substitute for real-time, high-quality, ground-based sensors, such as the publicly available air quality data for Yangon provided by the monitor at the US embassy. The monitor reports an hourly average of the PM2.5 concentration and the corresponding AQI. The AQY team has analysed and compiled this data into monthly averages from April 2019 to May last year. The results of this analysis can be seen in the chart below.
It shows that the annual average PM2.5 concentration during the period was about 30 µg/m3 (AQI 89), consistent with values previously reported by AQY and others. Although this annual average is considered to be "moderate", it is three times the World Health Organization's annual exposure limit recommendation of 10 µg/m3.
During the wettest months of the rainy season, from June to September, the PM pollution was quite low. As the rains subsided, the PM increased, and last year reached a peak in January and February. AQY has measured a similar trend since October 2018 with low-cost sensors provided by PurpleAir, an American company. An analysis of daily data for the 12-month period found that about 27 percent of the days were within the "healthy" range based on AQI ratings, 34pc were "moderate", 25pc were considered "unhealthy for sensitive groups", and 14pc were regarded as "unhealthy".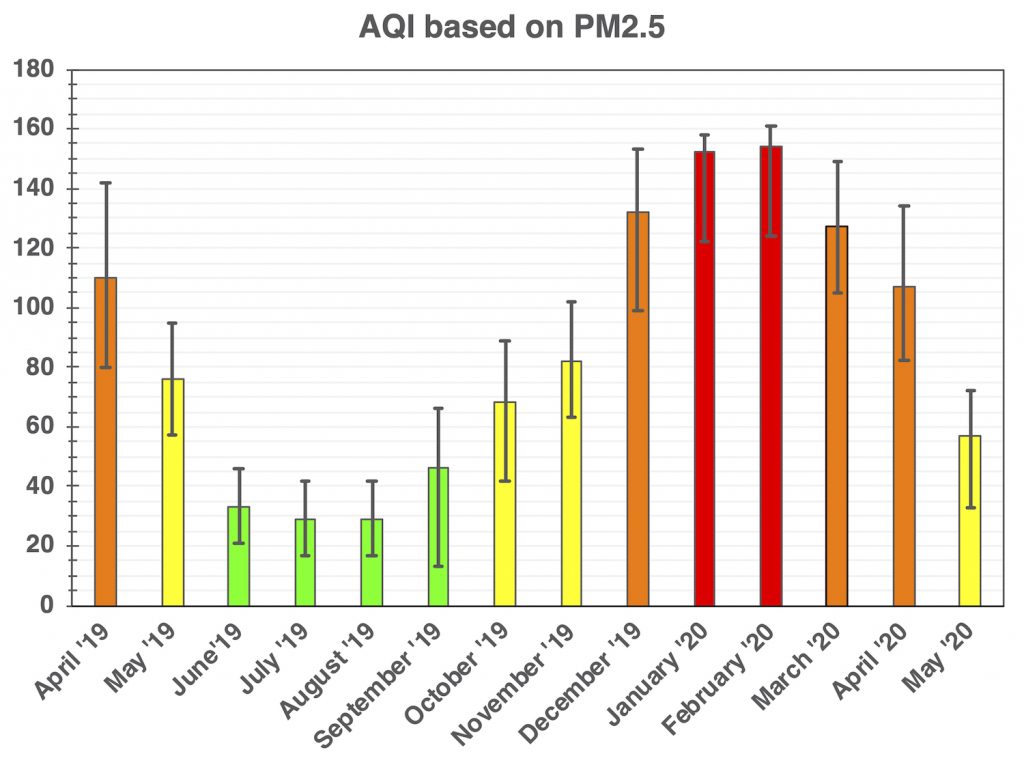 Why does air quality matter?
The burden of disease and premature deaths attributed to poor air quality is well-documented and the impact of PM pollution around the globe is astounding. Each year, about 4.1 million people die of diseases attributed to ambient PM2.5 pollution. A total of about 6.7 million people die each year from exposure to air pollution in general. To put these numbers into perspective, more than 1.8 million people have died throughout the world from COVID-19 since the pandemic began. That means that nearly four times as many people die each year because of poor air quality, and about 90pc of those deaths occur among the poorest and most vulnerable members of our global community.

How does air pollution affect the people of Myanmar? Despite average annual PM pollution in Myanmar falling within the "Moderate" range, long-term exposure to even moderate levels of pollution can affect a nation's health. The latest SoGA report estimates that 24,000 deaths in Myanmar were due to PM2.5 in 2019. This compares to more than 2,785 recorded deaths from COVID-19 as of January 6, showing that air pollution should be of concern and a priority.
Perhaps a more holistic statistic to consider in relation to the burden that ambient air pollution imposes on a population is disability-adjusted life years (DALYs), which includes the potential years lost because of premature death and also seeks to quantify the equivalent years of "healthy" life lost due to poor health or disability. The SoGA report estimated the DALYs attributable to PM2.5 in Myanmar in 2019 was about 728,500. These years of lost life and productivity can have a big effect on livelihoods and economic growth.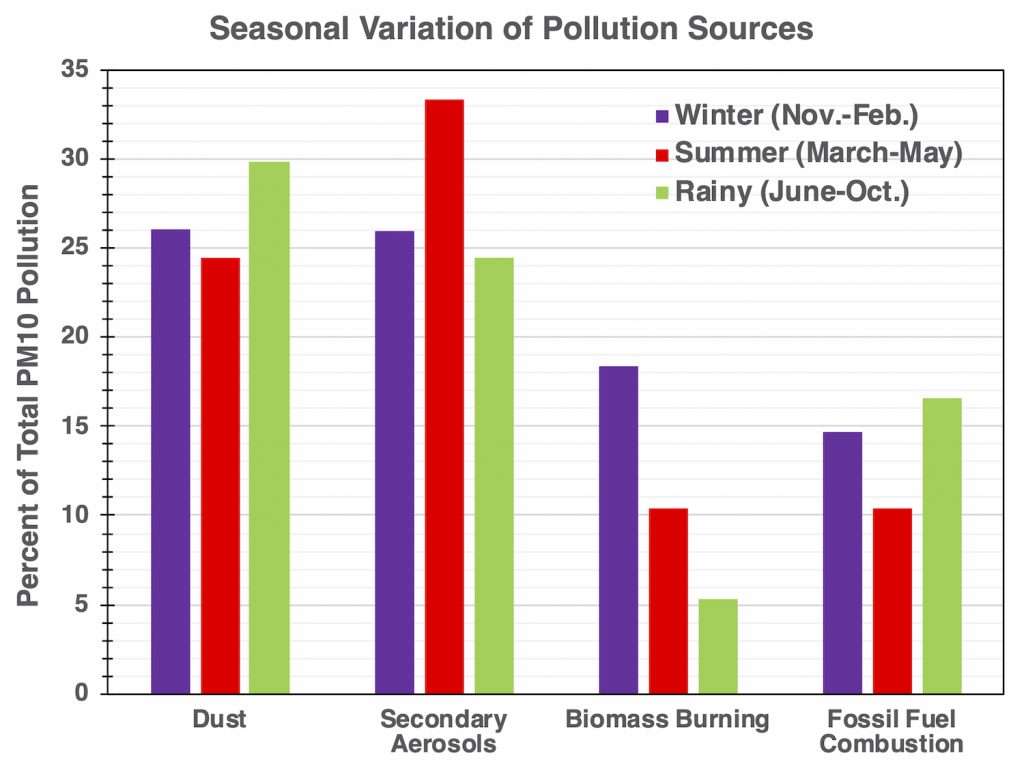 PM pollution sources in Yangon
The first question often asked of the AQY team is "How bad is it?". The second is usually, "Where is it coming from?"
Tackling air pollution requires addressing the root cause of the problem, but this can be difficult because there may not be a single cause, and the measurements and analysis needed to determine pollution sources are sophisticated and require resource capacity.
Most people, without data, will argue that vehicles and industries in and around the city are the cause of the problem. AQY has long suspected that vehicle pollution is not the main culprit and that other factors are contributing to PM pollution. AQY tested this hypothesis after stay-at-home orders were imposed on Yangon in April last year, during the first wave of COVID-19.
To the apparent frustration of Yangon residents, data collected then showed no major improvement in air quality, despite far fewer vehicles on the roads and many factories having closed. The situation raised a question about the source of the microscopic particles in the air.
Gaining insights into the origins of PM pollution isn't as straightforward as measuring overall PM pollution – it requires what's known as a source apportionment study. Work is being done in Myanmar on this important subject, though, with researchers from the University of Wisconsin-Madison, in the US, recently publishing the results of a year-long, preliminary source apportionment study of PM pollution in Yangon.
The study, conducted between May 2017 and April 2018 in collaboration with the Ministry of Health and Sports, was the first of its kind to be carried out in Yangon. Samples of PM pollution of 10 micrometres (PM10) or less, which includes PM2.5, were collected using standard protocols and subjected to a battery of sophisticated chemical analyses. The results were then used to reconstruct the daily and monthly concentrations of the specific chemical components present in the pollution particles. These data were then fed into statistical models that allowed the scientists to identify and quantify the major sources of PM pollution in the city. These insights can be used to design future monitoring efforts and help to develop air pollution control policies.
Although the data and analyses are quite complex, the results can be parsed into an insightful and compelling story about pollution in Myanmar's biggest city. Researchers divided the year into three seasons: winter (November-February), summer (March-May) and the rainy season (June-October). Similar to the data collected by AQY for PM2.5, the UWM/MoHS team observed the highest PM levels in summer, followed by winter and then the rainy season. A principal component analysis of the data led researchers to suspect that the pollution originated from five potential sources: dust, secondary aerosols, metals manufacturing, biomass burning and vehicle emissions.
By piecing together information gleaned from the three methods of analysis, researchers were able to determine the monthly contributions to PM from various sources. AQY has compiled these data into seasonal contributions of each source, as a percentage of the total PM10 (see chart). Dust was the major contributor during the year, ranging from 24pc to 30pc of the PM10 mass. Major sources include road, construction, and agricultural dust. Best practices in the construction, agricultural, and transport sectors could be used to minimise the impact of dust on air quality.
A significant proportion of the pollution was from what are known as secondary aerosols. This type of pollution is not emitted directly from a source – for example, a vehicle or factory – but is the result of gases emitted from these primary pollution sources undergoing chemical reactions in the atmosphere to form secondary pollution particles.
Throughout the paper, the researchers also highlighted the contribution of biomass burning, which includes both human activities – such as the burning of crop residues and yard waste – and natural processes, such as fires started by lightning. Molecular markers specific to biomass burning emissions were a significant contributor, ranging from 5pc to 18pc and peaking in the winter months. The seasonal variation of biomass burning coincided with the harvest of some major crops, as well as periods when households in Yangon are known to burn domestic waste.
From these results, the researchers concluded that farm waste management around Yangon and the burning of household waste were major sources of PM pollution in the winter and summer months. This tallies with AQY's measurements, which show spikes in PM2.5 pollution at times when domestic waste burning is common, such as on winter mornings. These data highlight the need for more robust policies and infrastructure to address farm and domestic waste management.
Fossil fuel combustion, including pollution from petrol vehicles and emissions from diesel engines, both in vehicles and generators, comprised 10pc to 17pc of the PM pollution.
However, while petrol vehicles certainly contribute to pollution and should not be overlooked, according to this study they were considered to be a major contributor only during the rainy season (8pc).
It is noteworthy that about 20pc of the PM pollution throughout the year could not be linked to a particular source. This highlights the need for further investigation and a more advanced air quality monitoring programme.
As the first of its kind to be conducted in Yangon, the study by UWM and MoHS researchers sheds important light on major sources of pollution. However, the study on its own is not enough and more work is needed to build capacity in monitoring and managing air quality in Yangon.
For policymakers, the study provides valuable knowledge that if used wisely could be effective for prioritising and managing known sources of pollution in Yangon to minimise their negative effects on the environment and human well-being. If they are able to do that, Yangon's residents should be able to enjoy a legacy of "Sweet Decembers" – including breathable air – in the years to come.