By BEN DUNANT | FRONTIER
YANGON — The military and civilian authorities have "weaponized" blocks on life-saving aid to tens of thousands of displaced Kachin civilians in northern Myanmar, and with Chinese encouragement, says advocacy group Fortify Rights.
In a 68-page report, "They Block Everything", released in Yangon on Thursday, the Bangkok-based group documents how authorities have "wilfully imposed restrictions on access to food, healthcare, shelter, water, and sanitation" in a war of attrition between the military and the Kachin Independence Army (KIA) that reignited with the collapse of a 17-year ceasefire in 2011.
More than 100,000 civilians remain displaced by the conflict, housed in deteriorating conditions across 140 camps, more than 50 of which are in KIA-controlled territory.
Fortify Rights said this deliberate denial of aid could amount to a war crime under international law and called for the United Nations Security Council to refer Myanmar to the International Criminal Court (ICC).
This echoes the recommendations of the UN Fact-Finding Mission on Myanmar mandated by the Human Rights Council. On Monday, the mission's members said Myanmar's generals should be tried for genocide in Rakhine State and crimes against humanity and war crimes in Kachin and northern Shan states.
However, China and Russia are likely to veto a referral at the Security Council, which can refer countries, such as Myanmar, that are not members of the ICC. The two countries have been supportive of Myanmar's handling of the crisis in Rakhine, which has been the main driver of international demands for justice.
For more than 50 years, the Myanmar military, known as the Tatmadaw, has pursued a "four cuts" strategy—aimed at depriving rebel armies of food, funding, recruits and intelligence—that results in civilians being targeted for their association, real or perceived, with designated enemy groups.
While this supports claims of a deliberate blockade on aid in Kachin State, Fortify Rights noted an additional factor: Myanmar government appeasement of China.
The group claims that, during talks with the Myanmar government, as well as with ethnic armed groups based along Myanmar's long border with China's Yunnan province, China "privately urged" that the United Nations and international relief agencies be barred from operating in border areas.
China has become increasingly influential in Myanmar's peace process and has pushed for the exclusion of Western governments, which fund current relief efforts, from peace talks with Myanmar's northern armed groups.
An onerous and often arbitrary regime of "travel authorisations" for staff of international organisations has been a primary means of denying aid to Kachin civilians in practice, even while the government maintains memorandums of understanding and other agreements with humanitarian groups.
Fortify Rights' report states that, between June 2017 and June 2018, only around 5 percent of 562 applications from aid groups to travel to government-controlled areas were unconditionally approved. For access to KIA-controlled areas, approval rates from the government are even worse, prompting many agencies to stop trying.
When travel authorisations are granted, often after a period of four to six weeks and only with the approval of the Tatmadaw's northern regional commander, they usually come with burdensome restrictions on routes, delivery points, types of aid and means of travel that make effective relief impossible, according to aid groups.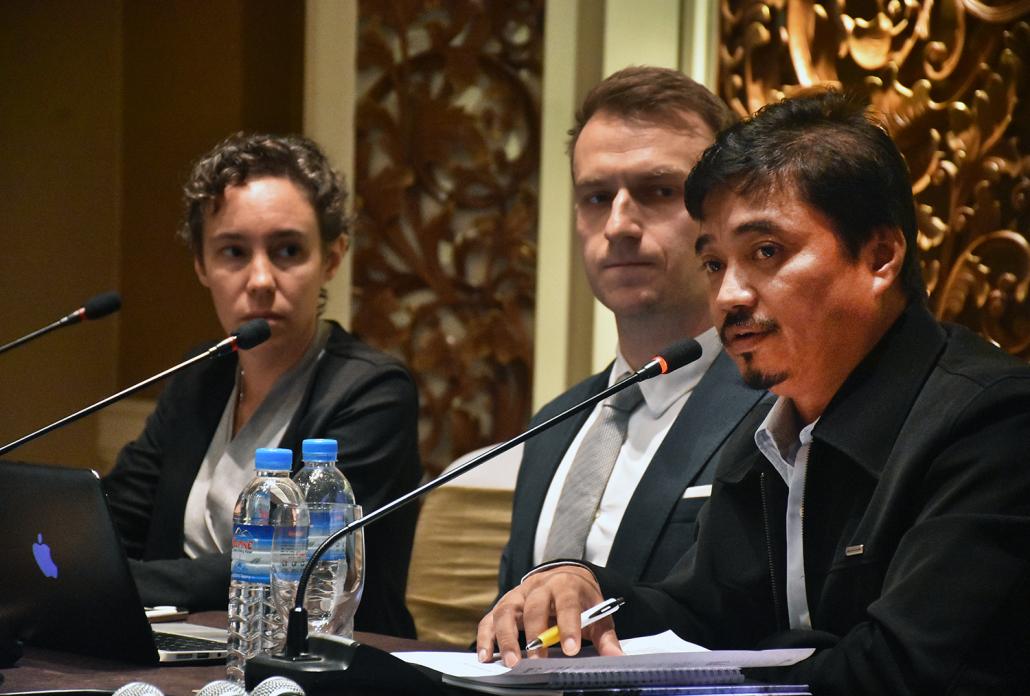 UN Office for the Coordination of Humanitarian Affairs spokesperson Mr Pierre Peron confirmed to Frontier that "humanitarian organizations have limited access in Kachin and Shan states."
"For more than two years, the UN has not been permitted by the government to deliver assistance to conflict-affected civilians in areas controlled by armed groups, where there are about 40,000 displaced people," he said. "For Government-controlled areas, most travel authorizations are granted only for the main towns."
Stressing the toll on civilians, Peron said, "Distributions of food, emergency shelter, blankets, clothes and mosquito nets are routinely delayed or blocked. Displaced people are often left without proper shelter and protection from heavy rains, wind and heat for extended periods, particularly in remote, hard-to-reach areas."
While these restrictions are tailored towards foreign organisations, local groups that have traditionally plugged the gap have also been hit. In May, the Kachin State border affairs minister, a military officer, threatened to sue the Kachin Baptist Convention under the Unlawful Associations Act for delivering aid in KIA areas.
Because of these restrictions, displaced civilians must leave their camps to look for food and other essentials—including across the border in China—exposing them to landmines laid by the Tatmadaw and the KIA and armed conflict between the two, as well as arbitrary arrest in China, which doesn't recognise them as refugees.
Peron told Frontier, "We are talking about men, women, children, disabled people, and the elderly who don't have access to the level of healthcare, education, and other essential services that you and I may take for granted. We don't have access to them, but more importantly they themselves don't have access to the essential services that they need. They are paying the human cost of conflict."
Speaking at the report launch in Yangon, Mr David Baulk, Myanmar human rights specialist at Fortify Rights, noted that, while particularly dire conditions in camps under KIA control suggest the armed group could be doing more to meet displaced Kachin people's basic needs, the armed group had not been imposing restrictions on outside groups providing aid—in sharp contrast to the Myanmar government.
Frontier called Social Welfare, Relief and Resettlement Minister Dr Win Myat Aye for a response to Fortify Rights' findings, but an assistant said he was too busy inspecting flood damage in Bago Region to respond. State Counsellor's Office spokesperson U Zaw Htay also said he was occupied.
Baulk said that, despite efforts to engage the Myanmar government on the issue, "the government doesn't want to hear what we have to say."
Fortify Rights sent questions to the president, the social welfare, relief and resettlement ministry, the Myanmar National Human Rights Commission, and State Counsellor Daw Aung San Suu Kyi. They got no response.