As civilian casualties mount in the conflict between the Tatmadaw and Arakan Army, medical personnel in Rakhine are living in fear of being caught up in fighting and say the state is ill-prepared for an outbreak of COVID-19.
By HEIN THAR and YE MON | FRONTIER
The deadly attack on a United Nations vehicle in Rakhine's Minbya Township on April 20 has escalated the fear and anxiety among medical personnel in the troubled western state.
The Tatmadaw and the Arakan Army have blamed each other for the attack, which claimed the life of a World Health Organization driver and injured a government health worker who were transporting swabs to Yangon to be tested for COVID-19.
The attack left the swabs "useless" because they needed to be analysed within 48 hours to ensure an accurate result, Ministry of Health and Sports spokesperson Dr Thar Tun Kyaw told a news conference in Yangon on April 21.
The ministry will arrange for test samples to be transported to Yangon by air after domestic carriers resume operations at the end of April, he said.
In the meantime, the only option is land transport. Dr Soe Win Paing, the ministry's assistant director for special disease control in Rakhine State, said on April 22 that the next batch of swabs was due to leave for Yangon by the same route on April 23.
The route remains far from safe, however. On April 22, a private vehicle owned by Competitive Pest Services, a pest control company, came under fire in the same area of Minbya Township as the April 20 incident, killing the driver and injuring a colleague.
The Tatmadaw blamed the AA for the attack, and the ethnic armed group had not responded to the allegations by April 23.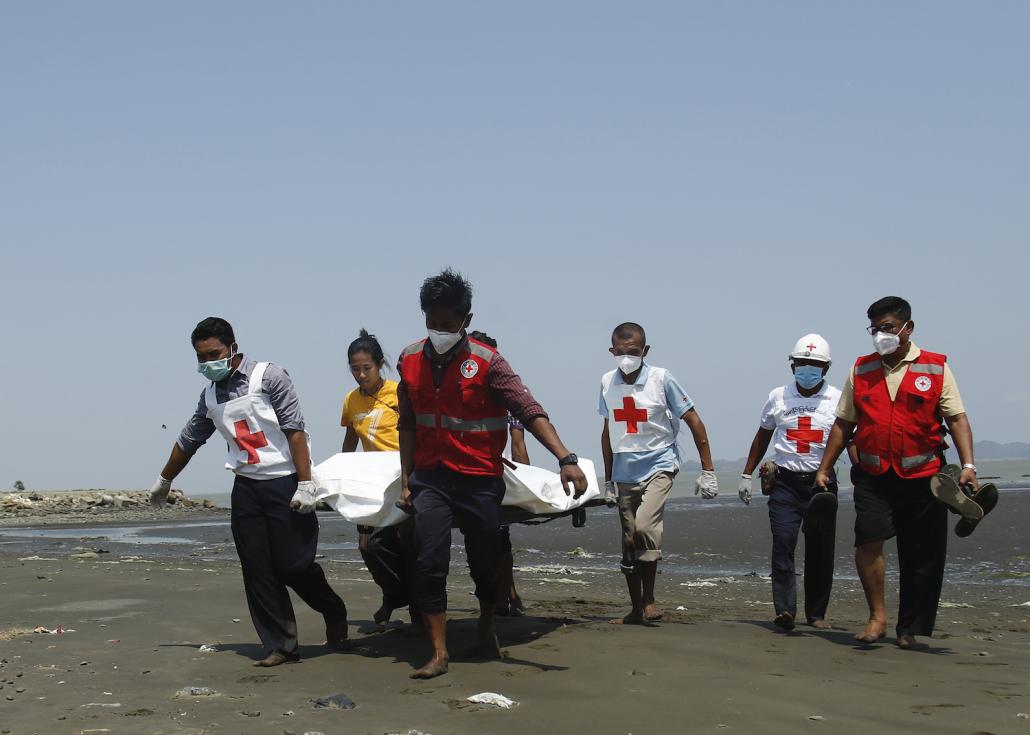 'Medical workers are afraid'
Long before the April 20 attack on the UN-marked vehicle, health workers across Rakhine State had been grappling with how to respond to COVID-19 amid escalating conflict between the Tatmadaw and AA.
Civilian casualties have escalated dramatically since the start of the year due to landmines and increased use of artillery and air attacks. On April 17 a spokesperson for Office of the United Nations High Commissioner for Human Rights said that the Tatmadaw's "almost daily air strikes and shelling in populated areas" had killed at least 32 civilians and injured 71 more since March 23. The majority were women and children, the spokesperson told a news briefing in Geneva.
The deaths have continued since then, with four civilians killed in artillery fire in Paletwa Township in southern Chin State on April 22. Radio Free Asia reported that the Tatmadaw had also killed another four civilians as the military conducted "clearance operations" in the area around where the WHO staffer was killed.
Minbya Township medical officer U Thein Tun told Frontier on April 22 that the fighting was hindering efforts to prevent the spread of COVID-19 in the state.
"Medical workers do not want to go outside in the current situation; they are afraid," he said. "But I told them it is our national duty. We have to work for patients and fight COVID-19."
Fear is also pervasive among medical personnel and residents further to the north in Kyauktaw Township, which has also been affected by the fighting.
The township's medical officer, Dr Thein Tun Oo, said facility quarantine centres in villages had been closed because of the fighting. Residents and medical personnel had fled from villages to the town, and villagers were sheltering at internally displaced person (IDP) camps and monasteries, he said.
Thein Tun Oo said a facility quarantine centre in the town had closed because it had not been provided with supplies. 
Dr Phyu Khin, a government medical worker in Kyauktaw said the conflict made providing healthcare "too difficult".
"Every time we have to do something, we are just thinking how we can avoid danger," he said. "Healthcare is not being prioritised."
Ko Zaw Zaw Tun, secretary of the Rakhine Ethnics Congress, a local civil society group, said the conflict had badly hindered the COVID-19 response in a range of ways.
"Local CSO and medical workers are frightened. They don't want to risk going outside, so transportation for us and medical workers is difficult," he said.
"But also, the people are not following the rules, such as social distancing and wearing masks.
"The government is not taking action about that … law enforcement has loosened. The quarantine system in Myebon Township in particular has almost collapsed – nobody can enforce the quarantine rules there."
Rakhine State government spokesperson Dr Chan Thar, who is also the minister for social affairs, could not be reached for comment.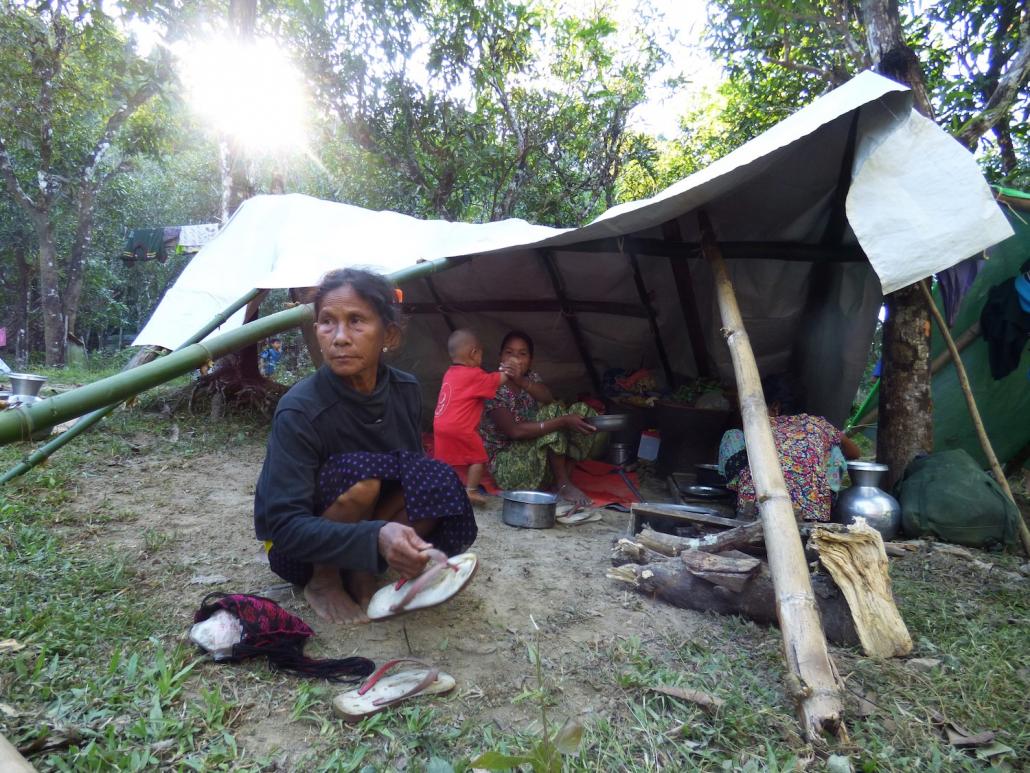 A vulnerable state
Although Rakhine is yet to have a confirmed case of COVID-19, the conflict-hit state remains highly vulnerable to an outbreak, which could have devastating consequences.
Up to 200,000 people live in squalid IDP camps in the state, including around 130,000 people – mostly Rohingya Muslims – who have been displaced by communal violence since 2012 and a further 60,000 forced to flee fighting between the AA and the Tatmadaw since December 2018.
Up to 100,000 more have been affected by the conflict but remain outside camps, according to the Rakhine Ethnics Congress.
Conditions in IDP camps vary but residents often lack adequate food, access to healthcare and suitable shelters, and there are serious concerns about the possibility of a COVID-19 outbreak among this vulnerable population.
In addition to IDPs, large numbers of ethnic Rakhine work elsewhere in Myanmar or abroad, and many of these migrant workers returned home before the Thingyan holiday in mid-April, after COVID-19 had spread throughout the region.
Soe Win Paing, the ministry's assistant director for special disease control in Rakhine State, said 4,000 people are under quarantine in Rakhine, including 3,000 in home quarantine.
He said that 37 people had been or were being tested for COVID-19, of whom 33 had tested negative. Four who were suspected of having the coronavirus but had yet to be tested were in hospitals in the state capital, Sittwe, and in Kyaukphyu and Ann townships.
However, those who have tested negative are usually retested, and these samples need to be sent by road to Yangon until flights resume.
But risks to the safety of health workers are not the only factors undermining efforts to prevent an outbreak of COVID-19 in Rakhine.
Eight of the state's 17 townships have been without mobile internet since the government ordered operators to shut down services in June 2019 as part of efforts to weaken the AA. The ban was lifted in four townships last September, before being reimposed in February.
The shutdown has hindered the circulation of potentially life-saving information about the virus.
"We can't get government instructions and orders in time and we don't know what is happening in the other states and regions regarding this disease," said government nurse Saw Ayar Khine, who is working in Myebon Township.
"But it's also hard because we can't even make a video call with our family."
Instead, medical personnel are striving to raise awareness about the coronavirus threat in rural areas in the eight townships subject to the internet blackout by distributing pamphlets and putting up posters.
But medical workers also told Frontier that Rakhine has insufficient hospitals, medical facilities and personnel to deal with a coronavirus outbreak.
The Ministry of Health and Sports has unveiled plans to upgrade hospitals of 200 beds or more so that they are capable of treating patients infected with COVID-19, but only two hospitals in Rakhine, at Sittwe and Kyaukphyu, are eligible.
A medical officer in Sittwe Township who asked to remain anonymous told Frontier that the two hospitals were ready to admit COVID-19 patients, but that facilities needed to be expanded.
"Sittwe General Hospital can handle about 20 confirmed cases in its isolation ward, but the Intensive Care Unit can only handle about six patients. It will have to be expanded," the medical officer said.
Thein Tun said Minbya Township Hospital did not have enough personal protective equipment or N95 masks and he hoped the Union government would provide more to keep staff and patients safe.
Medical personnel and civil society groups in Rakhine have long lamented the low standard of healthcare in the state. A new and growing concern is that the Rakhine people are not following the guidelines aimed at preventing the spread of COVID-19, in part because of a lack of enforcement.
Zaw Zaw Tun from the Rakhine Ethnics Congress said the combination of a lack of precautions and insufficient medical personnel meant that an outbreak of COVID-19 in the state could result in many deaths.
Asked to rate the government and public response to COVID-19 in Rakhine, he said, with disappointment, "I will give only a one-star rating for healthcare in Rakhine State. It's going to get worse."
TOP PHOTO: An injured man from Rathedaung township sits on a bed in a hospital in Sittwe on May 2, 2019, after the Tatmadaw opened fire on a group of ethnic Rakhine detainees at a school. (AFP)