The government has so far been unable to entice private investment in low-cost housing, leaving hundreds of thousands of families in Yangon unable to buy even a modest apartment.
By HEIN KO SOE | FRONTIER
IT'S ONLY the opening day of the Best Of Yangon Housing, Lifestyle, Car Show & Mobile Fair at Yangon's Tatmadaw Hall, but it's already clear that nobody has come for the housing. Even those manning the construction company booths know it.
"There aren't that many people here, but those who have come are only interested in mobile phones," a Shine Construction representative, who asked not to be named, told Frontier on December 1.
The Shine booth is promoting a 48-room project, Shwe Htan Pin Condominium, in Kamaryut Township. The rooms are priced at more than K130 million (about US$100,000), with buyers able to pay 30 percent upfront and the rest in instalments over five years, with 13 percent annual interest, under a hire-purchase program through AYA Bank.
Ma Ohnmar, who visited the four-day fair with her sister and son, is in the market for an apartment. She lives with her husband, son and parents in Tarmwe Township. But the Shine apartments are way out of her budget.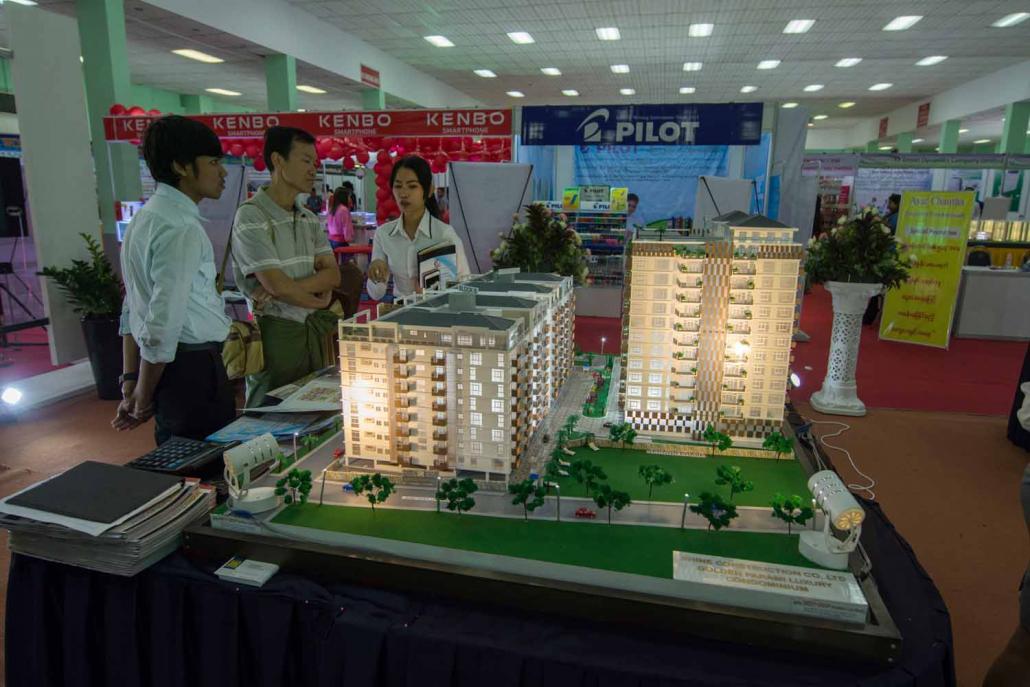 "These apartments are so beautiful, but there's no way we could afford them," she said.
Like many Yangon residents, Ma Ohnmar is instead pinning her hopes on the government embarking on a low-cost housing construction spree.
"I am waiting to buy a low-cost house but it's very difficult because there are very few rooms and they are in high demand," she said. "We hope the new government has a good plan for grassroots people like us."
The government's efforts to date to develop low-cost housing have had little impact. During a recent session of the Yangon Region Hluttaw, Minister for Border Affairs and Security Colonel Tin Aung Tun said that the government had completed or was building about 10,000 low-cost units.
These apartments are targeted at middle-income earners – households with a monthly income of K300,000 to K500,000 – and are priced at K80 million to K120 million. They can be bought on hire purchase, with a 30 percent down payment and repayments over eight to 10 years. The loans are offered through the Construction and Housing Developing Bank (CHDB), a joint venture between the Ministry of Construction and the private sector, and carry an interest rate of 12 percent.
The 10,000 apartments will barely make a dent in existing demand, let alone meet the needs of a city that is growing rapidly.
Experts say the key will be mobilising private sector investment into the low-end segment of the market, but so far it has failed to do so. Instead, many developers have focused on the condominium market, where the profit margins are higher.
U Ko Ko Htwe, chairman of construction firm Taw Win Family, said the government urgently needed to come up with a plan to address the housing affordability issue.
"Grassroots households have little income – none of them can afford to buy a house – so we need to make a plan to address this. We need to build housing and sell it on instalment so that they can afford it," he said.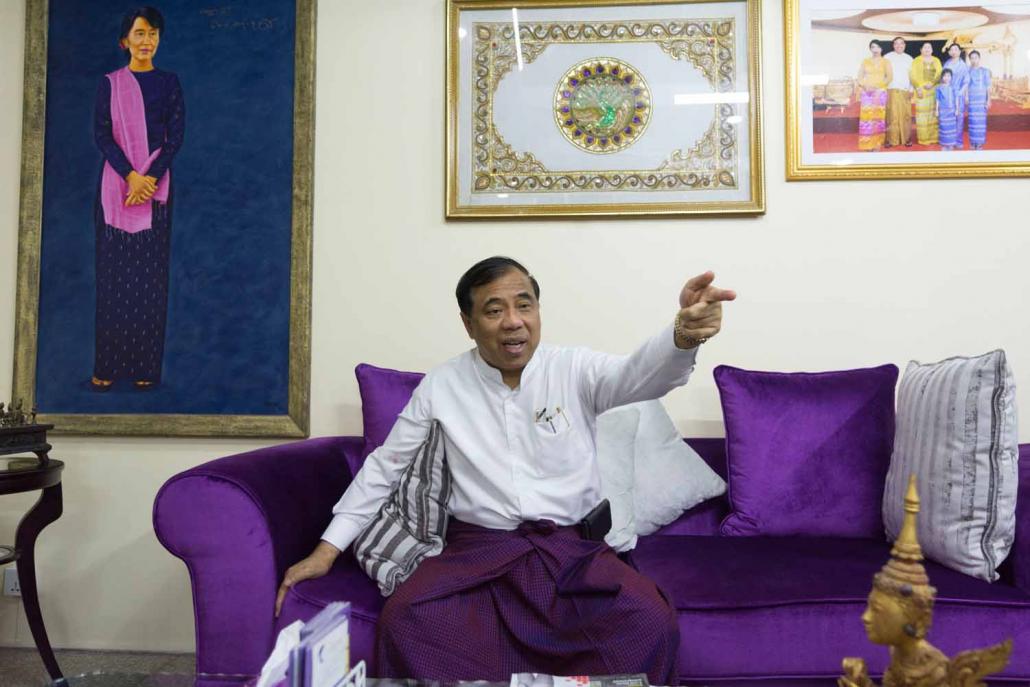 Ko Ko Htwe has been an outspoken advocate for low-cost housing. Under the previous government, he submitted an ambitious proposal under which his company would develop tens of thousands of apartments, as well as public health, education and commerce facilities, if the government could allocate 700 acres of land to implement the project. After handing the plan to Yangon Region Chief Minister U Myint Swe and Vice President U Nyan Tun, he said he never received a response.
"Private developers can build a 10 foot by 25 foot apartment for K50 million," Ko Ko Htwe said. "If the government allows us to invest in low-cost housing in Yangon we are ready to build these rooms."
Another company focused on middle-class housing is MKT Construction. Chief executive officer U Myo Myint told Frontier that his company has already built almost 1,000 apartments priced at between K80 million and K200 million.
"Land and labour costs are the main challenge for private developers to provide low-cost housing," he said, adding that the government should come up with "a plan" to help the private sector meet housing demand.
Access to finance is a challenge for both developers and buyers. Loans from private banks are expensive, with interest rates around 13 percent and loans limited to one year in length.
Instead, many developers work on a pre-sale model, where a proportion of rooms in a project are pre-sold at a discount to fund construction.
Myo Myint suggested that a more cost-effective model would be for government banks to get soft loans from abroad, and then re-lend to local developers at low interest rates.
This article originally appeared in Property Insight, a Frontier special report on the Myanmar property market, on December 15.