The fourth installment of our series about award-winning responsible tourism businesses profiles Myanmar Adventure Outfitters, a company that takes tourists off the beaten track while offering a helping hand to locals.
By ALFRED SKARTVEIT HELSKOG | FRONTIER
MYANMAR ADVENTURE Adventure Outfitters is not a sightseeing company, insists co-founder Mr Byron Hartzler.
"We're an adventure company," Hartzler told Frontier. "For us, a waterfall is not a sight to see. We want to swim everywhere, explore every corner and immerse ourselves into our surroundings."
Hartzler, a Canadian-American, and his American wife, Eileen Hartzler, founded Myanmar Adventure Outfitters with partner Saw Peter Hla Min in Lashio of northern Shan State three years ago.
It offers a range of travel adventures, including mountain biking, stand-up paddle boarding, wild swimming near waterfalls and overnight stays in villages, while also helping community members to supplement their incomes.
Although the company is a commercial enterprise, Hartzler said its main goal was not to make a profit but to provide local communities with better opportunities for employment, an objective that helped Myanmar Adventure Outfitters win the prize for "Best Responsible Tour Operator, Newcomer" at the Myanmar Responsible Tourism Awards late last year.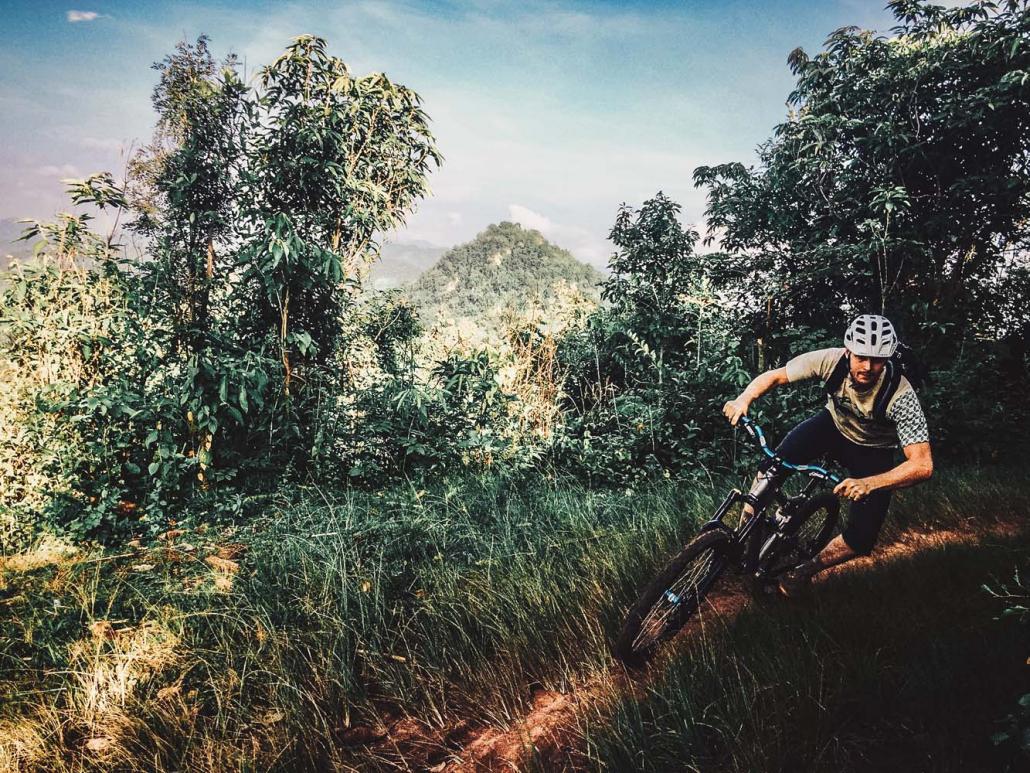 Opportunities to earn income are limited in rural areas of Shan State and many families send their children to work in Thailand and China, a situation that inspired Hartzler to act. The idea behind Myanmar Adventure Outfitters was to create opportunities for people at home so they would not have to leave Myanmar to find work.
"That's what made us so passionate about this business in the first place," he said. "We saw that we could help create opportunities for people who didn't really have any opportunities; people who believed that the grass was greener in Thailand, or the grass was greener in China, but then realised that it wasn't."
Travellers who join the company's tours stay overnight in villages and make donations to fund community development projects. They also pay handsomely for meals, which is a useful source of extra income for many families. The company also sponsors children to attend high school, paying for their tuition and accommodation.
"There's nothing magical about what we do," said Hartzler, who grew up on a farm in the Canadian Rocky Mountains and loves the outdoors. "We're doing things that I grew up having fun doing. We're just doing it in Myanmar as a way to create opportunity for people. Tourism has a huge potential for creating opportunity for the small guy in Myanmar."
Myanmar Adventure Outfitters employs five people, all of whom are from the communities in which the company operates. Its adventure tours offer three levels of difficulty: easy, with no sweat and no dirt; moderate, for activities that are sweaty and dirty; and challenging, for physically demanding travel adventures. "We want people to need a vacation after travelling with us," Hartzler said, laughing, adding that the company also plans adventures for families.
"My wife and I live up here with two kids, so we know how to create fun for the whole family."
"Right now, the weather is a little chilly up here, and the water is a little cold," Hartzler said.
"So, sometimes we need to make a fire on the side of the waterfall and warm up around the fire before we get back into the water and have some more fun."
About this series:
This is the fourth in a series of articles profiling the winning entries at the Myanmar Responsible Tourism Awards, of which Frontier Myanmar was a sponsor. Each issue for the next three months we'll be meeting the founders of an award-winning tourism enterprise to learn about their approach to responsible tourism and what inspires them to take care of the communities in which they work. The awards were announced on December 11, 2018. For more information visit: https://myanmartourismawards.wordpress.com/
TOP PHOTO: Myanmar Adventure Outfitters co-founder Mr Byron Hartzler takes a selfie with Ta'ang (Palaung) villagers near Lashio. (Supplied)