A lack of development and a shortage of job opportunities in Rakhine State has created hard times for the women whose husbands have left the family home to find work.
Tears instantly welled in her eyes. "No!" she said, emphatically. "Absolutely not! I will never let him go abroad to work." Ma Khin Sein had been asked about the future of her only son. It was a hard question for a woman who does not know her own tomorrow, much less what life will bring her next month, or next year.
Ma Khin Sein, 34, has endured a precarious existence since her husband died in Thailand last year, leaving her with their three children in Te Nan Pyin village, in Rakhine State's Myebon Township.
Her husband left the village in 2014 to find work in Thailand after bad weather and insects destroyed his rice crop. When he said farewell to Ma Khin Sein she was five months pregnant.
Three months after arriving in Thailand and finding work, he died of kidney disease.
"He didn't send me any money; I had debts and when I learned he had died I thought about killing myself," Ma Khin Sein said.
At the end of 2014, about 45 percent of the married men in Te Nan Pyin village had left their wives and families to find work. Many went abroad; some tried their luck in the jade mines of Kachin State or as agricultural workers in Shan State.
The absence of men of working age is noticeable in many villages throughout Rakhine, one of the poorest and least developed regions in Myanmar. Job opportunities are limited, even for casual labour.
It is this reason why it is common to see women doing casual work in the state's villages as they eke out a living while their husbands are away. Or dead. Ma Khin Sein struggles to support daughters aged 10 and 2 and a son, 7.
"I don't have the time to think about the future of my son and my two daughters because I'm trying to feed my family every day," a tearful Ma Khin Sein told Frontier.
Depending on the availability of casual or seasonal work, the average day rate in the state for an ethnic Rakhine is about K2,000 (US$1.50). When it is not available, those who rely on casual work often have no option but to borrow money from rich village families. The high interest charged on the loans means that if work remains scarce and repayments cannot be met, those who borrow money are likely to become victims of a vicious cycle of debt.
In a cruel irony, many of those burdened by debt are the wives of men who borrowed money to pay for the cost of going abroad to seek work.
One of them is Ma Khin Sein. Her husband borrowed K400,000 for five months at 100 percent interest from a rich villager. When her husband died after three months in Thailand the debt had grown to K800,000, but his friends working there were able to send K300,000. It included a compensation payment from her husband's employer.
"I owe more than K500,000 but my daily income is only just enough to support my family," she said. "How can I ever pay back the money?"
A broker charges about K400,000 to arrange illegal work in Thailand; for legal work the cost is about K800,000. Most ethnic Rakhine who seek work in Thailand do so illegally. About a third seek work elsewhere in Myanmar, such as the jade mines in Kachin State.
A man from Te Nan Pyin village was among the scores killed at Hpakant in November when a landslide engulfed an itinerant workers' village at the base of a mountain of jade mine tailings. Villagers said Hpakant was a popular destination for those seeking work because travelling there cost only K50,000, much cheaper than going to Thailand.
There was an upsurge in the number of Rakhine leaving for Thailand after October 2010, when Cyclone Giri slammed into the state near Kyaukphyu and destroyed paddy fields and basic infrastructure over a wide area. Even women were said to be dreaming about going to Thailand to find work after the devastation wrought by Cyclone Giri, said to be one of the most intense storms on record in Myanmar.
The state's rural economy also suffered badly from the communal violence in 2012, when dozens of villages were torched by marauding mobs and thousands of people were left homeless.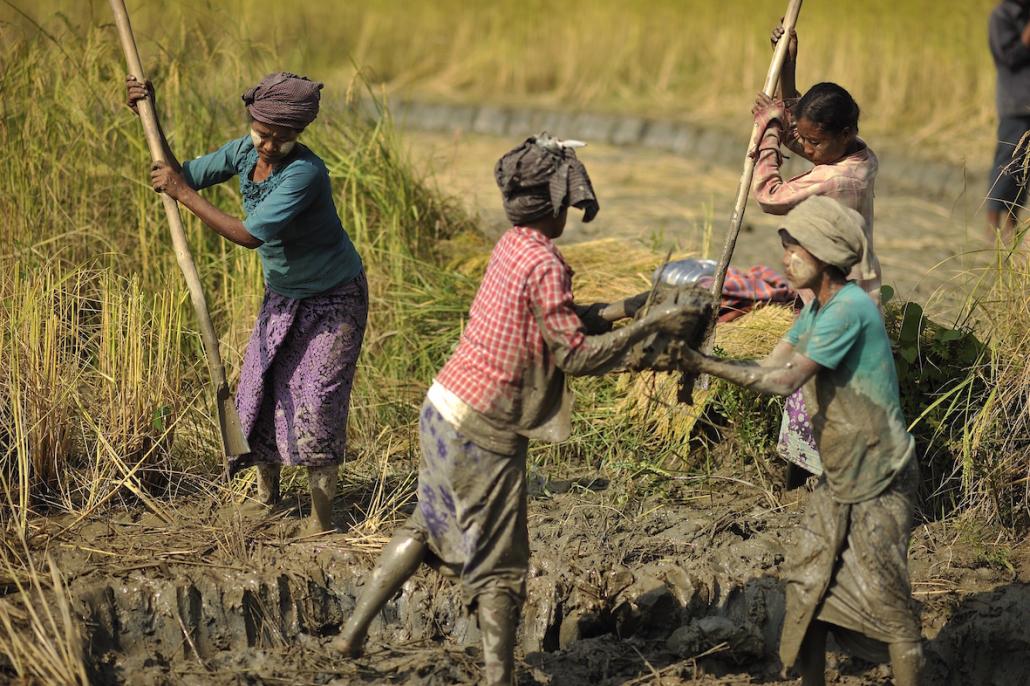 A problem for many wives with husbands working abroad is irregular remittances. Some send money sporadically and others only twice a year.
The husband of Ma Moe Moe Swe, 28, of Kyein Chaung village, Minbya Township, left for Malaysia in 2012. "He sent K200,000 the second month after he arrived and I expected he would send money monthly after that but I was wrong," she said. A year after her husband left, Ma Moe Moe Swe was told that her husband had married a Malaysian. She was so shocked by the news she fainted, she said.
To pay for the cost of sending her husband to Malaysia, Ma Moe Moe Swe borrowed K800,000 from her sister. Money her husband sent home before he remarried helped her to pay back the loan, but there was nothing extra to save.
"I don't want to blame anyone about what happened and I just blame myself that I agreed to help him borrow the money but I had no choice," Ma Moe Moe Swe said. "If he had not gone abroad our family would have starved to death," she said.
As well as supporting themselves and their families with any casual work they can find, many women with absent husbands receive assistance from non-government groups. Some receive support from the Tat Lan program, established in the aftermath of Cyclone Giri to improve livelihoods in about 220 affected communities in Myebon, Minbya, Pauktaw and Kyaukphyu townships. The program – Tat Lan means "way forward" in Myanmar and Rakhine – is funded by the Livelihoods and Food Security Trust (LIFT) and supported by a consortium of NGOs.
The Tat Lan program has provided opportunities for women with absent husbands to do casual work, such as helping to build embankments, for which they are paid K3,000 a day. However, continuing funding for the program is a concern.
"We can earn money every day as long as the program exists, but we're not sure about our income after the program ends," said U Maung Hla Win, 64, a beneficiary of the program in Te Nan Pyin village.
The Rakhine National Party estimates that there are about 4 million Rakhine working in Thailand and another one million in Malaysia. There are no regional or Union government figures about the number of Rakhine working elsewhere in Myanmar.
"Right now there are no factories in the state and that's why so many ethnic Rakhine are going abroad to find work," said one of the state's most prominent politicians, U Aye Thar Aung, who won a seat in the Amyotha Hluttaw for the RNP in the November election.
He is a former president of the Arakan League for Democracy that merged with the Rakhine Nationalities Development Party in June 2013 to form the RNP, which has been campaigning for the state to receive a share of the export revenue from its vast natural gas deposits and a bigger allocation from the national development budget.
"Whatever the next government is, if they cannot bring more development to our state, it will be nothing. We need more factories, more industries to solve those problems," U Aye Thar Aung said.