Budget allocations for restoration work have risen dramatically at the nation's second most important archeological after Bagan, but there's little to show for it.
By MRATT KYAW THU | FRONTIER
One of the richest legacies of the Arakan Kingdom that flourished in western Myanmar from 1429 to 1785 is the site of hundreds of temples and pagodas built in and around its capital at Mrauk U, a wealthy trading hub near the Kaladan River.
Thousands of temples were built throughout the kingdom, that ruled over present day Rakhine State and part of Bangladesh, but an inventory by the Department of Archeology and National Museums says there are only about 300 in and around Mrauk U, Myanmar's second most famous archeological site after Bagan. It is believed there are many more pagodas and temples in the Mrauk U area yet to be excavated.
Since a restoration project began in 2011, the Rakhine and Union governments have allocated large sums to catalogue and restore ancient buildings in Mrauk U. Five years later there is no significant evidence of progress.
Instead, restoration work on two of the ancient capital's most famous temples, the Shittaung Paya (Eight-thousand Buddha image temple) and the Kothaung Paya (Nine-thousand Buddha image temple) has involved the use of concrete and modern masonry techniques, a situation replicated at many archeological sites at Mrauk U.
"They are not doing maintenance, it's distortion," the chair of the Mrauk U Heritage Trust, Daw Khin Than, told Frontier. "The development of Mrauk U archeological zone is, I can say, zero," she said, criticising the use of concrete to renovate and redecorate sites of archeological significance. "It's all 2015-style heritage, not the real Mrauk U; I'm so sad."
The heritage trust was established last year by former archeologists and academics as a non-profit organisation to campaign for restoration techniques that respect a building's architectural and archeological integrity.
"The Department of Archeology is not watching over and checking what they have done," said Daw Khin Than. "If they continue like this, it will be fully distorted with new styles and we won't see our ancient craftsmanship anymore," she said. "It's as if the Department of Archaeology and National Museums has the legal right to destroy Mrauk U."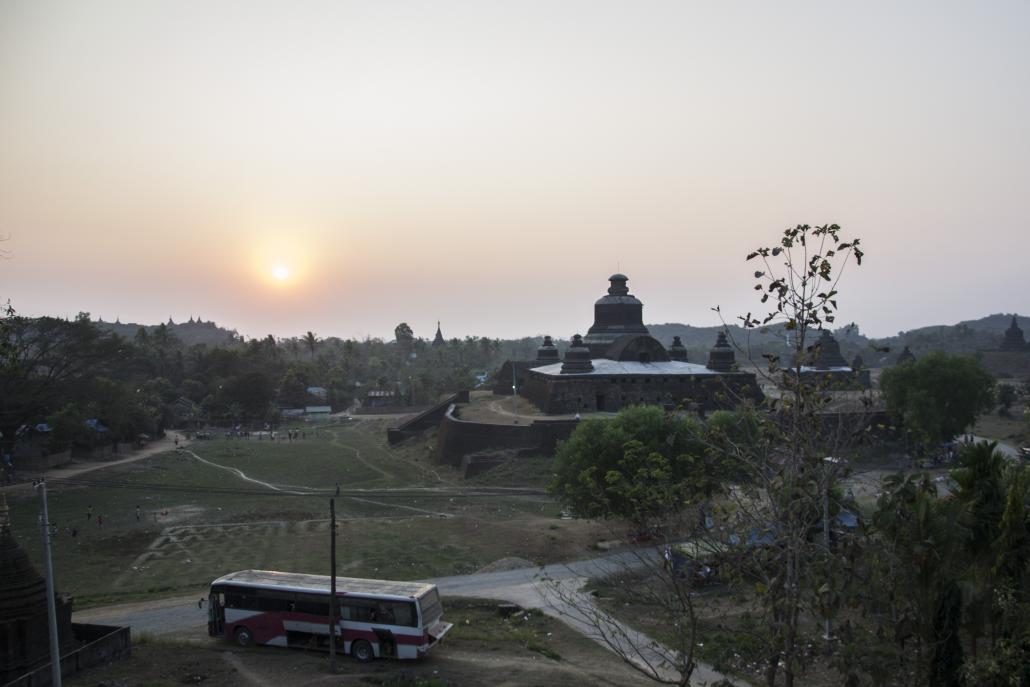 Development and its consequences
An urban plan for Mrauk U provides for the town's residential areas and main government buildings to be outside the heritage zone.
The hotel zone is close to one of the town's most popular attractions, the remains of the former royal palace. More hotels are being built in the town to cater for an increasing number of tourists. The Rakhine State government has continued to issue permits for hotels, despite passing a law last year that ostensibly protects archeological sites in Mrauk U by limiting the number of new buildings and despite a directive from the department ordering an end to new building projects.
"The regional government issues lots of permits to business owners to build hotels," said U Aung Soe, the secretary of the heritage trust. The department's office in Mrauk U was unable to do anything about it "and the township authorities are involved," he said.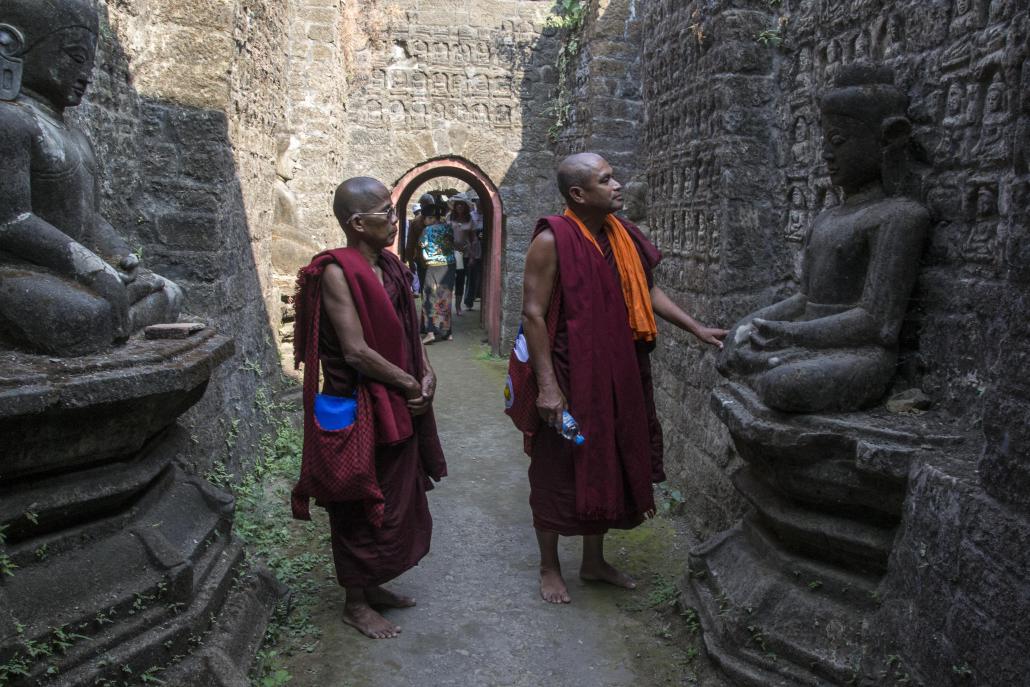 A lack of transparency
The maintenance and development of the Mrauk U archeological zone is the responsibility of the Department of Archeology and National Museums, under the Ministry of Culture. A departmental office in the state capital, Sittwe, had regulatory control over the zone, including issuing permits for conservation and other work. Three months ago, responsibility for the zone was transferred to a departmental office in Mrauk U, where a position was created for a new director, U Nyein Lwin.
"Responsibility for Mrauk U is no longer our concern," U Kyi Khin, the deputy director of the department's Sittwe office, told Frontier.
All departmental allocations for Mrauk U for the last five years were controlled by the Sittwe office, including projects yet to be completed.
The maintenance budget is allocated by the state government. Figures from the Rakhine State Auditor-General's Office show the allocation for Mrauk U in 2011-2012 was K84 million (about US$67,800 at current exchange rates).
The state government's allocation increased nearly eight-fold the following year to K650 million but was reduced to K550 million in 2013-2014.
The allocation for Mrauk U skyrocketed to K6,927 million in 2014-2015, when the Union government allocated K532 to the archeological zone.
Chief Minister U Maung Maung Ohn allocated another K3,000 million to build a national museum in Mrauk U that fiscal year but the department used the funds to redecorate the township's architecturally-significant court and administrative office.
The state government's allocation to Mrauk U for 2015-2016 was K6,390 million.
Sources in Mrauk U said hotels and other buildings were erected during the term of Chief Minister U Mya Aung, who was replaced by U Maung Maung Ohn in 2015.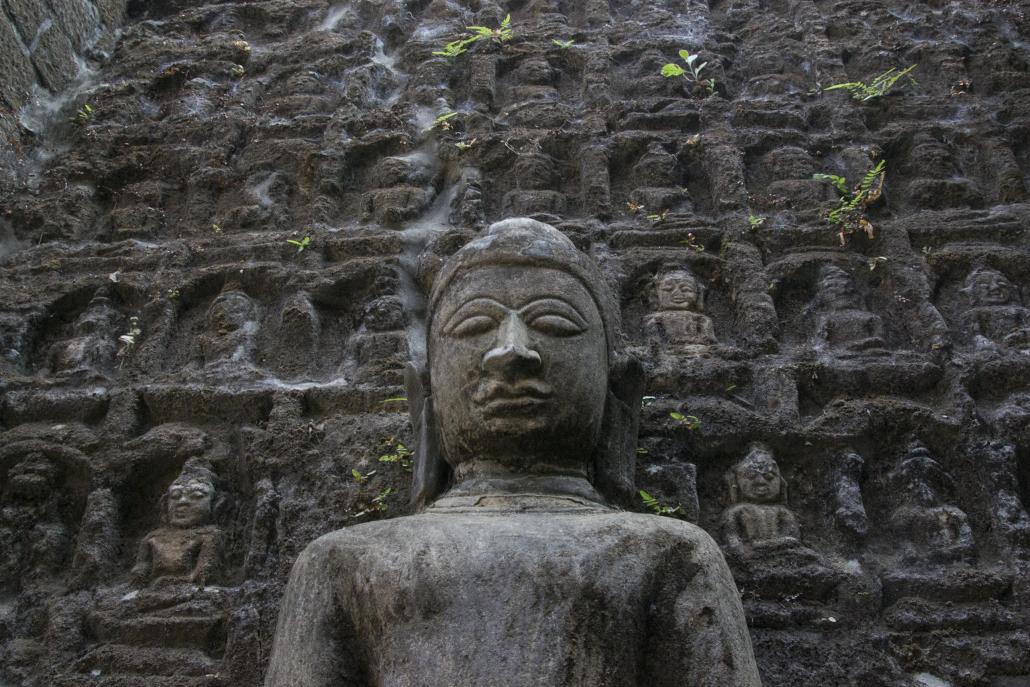 Over five years, the total budget for maintenance at Mrauk U was K15,138 million.
They said there was a lack of transparency in tenders granted by the department's Sittwe office to Rakhine-based companies for maintenance projects at Mrauk U.
"Those construction companies don't understand the value of archeological heritage and ancient craftsmanship," said Daw Khin Than, who said the department also suffered from a shortage of experts. "The department gave contracts to construction companies that know nothing about heritage," she said, referring to the Sittwe office.
The law requires that projects worth more than K50 million must be open to public tender. There is no evidence that projects at Mrauk U since 2014 that cost more than K100 million were tendered publicly. Since 2014, 12 construction companies have been awarded state government tenders for projects at Mrauk U.
Although U Kyi Khin said the department's Sittwe office had no responsibility for maintenance work at Mrauk U, the Rakhine Auditor-General, U Tun Aung Zan, said the department had received allocations under the regional budget.
The department is believed to have sub-contracted some construction companies.
"Some cases are very hard to say; some budgets are given to construction companies, and some went to the department," U Tun Aung Zan said.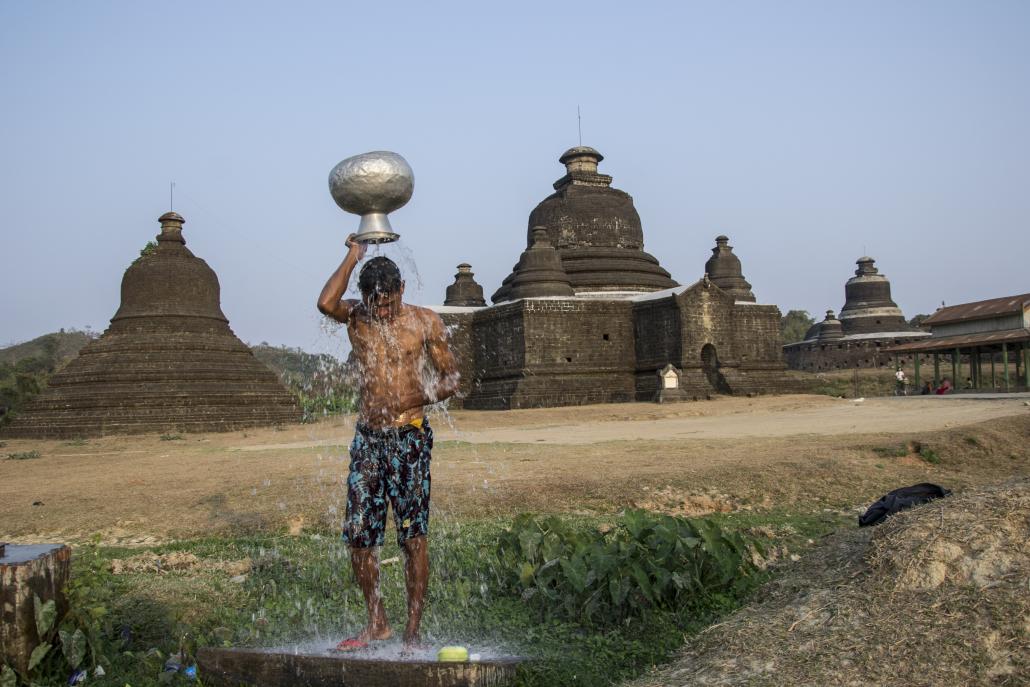 Who is responsible?
Although the Rakhine Auditor-General's Office is responsible for monitoring allocations for conservation and development work at Mrauk U, U Tun Aung Zan told Frontier it had not been provided with complete documentation on how the money was spent.
"We can check the contracts but all the permits and allocation decisions are made at ministerial level," he said.
Another challenge is frequent changes in senior officials at the Auditor-General's Office, which disrupts audits of government ministries.
Contracts at the Office of the Auditor General show contractors are liable to be fined if projects are overdue, but no fines have been levied despite work continuing on some of them.
"This is happening because of corruption and a lack of expertise and standardisation," said Daw Khin Than. "I hope the incoming government will take action over all the corruption at Mrauk U," she said.
Title photo: Mratt Kyaw Thu / Frontier