Mining projects have a troubled history in Kayin State and the latest proposal has villagers worried about the fate of two mountains that have an essential role in their lives.
By SA EH SUE and WIN ZAR NI AUNG | FRONTIER
WHEN EXPLOSIONS thundered through the hills near Hpa-an in May, residents in the Kayin State capital thought it was artillery fire. When no shells landed in the town they realised there was another reason for the explosions: a mining company was shattering the nearby mountains to harvest limestone.
The explosions were taking place at a nearby limestone mining concession granted to Myanmar Economic Corporation, a military-owned holding company. It has the only legal, operating limestone mine in the state, which produces raw materials for the company's cement factory at nearby Myaing Kalay.
With more companies eyeing the cement production business, and a regional government intent on bringing about economic development, there could soon be more explosions ringing around the hills of Kayin State.
But investors are likely to face strong local opposition. In 2013, a consortium of companies led by Myanmar Jidong Cement tried to get permission for a 5,000-tonne-per-day cement factory in Hpa-an Township that also entailed mining limestone at two local mountains, Mi Kayin and Kyaw Byin.
Myanmar Jidong is a subsidiary of Chinese firm Tangshan Jidong, one of the largest cement producers in the world.
The investors said they had reached agreements with the ethnic armed groups that control parts of the mountain range to develop the limestone mine. To gain local support, they promised to build roads, bridges and other infrastructure but the project met strong opposition from villagers, who protested against what they perceived to be the destruction of the environment and their traditional way of life. The plan was put on hold in 2014 and an attempt to revive it two years later also ended in failure, when the Karen National Union said it would not support the project.
Nang Mya Win, who lives in Mi Kayin village, at the foot of the mountain, said the community has hunted, fished and foraged on and around the mountains for generations and the proposed mining operation could destroy their way of life.
"We have depended on these mountains since our childhood … these mountains and forests are essential for us," she said. "We would go to harvest bamboo shoots, gather mushrooms and collect big leaves for our roofs, which we continue to do."
Residents were shocked to learn several months ago that another company, United Cement, had been holding two permits to mine limestone industrial raw materials at Mi Kayin and Kyaw Byin since 2011, covering about 1,600 acres in total.
Although company officials had visited the area previously, residents said that they only became aware that the company held the permits when Kayin State's Department of Agricultural Land Management and Statistics, or DALMS, issued a notice on July 5 stating that U Zaw Lin Soe, the company's director, had applied to use the "vacant land" for the limestone project.
The notice said anyone who objected to the announcement could inform the government before August 4. No objections will be accepted after that date, it said, and if no objections are received they will give Zaw Lin Soe permission to use the vacant land.
U Hla Min, a Department of Mines deputy director for Kayin State, provided documents to Frontier confirming that United Cement had been issued the permits in 2011.
He said that under amendments to the Vacant, Fallow and Virgin Lands Management Law passed by parliament last year the company needed to re-apply for permits to mine limestone in the area.
He referred further questions to DALMS, which declined to comment.
Zaw Lin Soe told Frontier that he had not applied to renew or extend the permits, and said the notice was simply a "government process" stemming from the amendment to the Vacant, Fallow and Virgin Lands Management Law.
But the notice has again reignited villagers' concerns about the potential damage that limestone mining might inflict on the environment.
More than 4,000 people who live near Mi Kayin and Kyaw Byin mountains have signed a petition objecting to the mining proposal and sent it to the township, district and state-level DALMS offices, according to Mi Kayin village-tract administrator Saw Nyan Win.
The administrator said mining operations on Mi Kayin could pose a threat to the nearby Thanlwin River, also known as the Salween.
Riverbanks may collapse if there is mining on the mountain and our villages may be flooded, Nyan Win said, adding that rare wildlife lived on Mi Kayin and rare species of fish lived in its caves.
We staged our protest because these natural resources would be in danger, he said.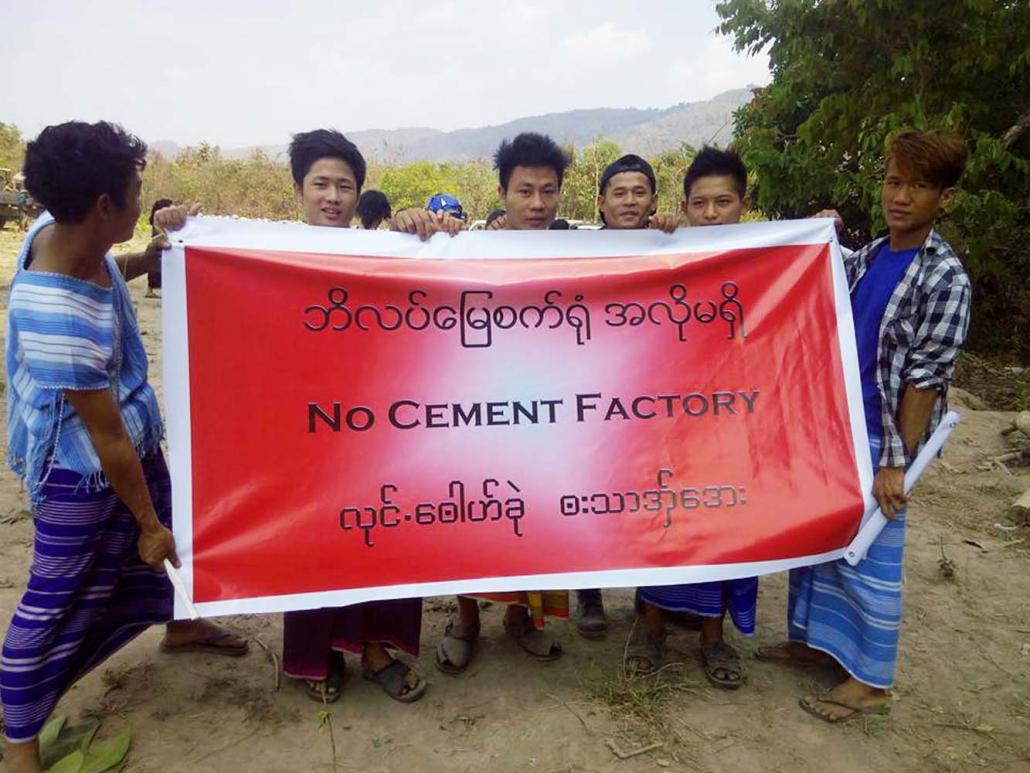 Saw Thar Bo, who leads Karen Rivers Watch, said that the proposed mining operation might be legal but in practice it could have devastating consequences for nearby communities.
"In my opinion, this would be the first of the bad consequences of the Vacant, Fallow and Virgin Lands Management Law because [Zaw Lin Soe] has applied to develop a 1,400-acre area that already contains villages and houses, cultivated land, and common-use land," Thar Bo said. "Although [he] legally applied for the limestone extraction project and he is abiding by the law, this law can harm many people [who rely] on the land."
Villagers continue to oppose the mining project in any way they can. As well as the written objections, followers of all religions in the area are praying for the mountains to be protected.
Kayin State Minister for the Environment, Forestry, Mines, Roads and Communications Saw Pyi Thar confirmed that United Cement had received its 10-year mining permit in 2011. Along with the MEC project, it is the only licensed limestone mine in the state.
Pyi Thar said that if United Cement wanted to begin operations at Mi Kayin and Kyaw Byin it could apply to extend its permits beyond the current expiry date of March 2021.
Hla Min said that normally such permits would only be extended when they enter their final six months, and Zaw Lin Soe said he had not yet applied for any extension "as it is not yet required to do so".
He said United Cement had still not finalised its plans for the site, which could end up as a cement plant or lime factory. A major issue that still needs to be resolved is access to gas and electricity. United Cement had been hoping to get power from a planned coal plant in Hpa-an, but this project now appears to be stalled.
"In other countries, the government provides natural gas at a subsided rate to encourage local industry to develop," Zaw Line Soe said.
The company is also not yet able to mine limestone at the site because there is not enough police in the area to ensure security for the explosives that it would need.
Whether United Cement proceeds with any project "depends on how much encouragement we could get from the government", he said.
Zaw Lin Soe said that while he understood the residents' concerns about potential negative impacts on the environment, they should not form judgements about project proposals based "on the wrong information without proper investigation and thorough analysis of all sort of possible impacts on the local communities".
He said investment could "turn things around" for the area and improve local livelihoods.
"When I visited villages near to the area, there was no 24-hour electricity, schools were not in good shape, [and there was] no proper healthcare facilities," he said. "Due to lack of job opportunities, young people mostly go to Thailand … Most of the villagers are elderly people and children. Their families are torn apart unnecessarily … I saw so many abandoned paddy fields which are now filled with long thick bushes.
"I feel sad and responsible, I vowed and decided to try my best to create a better livelihood and create opportunities for locals."
Pyi Thar said that he believes the law and the government will protect the land and local people.
"If you mine at a limestone mountain, you need permission from the Ministry of Natural Resources and Environmental Conservation and you need to do everything according to the regulations," Pyi Thar said. "If you don't follow the rules and regulations you will be banned."
As an example of measures aimed at restoring the environment, he cited a mine closure plan at Letpadaung in Sagaing Region that will take four or five years for the mine operator, China's Wanbao Mining, to complete. "You need to negotiate with the Union government. Only if environmental conservation experts accept your plan, can it proceed," Pyi Thar said.
Kayin State Chief Minister Nang Khin Htwe Myint told Frontier that while protecting the environment was important, well-regulated projects were crucial to develop infrastructure in Kayin State.
"Although people object to officially licensed mining, there are illegal, unregulated mining operations … that we don't get any profit from," she said, adding that the illegal mining "is affecting our country".
"We don't want to spoil the environment; nature is very beautiful," she said. "But we are also undeveloped and our environment must be damaged a little to do business. We need to build schools and hospitals, which we are lacking."
The need for development meant that the environment had to be sacrificed to an extent, but not badly, like at Hpakant, she said, referring to the ravaged landscape of the jade mining town in Kachin State.
Mi Kayin resident Mya Win agreed that new roads, bridges and hospitals were needed but not at the expense of risking the environment of her ancestral homeland.
"We don't want development if it means digging the ground and making mountains collapse," she said. "We don't want that at all."
TOP PHOTO: A 4,000-tonne-per-day cement factory run by Myanmar Economic Corporation near Hpa-an. The project also includes an adjoining limestone mining operation. (Theint Mon Soe | Frontier)